Best Pet Stain Removal Product and Tips
As much as we love our pets, and our pets love our carpets, the relationship doesn't always go so well for the carpeting. While young puppies and cats may be the biggest cause of pet stains on the carpet, accidents can happen for any pet at any time.
Urine, feces, and vomit leave behind smelly messes that can be tough to clean out of your carpet. Yet, with the right steps, the little mistakes won't lead to big problems for your floor.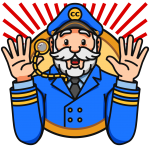 Captain's warning! 
Anytime you are using a new carpet cleaning product, it's worth taking the extra time to check to see how the stain remover interacts with your carpet. Ideally, spray the cleaner on a scrap piece of the carpet. If you don't have scrap carpet, try it in a closet or less noticeable area.
My top pet stain remover
Right now, the 'Pet Stain and Odor Miracle' is my favorite pet stain remover. There are many reasons for this:
enzyme cleaners are most effective against pet urine (long known professional secret)
less harsh and toxic chemicals
relatively inexpensive
works on both the stain and odor
Click here to check out the price and more info on Amazon
A quick clean-up is best
Whenever you are dealing with liquid stains on the carpet, it's best to get to work on them as soon as you can. The longer the liquid stays in contact with the carpet fibers, the more moisture, smell, and discoloration the fibers will absorb. Once absorbed, they leave an unsightly stain and lingering smell behind.
While wet, press cloth or paper towels firmly onto the accident, but do not rub or move the towel around, as that will only push the stains around. Continue to press down with paper towels until the area is only slightly damp.
Removing pet urine stains naturally
Urine can be one of the most annoying stains. The uric acid binds with the carpet, and it can leave a smell that's embedded beneath the carpet.
After you have dried off your carpet, you will need to clean and deodorize the area. There are a few natural and homemade remedies to try, or you can find several excellent products at your local pet store and online.
Vinegar and water
One popular solution for cleaning pet stains and removing the smell is to combine vinegar and water into a spray bottle or bowl at a 50/50 ratio. Distilled white vinegar and warm water will work best.
After mixing the solution, pour it over the entire affected area and use a scrub brush, sponge, or other tools to make sure it soaks completely through the carpet fibers and onto the carpet pad. Vinegar neutralizes the urine, removing the intense smell.
Next, you will need to dry the area completely using cloth or paper towels.
Hydrogen peroxide and baking soda
If the vinegar solution does not remove the entirety of the stain or the smell, you can also try a trick using hydrogen peroxide and baking soda.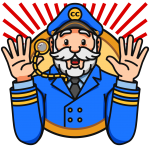 Captain's warning!
When cleaning up pet stains, you should always use a hydrogen peroxide that is 3 percent or less. If yours is higher, you increase the risk of bleaching your carpet fiber.
First, you should generously sprinkle baking soda over the area until you have a mound completely covering the stain. Then you will need to mix a 1/2 cup of the 3 percent hydrogen peroxide with a non-caustic, plain dishwashing liquid.
Pour your hydrogen peroxide/dishwashing liquid over the baking soda and let it sit for about 1-2 hours. It will leave behind a dry or clumped up mess of baking soda that you can vacuum away.
This method has the potential to discolor your carpet. If you are trying it for the first time, you should test it on an inconspicuous section first to make sure it is safe.
Removing pet vomit
The acid in pet vomit can cause carpet stains very quickly, so again, your timing is important.
The first step is to scrape off any large chunks. Take care not to rub or push the mess further into your carpet fibers.
Once those are removed, you should use a cloth or paper towel to blot the area dry. Next, you will want to mix a solution of 2 cups of warm water, 1 tablespoon of salt, 1 tablespoon of liquid dish soap and 1/2 cup of vinegar into a bowl or a spray bottle and gently blot the carpet.
Continue blotting until the stain is gone. It may take a few minutes to get the job done. After that, you should wash the area in plain, warm water and dry it with another cloth or towel.
If the vomit has already dried, you may want to let the cleaning solution soak into the carpet for about ten minutes before blotting it away.
Removing pet poop
First, you should gently pick up and throw away any excess or large pieces that you can. Be careful not to push them into the carpet further.
There are quite a few enzyme-based commercial products that you can use to clean the affected carpet fibers in addition to homemade remedies. One advantage of commercial products with enzymes is that the enzymes will naturally break down any organic matter and leave no trace or chemicals behind.
Once you have done that, you can deodorize the area with vinegar or baking soda to freshen up your carpet and remove any lingering smells.
Removing old set in stains
Sometimes you cannot get to pet stains right away. If stains are old or have already had enough time to try, cleaning them may take a little extra effort but they can still be removed. Doing so leaves your carpet looking better and smelling fresher.
With old stains, you should be able to follow the same steps that were given above but with extra time taken between each step.
For old or dried urine stains, you might need to leave the vinegar on the carpet for about thirty minutes before drying it off. You also may need to leave the baking soda, hydrogen peroxide, and dish soap on the carpet for two hours instead of one. The extra time gives the cleaning solution a chance to break down the more embedded stains.
Choose carpet with pets in mind
If you have pets and are looking to install carpeting into your home, you can limit the impact of future stains by taking a few precautions with the carpets you choose.
Carpet fibers can be made out of many different materials. Natural fibers, such as wool, are usually less stain-resistant and are more likely to soak up liquid messes. Other carpet fibers, especially nylon, are synthetic and better at repelling pet stains.
You can also take the color of the carpet into consideration. White and light beige carpets show pet stains more easily than darker colored carpets.
Captain's parting words!
Our furry friends might be four-legged members of the family, but when they make a mess on our carpets we're the ones cleaning it up. Many messes can be cleaned and deodorized with simple ingredients you probably have in your medicine cabinet or kitchen pantry and without using store-bought chemical cleaners.
So, with a little ingenuity and quick action, your pets and your carpets can live happily ever after.