How much will carpet cost?
Somewhere in the beginning of the carpet shopping process, you're likely to ask yourself, "How much will it cost to carpet my home?" Depending on the size of the area you're carpeting and the type of carpet you select, the total cost can range from hundreds of dollars to over $10,000! While a specific price cannot be given until you're ready to check out at the store (and even then it might not be clear with some retailers), the Captain gives you the tools you need to come up with the best possible online estimate to carpet your home.
To simplify things, only 3 steps are required to determine the price of carpet. Step 1 is determining the amount of carpet you will need. Step 2 is determining the cost of the carpet. Step 3 is determining the cost of padding and installation.
Step 1: Determining the amount of carpet you need
The first step in determining your total carpet cost is deciding how much carpet you need. In a perfect world, the carpet needed would equal the square footage of the areas to be carpeted. However, the actual calculation is a little more complicated. The way carpet is manufactured and installed requires 10-20% more carpet than the room square footage. In addition, there's the issue of how to calculate rooms that are not perfect rectangles or squares. If want the most accurate pricing estimate possible, check out the Captain's page on calculating how much carpet you need.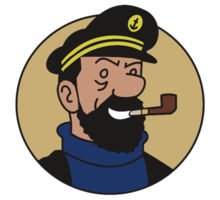 Captain's warning:
Carpet prices are traditionally measured per square yard. However, it's now common to for retailers to list prices per square foot. This change from yards to feet was originally a marketing scheme to make customers feel like they were getting a better deal. It's important to know that there are 9 square feet in 1 square yard. In other words, take the square foot price and multiply it by 9 to get the square yard price. In example, $3 sq/ft carpet is the same as $27 sq/yd. In most of this article, prices are in square feet because we think the smaller numbers are easier to comprehend and compare.
Step 2: Determining the cost of the carpet
Carpet prices range anywhere from $0.50 to over $10+ per square foot. Most homes will want a carpet that is between $2-$4 per square foot, but this is by no means a rule. The carpet specifications you need for your life style and the kind of deal you strike will have a big impact on the carpet price. To help give you an estimate, here's a breakdown of the important factors in carpet pricing:
Price based on fiber type:
The most important factor in determining the carpet cost is the material with which it is made. You can read about carpet materials here. Below are rough prices you can expect for an average carpet with each fiber:
Wool Carpet Price: $10 sq/ft. ($90 sq. yd.)
Nylon Carpet Price: $5 sq/ft. ($45 sq. yd.)
Polyester Carpet Price: $2.50sq/ft. ($23 sq. yd.)
Olefin Carpet Price: $1.00 sq/ft. ($9 sq. yd.)
*not all quoted prices are equal: watch out for these common hidden carpet costs
Overall construction affects cost:
The prices listed above are good starting points, but you will find that there are carpets that are made with the same fiber but have very different price tags. Much of the pricing variation is a result of how well the carpet is constructed. In example, face weight is probably the second most important factor for pricing carpets. There's no exact science here, but overall it makes sense: a 20oz carpet has half the material of a 40oz carpet. Make sure to educate yourself on carpet density and other aspects of carpet construction, so you can confidently pick out a carpet that is constructed to fit your lifestyle without overpaying or being misled by marketing schemes.
Step 3: Cost of padding and installation
Carpet pad and installation are often an after-thought when determining the cost to carpet your home, but they shouldn't be ignored. Some companies will charge per square foot, some will charge per job, and others will throw padding and/or installation in free. At the end of the day, you're paying for the padding and installation in some form, or the retailer would go out of business. Here's an estimate of what to expect:
Carpet pad cost: $0.30 to $0.60 sq/ft.
Carpet installation cost: $0.50 sq/ft.
For budgeting purposes, add $1.00 sq/ft. for padding and installation to get a good ballpark estimate.
Carpet cost calculator including pad and installation
The calculator below will give you a rough estimate on what you can expect to spend for new carpet. This estimate includes everything: carpet, installation, extra fees, and pad. It's not perfect, but a pretty good estimate just by answering 2 simple questions.
Captain's parting words! 
There's no exact answer for how much carpet costs. Nevertheless, it's important to have an idea of what you should be paying. Otherwise, you can't make a budget, won't be able to negotiate, and likely will overpay. The best way to approach carpet prices is to start by reading our articles on carpet basics, so you know what features you will need specifically for your home. Next, calculate the square footage you'll need, and remember, it's not just the square footage of the rooms. Finally, you'll be able to use this information to create a budget and get an idea of what you should pay to carpet your home.