Aluminum Decking – The Pros, Cons, and Everything in Between
Aluminum is a lightweight decking material with exceptional strength. If you buy it, you enjoy the longest-lasting decking material there is.
Our aluminum decking guide will walk you through everything you must know before making a purchase. 


In Short
Aluminum decking requires little maintenance when compared with wood or PVC. 
It won't rust, rot, or become infested. 
It costs between $12 – 15 per square foot, which is more expensive than other decking options. 
Other downfalls include creaking and buckling (in the case of bad installations), limited style options, and slippage.
Aluminum decking remains a great option because of its water-tight qualities and longevity. It's also fire-resistant, so it's much safer than other materials.
The area below the deck won't get wet if you use water-tight options.
Water-tight aluminum decking options have a slight angle to push water through gutters that face away from the house.

What Is Aluminum Decking?
Aluminum is a strong and durable material. It's a lightweight decking type and can easily hold around 225 to 260 pounds per square foot. 
Manufacturers shape aluminum and powder coat decking boards with substances, like polyurea elastomer, that increase durability. The coating makes the products fade-resistant. It also reduces slippage and eliminates metallic noises when someone walks on the deck.
Aluminum decking began gaining popularity in the early 2000s, shortly after the release of composite decking. While the new option was expensive, people found that it lasted indefinitely.
Standard aluminum decking is waterproof but not necessarily water-tight. Aluminum is waterproof by nature, but your deck will leak if the seams don't have a water-tight coating. You can purchase water-tight decking to protect the level below and use it for storage or as a patio. 
Planks come in different sizes but are usually six inches in width and have lengths of 12 – 20 inches. You can order custom sizes directly from the manufacturers.
Let's take a closer look at the benefits and disadvantages of aluminum decking.

What Are the Pros of Aluminum Decking?
Some aluminum decking manufacturers offer a 20-year warranty, and others offer a lifetime. With minimal maintenance, it could last well over 20 years with little to no structural deterioration.
The tough coating will leave it looking pristine for years, but sometimes you need to clean your decking. You can easily remove dirt with soap, water, and a soft brush. It isn't time-consuming and will help increase the deck's longevity.
Let's look at some of the other advantages to aluminum decking:
It's environmentally friendly; manufacturers use up to 50% recycled materials, and all decking is recyclable.
It's lighter than wood, PVC, and composite decking options.
It's extremely safe because of its fire-resistant properties and coating that prevents slippages. 
It's stain, rust, algae, and mold resistant.
It's resistant to most weather damage like hail storms or strong winds.
Aluminum is waterproof, and some products have water-tight seams, so patios below won't get water-soaked.
It won't burn and stays cooler than wood or PVC deckings because of its thermal conductor properties.
It will stay splinter and crack-free
You don't have to refinish your aluminum decking as you do with other options.
It's strong and can hold about 225 – 260 pounds per square foot.
With so many advantages, it's easy to understand why people love this decking material.

What Are the Cons?
There are some cons attached to aluminum decking. It's much more expensive than other options like wood or PVC. However, when you consider how long it will last, the high, upfront payment seems worth it.
Here are a few more cons to aluminum decking:
Some people don't find it as visually appealing as other decking options since limited colors and styles are available.
Despite the fantastic no-slip coatings, aluminum decks can get slippery when icy. Pets sometimes slip as well.
It's not easy to find in every market.
Cutting it is tricky. You need a special saw blade with carbide-tipped and non-ferrous edges.
Some customers claim that it's not as comfortable to walk on as other decking options.
It may creak if it isn't installed properly or has a poor coating.
It can sometimes produce a loud, hollow sound when you walk over it.
Repairs can sometimes cost more than the initial installation.
The pros outweigh the cons with aluminum decking. It's still pivotal to make a comparison and carefully consider the potential pitfalls before installing anything.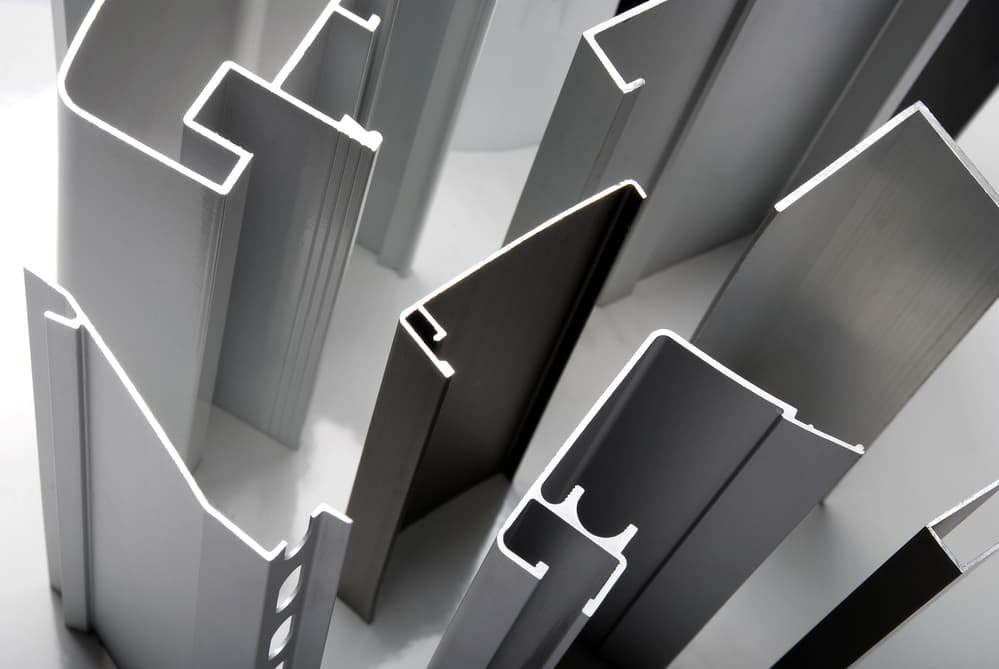 How to Choose the Right Aluminum Decking
Aluminum decking doesn't have as many options as some alternatives. A few choices are still easily adaptable to structure and style requirements.
Remember that most stores don't stock aluminum decking products, so stock up if you find them. You may need to make repairs in the future.
Here's a look at some of the best aluminum decking options:
Aluminum Deck Boards
Aluminum decking boards are the most common option on the market. The typical structure for this type of board leaves a gap. 
Water drains directly below the deck. It isn't ideal if you plan to use the space below for storage or as a patio.
The benefit is that this installation method reduces costs. You can consider installing a separate water drainage system to keep the area below the deck dry.
Water-Tight Aluminum Decks
Aluminum decking is naturally water-resistant. Manufacturers decided to create various designs that make it water-tight. The areas below your aluminum deck won't get wet.
They use an interlocking system that removes all gaps between the boards. Any run-off water channels to a gutter that sends the water away from the house.
Water-tight decking is the best option for those who want to maximize space or live in areas with heavy rainfall. Keep in mind that this is a more expensive option but may be worth it.
Aluminum Deck Finishes
Aluminum decking doesn't have the widest style selection. Some people may think it's less attractive than wood or PVC alternatives. Several finishes help improve the overall look of aluminum products.
The most common method is to use a powder coat that comes in a variety of colors. It also adds a layer of texture, reducing slippage. Many brands also use an epoxy-like material called Polyurea to finish off their products. 
A popular alternative to powder coating is mill-finished aluminum boards. It isn't necessarily aesthetically pleasing but works well in places near the water — like docks. 
Aluminum decking must meet specific requirements. The Architectural Aluminum Manufacturers Associations' most common standard is the AAMA 2604. 
It states that all coatings that use aluminum powder must have a minimum fade level of 5 Delta E (a measuring unit). Composite manufacturers often offer warranties of 25-years and up, using the Delta E color fade code.
Aluminum Deck Frame
You can use a joist system as support for your aluminum deck. Joists are easier to install than most frames since they click together. 
Aluminum deck boards are exceptionally strong, so you can leave more room between the support beams, saving costs. 
Wood decking frames often warp, crack, or splinter over time. Aluminum won't have this problem. If properly installed, you shouldn't have to replace it again.
Aluminum deck frames are costly and difficult to source. Create a proper budget and plan to reduce costs. 
DIY Aluminum Decking
Some aluminum decking brands make products that don't require professional installation. While the boards are still expensive, you can save costs by installing them yourself.
Some brands come with a fastener system to make it easier for you to install it alone. You won't need to struggle with screws or nails.
You'll need adequate time to install an aluminum deck. It's better to leave it to the professionals if you know that you're too busy. 
The tools needed for installing an aluminum deck can cost hundreds of dollars if you don't already own them. Possible tools include a circular saw or miter saw with a blade for cutting metal. You'll also require a drill and electric screwdriver. 
Keep this in mind before deciding to use DIY boards.

Cost of Aluminum Decking
The biggest pitfall to aluminum decking is the massive initial costs. You may spend several hundred, or a few thousand, to install your new decking. The first payment can feel overwhelming, but the deck will probably outlast you.
Most aluminum decking planks are 6 inches wide and cost $6 – 12 per linear foot. That doesn't include the other materials or labor.
Additional materials can cost anywhere from $12 – 25 per square foot. These include:
Aluminum decking frame
Deck support beams
Deck railings
Accessories
Gutter with downspouts
Labor is estimated to cost between $4 – 10 per hour. You can avoid this cost if you opt for a DIY installation. Aluminum boards will cost more if the material and coating are superior in quality. 
These costs are hefty when you consider alternative options. Wooden decking only costs around $6 – 8 per square foot. Composite decking is even less, starting at about $5 per square foot.
Installing a water system with your deck will cost more than leaving gaps for water to run through. You won't be able to use the area below your deck, but you'll save money.
Intricate decking designs fetch higher prices. Stairs, multiple levels, or corner designs cost more, while standard rectangular decks cost less.
Thoroughly check the credentials of your deck installer. Ensure they have a proven track record and the necessary training to back up their experience. Without proper installation, your deck will squeak and look terrible. 

Aluminum Decking Maintenance and Care
Aluminum decking is exceptionally easy to clean and maintain. There are a few things you should do to boost your deck's lifespan.
Always follow the manufacturer cleaning guide, so you don't nullify the warranty. Your warranty won't cover damage caused by negligence, like using a harmful cleaning product on your deck.
High-quality aluminum boards have a coat that shouldn't need resealing. It's impervious to rust, mold, and staining. 
Repainting your decking would be a style choice rather than a necessity. Manufacturers don't recommend painting your deck as it can interfere with the protective coating and may impact your warranty as well. 
The powder coat makes repainting redundant. The paint will interfere with the non-slip and anti-stain properties. 
Use a mild soap and soft brush to wash away any dirt. Rinse it with a hose once you're finished. You can also use the hose to wash off any trapped debris if you don't want to scrub.
Avoid using a pressure washer on aluminum decking. Manufacturers say it's safe, but powerful ones can damage that finishing coat. Use a lower pressure that won't go above 1,300 psi. 
Remove snow with a broom if you live in snowy areas. A shovel may cause damage to your aluminum decking. Rock salt and other snow melting chemicals can cause pitting over time, so avoid using these.
Check your deck at least twice a year for any loose bolts or damage. It's better to make repairs before they turn into big ones. It will cost you less time and money.

Frequently Asked Questions
It's paramount to have as much information as possible before purchasing aluminum decking.
Look at the answers to these frequently asked questions. 
How Much Does Aluminum Decking Weigh? What's the Ideal Slope?
The weight of your aluminum decking will depend on many factors. The brand, type of board, and size are the most significant factors.
1/8" per foot is the ideal slope for any type of decking, including aluminum. You won't notice it when standing on the deck, but water will easily flow away from the house.
Where Can I Buy Aluminum Decking?
The best place is directly from manufacturers as most home improvement chains don't stock aluminum decking. 
Those that do have a limited range, so you may not find something you like. It's best to get it straight from the source.
Will Aluminum Decking Scratch Easily?
No, it won't. There is a special powder coating that prevents most scratches. It isn't 100% scratch-proof, but nothing in life is.
Take some precautions, like not wearing cleats on your aluminum decking, to reduce the risk of scratches.
Does Aluminum Decking Get Hot and Noisy?
No, it doesn't get hot. Aluminum decking melts at 1,200 degrees Fahrenheit. It also has unique thermal properties that keep it cool in the hottest weather. 
If properly installed, it won't make a noise. Aluminum expands and shrinks with temperature changes but again won't make a sound if properly installed.
Is Aluminum Decking Worth the High Costs?
Yes, it is. In the long run, aluminum decking will probably outlast your house because it's so durable. Once installed, it's low maintenance and easy to clean. 
Repairs are sometimes expensive but rarely necessary.
Despite the limited style choices and big price tag, aluminum decking adds value to your life. It is one of the toughest, safest, and most durable decking options available. 
Ultimately, an appropriately installed aluminum deck offers excellent designs that will outlast most other decking materials. This type of decking is worth the price, thanks to its longevity and advantages.
If you found this review helpful, you may benefit from some of our other articles. If you're still considering other types of decking, our guide to types of hardwood might help you. 
If you want more information about doing it yourself or how to find an excellent installer, check out our articles about DIY flooring and finding a trustworthy hardwood installer. 
As always, if you have any questions, feel free to drop a comment below.