Laminate vs. Bamboo
Laminate and bamboo are two types of hard flooring, but that's about where their similarities end.
Laminate is the most popular flooring that imitates hardwood. Bamboo is a natural floor that is more like a species of hardwood than an imitator.
Both have unique advantages that will make them the best floor for certain rooms—depends on your needs. Read on to which should be your pick:
Note: you can learn more about buying each type of flooring here: laminate buying guide or bamboo buying guide
Cost
When it comes to price, buyer beware stands for both laminate and bamboo flooring. At the low end of their spectrum, bamboo and laminate floors are very inexpensive, often less than $2/sq. foot. However, with the lower price tag comes certain disadvantages like low durability, less moisture resistance, and a possibility of VOC, formaldehyde, and other chemicals.
Good quality laminate floors will start around $3-4/sq. foot and rarely go beyond $5. Its affordability has made laminate a popular choice for homeowners who want a good floor on a budget. There are a few attempts at waterproof or pet-resistant laminate floors on the market, and those tend to be priced at the higher end of the spectrum.
Mid-range bamboo floors are also around $3-5/sq. foot and premium bamboo flooring can go as high as $10. The differences between mid-range and high-quality bamboo flooring can be things like the finish, manufacturing method, and the type of bamboo grasses used to make the floor.
The winner? Laminate
Durability
If you are looking into bamboo flooring, you have probably already heard many good things about its durability. Bamboo floors can be up to 12 percent harder than some North American hardwoods and will last an average of 25 years in your home.
It has been used as a building material in Asia for thousands of years. While new in the North American market, bamboo has gained a solid reputation in the last fifteen years. It is difficult to scratch or dent and is hard enough to hold up under frequent foot traffic. Strand bamboo is regarded as the strongest type, and engineered bamboo has the best moisture resistance.
Laminate's best durability feature is its top layer, which is often made to resist scratches from pets, furniture, and kids. Normally, it will not be water resistant, and once scratched or damaged, the top layer cannot be sanded or refinished. Badly damaged laminate planks will need to be replaced.
You can expect a laminate floor to last between 15-20 years, at best, although a well-cared for quality laminate may last a little longer and the less-expensive laminate floors may not last fifteen years.
The winner? Bamboo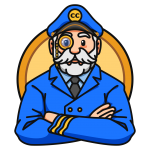 Captain's tip!
When buying bamboo, look carefully at the manufacturer. Some bamboo sellers will harvest young bamboo stalks which yield less durable floors than fully mature plants.
Appearance
Laminate will look like a picture of wood or stone, and better quality pictures yield a better-looking floor. Still, the overall impression will be of sameness. There is very little variation between two planks of the same laminate floor as they come out of the box because they are factory designed to look as much alike as possible. If that is the way you want your floor to look, then you will want a laminate floor instead of bamboo.
If you want uniqueness in your floor pattern, then bamboo is one of the best flooring choices that you can make. Each bamboo plank is made up of hundreds of individual strands that have been compressed together and sold as a series of boards. No two boards will look exactly alike, and the horizontal and vertical lines stand out from a traditional wood or tile floor.
In terms of appearance, bamboo's best asset over laminate is that as a genuine floor it will not look fake. There are engineered bamboo flooring options, which are more closely comparable to engineered hardwood, but even those retain much of bamboo's natural appearance.
Laminate floors can look like almost anything. Newer varieties can resemble stone, tile, or wood. Bamboo floors are usually a caramelized gold or carbonized into a dark color, but with the increasing popularity, more manufacturers are staining them to give homeowners better color selections.
The winner? Bamboo
Cleaning and maintenance
Bamboo and laminate floors are both known to be easy to keep clean and maintain. Laminate floors require little long-term maintenance other than a special cleaner from time to time. Usually, you just have to sweep or vacuum it on a regular basis and you are done.
Bamboo floors are equally easy. They can be cleaned with a damp mop, swept, or vacuumed. They have better water resistance than laminate floors, but should not be soaked in water.
Where bamboo loses this battle is in refinishing. Laminate can't be refinished, bamboo can. This is generally an advantage for bamboo but will require more work in the "cleaning and maintenance" department, so I give the slight edge to laminate.
The winner? Laminate
Resale value
Whether you go with laminate or with bamboo, it will have a mixed result for your home's resale value. Bamboo flooring is more natural than a laminate floor, which is one of its major assets. Some home buyers love the look of a natural bamboo floor and they will eagerly choose it over a laminate option. This is especially true for lower-quality laminate floors, which are not very durable and look "fake."
However, not everyone is in love with the trendiness of bamboo, and some still want a floor that looks more traditional like tile or wood. Here, laminate can have the advantage. If you use a high-quality laminate that closely mirrors the appearance of a natural wood or tile floor, these home buyers would certainly choose it over a bamboo floor.
So the honest answer? It depends. If you go with laminate and are concerned about the resale value, make sure to choose a high-quality laminate floor that will catch the eye and last as long as laminate can last. If you choose bamboo, know that it has many benefits that a new homeowner could learn to love even if it is not necessarily love at first sight.
At the end of the day, bamboo is a natural material with a perceived higher value and a longer lifespan, which can make a big difference when you are selling your home.
The winner? Bamboo
Environmentally friendly
Bamboo has earned many accolades for being an eco-friendly option for your home. The bamboo grass regrows within five years and is one of the fastest growing plants in the world, so it is a very sustainable resource.
It does have a few environmental downsides. For one thing, bamboo that is made in China is more likely to have toxic chemicals added in during the manufacturing process and those have the potential to leak out into your home. Also, since the plant is native to Southeast Asia, it usually has to be shipped long distances in order to reach your home.
Laminate floors are seemingly not eco-friendly, but that standard has changed in recent years. Many laminate makers incorporate recycled materials into their planks and can recycle old laminate floors again after they wear out. Like bamboo, there have been some concerns about toxins and VOCs from the manufacturing process, but that mostly is a concern with the less-expensive kinds.
The winner? Bamboo
Installation
Laminate floors are usually one of the easiest to install. They are engineered with an interlocking plank system which snaps together quickly and easily. One risk during the install is you never want to hit it too hard or else you can damage the boards even before they go in. However, even a novice DIY'er can install a laminate floor in less a day.
Bamboo flooring can typically be installed in one of three ways. Engineered bamboo planks especially are often made with the interlocking system to make them easier for homeowners. Strand bamboo may need to be nailed or glued down, and its natural hardness can make that process more difficult even for experienced installers.
The winner? Laminate
Captain's parting words!
Decide which you want? Check out the guides for your winner here:laminate buying guide or bamboo buying guide
Bamboo and laminate floors are very different from each other. Laminate floors can be made to imitate almost any other type of hard floor, from tile to wood. They are inexpensive and easy to install type of flooring, and simple to keep clean and maintain during their lifespan.
Bamboo floors are a novel and trendy choice that may stand the test of time. They are very durable, especially compared to a laminate floor, and come with a unique pattern and appearance that leaves no two boards looking exactly alike. If you want a floor that stands out, bamboo is often a great choice.
Depending on your needs, either one can work well in your home. Laminate tends to make a better lower cost floor to imitate wood, and bamboo is its own unique version of hardwood flooring.
Need some recommendations for bamboo flooring? Check out our review on Cali bamboo brand here.
Any questions on laminate or bamboo? Let me know in the comments below.
Average Cost To Install Laminate Flooring
Price Range:
$970 - $1,690