Tile versus its imitator. Sounds like an easy win for tile, but luxury vinyl tiles are benefiting big from technology.
They keep getting better and better, and in some categories, they're certainly better than tile.
But whether you go with real tile (ceramic, marble, stone, etc) or luxury vinyl mostly depends on what you're looking for in your floor.
That's why I compared both in 9 important categories, so you can make the best decision for your home.
Cost
Prices
Low End
Mid Range
High End
Total Cost
$1,231
$1,383
$1,825

See Costs in Your Area!
Start Here - Enter your zip
One of tile flooring's downsides is its cost. Most tiles will usually cost between 4-8 dollars per square foot. You can often find less expensive ceramic tiles for as little as 1-2 dollars per square foot and fancy designer tiles for even higher prices. Tile also requires grout and tools, which add to the costs.
Tile is also very expensive to install. Prices vary depending on the contractor, but you can expect to pay a lot especially if tile needs to be removed. However, you can remove tile yourself. It can take several times to finish a tile floor. A high-quality tile will not be a cheap option to buy or install, even if it does make up for it in terms of resale value and appearance.
On the contrary, one of luxury vinyl tile's selling points is that it provides a low-cost alternative to tile floors. Premium vinyl flooring usually runs less than three dollars per square foot, although that can go up or down depending on the colors and designs that you choose.
The winner? Luxury vinyl.
Durability
If durability is important to you, you are going to be fine with either premium vinyl or traditional tile floors. Premium vinyl tiles are easier to repair than traditional sheet vinyl because they are easier to fix if a single square becomes damaged.
Vinyl tiles are made out of plastic, so they are a good choice for bathrooms, kitchens, and utility rooms where being waterproof and tough is a major advantage. It's also a good choice for pet owners because the noise absorbent flooring can resist both scratches and stains.
Traditional tiles, whether ceramic, porcelain, or natural stone, are also a highly durable and timeless option. You can use them for bathrooms, kitchens, and other rooms where water and spills are common. Of all the tiles, porcelain tile is the most durable. Pets and kids can run on the tile without risking damage, but the floors can be chipped if heavy objects fall on them.
Also, traditional tiles are the only kind that can be placed into wet areas, or in outdoor settings. The will last twenty or more years as long as they are kept sealed and clean. Vinyl tiles, on the other hand, will usually last around 15 years.
The winner? Tile.
Moisture resistance
Unlike other tiles, luxury vinyl tiles should never be installed in completely wet areas like showers and bathtubs. Even though the tiles themselves are water resistant, the seams are not.
If you are really concerned about having the most water resistant floor possible, then you should go with tile. Tile is joined together with grout and you can always add more grout or re-grout a seam that was not done properly. With premium vinyl tiles, once the tiles are installed the gaps cannot be changed without redoing the entire floor.
The winner? Tile.
Appearance
If you are imaginative and want a unique looking tile, then you will probably want to go with luxury vinyl. The manufacturing process means they can be built in many colors and some of the top brands have styles that rival genuine wood and tile.
The newer luxury vinyl tiles are slowly changing the way people perceive vinyl floors, but even the best luxury vinyl will not be able to match the appearance of top-quality tile. Tile also has been improving over the last few decades. You can now buy tile flooring that looks almost exactly like wood, or in a range of patterns to suit any decorating need.
One benefit of luxury vinyl tile is that you can change it if a new look becomes popular. With tile floors, you are often better off with a timeless look because any current home fashion trends are a lot easier to change than a tile floor.
The winner? Tile.
Installation
Luxury vinyl tile is an easy DIY project for your home. The tiles can be installed on any level of your home and over any type of pre-existing flooring. They can flex and bend with the surface, so they are safe to place over almost any subfloor. However, you may want to check the manufacturer's warranty to see if there are any types of installation circumstances which would void it.
Peel and stick is the most common way to install vinyl tiles. It's so easy that almost anyone with the time and ability to work on their knees can do it very quickly. If you do hire an installer, the labor costs will be lower than they would be for a tile floor install.
Tile floors are rarely installed by novice DIY homeowners. Any base floor will need to be removed so the tile can be laid down in its place. Installing tile means dust, grout, and mess until the work is done. Even with a professional that can take several days. The prices for tile floor installation are generally higher than vinyl because of the extra labor involved.
The winner? Luxury vinyl.
Resale Value
Home buyers are more forgiving of premium vinyl tile in some rooms than in others. The bathroom, basement, and kitchen tend to be acceptable, yet vinyl in living rooms may not be looked upon favorably. If you install vinyl tile throughout, you may see a negative reaction from buyers.
That is a big difference from tile floors. Even though the differences may be in the perception, people assume that ceramic, porcelain or stone floors are better than luxury vinyl floors. Tile floors also have a popular appeal because they are known to be long-lasting, sturdy, and reliable.
The winner? Tile.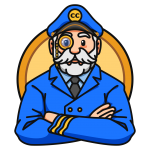 Captain's tip!
The best resale value comes from neutral colors such as whites and earthy tones, so if you are installing it with an eye to resell your home later, make sure to choose classic colors.
Cleaning and Maintenance
Once the floor has been installed, you will want to keep it looking at its best. Both cleaning luxury vinyl tiles and traditional tiles are fairly enough to keep clean. Simple sweeping and mopping will keep dirt at bay. Light colored tiles will show dirt more so than darker vinyl or ceramic tiles.
In the long term, vinyl floors have about a twenty-year lifespan but require minimal maintenance during those years. Tile, especially porous stone tiles, require slightly more care to look at their best. You will want to find a sealer that matches your tile materials and follow the instructions for keeping the tiles sealed because sealed tile and grout protect against water and stains.
The winner? Luxury vinyl.
Feel
There is a major difference between walking on tile and walking on luxury vinyl tile. Vinyl bends ever so slightly underfoot and has built-in noise dampening so you can walk nearly soundlessly on it. Some people consider that to be an asset, others do not.
Tile floors have no give when you walk on them, and unless you install a radiant heating system you can expect to buy rugs and slippers for winter. The upside of that is that tile will stay cool longer in hot weather. The tiles are also louder and create enhanced acoustics around the room.
The winner? Luxury vinyl.
Environmental friendliness
Luxury vinyl tile is made out of synthetic plastics, which makes it harder to recycle than tile. Usually, if they are recycled they are then made into new vinyl floors, but finding a manufacturer or company which does the work can be difficult depending on your area.
They are reportedly more eco-friendly on the front end. Many companies factor the environment into their manufacturing process by recycling old vinyl floors. Also, since they are lightweight they burn less fuel to transport than tile floors.
Tile is considered environmentally friendly because it is made out of natural materials and will last twenty or more years. It also does not use as many chemicals in the manufacturing process as luxury vinyl.
The winner? Tile.
Captain's parting words!
Your new tile floors can be made of luxury vinyl, ceramic, porcelain, or stone. With luxury vinyl flooring, you will have a much easier time with the installation and not spend as much money upfront. That lets you have fun remodeling again when new styles come out, and you won't feel as guilty about making a change.
Tile made out of traditional materials is a long-term relationship. Its higher upfront costs are offset by its impressive durability and long lifespan, which can be 20 or more years if cared for properly. Even with new products coming onto the market, tile remains one of the best rated in terms of appearance, resale value, and environmental considerations.
If you decide you want to go with premium vinyl, check out our luxury vinyl tile guide (sorry, no standard tile guide yet). Any questions on tile or luxury vinyl tiles? Let me know in the comments below.
Average Cost To Install Tile Floor
Price Range:
$1,415 - $2,860