Vinyl Flooring for Basement (Best for Moisture)
After vinyl being used for flooring since the 30s, it has recently doubled its sales in hardly five years. That's a tremendous rise in popularity!
Today, I'll tell you why its waterproofing, durability, and design can make it a great choice for your basement!

In Short
Not all types of vinyl are waterproof—always double check product specs before buying.
Vinyl sheet flooring (VSF) is one of the easiest floors to install in basements.
Luxury vinyl flooring (LVF) has a thicker wear layer, making it ideal for heavy-use basements.
You can install most types of vinyl on concrete floors.
Many types of vinyl, including sheets, tiles, and planks, don't require adhesive. This makes them ideal for damp basements.

What Makes Vinyl Flooring Good for Basements?
Of all the basement flooring options, why might vinyl be the best flooring? Whether you have a concrete floor or a damp basement floor, vinyl flooring has some useful qualities. Among other things, it's:
Durable – This resilient flooring is an ideal choice for basements that see heavy use. Most mid-range vinyl flooring comes with at least a ten-year warranty. Some of the higher-range products have a thick wear layer that extends the lifespan. A few producers even offer lifetime guarantees.


Water-resistant – While it may not be true in all cases, most basement floors suffer from damp in one way or another. Some may experience intense condensation, while others suffer moisture welling up through the concrete floor below.

Since vinyl is waterproof, it can create an effective moisture barrier. Some vinyl planks and tiles may still leach water through the seams and need a moisture seal to become watertight.


Easy to install – Whichever type of vinyl flooring you choose for your basement, it's easy to install.

You install vinyl planks and tiles in much the same way that you would laminate flooring (more about that in our linoleum, vinyl, and laminate comparison). Vinyl sheet flooring is a simple floating floor that you unroll over the underlayment. Luxury vinyl comes in many shapes and sizes but installs the same way as its cheap counterparts.


Easy to clean – One of the many advantages of vinyl flooring is that it's easy to clean. From sweeping to vacuuming or steam cleaning, there's a host of options. Considering that basements can be dusty rooms, and people often use them for storage or as playrooms, easy cleanliness is advantageous.


Affordable – Vinyl comes in a range of different types and qualities. The cheapest of these lack durability and are rarely a good idea. Some of the most expensive types come with a lifetime guarantee, but these often have stringent requirements.

Affordable flooring is useful for basements, as they're one of the least-used rooms in a house. Even the most expensive luxury vinyl flooring is on par with the prices of high-range ceramic tiles or mid-range hardwood. 
The Layers of Vinyl Floors
Vinyl is ideal as a basement floor, thanks to its multi-layered design. Whether you buy luxury vinyl planks or vinyl sheet flooring, it consists of several layers. 
They vary from brand to brand and between types, but these are the stable structures between them (listed from the topmost layer to the lowest):
Protective layer – Whether you buy tiles, planks, or sheets, most vinyl flooring has a protective layer. This is the part that prevents the floor from bleaching. It also makes the products stain and water-resistant—an ideal option for basements.
Wear layer – The wear layer provides the durability you need in a basement while making vinyl a resilient flooring type. The best products have a wear layer that can be up to 20 mil thick, while the cheapest options may offer as little as 2-4 mil.
---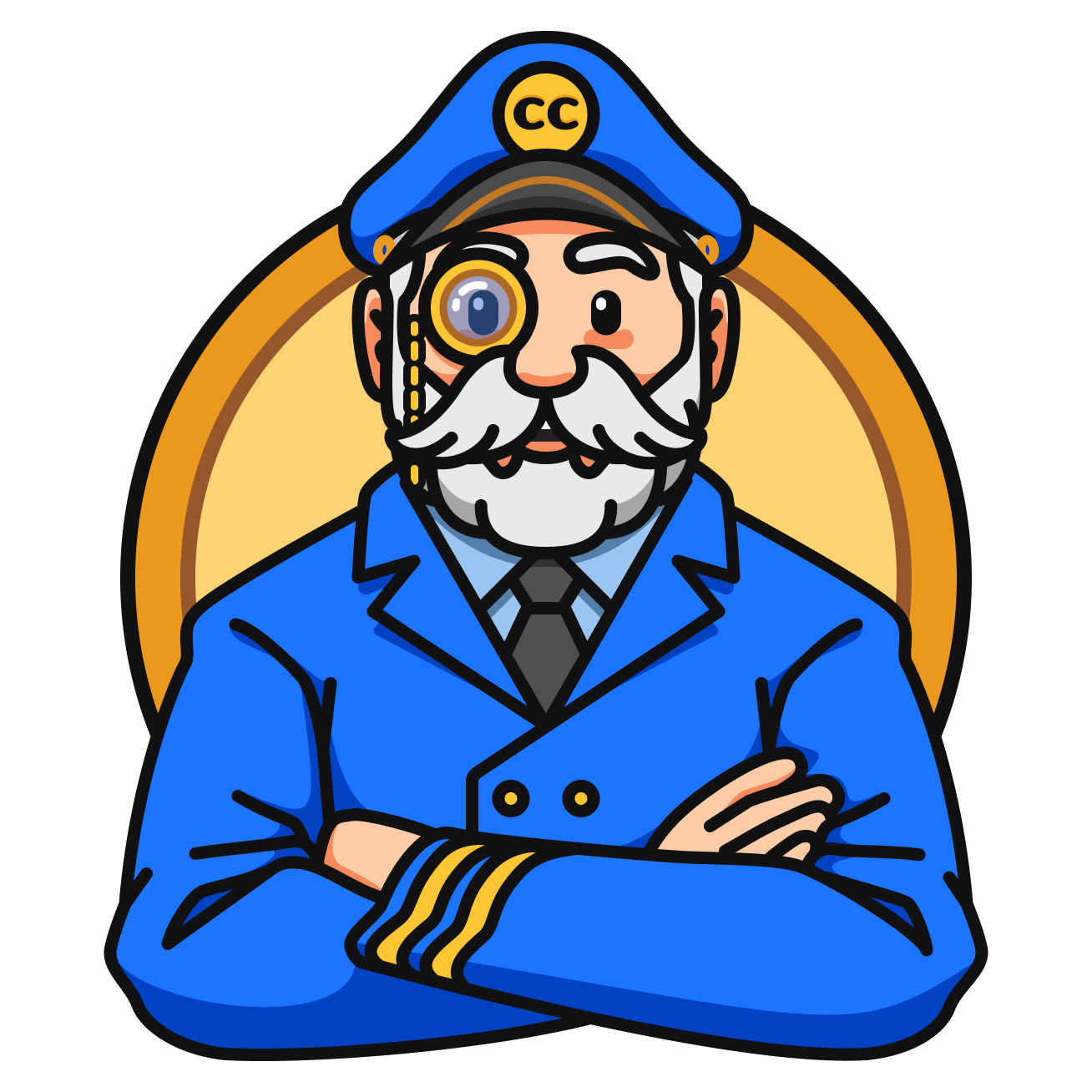 Captain's notice: The term mil confuses many people. It's not a conventional system of measurement, and each mil corresponds to a single protective layer. In terms of conventional measurements, each mil is thousands of an inch thick (a 4 mil wear layer is equivalent to 0.1mm). For more, check out this detailed vinyl wear layer explanation.
---
Design layer – This layer allows you to deck out your basement with all the glory of a throne room without paying carpenters or stonemasons. From wood-look styles to tile and stone designs, it all comes down to this. 
Stability layer – A stability layer gives vinyl flooring the staying power you need to support long-term use in a basement. In some products, it has a layer that allows you to click tiles or planks together. The stability from this segment enables vinyl products to retain their shape. 
Backing layer – The lower layer of any vinyl flooring product is the backing layer. Depending on what the backing consists of, it can create a moisture barrier between the other layers and the floor.

Backing layers may consist of foam, pressed wood, or another type of cushioning material, depending on the product. This layer makes the vinyl comfortable to work on and provides additional stability.
These main layers provide the water resistance, cleanliness, and durability you need in a basement floor. Thanks to the design, you don't always need to use an underlayment, but you may choose to use an additional moisture barrier beneath your new floor.

Vinyl Plank Flooring (VPF) and Vinyl Tile Flooring (VTF) for Basements
Vinyl plank flooring (VPF) has long been a popular choice for basements. VTF are individual vinyl pieces that have seams in between. This makes them less ideal than sheet vinyl for basements dealing with massive amounts of water or flooding.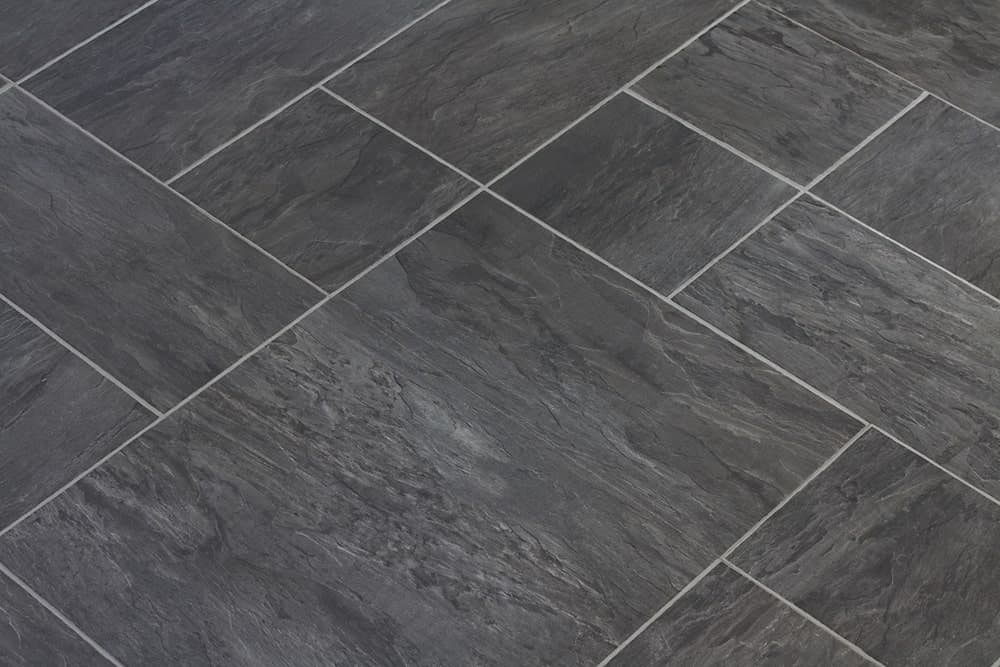 It's one of the easiest flooring types to install, making it an easy DIY job. For more about that, check out my article about the easiest to install luxury vinyl planks.

They're water-resistant and, if you seal them, become waterproof. This makes VPF an ideal choice for damp basements. Since they don't incorporate real wood, as engineered hardwood or laminates do, they're unlikely to crumble due to moisture in the concrete floor.
This is one of the best flooring materials for people who like traditional stone and hardwood floors. Vinyl tiles resemble ceramic tiles, and the planks look like real wood. The design options are nearly unlimited. 
For more information about how VTF compares to conventional tiles, check out my tile vs luxury vinyl tile comparison. 
Pros
Water-resistant, making VPF ideal for damp basements
Easy to install, though it takes longer than sheet products 
Many low-cost products, making it an ideal basement flooring
Products with a thick wear layer are durable – suitable for basements that see extensive use
Since it's a floating floor, installation costs are minimal
Cons
Most VPF products require a water barrier and underlayment over the subfloor
It takes time to leave expansion gaps to allow the room to expand and contract when the basement's temperature changes
When placed directly on a concrete floor, it may wick moisture up from below
Popular Brands
I've gathered some of my favorite VPF options to help you see the vast array of available products.
Mannington Adura — Adura by Mannington is a range of VPF with many designs. The different design ranges include Apex, Max, Rigid, and Flex. You can expect to pay between $3-7 for these products. The Adura range is scratch and stain-resistant, making it ideal for hard-working basements. All of the products undergo independent testing to get the FloorScore® approval. This means that this range has low carbon emissions and won't compromise your health. 
COREtec Pro Plus — COREtec Pro Plus is a mid-range VPF that focuses on wood-look designs. You can expect to pay around $5 per square foot, which compares well to options like carpet or laminates. This brand has a GreenGuard® Gold certification, which is on par with that of FloorScore®. This is yet another scratch and stain-resistant flooring.  
TritonCORE Pro — TritonCORE Pro is a waterproof range with many wood-look designs. This brand boasts a FloorScore® approval. The stone composite core and attached cork underlayment increase durability and improve strength.

Vinyl Sheet Flooring (VSF) for Basements
Vinyl sheet flooring (VSF) is one of the oldest forms of vinyl flooring on the market. It's durable, waterproof flooring that's easy to install. It can be installed like tiles or as one giant sheet to be laid into a room and cut to fir the walls. The latter of course is perfect to keep water from trickling into the ground.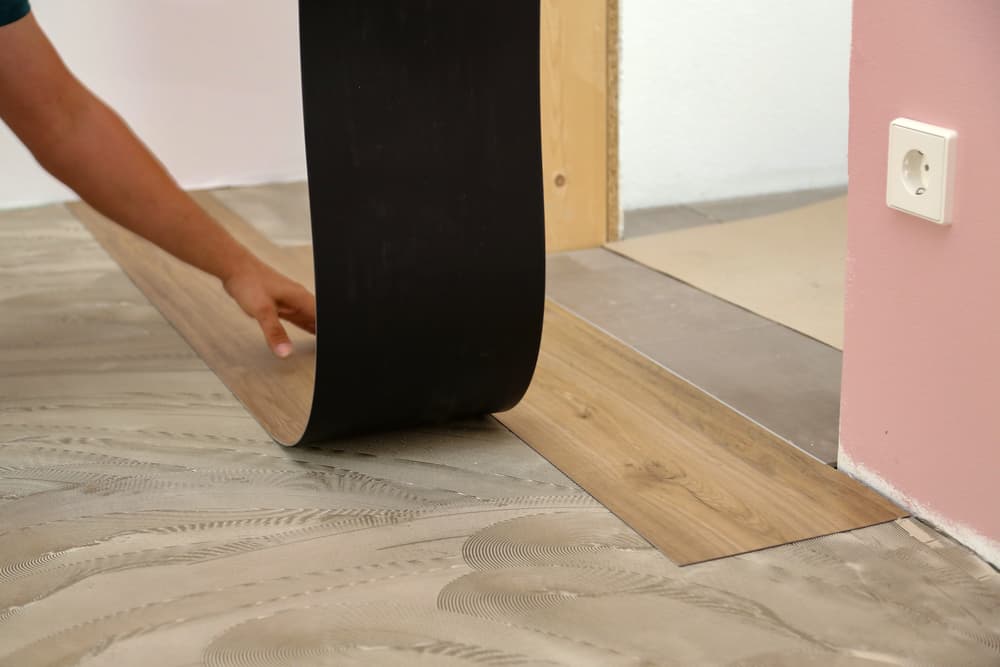 This is a remarkably affordable basement flooring option that starts from as little as $0.50 per square foot. The average range is around $1 per square foot, and the highest standard ranges cost about $2-5. We'll discuss the luxury options a bit later.
VSF comes in more patterns and designs than you might think possible. From natural stone and hardwood looks to entirely artificial appearances, the options are nearly endless. 
Pros
This floating floor is the most accessible basement flooring to install
Most brands are entirely waterproof without requiring an additional seal – perfect for flooded basements
The affordable price makes it ideal for basement floors that see moderate use
Many of these products don't need an underlayment – you can use them on concrete floors or a plywood subfloor
You can complete the entire installation in an hour or two, depending on the room's size
Cons
Most products aren't as durable as planks or luxury options
The most affordable versions have thin wear layers
Not all brands are suitable for use over radiant heating
Popular Brands
I've tracked down some of the best brands that have a reputation for being durable and affordable.
Mannington Revive — Mannington Revive allows you to bring modern styles to your basement floor. These products offer a range of styles and designs, some of which may feature Mannington's ScratchResist® wear layer. This unique polyurethane wear layer is advantageous if your basement suffers heavy wear. 
Armstrong Duality Premium — Armstrong is so confident in the abilities of their Diamond 10 technology that these products come with a limited lifetime guarantee for residential use. With over 100 different products to choose from, you can trust Duality Premium to provide style to your basement without scuffing or scratching.
Congoleum ArmorCore — With a myriad of styles, durability, and waterproof value, Congoleum ArmorCore is an ideal choice for your basement. It offers all the beauty of an engineered hardwood floor for much less.

Luxury Vinyl Flooring (LVF) for Basements
Luxury vinyl flooring (LVF) is one of the more recent developments in the timeline of this basement flooring material.

In most ways, luxury products are much the same as standard varieties. The primary difference lies in the thickness of the wear layer.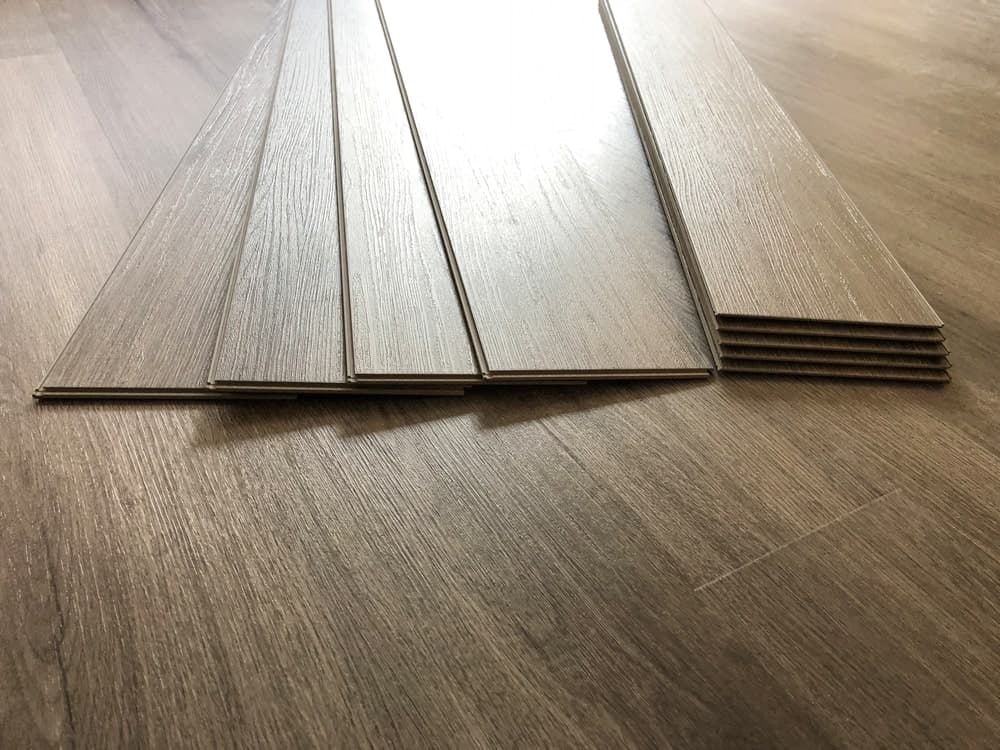 LVF has a thicker wear layer than standard sheets, tiles, and planks. The wear layer can be up to 20 mil thick. If your basement sees intense use, then this may be the right choice for you.
Luxury basement floor options often incorporate an additional layer of cushioning to make them softer. The stability layer may also be thicker, and producers might include an extra protective layer.
As you'd expect, LVF is more expensive than VSF or planks. The price range varies from $2-5 per square foot. As with the other options, the best products are in the mid-high price range. 
If you'd like to know more about the difference between standard and luxury vinyl, check out our luxury vinyl vs. traditional vinyl comparison. You can also learn about the differences between laminate and luxury vinyl flooring.
Pros
The wear layer is thicker than that of standard VSF or VPF—ideal for a heavy-duty basement floor
Thanks to a built-in vapor barrier, most products are watertight and work well in damp or flooded basements
As with most floating floors, it's quick and easy to install
Excellent durability and cleanliness for the price
Thicker cushioning layers make LVF more comfortable to walk on than standard options
Cons
Slightly more expensive than standard sheet, planks, or tiles
Some brands aren't suitable for covering radiant heating
The guarantees often have stringent requirements
Popular Brands
Since LVF first arrived on the scene, I've been keeping a weather eye on it. These are some of my favorite brands:
Flooret Modin—For those hard-working basement floors, Flooret Modin is the answer. These products sport a 40 mil wear layer that provides intense scratch and scuff protection. They're also 100% waterproof, making them an ideal choice for damp basements or basements that flood. Thanks to the attached underlayment, you can install these boards on a concrete slab.
Vesdura—The Vesdura brand of LVF is available in over 300 different styles. If you want that solid wood look in your basement, this brand is ideal. It has a 20 mil wear layer that provides optimum protection to even the most-used basement floor. The products are waterproof and have a FloorScore® approval for low-VHC emissions.
Armstrong LUXE—These are ideal flooring materials for basements that don't suffer heavy use. If you use yours as a family room or game room, these products might be your best bet. They have a 12 mil wear layer, and they're waterproof—ideal for a basement with a high moisture level. 
Check out our luxury vinyl brand reviews for more information about these amazing brands and others like them.

Is Vinyl Flooring Good for Basements?
Vinyl floors are an excellent basement flooring option. If you buy the right type and have reasonable expectations, this flooring option will satisfy you.
Since this flooring type is waterproof, it's an excellent option for damp basements. Ensure that your specific product is non-absorbent before installation, though.
If you buy the shop's cheapest option without studying its specifications, it may not be a good product. Vinyl sheet flooring has long carried an unfair reputation due to cheap products with short lifespans and little durability.
Check the product specifications, and make the best choice for your concrete basement. If you treat your flooring well, it's an excellent choice.
For more about how vinyl flooring compares to more traditional basement flooring options, have a look at my hardwood vs luxury vinyl planks and carpet vs sheet vinyl flooring comparisons.

Which Vinyl Floors Are Best for Concrete Floors?
Most luxury vinyl flooring and vinyl sheet flooring products have a built-in underlayment. These you can install over a concrete slab or plywood subfloor. 
Products like Flooret Modin, with an attached underlayment, are ideal for installation over concrete floors. 

Which Vinyl Floors Are the Most Inexpensive?
Vinyl sheet flooring is the most inexpensive option. While tiles and planks are catching up, the sheets remain the most affordable. As with most things, be careful to buy products that are both inexpensive and high-quality.

Which Vinyl Floors Work for Flooded Basements?
Vinyl sheet flooring is your best bet for a basement that suffers frequent flooding.
Vinyl is an artificial product that's water-resistant. Some products have absorbent layers, which can be a problem if your floor isn't sealed or suffers flooding. If you have a tile or plank floor, you may need to seal it to make it watertight.

How Do You Clean Vinyl Floors?
It's easy to clean this type of flooring, and you can do it in many ways. Many producers have specific requirements about the materials you can use to clean your floor.
A broom, mop, vacuum, or steam cleaner works well. You can also employ light detergents and cleaners. 
Vinyl is stain resistant, thanks to its protective layer. 
You can read more about this topic in our article about how to clean vinyl floors.
I hope that my list has helped you clear up your questions about vinyl flooring for basements. If you'd like to know more about other vinyl products, check out my luxury vinyl cost guide and LVP/LVT guide. 
And if you're looking to redo the flooring in other rooms of your house, check out our garage carpet guide.
If you have any questions that I haven't answered, please drop a comment below. Happy flooring!