Best Rug Pad for Hardwood and Laminate Floors
Looking for a rug pad to cover your hardwood or laminate flooring?
Let's cover the best pad (material, thickness, and size) for your home.
I've been around flooring for over a decade, and I've seen regrets people have with their rugs and pads. I've also seen what holds up over the years.
Your hardwood flooring is an expensive investment, so it's important get this right.
So what is the best rug pad? And do you even need rug pad with your hardwood or laminate in the first place?
I'll start by covering my favorite rug pads for different situations, and at the end, we'll cover whether it not rug pad is required with your hardwood or laminate.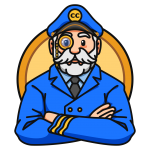 Captain's notice!
When I link to a rug pad, I may get a small commission from Amazon based on what you buy.
This does not affect what you pay or what I recommend. I only link to rug pads I would consider buying if I were in your shoes, and any commission helps pay the bills of the site.
Best overall rug pad for living and family rooms
For most people, my favorite rug pad is a combination of a quality natural rubber and felt. This keeps the pad in place with the anti-slip rubber, and it also gives cushion and insulation.
The main issue with these pads is either 1. a rubber that damages the hardwood beneath it or 2. fillers that degrade and crumble over time.
My favorite overall rug pad for laminate and hardwood is this one.
Best budget rug pad for small throw rugs and runners
Small throw rugs or runners can slip on hardwood like a banana peel.
On the other hand, you usually don't care much about cushion or thickness. People aren't standing on these for a long time, and a thick elevated pad can be a tripping hazard.
My favorite pad in these cases is this case is this inexpensive jute and rubber flat pad. It's thin and minimal, but it does a great job of preventing your rug from bunching up.
Best rug pad for large rugs or rugs under furniture
Sometimes you have a very large rug, or a rug that sits under furniture. You want your pad to protect your hardwood, your rug, and give you comfort underfoot. The good thing with these rugs is you don't have to worry about bunching or slipping.
In these cases, you can skip having rubber in your pad. This will save you some money from our overall favorite pad, but it still gives you all the benefits you need. In this case, my favorite pad is this 100% felt pad.
What thickness and size should I buy?
Usually, for the size of the rug pad, you want a couple of inches smaller than your actual rug. You can always cut a rug pad down to size, so I would err on the side of too big. For more specifics, you can check out my guide on rug pad sizes.
Thickness is more of a personal preference. As a general rule of thumb, I like thicker for living rooms and other areas where people hang out a lot. That's because it's warmer and more comfortable. So what's a thicker rug pad? 3/8″, 7/16″, and 1/2″ would be pretty thick.
Thinner pads are 1/4″ and less. Pure grip pads like my budget option above are very thin–usually 1/6″. These are good for area where people might trip like over your hardwood in a hallway.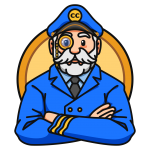 Captain's tip!
Want the comfort and insulation of a pad, but also worried about people tripping over it?
In these cases, 1/4″ rug pad is a great happy medium between a low profile and comfort.
FAQ for rug pads and hardwood or laminate floors
Here are some common questions relating to rug pads and hardwood floors:
Do I need a rug pad for hardwood floors?
Yes, you need a rug pad for hardwood floors. Area rugs have abrasive backings that will damage the coating of the hardwood. Sometimes it will even permanently stain the wood. The rug pad will protect the hardwood floor, and it also will add cushion, insulation, and increase the life of your rug.
Just make sure to pick the right rug pad, which brings us to the next question.
Do rug pads damage hardwood floors?
Most rug pads will not damaged your hardwood floors. However, there are certain rug pad materials that can permanent damage your hardwood. The most common material to avoid is PVC. It chemically interacts with hardwood and can damage the finish and sometimes the wood.
What rug pads are safe for hardwood floors?
The safest rug pad materials for hardwood are natural rubber and felt. Natural rubber interacts well with hardwood and is sticky enough to make your rug not slip. Felt provides cushion to give comfort and insulation to a rug pad.
A note on rug pads for laminate floors:
Everything I said above is also true for laminate, except laminate isn't as big of an investment. So yes, you need a rug pad with laminate flooring. You need it to keep your rugs from bunch up, and some people want it to add cushion. There's not as much concern damaging laminate, but I'd still stick with the same materials as I did for hardwood.
Captain's parting words!
Hopefully you've found the best rug pad for your laminate or hardwood floor.
You have many choices. A lot of it comes down to finding a quality company (there are many), but also matching it with the type of pad you need. That's often dependent on where the rug is and the size.
Have any questions on the best rug pad for your hardwood floor? Let me know in the comments below.