Best Corded Stick Vacuums Reviewed and Ranked
Want a corded stick vacuum?
In reviewing corded sticks, I was surprised the suction power of some (didn't expect much from a stick), but there are definitely some duds.
You'll find 3 things in this article:
#1 The best corded stick vacuum (and my top 3)
#2 Pros and cons of corded stick vacuums: cord vs cordless, stick vs upright, etc
#3 What to look for when shopping for corded stick vacuums
#4 Other FAQ regarding corded sticks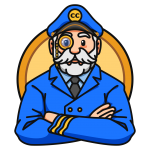 Captain's notice!
When I recommend a vacuum, there is a link to a product page (usually Amazon), and I may receive a small commission if you purchase after clicking it. This does not change what you pay or what I recommend. It does help fund the research I put into the site, and I'm grateful for any support!
Top 3 corded stick vacuums
Ranking corded stick vacuums really came down to one thing: suction power and overall cleaning ability.
Unlike some other types of vacuums, you don't have to worry about battery life, all stick vacuums are easy to store, and most all stick vacuums are easy to maneuver.
Here are my top 3 (#3 is for budget seekers):
Weighing under 8 pounds, the highly rated Shark Rocket Ultralight can also be converted into a hand vacuum cleaner which is great for cleaning above floor level. With fingertip controls, the mode can be switched from hard floor to carpet within seconds. The swivel steering gives you extra control and makes it easy to move between furniture. Accessories available with the Shark model are a dust-away hard floor attachment, a washable microfiber pad and a home and car detail kit with micro tools for cleaning the tiniest spaces. For storage there are two options, the hand vacuum can be fixed to the bottom of the vacuum or you can have the whole unit mounted onto the wall. I'm impressed by the Shark Ultralights cleaning ability on both carpet and hardwood, making it the top pick.
What I like
Great suction for a stick making it effective on carpet as well as hardwood
Easy to maneuver swivel-steering
Full set of accessories
Long 27-foot cord (this could be a nuisance if you're in a tiny place!)
What I don't like
The motor is located in the handle making it a little top heavy (won't be an issue with most people)
Get latest price on Amazon by clicking here
Weighing in at more than 9 pounds, the Hoover Corded Cyclonic is heavier than most in the stick category. This is a gift and a curse. It's a sturdier, more durable feel that works well on carpet and hardwood. The problem is it is a little more difficult to maneuver. It has a wider head that allows easier full-room cleaning. Like the Shark Rocket Ultralight, it has a push button to switch from hardwood to carpet with ease. The handle can recline completely making it easy to vacuum under beds and sofas.  There is a filter in place that can be removed for washing.
What I like
Powerful suction for a stick
Edge cleaning bristles
Large easy to remove dirt container
Washable filters
20-foot retractable cable
Handle folds down for storage
Power brush roll to clean carpets
What I don't like
No attachments or accessories
A bit on the heavy side
Get pricing and more info on Amazon by clicking here
Full disclosure: I wasn't super impressed with the cleaning ability of this vacuum, but I know some readers want super-cheap stick vacuum for apartment living or just cleaning up messes. This is the best vacuums to do the job and will likely cost you under $30.
The Dirt Devil Simpli-Stik not going to clean a house but is good for cleaning up messes in dorm rooms or small apartments. With a 16 foot electrical cord which is ample for small spaces, the Dirt Devil also converts to a handheld vacuum which is a great plus for cleaning those pesky crumbs or pet dander. If you simply want an inexpensive stick vacuum for a small space, without all the extras, then this model is definitely value for money. 
What I like
The price
Effective on hard flooring
Small "footprint" and easy to store
Converts to a handheld vacuum
What I don't like
Not as durable as bigger models
Not powerful enough for carpet
Get pricing and more info on Amazon by clicking here
Pros and cons of corded stick vacuums
There are3 major benefitsof corded stick vacuum over other vacuums:
lightest vacuums on the market (most are under 10lbs)
take up the least space (great for apartments, dorms, and small houses)
less expensive than many other vacuums
All are great reasons to buy a vacuum, but what's the sacrafic?
The disadvantage of stick vacuums is simple: You can't have as big of a motor as an upright vacuum. This means your average stick vacuum won't do a great job of cleaning carpet. Thisisn't true for the best stick vacuums though. They perform as well as an average upright.
So we know the pros and cons of stick vacuums vs other vacuums, but what about corded sticks vs cordless sticks?
Corded vs cordless stick vacuums
Suction power used to be a big difference, but the newest cordless stick vacuums can be as powerful as their corded cousins. And not having a cord has a few benefits: not having the hassle of tripping and vacuuming over it, but also you can take your cordless vacuum outside to vacuum your car etc.
So why would I deal with the hassle of a cord if suction can be the same?
There's a couple of reasons:
cordless stick vacuums can only hold theirmaximum power for about 5-10 minutes (even though they may list their battery power as 60 minutes… that's on a lower power)
cordless stick vacuums cost considerably more. the top cordless vacuums may be $800, where our top corded vacuum is closer to $200
If you're interested in cordless vacuums, you can check out my comparison of the Dyson V8 vs V10 vs V11, which are the best cordless stick vacuums in my opinion.
What to consider when buying a corded stick vacuum cleaner
Power and cleaning ability
The stick vacuums biggest challenge is it can't have a big motor (that's what makes it a stick). It has to compensate by an effective brush and maximizing every ounce of power it has (two vacuums can have the same power motor but one cleans much better than the other).
There isn't a great way to find which vacuums clean best except to sort through reviews or try it out yourself. If you have massive amounts of pet hair, you might want to skip the stick vacuums. But if you just need your carpet clean (and maybe some pet hair), the best sticks can do the job.
Lightweight and easily accessible
Most people want a stick for its convenience. The last thing you want is a stick that is difficult to use. A good stick vacuum cleaner should have high reviews for being light, easy to move around furniture, and have a long enough retractable power cord and flexible swivel steering to enabling maneuvering into hard to reach spaces.
Accessories
Most models come with handy accessories that are easily attached. Make sure there are accessories aren't a pain. Some sticks' accessories get in the way and are a mess to store. Other sticks have more efficient designs where the accessories are easily added and store to the vacuum.
Maintenance
Maintenance of most stick vacuums is easy, and the ones without replaceable bags are the most convenient and you won't need to buy replacements. Most stick vacuums have a dirt container that simply opens to be emptied. A removable filter is recommended as this needs to be cleaned regularly–if you can't/don't replace filters often, the vacuum loses suction and sticks already don't excel in this department.
Conversion to handheld vacuum
If choosing a Stick Vacuum, the best ones can also be used as a handheld model, by simply detaching the wand. This will give you the convenience of both stick and handheld vacuum cleaner, in one. This is similar to attachments. It's a good feature to have, but make sure it's not a pain to use and that it is durable (vacuum parts don't break when frequently converting stick to handheld).
Cord length
Bigger is better? Not necessarily. Generally, I like longer cords because it's more convenient if you don't have to look for an outlet next to every area you want to vacuum. The downside of a long is it can get in the way and take longer to wrap up if you don't need it (tip: never lead the cord partially wrapped on the vacuum if you don't need the full length because this can start a fire).
Affordability
Every stick we've looked at is inexpensive. They don't have the motor power or technology of upright vacuums. That said, if you just want the cheapest option, it's worth looking at the reviews to make sure it's not complete junk (even if you just need it for very seldom use).
FAQ (frequently asked questions) on Corded Stick Vacuums
do corded stick vacuums work on carpet?
In a short answer, yes. In my experience, the best corded stick vacuums clean carpet about as well as a slightly above average upright vacuum. That means it doesn't get it quite as clean as the very best upright vacuums, but it will do a good job. It also means the average and worse stick vacuums do a very poor job on carpet. Quality matters much more in a stick vacuum.
Are stick vacuums the best for arthritis and joint pain?
Yes and no. They're the lightest, so I that really helped with most joint pain. The thing you have to be careful of is maneuverability. Some take a lost of "wrist action" to turn, and this can be a problem. I actually have a page on the best lightweight vacuum cleaners for the elderly, and all happen to be stick (not all are corded).
are corded stick vacuums good with pet hair?
I'm surprised how well the top corded stick vacuums do with pet hair, but they still don't compete with the best upright vacuums. This is mostly because they don't have room for the big motor to suck up every last hair, and many uprights even have trouble with pet hair. If pet hair is your #1 priority, I'd check out our page on best vacuums for pet hair.
does dyson make a corded stick vacuuM?
Dyson is probably the most popular name in vacuums, so some may wonder why there were no Dyson's making the cut. The reason is Dyson's don't make a corded stick. They went straight to cordless.
will corded stick vacuums scratch laminate or other hard floors?
I didn't see many complaints of scratched floors in reviews of sticks. Most corded stick vacuums are made more for hard floors than they are carpet, so they won't scratch these floors. This is designed with softer bristles, sometimes no beater bar or one that turns off, and overall just lower power than uprights. Of course, it's always a good idea to test on your floor in an inconspicuous area first.
Captain's parting words!
Hopefully, this article helped you on finding your perfect space and money saving stick vacuum. I also have reviews about the best stick vacuums and – cordless or not.
New technology has really made some of these much more effective cleaners than I expected. Let me know if there's anything else you want me to cover or any questions you have in the comments below.