Best Lightweight Vacuum for Seniors
The problem with many powerful vacuums is they're heavy, and they get stuck when you try to push them.
I've had many seniors and arthritis sufferers email me because the top vacuums I recommend are too difficult to push, and I'm glad they did because it's a topic I overlooked.
So what are the best lightweight vacuums seniors and people with joint pain?
Here's what I'll cover:
what to look for in a vacuum that makes it easy to maneuver
my top 3 vacuums for elderly and joint pain (best overall, best splurge, and best for tight budgets)
other features to look for in vacuums and conclusion
How to find a vacuum that's easy to push and easy on the joints
It's not difficult to find vacuums under 10lbs.
The challenge is most lightweight vacuums don't perform great. Here are a few things I had to consider when picking the best vacuum for someone who is older or with joint pain:
I only considered vacuums under 10lbs
This was the easiest step. I just didn't consider any vacuum that weighed over 10lbs.  Why 10lbs? No matter how easy a vacuum is to maneuver, if it's over 10lbs there are times where an elderly person is going to have difficulty getting the vacuum where they want (in the closet, up the stairs, etc).
How easy is it to turn the vacuum without being hard on the back and wrists?
There are some vacuums that are lightweight, but the ergonomics are bad. A common problem is they are stiff in the handle. This creates awkward wrist positions that take more muscle and cause more pain.
Does the vacuum get stuck when trying to push it?
Some vacuums suction power and the way they are designed can stick to the carpet and be difficult to push for anyone. This is especially true on dense, plush carpets. If this was the case, the vacuum was eliminated
The final verdict: does it clean well?
Okay, so the vacuum is easy to push, but does it clean well? Many of my overall best vacuums were eliminated when considering the 3 concerns above. However, there were a few vacuums that stood out as still performing extremely well (better than your average upright vacuum). That leads us to my favorite 3 vacuums for seniors…
Top 3 lightweight and easy to maneuver vacuums
Now, let's get into the meat of the article. What were the winning vacuums for seniors?
Below I'll list my favorite overall, my favorite splurge (if you have about $500 to spend), and my favorite for those on a fixed income and tight budget. Also, I have a list of my favorite cordless devices overall – if you want to have a look.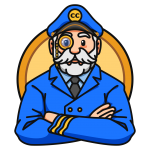 Captain's notice!
When I recommend a vacuum, there is a link to a product page (usually on Amazon). I may receive a small commission if you purchase after clicking it. I receive the same small flat percentage with any vacuum, so it does not change what I recommend or what you pay. All reviews are 100% unbiased.
Shark Rocket Ultra-Light (best overall): Weighing in at under 8lbs, this vacuum is 50% lighter than many uprights. And despite its lightweight, it can compete with many high-performing vacuums. This isn't to say it will get your carpets as clean as best of the best heavyweight vacuums, but its cleaning power is better than the majority of vacuums no matter what their weight. Here are some other pros and cons:
great for cleaning pet hair
multiple available attachments to better clean wood floors
converts to a handheld for an even lighter vacuum for spot cleaning
has an on-off button that is clicked once (you don't have to hold a trigger)
con: doesn't remove as much carpet debris as the heaviest, best suction vacuums (but it still does a great job for its weight)
value is excellent—it's often listed under $200
Check the latest price on Amazon by clicking here
Dyson V10 Cordless Stick (best splurge): Stick vacuums used to be sort of pointless; they were basically expensive brooms that could only be used on hardwood. That was before the Dyson V-series. These stick vacuums have the suction of average uprights but still weight sub-6lbs! That's about the weight of a sack of potatoes. This won't deep clean as well as the upright Dyson vacuums, but still does a pretty good job on carpet and is simple to use. Great for anyone with arthritis who has a small house to clean. Here are the pros and cons:
cordless, stick vacuum with easy hang and removal from the wall
easy push button emptying
over 100 air watts of power combined with tech that makes it comparable to average uprights
con: will not get carpet as clean as many higher-end uprights
con: have to hold the trigger button while vacuuming (it an easy to hold trigger but still may be a problem for some with severe arthritis in the hands)
easily transfers to a handheld vacuum
can clean about anything with its attachments
Check the latest price on Amazon by clicking here.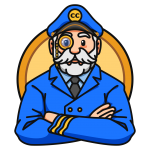 Captain's side note!
There are 4 versions of the Dyson V series. I chose the V10 here because it's my "winner" of the bunch, but it's somewhere in the middle of performance and price. If you want the complete
breakdown of the Dyson cordless V-series vacuums click here.
VonHaus 2-in-1 Corded (best budget): This VonHaus will set you back about the cost of a dinner, and it actually does a decent job cleaning. I couldn't find the exact weight, but its light and packaging is about 5.5lbs, so it like comes in under 5lbs. One important caveat is it doesn't have a beater bar to deep clean carpet. Here are some pros and cons:
works as an upright/stick or as a handheld vacuum
suctions works pretty well on hard floors
has an on-off button that is clicked once (you don't have to hold a trigger)
con: will not deep clean carpet
con: made of inexpensive materials so likely not as durable as some vacuums
Check the latest price on Amazon by clicking here.
Dyson DC50 Animal Compact (slightly heavier but best clean): You probably noticed that this list doesn't have any "excellent" carpet cleaners. The Shark Rocket and Dyson V7 are good but not great. To be excellent, I had to look over 10lbs to find the Dyson DC50, but this is actually a pretty good vacuum for anyone who needs a light vacuum. It's 30% lighter than most uprights and the "ball" technology isn't just a sales gimmick; these vacuums are simple to turn and easy on the wrist. If you plan on lifting your vacuum a lot (say, upstairs), this may be a little heavier than you want, but otherwise here are some highlights on a very powerful vacuum in a small package:
about 30% lighter than many uprights at 12lbs
easy movement makes it feel like a 7lbs vacuum
excellent cleaning of all surfaces
has an on-off button that is clicked once (you don't have to hold a trigger)
con: may be too heavy if you have arthritis or are elderly and need to lift the vacuum upstairs
good assortment of attachments to clean any surface
Check the latest price on Amazon by clicking here.
Other things to consider when buying a vacuum cleaner for a senior or anyone with joint pain
If none of the vacuums above work for you, here are some things you should consider if you go out and buy a lightweight vacuum on your own:
Maneuverability and weight
There are many reasons you might want a lightweight vacuum. Maybe you have arthritis, or maybe you have an elderly parent who will be using it. Or maybe you just get sick of lugging a heavy vacuum up the stairs.
The reason it matters is that it may make the difference in whether you need a truly lightweight vacuum or just an easy to maneuver vacuum. If you're going upstairs and that's the problem (particularly with an elderly person), you need to look strictly at the poundage of the vacuum.
If your wrists hurt from arthritis and pushing and pulling the vacuum, you don't necessarily need something light. Some vacuums can be heavier (eg Dyson small ball above) but move around like they're one of the lightest vacuums you felt. These can work great in homes with no stairs.
Do you have to hold down the power button and other hand position details
Most big vacuums have an on-off switch to control the power, but this isn't always the case for more portable vacuums. Some vacuums like the Dyson V-series you have to hold down the trigger. In this case, it's very easy to hold the trigger (not much different than just gripping the vacuum), but it could be a problem with hand arthritis if you can't keep your hand in a gripped position.
You also may want to pay attention to other ergonomic issues like wrist hangle (and flexibility of the head of the vacuum versus you have to use your wrist to move the whole machine) depending on the joints that bother you most.
Cleaning power
One trade-off that sometimes occurs with lightweight vacuums is a loss of suction power. The Dyson V8 is remarkable for its ability to outperform heavier or corded vacuums, but often that is not the case.
When you are choosing a lightweight vacuum you should always pay close attention to its suction power. Homes with pets, kids, and busy adults are always seeing dirt and hair tracking in and out, and so any vacuum you buy should be able to keep up with the demands you place for it.
Best surfaces
Lightweight vacuums are often excellent for hard floors. Since those floors require less suction power to keep clean, you may not notice any issues with the lightweight vacuums at all.
Some hard floors, such as select hardwoods, do not take a beating from heavy objects without risking damage. A lightweight vacuum will be easier and a little safer to use than a heavier one, although you should be aware of your vacuum's settings and your floor's recommended care before vacuuming it.
Captain's parting words!
Now you know best light vacuums whether your a senior, have joint pain, or just don't want to lug something heavy upstairs.
Many light vacuums don't pack the punch you need, but these lightweight vacuums have significantly more power so you can clean your hard floors or carpet. I also have reviews about the best stick vacuums and much more.
Any questions on lightweight vacuums? Let me know in the comments below.