Buying flooring? Start your research here.
Carpet Captain doesn't sell flooring but is 100% designed to help you buy it. I teach you which carpet is best for your home and what carpet will leave you with regrets.
You will also learn scams to avoid and how to get the best deal. All without a sales pitch.
Flooring Price Guides and Cost Calculators
While it's nice to look at samples and pictures – ultimately most homeowners want to know how much their new flooring will cost – be it Carpet, Laminate, Hardwood, Vinyl, etc.
We have compiled a wide range of price guides and cost calculators that will help you estimate the actual price of your project based on material, subfloor, project size and location.
Here is a simple calculator that estimates cost of carpet based on job size:
Prices
Low End
Mid Range
High End
Total Cost
$728
$837
$1,415

See Costs in Your Area!
Start Here - Enter your zip
Other cost guides and calculators:
What will you find on carpetcaptain.com?
Carpetcaptain.com has 100's of pages dedicated to teaching you how to buy flooring. In 2018, we continue to update it on a weekly basis.
The "core" of Carpet Captain is our unbiased flooring guides. These guides walk you through how much you should pay, what matters and what doesn't for durability, where to buy, how to get the best deal, and more important floor buying topics Here are our top 4 guides:
I built Carpet Captain over 5+ years to unveil everything you need to know before walking into the flooring store. The goal:
Save time, money, and headache.
Easiest way to start your floor remodel journey
Buying flooring is a major investment,probably top 3 behind housing and cars.To make it pay off, there are many important details you don't want to overlook.
If you know what flooring you want, I'd go straight to our guide for that specific floor.
If you don't know what type of floor you want, I break down all types of flooring in nearly every important floor remodel category (durability, safety, value, for kids, etc) in our flooring options section.
Or maybe you just want inspiration? Check out Carpet Captain on Pinterest for all kinds of pictures of floor remodel ideas.
What do other shoppers think of Carpet Captain?
To get you motivated, I'd like to share a sample of compliments Carpet Captain receives from people in your shoes (note: we never ask or pay for a compliment). Here are a few of my favorites:
I'm really amazed at all the information in it and wish I had this knowledge when I purchased my carpet back in 2007 … Your website is an example of how useful the internet can be. –Dan S.

Thanks for info so far – the tip on asking for less pad since its hidden/under carpet definitely showed the salesman I knew what I was talking about –Brian B.

I've been 'burned' by a carpet salesman once before … Thanks again for your empowering website! –Suzanne S.

You've saved me hours by clearly explaining the terms I'll be running across, and ways I might be misled by eager salespeople.–Donna D.
These are my favorite compliments because they hit home why I started Carpet Captain… transfer power from big carpet industry and commissioned salespeople to you.
A work in progress (feel free to help)
Carpet Captain is over 5 years old. It started as a father-son project to help my dad's carpet cleaning customers pick out new carpet. It's evolved to all types of flooring.
Always our #1 goal is to give you information without a sales pitch that you can't find anywhere else.
We want it to be the place you know you can trust to go before buying flooring. (if you want to know more about how Carpet Captain started and where it's at today, check out our about Carpet Captain page.)
So how can you help?
leave comments on articles with your experience or questions you have
email us if you have any flooring questions that go unanswered
share carpetcaptain.com with your friends on social media and in-person.
Your interaction with Carpet Captain is what helps us. Often if you have a question or feel something is missing, I didn't cover it. I responded to all comments, and often times I find your comments answer other people's questions.
Best of luck on your flooring remodel,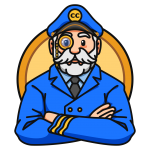 The Carpet Captain
Average Cost To Install Carpet Flooring
Price Range:
$845 - $1,650