If you're one of the many homeowners in the US who love hardwood floors, you're in good company. In the '70s and '80s, solid wood floors were some of the most popular choices, and many of those houses sell for a small fortune today.
The other side of the coin is that hardwood flooring can be expensive to install. Join me as I delve into the costs of installing hardwood floors and how you can save money during your installation.
Cost of Installing Hardwood Floors
Depending on the type of hardwood you get, expect to pay between $6.20 – $8.70 per sq. ft. for a basic hardwood (white oak, etc) and up-to $9.40 – $12.50 per sq. ft. for more premium types of wood, such as cherry wood, mahogany, jasper, etc.
Average Cost To Install Hardwood Flooring
Price Range:
$1,710 - $ 3,745
In Short
On average, installing a standard hardwood floor in the US costs around $6,500 – $11,500 for 1,000 sq. ft2.
You can change the appearance of inexpensive or existing wooden floors by staining.
It's best not to install hardwood floors in basements that flood or other wet areas.
You can save money by waterproofing your own subfloor and installing your own underlayment.
Refinishing hardwood floors costs about ½ of the value of a new floor installation.
Hardwood pricing varies, depending on the quality, type, and finish of the boards. 
Before scrapping your old floor, check out my hardwood care repair guide—it might be salvageable.
How to Calculate the Cost of Hardwood Flooring
Prices
Low End
Mid Range
High End
Materials
$841
$1,168
$1,787
Total Cost
$1,767
$2,454
$3,754

See Costs in Your Area!
Start Here - Enter your zip
Many people think that calculating the cost of hardwood flooring is as simple as finding out how much the materials cost per square foot. The concept is more complicated than that, and there's are several factors to consider.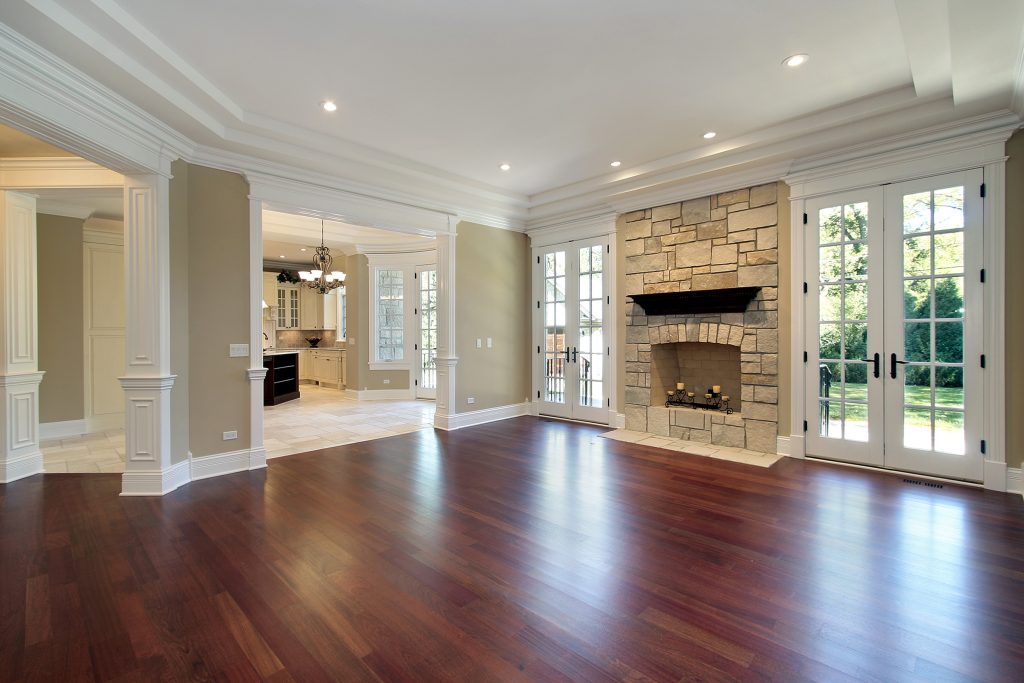 The species of wood—Exotic hardwoods are more expensive than oak or pine.
Hardwood flooring grades—Most flooring types are available in different grades, a.k.a qualities. Lower grades are harvested from trees that aren't considered suitable for premium flooring, but are still usable. The difference between the highest and lowest grade can range from around $2 (in pine flooring) to $200 (in exotic woods).
Finish—The finish of the flooring material makes a bigger difference than people realize. Refinished or refurbished hardwood flooring is generally the cheapest, followed by unfinished hardwood. Treated, finished flooring material is the most expensive.
When you get down to the numbers, what do all these things add up to? Let's put it in perspective.
Pine flooring, a relatively cheap hardwood floor, costs between $1-$4 per square foot if you buy the unfinished or lower-grade option. If you buy high-grade, finished products, you can pay between $9-$12 per square foot.
Unfinished wood flooring that consists of Ash is considerably more expensive. You could pay up to $18 per square foot for relatively low-grade material. If you pay for high-grade, pre-finished flooring, that number can go as high as $170.
If you install an affordable, standard-grade hardwood, you can probably expect to pay anywhere between $18-$40 per square foot.
How Much Does Hardwood Flooring Installation Cost
The installation costs vary depending on the quality of the material. While unfinished hardwood flooring products are generally inexpensive, most hardwood flooring installers charge more to install them.
The added charges are thanks to the trimming the installers have to do and the rough edges they need to manage. If you want them to apply hardwood floor finishes, that will push the price even higher.
Prefinished hardwood floors are more expensive to purchase but cheaper to install. The installers spend less time tweaking and finishing, which means they can do the job faster.
You can expect to pay between $4 – $6 per square foot on average for installation and up to $10 per square foot for unfinished wood flooring.
If you're extremely handy, you can install your own hardwood floors. It will require a laundry list of tools, since you need to attach the floor to the subfloor. If you're a DIY-lover, you may have some of them on hand already. These include:
Pneumatic nailer / nail gun
Drill & drill bits
Tape measure
Chalk line
Hammer
Screws
Nails
A pry or crowbar
Long level, for checking that boards are flush
A miter saw, circular saw, or jigsaw
Unlike laminate, engineered hardwood, and other prepared floors, you need to drill pilot holes in many different places, to accommodate attaching the floor to the subfloor (with screws. You'll also need to nail the wood in place, and spend a fair bit of time aligning and trimming board edges.
While turning your hardwood floor install into a DIY project might sound like a cheap alternative, it can be disastrous. If you make mistakes, and have to hire a professional, you'll likely pay more to have them fix your botched job. If you don't have some of the tools, that's another added expense.
In short, I don't recommend DIY hardwood installations to any but the most experienced.
Average Cost To Install Hardwood Flooring
Price Range:
$1,710 - $ 3,745
Hidden Costs and Other Considerations
If you're replacing existing hardwood floors, you may find that there's no moisture barrier underneath. In the '70s and '80s, when hardwood flooring dominated the flooring industry, moisture barriers were uncommon or non-existent.
When you replace hardwood floors, you might need to pay to have the subfloor waterproofed. Waterproofing will cost around $1-3 per square foot.
You may also need to pay to install a moisture-proof underlayment to protect your floor. Waterproof underlays cost around $0.30-0.70 per square foot.
Both these waterproofing steps are needed if your concrete floor has never been waterproofed, and doesn't have a waterproof underlay. If you're unsure, it's better to waterproof again, than to deal with moisture issues later on.
The final potential hidden cost lies in uneven subfloors. In old homes, the floor can shift over time, leaving it uneven. If the subfloor is no longer even, you might have to pay for someone to level it.
Leveling the subfloor is the most expensive potential dilemma and may cost you as much as $2500—the cheapest possibility costs around $180.
The cheapest option involves buying a "self-leveler"—a compound that you mix and spread across the floor. This isn't an option in case of severe issues, so you may have to pay a contractor to level the floor with heavy machinery.
Moisture protection and a level subfloor are essential steps if you want your hardwood floor to survive for as long as possible.
How Much Does It Cost to Install 1,000 Square Feet of Hardwood
When it comes down to it, what is the overall cost of installing 1,000 feet of hardwood? Let's do the calculations. We'll assume that the subfloor is level but not waterproofed.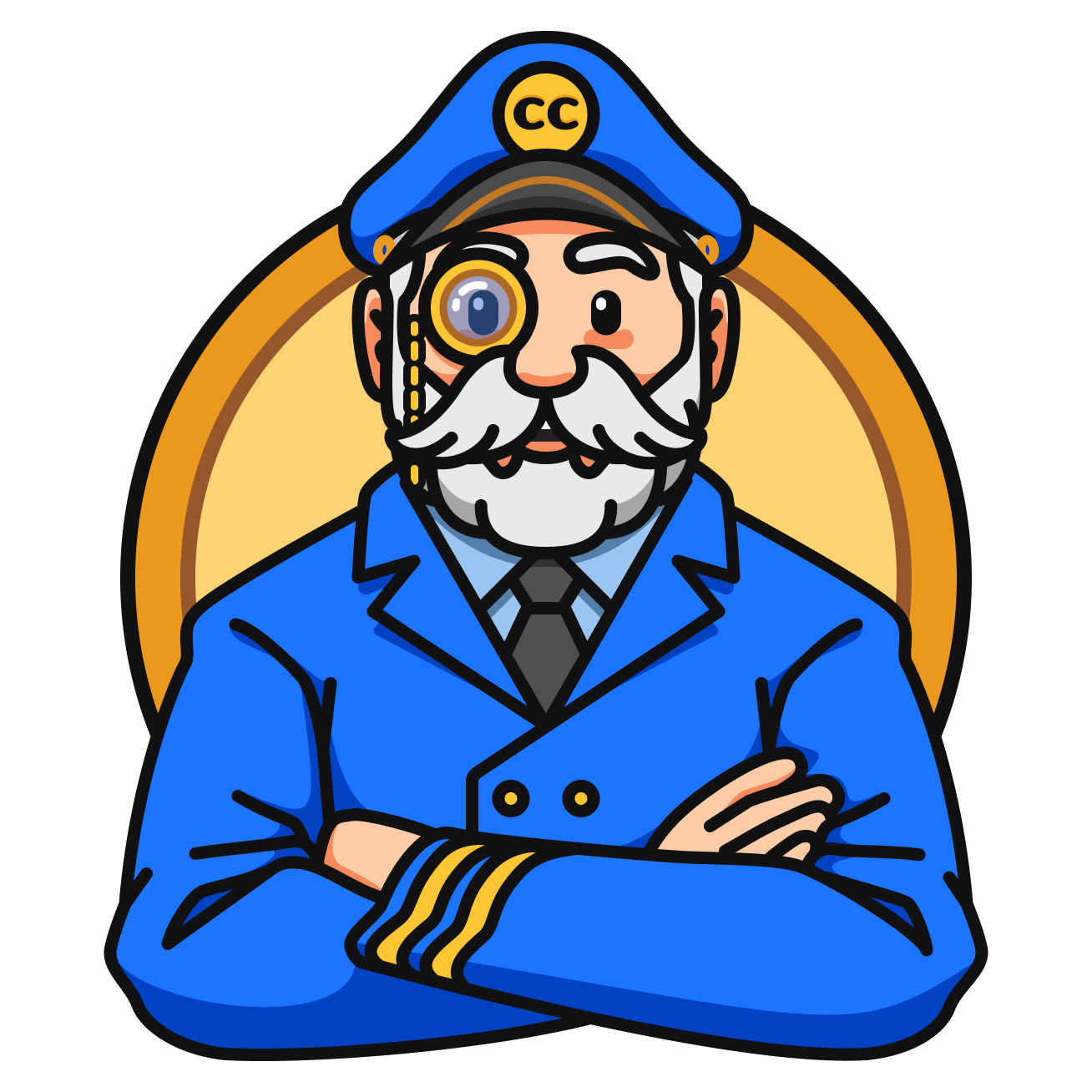 Many learned that hardwood prices can fluctuate a lot (!) in 2020 and 2022. Here is a visualization made in May 2022 to stand as an example of how sudden price changes can influence a whole industry and thousands of people.
That being said, below is a more "regular" average I collected for you:
Average Cost To Install New Flooring
Price Range:
$1,215 - $2,460
| | | | | | | |
| --- | --- | --- | --- | --- | --- | --- |
| Name of Cost | Minimum Price / ft2 | Minimum Price / 1,000ft2 | Average Price / ft2 | Average Price / 1,000 ft2 | Maximum Price / ft2 | Maximum Price / 1,000ft2 |
| Waterproofing the subfloor | $1 | $1,000 | $2 | $2,000 | $3 | $3,000 |
| Installing a waterproof underlay | $0.30 | $300 | $0.50 | $500 | $0.70 | $700 |
| Hardwood material (Pine) | $1 | $2,000 | $4 | $4,000 | $15 | $15,000 |
| Hardwood Material (Ash) | $18 | $18,000 | $6.50 | $6,500 | $170 | $170,000 |
| Installation | $4 | $4,000 | $5 | $5,000 | $6 | $6,000 |
| Total (Pine) | $6.30 / ft2 | $6,300 / 1,000ft2 | $11.50 / ft2 | $11,500 / 1,000 ft.2 | $24.70 / ft2 | $24,700 / 1,000 ft2 |
| Total (Ash) | $23.30 / ft2 | $23,300 / 1,000ft2 | $13 / ft2 | $13,000 / 1,000 ft2 | $183.70 / ft2 | $183,700 / 1,000 ft2 |
As you can see, the cost of installing a hardwood floor varies according to your choices. The prices considered above are somewhat extreme, at both the high and low end of the spectrum.
The high and low prices above come from various retailers, and the averages are the best possible estimate taken from various national estimates. These prices will vary, depending on your region, and the fluctuating cost of lumber.
The local average for installation or flooring might be considerably lower, or higher, or you may have access to a local lumber mill. Consider all the options before making a final decision.
Most people do things as affordably as possible, and the average cost is therefore much lower. The average price that most people pay for installing 1,000 square feet of hardwood is around $11,500.
The Best Places for Hardwood Floors
Average Cost To Install Hardwood Flooring
Price Range:
$1,710 - $ 3,745
Many different factors contribute to the popularity of solid hardwood floors. In some scenarios, it simply shines brighter than others.
Low-traffic living areas, like bedrooms, are perfect places to install hardwood floors.
Solid hardwood stairs are beautiful and effective but best installed by flooring contractors.
Kitchens can look lovely with solid hardwood flooring if you keep it clean.
Consider engineered hardwood flooring for heavy-use kitchens—it has a protective veneer that helps protect it from spills and staining.
For the best possible preservation, clean solid hardwood flooring regularly.
Wipe, sweep, and mop your wood floor when it's mildly dirty, rather than trying to scrub it when it's filthy.
If you're installing exotic hardwoods, consider paying flooring contractors to do the installation.
Unfinished hardwood flooring lends character to rustic-style rooms and cabins.
Refinishing existing hardwood flooring can create a beautiful, rustic effect.
When Not to Install Hardwood Flooring
Despite the popularity of solid wood flooring, it's not suited to every situation. In some ways, hardwood flooring is hardy and durable. In other scenarios, installing hardwood is begging for disaster.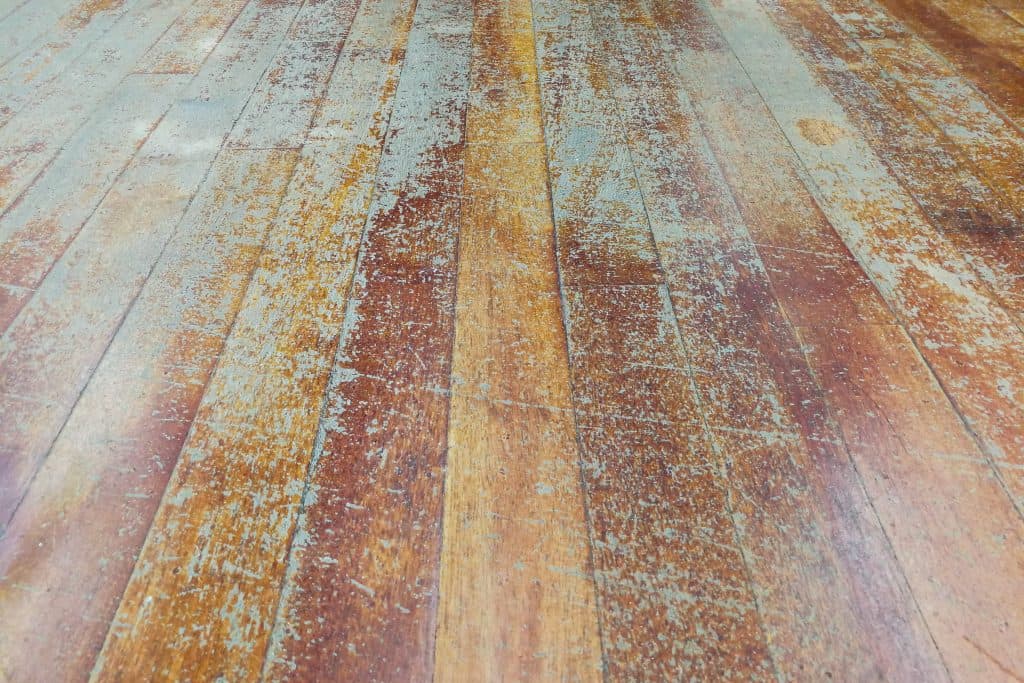 I've gathered some useful tips for trouble areas that will help keep you from damaging your hardwood flooring:
Don't install hardwood flooring in damp basements or basements that flood.
It's better to use wood-look vinyl flooring in bathrooms, as it's typically entirely waterproof (avoid products with absorbent backing).
If you truly want hardwood flooring in your bathroom, only install it in low-traffic bathrooms with floors that don't get wet frequently.
In bathrooms, always mop up moisture from the floors immediately after using the bath or shower.
Consider applying an epoxy sealant or another wood sealant to protect your hardwood flooring in bathrooms and kitchens.
Always install a waterproof underlay to protect your floor. Otherwise, water may seep up from below and damage the floor.
Don't install hardwood flooring in workshops, or high traffic areas, unless you're willing to refinish the floor often.
Install floor protectors on your furniture legs to avoid scratching the wood.
Use pH neutral cleaning agents on hardwood (check out my how to clean hardwood floors guide for more).
Tips to Cut Down on Hardwood Flooring Costs
Average Cost To Install Hardwood Flooring
Price Range:
$1,710 - $ 3,745
We all know that hardwood flooring isn't the most inexpensive flooring option on the market. There are ways to cut down costs and get the look you want for less.
Consider Buying Repurposed Hardwood
Some of the many advantages of buying repurposed hardwood include:
Affordability—Repurposed or refinished, hardwood is considerably cheaper than new boards. Sometimes you can even find unwanted boards on online forums and refinish them yourself.
History—When purchasing refinished hardwood, you can sometimes buy boards that artisans cut up to 100 years ago. It's also sometimes possible to buy boards from significant historical buildings (though these have a much higher price tag).
Appearance—While styles haven't changed markedly in the last few centuries, there are differences in the cuts and preparation styles. If you buy refinished hardwood, you often get beautifully seasoned wood that's been re-treated.
Sustainability—By buying refinished hardwood, you can help cut back on deforestation. Assuming that a tree is 100% perfect (which is essentially impossible, i.e. is straight, not rotten, has not been eaten by bugs), the following facts apply.
A single tree with a 30-inch diameter can produce 1,000 board feet (one board foot is one foot long, one foot wide, and one inch thick). It takes between 16 and 60 years for a tree to reach that size.
If you have an existing hardwood floor, you can consider refinishing it— it only costs about one-half of what it costs to install a new floor.
Choose an Affordable Species of Wood
The second significant tip I can give you is to choose the hardwood species carefully. You'll discover significant differences in the pricing of different types of solid wood.
Let's look at the entry-level prices for some of the different species:
Per square foot, pine costs roughly $1-$3.
Red oak flooring costs around $4-$6 per square foot.
Bamboo flooring, a popular alternative that looks similar to hardwood, costs about $1-4 per square foot. Check out my bamboo guide for more about that.
Ash, a relatively high-grade hardwood species, weighs in at around $18 per square foot.
If you choose to buy high-grade flooring materials, you can add anything from $5 to $150 per square foot. Again, exotic species and slow-growing species like Ash or Walnut remain far more expensive.
Most people choose to split the difference and buy standard quality hardwood flooring. It's neither as expensive as the highest grade nor as easily damaged as entry-level products.
If you want to keep your costs as low as possible, you'd be wise to study the different hardwood species. Look for a species that combines the look you like with the ideal budget range. For help with that, you can read my guide to the different hardwood types.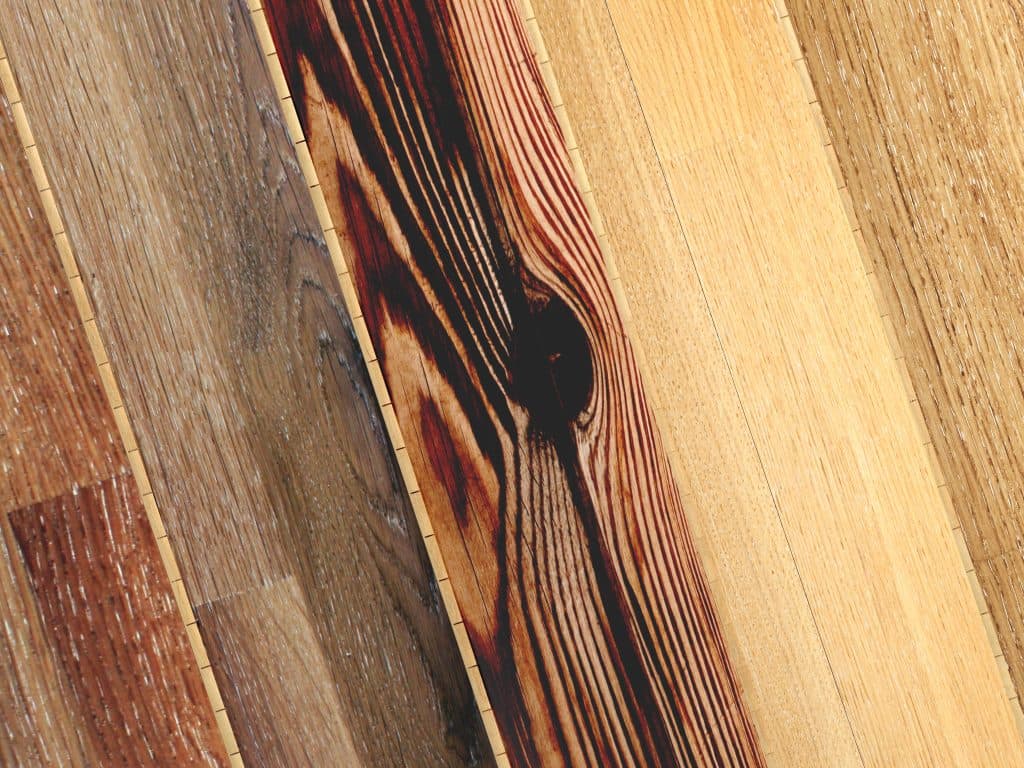 Stains Can Change Your World
Average Cost To Install Hardwood Flooring
Price Range:
$1,710 - $ 3,745
If you love the appearance of dark woods like walnut but don't like the price tag, you have other options. You can buy an inexpensive wood species like pine and stain it.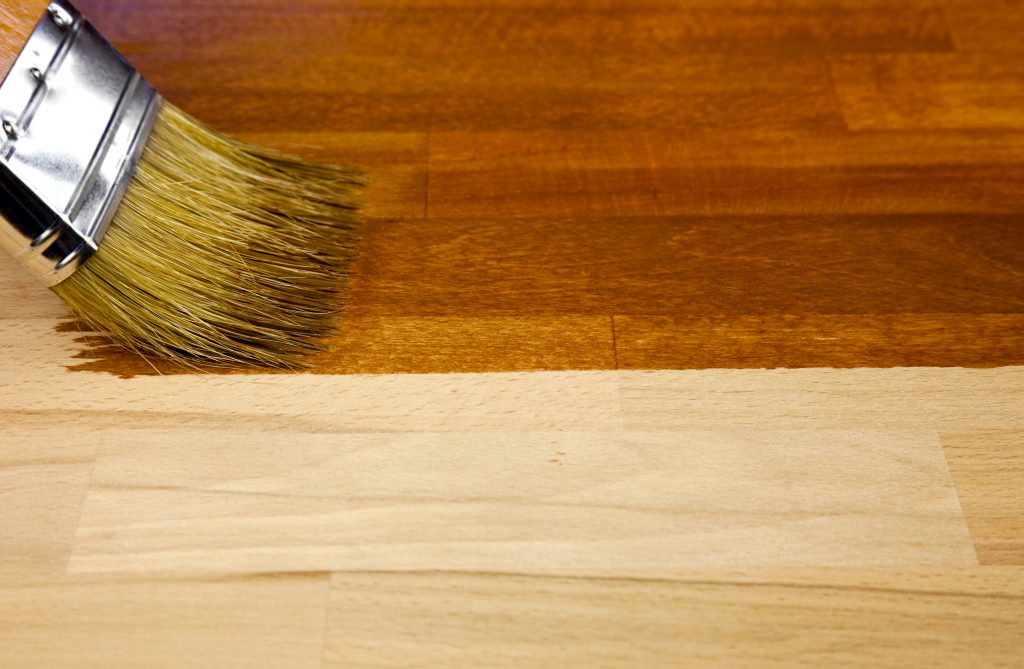 Many manufacturers produce a variety of stains that resemble the colors of specific species.
Examples include:
Mahogany
Walnut
Ebony
Maple
Cherry
Red Oak
Cedar
Teak
If you like the feel of hardwood but you're not interested in standard wood colors, you can choose something else. More creative color options include:
Sunset Orange
Toy Blue
Parisian Pink
Maltese Blue
Warm Violet
The only real limitation to what you can do with your hardwood flooring is your taste. What do you like? Do you want that old-fashioned solid wood look or something more creative? It's all up to you.
And pricing? Budget $2-$4 per square foot, though you may pay as little as $0.50 per square foot. For the average of $2-$4, you could afford both the stain and paying someone to apply it.
In total, by staining a cheaper species to resemble an expensive type of wood, you can save $5-$140 and still get the same look.
If you're still undecided about the type of color scheme you want, check out my hardwood color guide for the scoop on the hardwood rainbow.
You Don't Need Commercial Grade Hardwood in Your Home
When we install new floors in our homes, we (rightfully) want to provide ourselves with the best. While you certainly deserve the best that money can buy, most people can't afford top-of-the-range hardwood.
In truth, buying the highest grade of hardwood would be a waste in most homes. High-grade hardwood is extremely durable, but your home is unlikely to see anything close to the level of traffic for which the boards are meant.
Instead, it's a lot wiser to buy standard-grade hardwood boards. Whether you choose standard Pine or Ash boards, it will handle what your home throws at it. The only real difference lies in the price.
Remove the Old Floor Before the Installers Come
If you decide that you need to replace your old hardwood floor rather than refinishing it, you can lower the costs.
When you're paying someone to install a new hardwood floor, they'll probably charge you for each extra task they need to perform.
If they need to remove the old hardwood flooring, you'll need to pay for every square foot. You can pay as little as $0.24, but it only includes the materials used.
For materials and labor, the national average is around $1.70 per square foot. That means you'll pay around $1,700 to have someone remove your old hardwood flooring.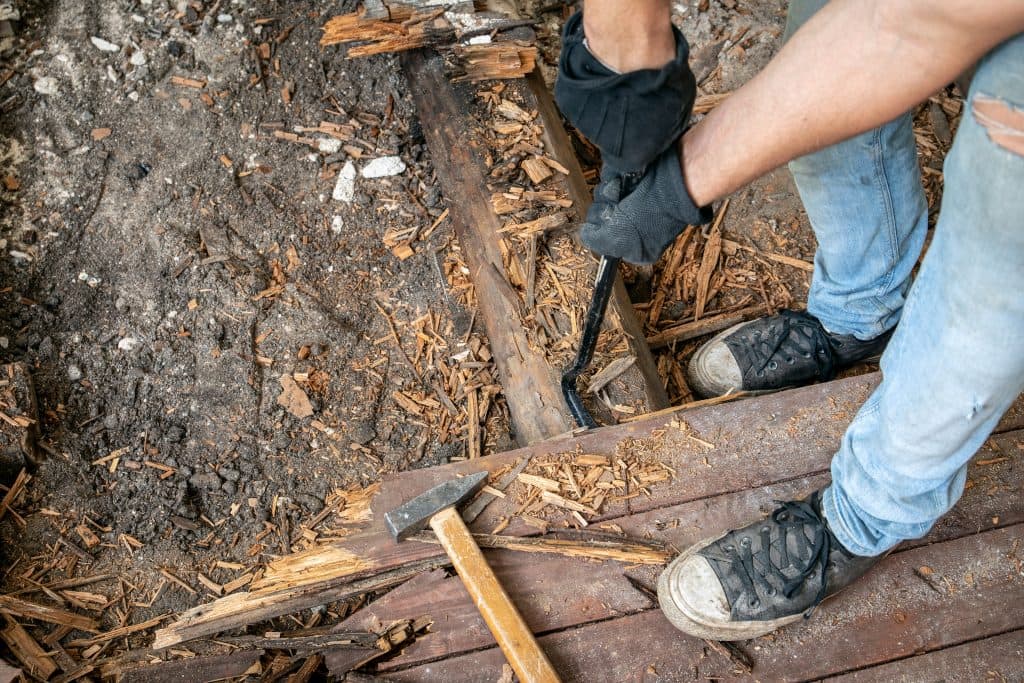 The alternative, of course, is to turn it into a DIY project. With a few simple tools, like a hammer and crowbar, you can remove the old floor.
Removing the floor will cost you some time but save you around $1,700 per 1,000 ft2.
Waterproof the Subfloor Yourself
Removing the floor yourself is only one way that you can cut costs by contributing elbow grease. If your subfloor needs waterproofing, that's a simple project you can do yourself.
You can buy the waterproofing paint or sealant for as little as $1 per square foot, and a paint roller will cost you around $3.
You don't need to be a handyman to waterproof the floor yourself. You only require a few simple tools:
Scraper (for removing adhesive)
Claw hammer (for removing nails)
Patching plaster or instant cement (for filling floor defects)
Soft-bristled broom (for sweeping and scrubbing)
Mop (for removing chemical and adhesive residue)
Waterproofing paint or sealant
Paint-tray (for holding waterproofing)
Paint-roller (for applying the waterproofing)
Broomstick (for extending the roller)
It's so easy that I'll give you step-by-step instructions. We're assuming that you're replacing an old hardwood floor and not starting from scratch. If you're working with a blank slate, skip to step four.
Completely remove the old hardwood flooring.
Using a scraper, remove any adhesive that may have stayed behind on the subfloor.
Use the back of a claw hammer to remove any flooring nails protruding from the concrete floor.
Sweep the floor, paying careful attention to any hollows, crevices, or cracks.
Following the instructions on the packet or box, mix some patching plaster or instant cement.
Use a putty knife to fill the floor's cracks, crevices, and hollows.
Leave the repaired areas to dry. The product's packaging will give you a drying time, to which you should add 6-12 hours.
Using a non-acidic cleaner, mop the floor to remove any chemical and adhesive residue. If it's exceptionally dirty, you can use a soft-bristled broom to scrub the floor.
Allow the floor to dry once again. I recommend giving it 6-12 hours to ensure it's 100% dry.
Sweep or vacuum the floor one final time to remove any debris you dislodged while washing the floor.
Following the directions on the tin or bottle, mix your waterproofing agent, and pour some into the paint tray.
Place the paint roller on your broomstick, and screw it into place. Extending the roller will give you the length you need to finish the entire floor.
Take your paint tray and roller to the right-hand corner furthest from the door. You always start far from the door to prevent painting yourself into the proverbial corner.
Dip your roller, and remove excess liquid, as you would for any normal paint.
Start painting in the right corner, and paint your way over to the left corner (dipping the roller as necessary. Remember to move your paint tray with you, or you may find it trapped in a sea of sealant.
Paint the next section of the floor, moving back to the right this time.
When you reach the right-hand side, you can paint your way back to the left.
Continue this pattern of painting until you reach the end of the floor (and the doorway).
Give the floor time to dry (again, the packaging will tell you the drying time).
If the product requires a second coat, repeat steps 11-20.
Install the Underlay Yourself
Another excellent DIY opportunity lies in the underlay. This flooring essential is easy to install, and you can save a pretty penny by installing it yourself.
The underlay itself costs around $0.45 per square foot. Installation would cost $1 to $2 extra, so you can save up to $2,000 per 1,000 ft2 by installing it yourself.
Step-by-step, installing an underlay is easy as:
Ensure that the floor is clean (you can follow steps eight to ten from the guide above to ensure ultimate cleanliness).
Starting at the end of the longest wall, unroll the underlayment. Leave an excess of about one inch along the sides of the wall.
Cut the underlayment when you reach the end of the wall (remembering to leave a slight excess).
Move back to the side of the room where you started, and ensure that you overlap the roll with the first layer by about one-half of an inch.
Unroll the underlayment till you reach the end of the room, and make the cut.
Keep repeating the process until the entire floor is covered in the underlayment.
Cut away most of the excess underlayment against the walls, leaving about one-quarter inch extra on all sides. It's better to have some excess than to leave gaps where water can seep through unintentionally.
That's it; you're done.
Remember to have a look at my guide to hardwood underlayment before you purchase. It will help you narrow down the great options to find the truly excellent.
Consider Hardwood Alternatives
Average Cost To Install Laminate Flooring
Price Range:
$970 - $1,690
Hardwood was, is, and always will be one of the beloved flooring types. Its elegant efficiency, hardiness, and beauty will keep it in the eye of the public.
Hardwood is also expensive compared to some of the newer products, which resemble solid wood. If you want the wood flooring look but aren't sure that you want to install hardwood, consider the alternatives.
Some of the hardwood alternatives include:
I have some detailed articles about luxury vinyl which comes in many different wood-look designs. It's also entirely waterproof, making it ideal for bathrooms and kitchens. You can read a detailed comparison of these two flooring types in my hardwood vs. luxury vinyl article.
Laminate flooring is another useful alternative to hardwood flooring: it's water-resistant, affordable, and installs easily. My comparison of laminate and hardwood flooring will give you some much-needed insight into both types of flooring.
For bathrooms and kitchens, you can also consider installing wood-look ceramic or porcelain tiles. There are many excellent hardwood look-alikes, but tiles are 100% waterproof and unlikely to scratch or scuff.
I'll discuss engineered hardwood in detail in the next section.
Hardwood vs. Engineered Hardwood
Average Cost To Install Laminate Flooring
Price Range:
$970 - $1,690
While solid hardwood will always be the queen of the flooring industry, there's much to be said for engineered hardwood flooring. Join me as I look at each type of wood floor and discuss its flaws and advantages.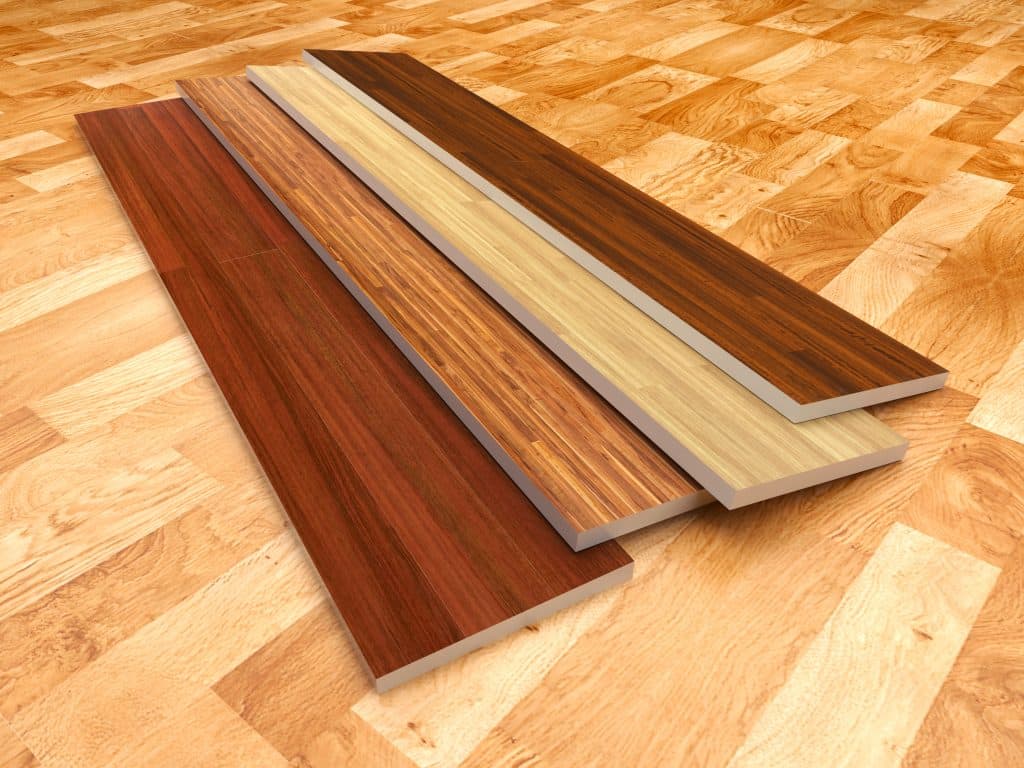 I'll list several points about hardwood, then the corresponding points for engineered hardwood flooring. 
| | | |
| --- | --- | --- |
| | Hardwood | Engineered Hardwood |
| Moisture resistance | Low | Medium |
| Ease of clean | Takes some effort | Very easy |
| Eco-friendlyness | High | Low |
| Durability | Medium (but can be refurbished) | High |
| Installation ease | Hard to install | Medium difficulty |
Engineered hardwood has more moisture resistance than hardwood, thanks to a surface veneer.
Thanks to the thicker veneer that protects its surface, high-grade engineered hardwood can handle heavier traffic than hardwood.
Both floors are easy to clean, though engineered hardwood has a treated surface, which makes cleaning easier.
Engineered hardwood is much thinner than traditional hardwood, and can dent beneath heavy furniture, while hardwood handles weight well.
Engineered hardwood is easy to install and a convenient DIY project, while traditional hardwood isn't.
Hardwood is 100% natural, while engineered hardwood involves synthesized layers and substances.
It's harder to find sustainable, eco-friendly brands for engineered hardwood, than to find sustainably produced hardwood.
With hardwood, you can change the look using stains, you can't with the engineered version.
Do you want more information? Try my guide that compares hardwood flooring and engineered hardwood.
How Much Does it Cost to Install Hardwood Floors?
Average Cost To Install Hardwood Flooring
Price Range:
$1,710 - $ 3,745
Well, now you really know.
I hope you've enjoyed this article about the cost of installing hardwood floors in your house. Hardwood flooring is considered one of the most expensive flooring options, but you can simplify your installation. 
Check out my hardwood design specifications for tips and ideas about the different types of hardwood. You might also want to read my guide to finding the best hardwood installers. It might save you a lot of pain in the future.
If you have any questions, tips, or thoughts, feel free to drop a comment below.
Average Cost To Install Hardwood Flooring
Price Range:
$1,710 - $ 3,745