About Carpet Captain
At Carpet Captain, our mission is to provide you with floor buying advice without a sales pitch.
You can't buy flooring here, but you'll learn how to buy it.
And we believe learning from someone who's not selling to you is important. It's hard for even a perfectly honest salesman to not be biased toward the flooring products that put more money in their bank account.
Plus, it's just less stressful learning online in your own home.
We can't count how many times I've been helped for free on the internet, and this content will be no different. We don't offer "premium advice" for an upcharge. Never ask for your credit card. The site is 100% advertisement-supported, and all of Carpet Captain's knowledge is free to you.
How does Carpet Captain plan to help you shop for flooring?
Carpet Captain will help you research before you step foot in a store.
It starts by helping you choose which floor you should buy.
Already know which type of floor you want?
Then, you can move on to our unbiased flooring guides. Here you'll select the type of floor you're buying, and it'll take you to a step-by-step guide on Carpet Captain's years of experience on how to best buy that floor. You'll learn:
what floor features make the most sense in your situation (eg. stain protectors, coatings, moisture barriers, pet protection, whether or not specific quality "certifications" make any difference, etc)
interior design tips (not my expertise, but I get help from others)
what specifications have the biggest impact on the floor's durability
how to get the best deal
All of this will get you up to speed exactly what you need quickly, hopefully leading got smart, regret-free buying decisions.
Who is the Carpet Captain?
Here's the short story of how Carpet Captain evolved:
In 1986 [the roots/pre-story]: Carpetech is born in Indianapolis. Ron launched this full-service carpet cleaning company with a mission to build his business by word of mouth between homeowners. The goal wasn't to be the biggest business through advertising and marketing, it was to be his customer's go-to source when they had any questions about flooring.
In 2012 [Carpet Captain is born]: Ron enlisted his son Brandon to start a website helping people like his customers buy carpet. Brandon chose the name Carpet Captain—it seemed easy to remember and is a tribute to Ron's service in the Navy. The new website was created with a few founding principles: always be for the "little guy" (the shopper and not the big businesses selling to the shopper), always be unbiased, and keep learning.
In 2022 [where we are today and new owners]: Carpet Captain outgrew Brandon, and at the end of 2020, Carpet Captain was sold to new ownership. The ownership may be different, but the plan for Carpet Captain is the same: provide unbiased advice to help you buy flooring.
If you ever have questions for me, I make every effort to respond to all emails. You can contact me here.
Best of luck on your floor shopping journey,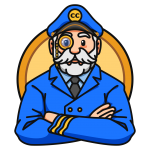 The Carpet Captain