Carpet Styles
Every carpet is sewn, cut, and twisted differently.
This gives it style.
You can go in the store and just find a style you like, but there are a few things you should know about each style first.
Every style of carpet performs slightly differently. Style isn't the biggest factor on carpet durability (see face weight and materials for durability), but it does matter.
In this article, we'll cover:
pros and cons of cut piles vs loops
the basics of each carpet style: appearance and construction
the pros and cons of each style
comparison of common styles like Berber vs plush vs frieze
Pros and cons of loop piles
"Loop pile" is a generic term for any carpet that has loops. Crazy, huh?
The most common example is Berber carpet, and I'll cover that more later.
The biggest advantage of loop piles is they don't have an exposed tip. This makes a more durable carpet becuase the top of it can't fray.
The disadvantage of loop piles is that the loops can be caught or snagged. Animal owners have to watch for this because dogs and cats can intentionally or unintenionally grab at the loops with their claws.
One other thing to know about loops is the smaller the better when it comes to durability. Big loops can be matted down with time. Small loops can be the most durable carpets sold (that's why you see it in commercial buildings).
Pros and cons of cut piles
Cut piles are the most common carpets in homes. These carpets are your standard "plush-like" carpets that aren't looped into the backing.
(note: you can see picture example on my cut and loop pile page)
There biggest advantage over looped carpets is they can't be snagged. They also can come in a wide variety of styles, so you'll see frieze, saxony, shag, and plush in this category.
Cut pile carpets you have to worry about the twist level. This is how tightly each strand is twisted. A low twist level makes the carpet prone to unraveling at the tip.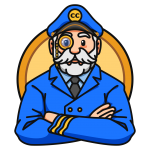 Captain's clearing the confusion!
Loop and cut pile are broad categories of styles. Berber, frieze, plush, saxony, etc are sub-categories. Of those, Berber is the only looped carpet. The rest are cut piles.
Summary and pros and cons of each carpet style
Now that we covered the basics of looped and cut pile carpets, let's go in detail on each style.
I'll cover the highlights of each style of carpets. If you want to know more about the style, most will have a link to a page going in more detail and give pictures.
Berber is apopular one.
If you don't know it by name, you have definitely seen it before.It is distinguished by varying sized loops that stand out from ordinary cut pile carpet.
Berber'stight-looped weave gives it a couple of performance advantages: stains have a tough time penetrating, and it doesn't show vacuum marks or footprints. The durability and unique style are why some people love Berber.
But you'll also hear disaster stories about Berber.
Maybe you have a friend who heard great things about Berber's durability. They go to the store to check it out, and like how it looks. Five years down the road the Berber looks terrible. Your friend is upset and wonders, "What happened? I thought this carpet was supposed to be durable?"
They tell you this stor and tell you that Berber is a horrible carpet.
So who is right?
Both are depending how you look at it. Berber can be a good carpet. But this doesn't mean you can overlook the carpet material and other important aspects of carpet performance. Berber also doesn't always mix well with kids and pets. But more on that in the Berber page.
There's no question Berber can be a high performing carpet for certain homes, you just need to remember that the style of the carpet is only a small piece in the durability "puzzle."
People are always looking for the new thing, and frieze is the rising star of the carpet world.
Like Berber, frieze's look distinguishes it from other carpets. It has a "knobby" and twisted appearance. It's almost like a shorter, neater shag. Click on the frieze link to check out pictures.
Some of frieze's new popularity is due to its style, but it is also a high-performing type of carpet. It's made witha tight twist construction that improves durability. Unless you don't care for the look of frieze, it should be one of your top choices.
Is there a difference in plush, Saxony, and velvet?
For real world purposes, there isn't a difference. Technically there is, but each has the same performance characteristics, look very similar, and sometimes retailers even mix up the names. If you're interested in specifics of Saxony vs plush, check out that page for more details.
These carpets are ideal for formal rooms. They have a dense and elegant appearance. They are considered higher-end carpets and are usually constructed well (this doesn't mean you can ignore the other carpet specifications). The downside of this design is that it shows imperfections easily. Stains stand out, as do vacuum streaks and footprints.
Have a formal room or dining room where you don't expect spills? Plush might be your perfect carpet.
Everyone loves a throw-back shag, even if you don't think it wouldfit inwith your home.
Shag has long fibers that give it an informal and playful bend to the carpet. It's the opposite of the well-groomed, upright appearance of plush carpet. If you grew up in the 70s, you knew at least one home that sported shag.
As far as performance goes, shag is middle of the road. Some people feel it can have a worn out appearance prematurely, but generally, the carpet's durability depends on how well it is made and not the shag style.
Shag may be difficult to find since its popularity has declined. But if you're in love with the style, it's worth looking for.
P.S. Sometimes when people say "new shag" or "shaggy carpet," they aren't talking about shag. They're talking about frieze because of its knobby appearance.
Captain's tips on what to do next:
Picking the style is the fun part of carpet shopping.
Style has some impact on durability and performance, but you can make almost any style work in your home. I mostly just go off looks.
So what should you do next?
Learn the most important factors in carpet durability including face weight.
If you want help with the carpet buying from start to finish, check out our free unbiased carpet buying guide.
An installer can make or break your carpet purchase, click here to get free quotes from an installer in your zip code (note: I get a small commission that helps support the site)
Any questions on carpet styles? Do you have a favorite Berber vs plush, frieze vs plush, etc? Let me know in the comments below.
Average Cost To Install Carpet Flooring
Price Range:
$845 - $1,650