You can buy the best carpet in the world, but it won't look good for long without a good installer.
I like to use an analogy with buying a car: You can buy a car with the best motor, transmission, and wheels. But what if the manufacturer who puts these parts together did a poor job? Your car is going to break down.
So how do you protect your investment and find the best carpet installer near you?
That's the purpose of this article. I'll cover:
What a great carpet installer can do for you
Where to find the best independent carpet installers
Red flag of a poor carpet installer
Good independent installers can do more than install
Prices
Low End
Mid Range
High End
Total Cost
$728
$837
$1,415

See Costs in Your Area!
Start Here - Enter your zip
The best carpet installers in your area can be extremely valuable. Not only will they do a good job of installing your new floor, they can also be the "Carpet Captain" of your local area.
They know: What carpet stores have the best reputation in town? Who has the best deals right now? This store says I need to upgrade to a super-secret carpet protector; should I? Can I shop for my carpet online?
The great carpet installers will answer all of these questions and provide you with expert craftsmanship. This level of craftsmanship goes beyond just laying down the carpet. Great carpet installers use roll widths and diagrams to strategize how to make the carpet look uniform.
This includes taking your furniture layouts and lighting sources into account, so they can place necessary seams where they will be hidden, while still conserving the amount of carpet you have to purchase.
Installers definitely aren't an area where I would skimp.
Where do I find my carpet installer?
Average Cost To Install Carpet
Price Range:
$845 - $1,650
Your search for a carpet installer doesn't have to be difficult. Yes, it's a very important decision, but there are many different ways you can approach the task. Sometimes the store where you purchase your carpet will recommend, or even force, you to use their installer. Other times you'll get recommendations from friends. Also, there are times you'll have to do the research yourself from scratch. There are benefits and drawbacks of each approach.
Companies that certify installers for you
There are companies whose only job is to vet installers for you. This means they look for the appropriate credentials and gather feedback on installers. One I like and am an affiliate of is Home Advisor. To use the service, you can click here to fill out a short form, and you will get 3 free quotes in your area.
Retailer's Carpet Installers
Sometimes this is a good way to go, especially in states without requirements for licensure (more on this later). Large retail stores sometimes get bad reputations for not providing the highest quality customer service, but what they lack in customer service, most make up for in dependability. In other words, if there's a problem with your carpet installation, you know who to go to complain, and the store is likely to make things right. There's no worry about the installer being a scam artist who, once the job is completed, won't return your calls.
There are a few drawbacks with retail installers. Sometimes they are more pricy than an independent installer because they know you're likely to choose the store installer out of convenience. On top of this, store policies usually dictate that there is little room for negotiation. Also, don't expect above and beyond customer service. These carpet installers will likely do an adequate job installing the carpet, but don't expect them to help you with your carpet purchase. For one, they are likely to be biased toward the store by which they're hired. Also, they don't have as much spare time (retailers will keep them on tight schedules) and don't rely as much on customer referrals as many independent installers.
Friend Recommendations
Recommendations from friends and family are great if you take a few precautions. It's not uncommon for scamming "fly by night" installers to get referrals because they are friendly and show up on time. Homeowners don't know what to expect with carpet installation; they don't know when corners are being cut to get the job done cheaply and quickly. Add to this that most poor installation jobs don't show their effects until a year or more down the road, and you have a recipe for a false sense of "this installer did a great job!"
With this said, word of mouth recommendations can be one of the best sources for potential installers. You just have to protect yourself. Ask your friend when the work was done (in other words, has the carpet had time to show defects), and do further research on your own. Consider asking your friend if the installer helped them with their purchase—did he go above and beyond?
Average Cost To Install Carpet
Price Range:
$845 - $1,650
CFI Certification and other
There are many companies that will certify carpet installers if they take their training program and pass their tests. These certification programs give homeowners confidence that their installer knows what they're doing. It gives the installer more business for the same reason—people have confidence in them. A well-known and respected certification is CFI Certification. This website allows you to search for certified installers in your area.
The "drawback" of these installers is they can command a higher price and may have a long wait list. Unless you are only carpeting small rooms or don't care much about how long the carpet lasts, this cost is likely well worth it. CFI is just one certification. You can search for more in your local area; if you take this approach, make sure to do some research on the certification company itself.
Do your own research
Whether you want to look further into an installer you found from one of the above methods or you need to find an installer from scratch, you need to keep a few things in mind when researching. You can start the research like you would any business; use the internet, yellow pages, or any other media you like to use to look up companies that can do the job. Once you find one, you need to investigate the integrity of the installer.
State licensure is one way. I am not up to speed on every state's laws, but about half require carpet installers to be licensed and half don't. Find out what your state requires. If it does require licensure, call the potential installer and ask for his license number. Then check with the state if there are any complaints. You'll also want the installer to be bonded and have insurance. This protects you should the job be done improperly or any damage occurs from installation.
For states that don't require licensure, you need to do a little more research to protect yourself. Find everything you can about the installer. Check if the installer has liability insurance or something to cover any damage, and don't just take their word for it; make sure he shows you proof.
Average Cost To Install Carpet
Price Range:
$845 - $1,650
Search the internet for reviews on the installer (yelp.com and Angie's list are a couple of good resources). Ask the installer for a list of his experience. You'll want the experience to be on homes similar to yours. Installing carpet requires different skills depending on where it is being installed, eg. apartment, commercial building, small house, or big house. Also, check if he has any certifications such as those previously mentioned.
Red flag of a lousy carpet installer
If you aren't too sure about the installer you've hired, there's one red flag you can look for. If you see this, you most likely need to rehire. If you don't see the red flag, still no guarantees you picked a good one, but it's a start.
The installation red flag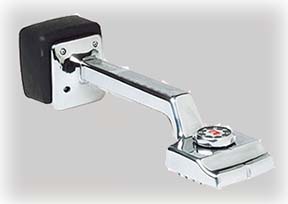 If your installer's kicking your carpet, you need to figure out why. One installation device, a knee-kicker, requires that the installer get on his knees and "kick" the tool with his knee to stretch the carpet. This is a problem because this manual technique cannot stretch the carpet as much as it needs to be. Give the carpet a couple of years, and it will have more waves than the Pacific (sorry I'm not funnier).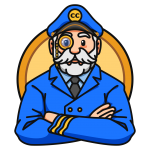 Captain's exception:
If you have a small room, a knee-kicker is sufficient. So what's a small room? There's no exact definition, but any room no larger than 10ft by 10ft is a good guideline. Also, a knee kicker may be used for fine adjustments or tight areas like stairs, just make sure the power stretcher is used for most of the work.
What you want to see
A power stretcher is what your installer should be using for all medium to large sized rooms. Don't be fooled by the name—this tool isn't motorized. It still requires the installer to get on his hands and knees, but instead of kicking it with his knee, it has a large lever that the installer will pump with his arm. The important thing is this tool is able to give the carpet a much better stretch. Here's an example of a power stretcher: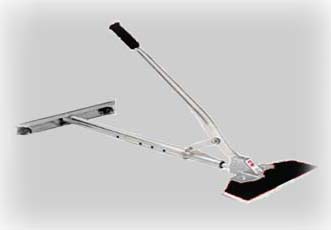 Captain's final words!
You should have found the best carpet installer in your area.
Or at least have what it takes to find one. And it's a good thing, because the installer will get the final say in how your carpet performs.
Any questions on finding a local or independent carpet installer? Let me know in the comments below.
Average Cost To Install Carpet Flooring
Price Range:
$845 - $1,650