Plush Carpet
Calling plush a "standard" carpet is in some way a fair description but in many ways does not do it justice. Shearing the top of the fiber during manufacturing creates an even, smooth carpet. To add to this even, clean-cut look, plush carpets typically are available in many different solid colors. This smooth attractive yet informal look makes plush one of the most popular carpet styles on the market.

Advantages of Plush Carpet
Plush carpets do a great job of combining an elegant look with durability. Their smooth, solid-colored look makes these carpets aesthetically appealing. Assuming they are constructed well, plush carpets will also hold up pretty well over the long haul.
Disadvantages of Plush Carpet
The solid-colored evenly cut look that gives plush its advantages also leads to some of its disadvantages. Despite their elegance, solid colors do not do as good of a job of hiding dirt and stains as multicolored carpets. Also, plush carpets have a tendency to show vacuum and footprint marks.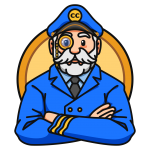 Captain's warning!
Plush carpets are susceptible to a phenomenon called
pooling
. Read more about it by clicking the link, but know that it can make your carpet appear damaged, and anyone purchasing plush carpet needs to discuss it and possibly get a warranty specifically for it from their retailer.
Saxony and Velvet Carpet
Names can be confusing… especially when they aren't used correctly. This is often the case with Saxony, velvet, and plush. Technically, these are different carpets. Plush and velvet are dense, precision-cut carpets that have a smooth 'velvet blanket' appearance. Saxony is less dense but tightly twisted carpet that also appears as an upright, smooth carpet because it is heat-set to stand up straight.
In reality, these carpets perform and look very similar. They are luxurious carpets that have a smooth appearance. Their uniform appearance makes them susceptible to vacuum marks and footprints. If their names are used correctly, Saxony's will not be as susceptible as velvet to showing footprints, watermarking, and vacuum streaks. But keep in mind, sometimes retailers may mix up the two names since they are very similar.
Captain's parting words!
Utilized correctly, plush carpets give rooms a very appealing look. While plush carpets don't hold many bragging rights in regard to their performance or durability, they still hold up pretty well if properly constructed. Those looking to give a room a luxurious feel are best suited with a Saxony or velvet. These two styles are perfect for master bedrooms, dining rooms, or any other formal living area. However, their soft texture prevents them from holding up well against the daily grind. For this reason, avoid Saxony and velvets in hallways, living rooms, and in homes with children.
Average Cost To Install Carpet Flooring
Price Range:
$845 - $1,650