Dark Wood Floors Buying Guide: Top Picks, Prices, FAQs, & More!
Are you renovating your house and opting for new hardwood floors? If so, are they dark hardwood floors? If yes, then you're at the right place!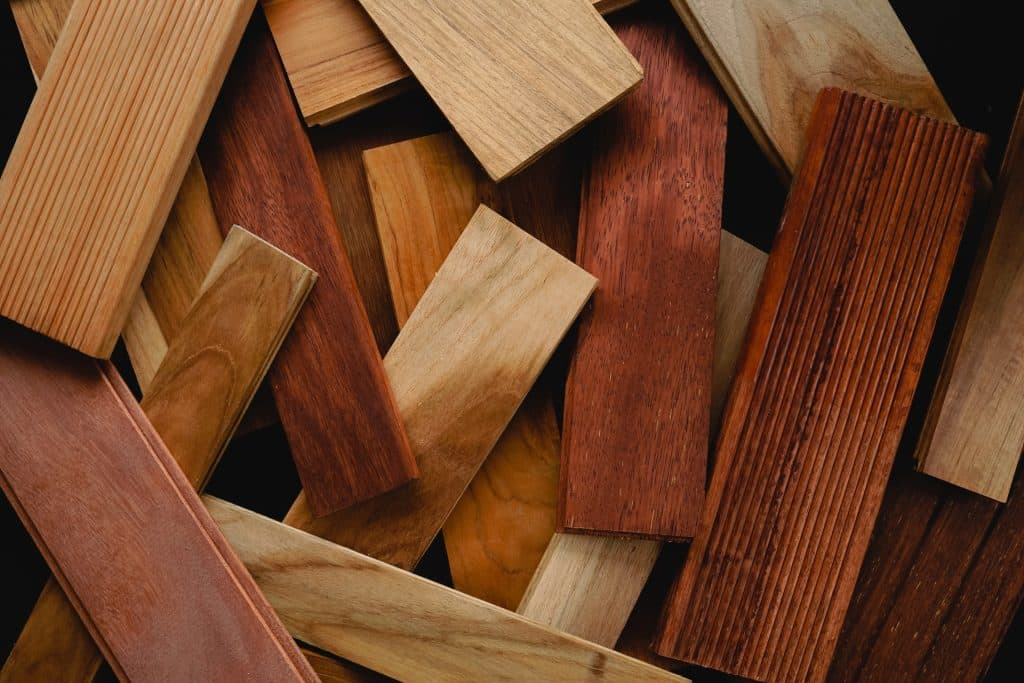 There are plenty of options when it comes to dark wood flooring. Different types of wood, colors, designs, and sustainability levels all come into play. Everything has to suit your conditions, so the wood can live up to its full potential. Keep reading to see what type of dark wood works best for each room of your house.

About Dark Wood Floors
Dark wood floors are an excellent way to make your home seem more elegant and to raise its market value. 
These floors offer exotic colors, various designs, and unique color combinations that make your room pop.
Cherry is a perfect choice if you want to install the same hardwood floor throughout your home. 
Cherry may be a little expensive, but it offers many perks for its higher price tag.
Mahogany is a darker wood that gives your bedroom a natural and exotic look. It matches most decor and gives a red hue to the atmosphere.
Bamboo is a renewable wood that matures more quickly than other hardwoods. As it's naturally water-resistant, it's a great choice for bathroom floors.
Walnut is a softer wood but maintains a natural brown color that hides dents and gives out a natural brown color. 
Walnut works better where there's minimal foot traffic, which means it's ideal for dining rooms.

Top Dark Wood Floors Product List
Hardwood floors come in many dark wood options. Some of the most popular types are:
Cherry
Walnut
Bamboo
Mahogany
With that said, let's discuss these
species of wood
in detail.

Cherry
Cherry is one of the softer woods you can find for your hardwood floors. It stands at 950 on the Janka hardness scale.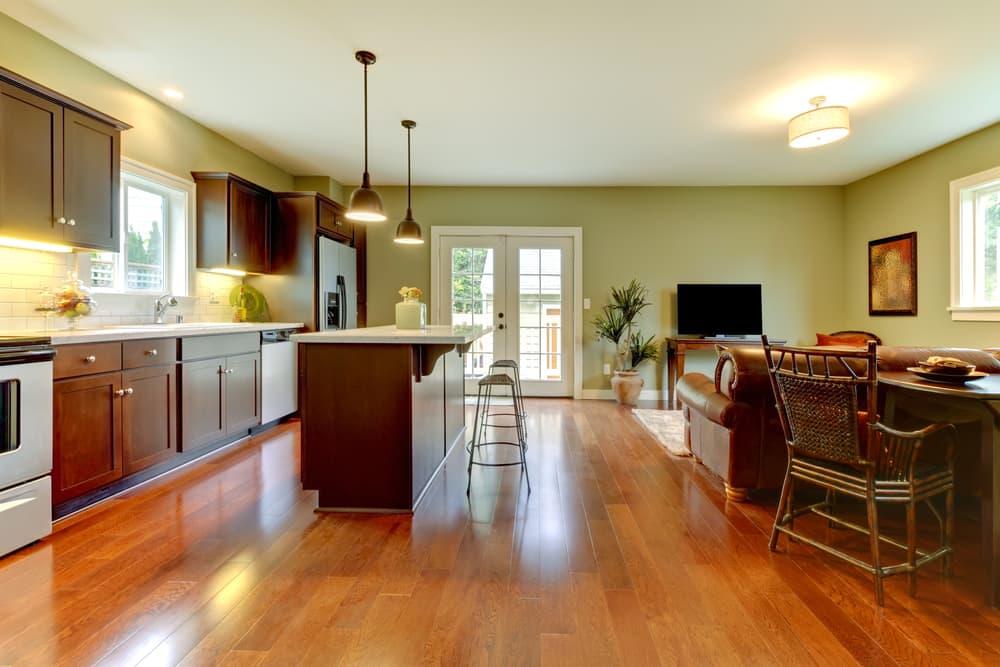 There are two types of cherry wood on the market: American cherry and Brazilian cherry. The latter is the strongest of the two. The Brazilian cherry has a reddish-brown color with darker streaks, whereas the American cherry has a lighter tone. Cherry wood is difficult to work with as it doesn't have much flexibility – this can increase labor costs for installation. Cherry wood floors can give an elegant look to any room. Its stunning appearance and coloration doesn't really clash with anything. This allows you to commit fully to cherry and use it all over your house. This wooden floor works well with both rustic and modern furniture. Every kind of decor fits perfectly with cherry hardwood floors. Cherry wood has many color variations, primarily consisting of deep reds and browns. The reddish hue makes it eye-catching in any room. Cherry hardwood floors are durable, and they can withstand pets and running kids. Properly installed cherry hardwood floors are water-resistant. The water won't seep through the wood, unless it's left to stand there for a long time. But are they scratchable? Yes they are, and carpets and rugs are the solutions for that. Use area rugs in any high-traffic areas where scratches and dents are likely. A cherry hardwood floor darkens with age as it's sensitive to natural light. It gives you a dark, rich color a few years after installation. Floors that have no direct exposure to sunlight, and covered regions, won't darken at the same speed as the exposed part of the floor. So, lay your furniture accordingly.
Price
These hardwood floors are more expensive than some other types,
costing around $5 to $15 per square foot
with installation. However, it's one of the most popular and sustainable hardwood floors. It will also increase your home's value.
Specifications
Long-lasting
Interlocking grain
Color variations in deep red and dark brown
Relatively soft – 950 in the Janka hardness test
Two types; American cherry and Brazilian cherry
Pros
Durable
Sustainable
Water-resistant
One of the hardest floors
Elegant and stunning to look
Many color variations with deep red and brown
Cons
Scratchable
Pricey at around $5 to $15 per square foot with installation
Summary
Cherry hardwood floors are durable, elegant, and made from one of the hardest woods
money can buy
. If you want a long-lasting hardwood floor for your house, then cherry is the go-to choice for you.

Mahogany
Mahogany is one of the harder woods for hardwood flooring. As with Walnut, there's more than one type. Santos Mahogany weighs in at a solid 2,200 on the Janka scale, while royal mahogany only clocks in at 1,400.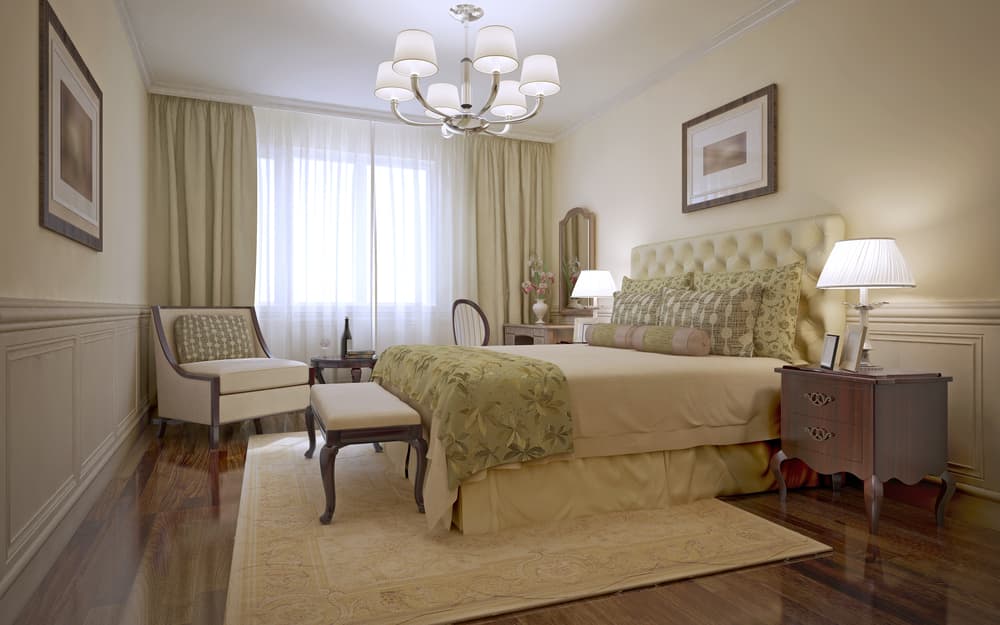 Mahogany has many types, which raises many concerns as you never know the exact conditions and requirements for each type of wood. Each type has different hardness levels, and may have other subtle differences. It's best to research the specific type you're getting to know how to handle it. This also causes the color to vary from customer to customer, since different types of wood have different shades. Generally, the color of mahogany is medium to dark brown. Mahogany wood has fine, smooth grains that give the room a classic, natural look. It's perfect for bedrooms! Mahogany is a durable wood that can handle everyday foot traffic.It's easy to work with and easy to clean. A microfiber mop with some water and liquid soap are ideal for regular cleaning. Mahogany hardwood floors go well with many bedroom decors and styles. As mahogany is a dark
wood types
, a lighter tone in the bedroom will greatly highlight the dark brown wood floor. Mahogany darkens over time when exposed to sunlight, so a dark wax or
stain
can become extremely dark after a year. Choosing a light wax or stain won't make the mahogany too dark over time.
Price
As there are many types of mahogany, its price range varies between $6 to $28 per square foot. Premium, original mahogany may cost more.
Specifications
Hard – 930 on the Janka hardness scale
Fine and smooth grains
Medium to dark brown color
Darkens over time by the exposure to sunlight
Pros
Tough
Durable
Classic look
Water-resistant
Easy maintenance
One of the hardest woods money can buy
Cons
Pricey at $6 to $28 per square foot
Many types of wood advertised as mahogany
Darkens over time by the exposure to sunlight
Summary
Mahogany naturally has a stunning dark brown color that gives any bedroom a classic look with plenty of character. The downside to these floors is that they're quite expensive. On the bright side, mahogany hardwood floors are easy to maintain, durable, and water-resistant.

Bamboo
Bamboo
hardwood floors have a Janka hardness score of 1300 to 1400.  However, to make bamboo darker, it goes through a carbonization process. Carbonized bamboo has a lower score of only 1180. If you choose to use dark bamboo floors, ensure that the floor is stained, and not carbonized, to maintain a hard floor.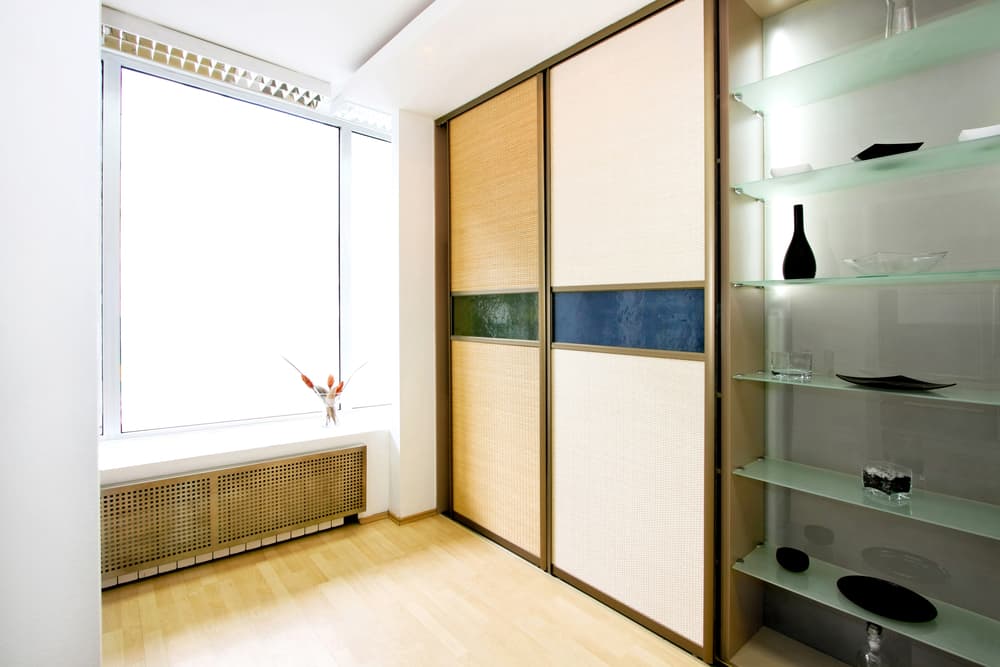 As bamboo comes from a plant, rather than a tree, it matures more quickly than other hardwoods. This also makes it a renewable resource. Harvesting the bamboo doesn't kill the plant either as the rest of the plant keeps growing when they harvest some of it. Even though bamboo wood is hard, it's pliable as well. This flexibility makes the installation process easier. Bamboo hardwood floors offer a beautiful, well-rounded effect in any room. Since these plants have adapted to growing in tropical areas, they're naturally water-resistant; great for bathrooms! Applying an extra coat of wax will ensure that the wood stays stain-free and holds its place. Although it's water resistant, it can expand and contract due to moisture. Bamboo wood comes in three grain types: horizontal, vertical, and strand woven. This is because, unlike true hardwoods, bamboo planks are made of many strips of material laminated into one board. The grain depends on how the strands were interwoven. Strand-woven boards are the strongest, but also the most expensive. Bamboo hardwood floors are prone to scratching. You can wear soft slippers in your bathroom to ensure that no dents or marks of any kind start to appear. Ensure that the floor doesn't have standing water on it. Wiping the floor and keeping it dry will help the wood stay intact, and extend its lifespan. Bamboo hardwood floors are durable and easy to take care of. They can easily last for decades if you give them optimal care. Lower-quality bamboo planks are constructed with adhesives that contain harmful chemicals like urea-formaldehyde. It's best to buy a slightly more expensive model that's certified VOC-free. VOC stands for volatile organic compounds, which are chemicals that become airborne under certain conditions.
Price
Bamboo floors cost around $5 to $15 per square foot with labor. Premium-quality solid bamboo may cost more.
Specifications
Offer an exotic appearance
Come from a plant so, it takes less time to mature
Very hard – Scores 1300 to 1400 on the Janka hardness scale
Come in three types of grains: horizontal, vertical, and strand woven
Pros
Pliable
Durable
Sustainable
Water-resistant
Easy installation
Moderately priced
Environmentally friendly
Long-lasting; as it can last decades with optimal care
One of the hardest woods on the market with a score of 1300 to 1400 on the Janka hardness test
Cons
Scratchable
Lower quality bamboo has harmful chemicals, such as urea-formaldehyde
Summary
Bamboo is an environmentally friendly wood that's long-lasting, durable, pliable, and moderately priced. These floors are naturally water-resistant, which makes them great for bathrooms. To learn more about this type of Flooring, check out my
bamboo flooring guide
.

Walnut
Walnut wood flooring is one of the most elegant wooden flooring options out there. It comes in two types, American back walnut, and Brazilian walnut.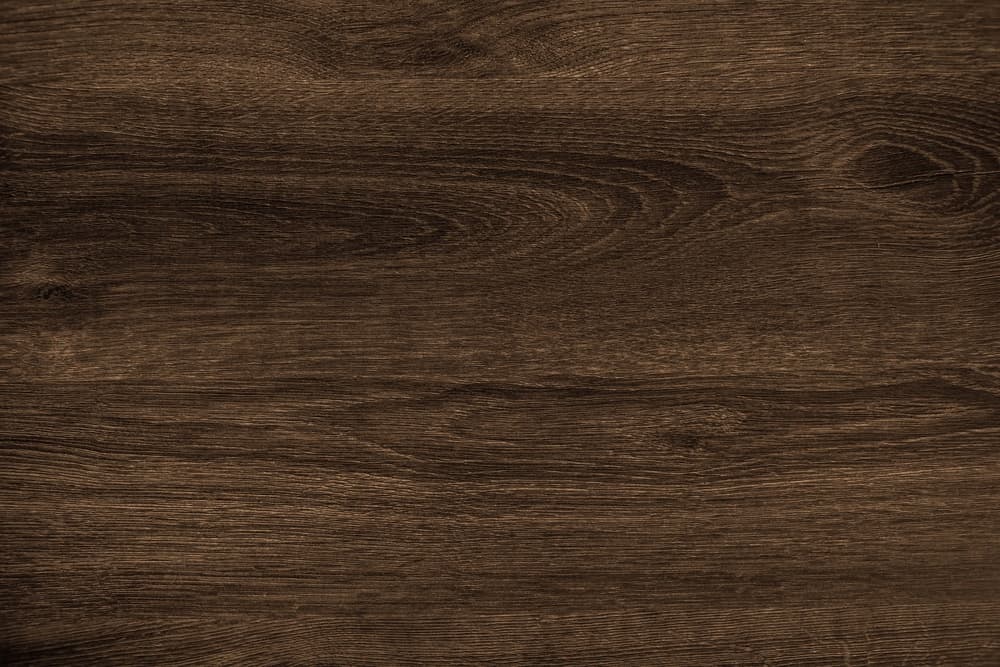 American black walnut is a softer wood. With a score of only 1010 on the Janka hardness test, it's prone to denting. Its color ranges from dark brown to black. Brazilian walnut is a much harder wood, scoring a whopping 3,680 on the Janka hardness scale. It's also much darker than American walnut, with a medium to dark brownish-black color. American walnut hardwood floors are softer than most other floors so less foot traffic is optimal. It's great for a dining room if you only use it every other night or when you have guests. These walnut hardwood floors can get scuffed and dented easily. Rugs and carpets lessen any blows on the wood if you use American walnut. As the wood has a natural brown color, it hides any scuffs and dents nicely. The brown color lends a rich, exotic appearance to the rooms where you use this flooring. Microfiber mops are ideal for cleaning walnut wooden floors as they require a gentle cleaning instrument. Brazilian walnut is a much hardier wood, and can work in any room. Walnut wood is insect repellent, reducing the chances of any pest infestations. It's also malleable and easy to install.
Price
The walnut wood planks cost about
$6 to $10 per square foot
for hardwood flooring.
Specifications
Exotic and natural brown color
Two types of walnut: American back walnut and Brazilian walnut
Pros
Insect repellent
Easy maintenance
Offer an elegant and exotic appearance
Moderately priced at $6 to $10 per square foot
Brazilian walnut is a hard wood that stands up to heavy traffic.
Cons
American walnut is softer than some other woods – scores 1010 on the Janka hardness scale
Can be easily scuffed and dented
Summary
American Walnut may be a softer wood, but its elegance and beauty make up for it. American Walnut hardwood floors are perfect for dining rooms, since these areas typically have less foot traffic. Brazilian Walnut is a harder wood that works well in any room but still provides a sense of elegance and depth to the room.

Dark Hardwood Floor Colors
Dark wood floors come in many colors. Choices range from shades of brown to brownish red, and even black hardwood floors.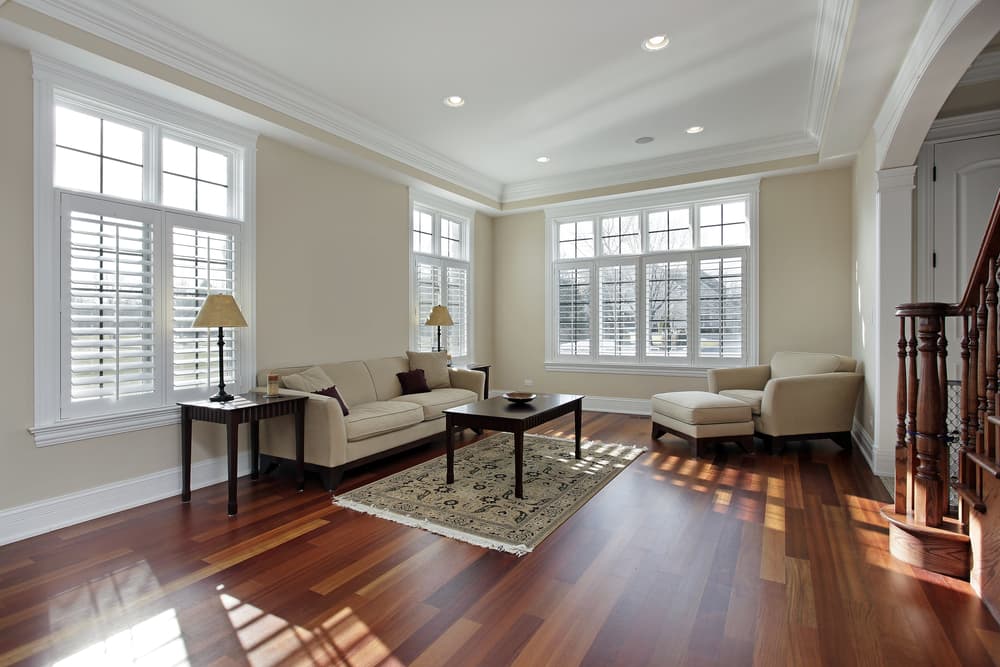 The type and age of the wood determine the color of the wood. Some woods, like walnut and mahogany, are naturally darker in color. The older the wood is, the darker it gets. Waxing the wood and polishing or varnishing also plays a part in bringing out the depths of its color. However, you can also stain lighter woods, or even dark woods, to make them darker.

Are Dark Floors Out Of Style?
Dark hardwood floors never go out of style, thanks to their versatility and beauty. They work best with light, contrasting wall colors to create a room with balanced lighting. A dark wood floor in living rooms brings a unique style to your home. It adds warmth and depth to the room, which is why it's the go-to choice for many individuals.

Is Dark Hardwood Flooring Good?
Dark hardwood flooring is excellent.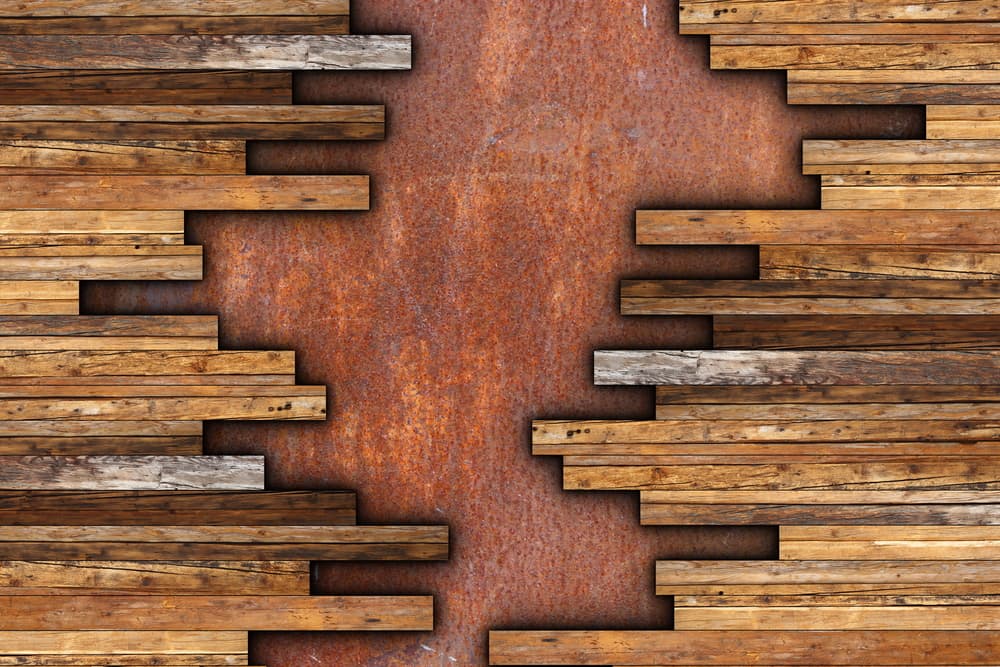 These floors have a natural appearance and can give your room a rustic look. They work well for hiding dust, as opposed to light-colored flooring which shows dust quickly. Dark floors also last a few years more than light floors due to their endurance. Light floors often bleach really easily, shortening their lifespans.

Should I Get Dark Laminate Flooring?
Whether laminate flooring is suitable depends on the type of room and the furniture in it. If the room is well-lit with natural light, dark, matte-finish
laminate
floors are a great choice. If the room is moderately lit with shiny surfaces, then a dark, gloss-finish, laminate floor will highlight and balance the color. Other things to bear in mind include that laminate isn't as robust as hardwood. It scratches easily, and some types are prone to water damage. Dark laminate is best for rooms that don't see many spills, and where traffic is minimal.

Dark Floors vs Light Floors
Both dark floors and light floors have pros and cons. Many people prefer dark floors as they have a longer lifespan. They also work best with larger rooms and spaces.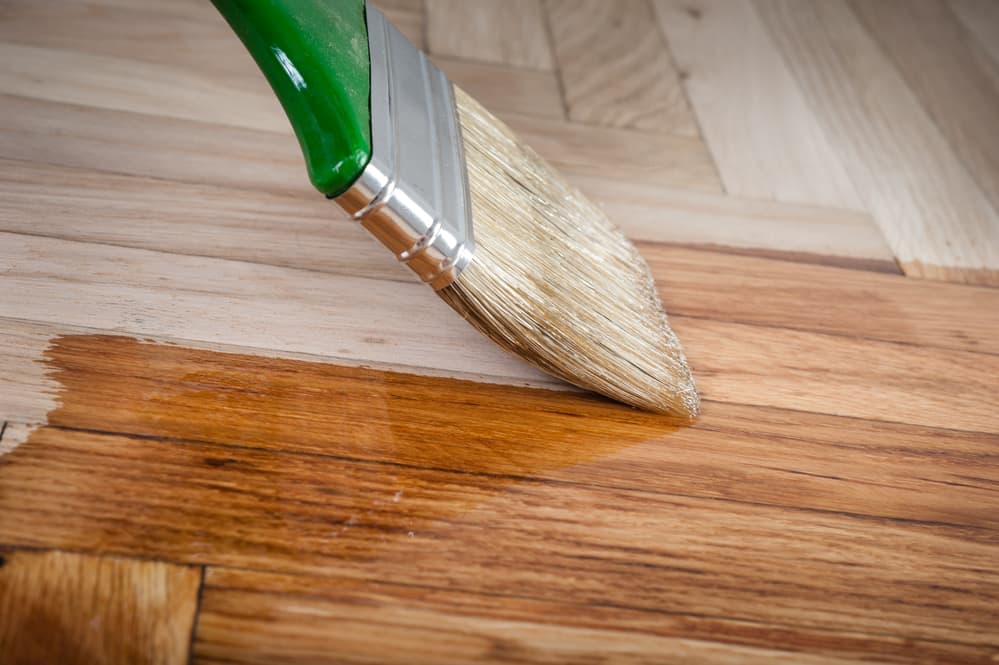 Dark hardwood floors offer a great focal point in well-lit rooms. Their inner, bright colors may show through if the floor sustains a deep scratch, but reapplying a color stain on your scratched hardwood floor can fix it. Repolishing your dark hardwood floors every three to four years will ensure that the wood stays in the best possible condition. Light floors work well for small to medium-sized rooms and spaces. They keep the room bright and offer a high contrast, even if the lighting is minimal. Light floors work well with dark furniture and make them stand out by providing a contrast.. Their colors tend to fade more quickly than dark floors. Dust and stains usually stand out against them more prominently. Whether you choose light or dark flooring depends on your preferences and the kind of furniture you have in your space. You should choose a hardwood floor that will complement the existing colors.
Is Dark Wood Flooring Hard To Keep Clean?
No, dark colors work well for hiding most stains and debris. They ensure that stains and dust particles blend in and aren't prominent.
However, you should still clean your hardwood floors regularly as it makes the wood last longer and keeps your house clean and germ-free. You can clean your dark floors clean by following general hardwood cleaning principles.
Do Dark Floors Make A Room Darker?
Yes, if there's little light on offer, dark floors make a room darker. This is because, unlike light floors, dark colors absorb light.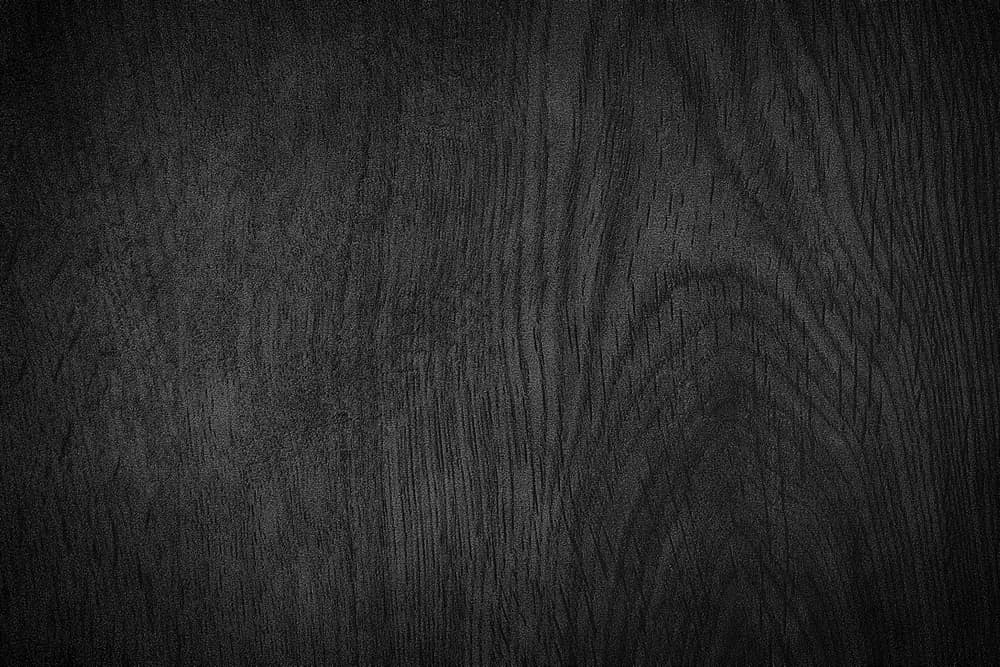 In low light conditions, dark floors make a room seem darker and smaller. A small living room with dark wood floors can look even smaller in low lighting. Dark floors work best with plenty of light as they can make a small room feel like a larger room.
Are Dark Floors Better Than Light Floors?
Yes, in some situations dark floors are better than light ones. They have many benefits, including:
They last longer
The colors take longer to fade
Works great with light-colored furniture
They can make small rooms feel bigger
Dark colors hide stains and debris better
Can cause the market price of the house to go up
Has many varieties and shades of colors
However, dark floors aren't the perfect choice for every room or situation. As with any element of house design, consider your options before you decide. With that said, my complete guide to dark hardwood floors comes to an end. Check out more of my expertise regarding hardwood floors, like how to
clean them effectively
. Which of these flooring options is your favorite? Let us know in the comments.
Average Cost
Price Range: