Laminate vs. Luxury Vinyl Floors
This is one of my favorite flooring comparisons.
Why?
Because both are floors that are benefiting big from new technology. In some ways, they are better than the floors they imitate (hardwood or tile).
So with technology quickly improving both types of floors, where do they currently stand? More importantly, I researched to find out which I want in my home.
I broke down each floor into categories, so you can pick out what's most important to you. If you plan on moving soon, maybe the resale value is important. On a very strict budget? May you stop reading after cost.
Whatever your goals, you should find out which floor is for you by the end of the article, and if you don't, let me know what more you need to know in the comments below.
Cost
Luxury vinyl tile and laminate prices are very similar to each other. Both are considered inexpensive flooring options for the budget-minded homeowner, and the average prices reflect that mindset.
Both laminate and luxury vinyl average around $2-5 per square foot. However, the range is much larger than that. On the low end, you can find laminate and luxury vinyl under a dollar, and on the high end, you can pay up to $10 square foot for premium designs of both floors.
Where I think the two floors differ is laminate has more availability in the cheaper than average price range. That said, these are the cheaper floors I recommend most people avoid. However, if you're on a very tight budget or don't care as much about quality, laminate may be your go to.
For a more detailed breakdown on what impact the price of each floor, and what to expect from materials to installation, check out our luxury vinyl pricing page or laminate pricing page.
The winner? Tie
Durability
Both premium vinyl and laminate floors have an expected lifespan of 5-20 years. It's a wide range, but it goes back to two things. One: the quality we talked about in pricing. And two: the environment the floor is in.
On the high end, laminate floors can last about 15-20 years. This required a well-maintained and high-quality laminate. Part of the reason they can last so long is they have great scratch and dent resistance. However, laminate doesn't do well with moisture (although this is improving). Don't expect laminate to last long in the bathroom or kitchen.
Premium vinyl flooring will also last around 15-20 years. It is not affected by water or moisture, so it is safe to install in bathrooms, kitchens, and basements. With its commercial grade wear layers and fiberglass reinforcement, it can withstand scratches, pets, children, and other hazards that it encounters. Due to the thinness of the material, premium vinyl's can be punctured. I don't see this happen often, but over time, you will see general wear.
The winner? Luxury vinyl
Moisture resistance
This may be a little redundant if you read the durability section, but vinyl is one of the best materials you can use if you are concerned about moisture. Unlike laminates, premium vinyl is made out of plastic so there are no organic compounds to swell or break down when exposed to water. Laminate floors are more susceptible to moisture and are not recommended for bathrooms. Laminate floors are fine in kitchens and basements, as long as those areas are not suffering from standing water and high humidity.
The winner? Luxury vinyl
Appearance and aesthetics
Both laminate and premium vinyl flooring use printing technology to imitate the appearance of other flooring types, from wood to stone tile. That means that as a homeowner, you can find just about any look you want in either of the two flooring types, and they will be about equally close to the real thing. Both laminate and premium vinyl flooring has come a long way from their early days, and that is to your benefit.
The only difference in laminate and vinyl is the feel. Laminate can feel more like real wood. The vinyl layer will feel more like plastic than wood, and if you walk on it with shoes, it will not make the sounds associated with wood or laminate floors. Even though both are manufactured products, laminate comes closer to the feel of a wood floor.
The winner? Laminate
Installation
Both luxury vinyl and laminate floors come in three general types of installs.
Laminate originated the "click and install" or "tongue and groove" system, but luxury vinyl has adopted it. It's now the most common system for both floors. It's a simple process of snapping the board together.
Less commonly, you may have a laminate or vinyl floor that comes with peel and stick tiles. And in some cases, you glue the laminate or vinyl directly to the floor. These typically aren't too much more difficult but can be more difficult to uninstall and fix if you made any errors.
No matter how you install, most of the time you don't need underlayment with luxury vinyl, but you do need it with laminate. This can add one more step to the laminate process (but not a very difficult one).
Both of these floors are excellent first time DIY floor projects, but I find luxury vinyl to have the slight edge.
The winner? Luxury vinyl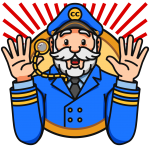 Captain's warning!
Glued vinyl floors are one of the most difficult types to uninstall, especially after a long period of time. This can make the install more challenging, but it also makes it much more time consuming and expensive if you want to change or repair your floor down the road. For this reason, I'd avoid direct glue down planks or tiles.
Maintenance and Cleaning
Both laminate and premium vinyl flooring can be swept or vacuumed clean and should be on a regular basis. Damp mops are recommended for laminate floors as they can be susceptible to excessive moisture but also can build up static electricity without regular cleaning.
Since vinyl floors are not affected by moisture, you can use a mop or a steam cleaner to wipe them down. If you go with a highly textured premium vinyl, it can be harder to clean between the ridges, but smooth premium vinyl is easy to sweep or mop.
The winner? Luxury vinyl
Resale Value
While the benefits for high moisture areas such as bathrooms and kitchens have won premium vinyl some respect from home buyers, it still can be a turn-off in main rooms such as living rooms and bedrooms. Its quality has gone up in recent years but vinyl floors still have a stigma working against them. Even premium vinyl planks can be a disappointment for home buyers.
Laminate floors have a slight edge. While they also have carried a stigma against them, they have had more time than premium vinyl to earn a higher reputation among home buyers. The few years of improved technology have also given laminate flooring a level of quality and appearance that buyers are learning to recognize.
At the end of the day, both are "imitation" floors of hardwood or tile, and they don't add the value of the real thing. But I give laminate the slight edge for this reason: if you list your home online, it will say "laminate" or "vinyl" in the flooring section. When people see vinyl, they often don't think luxury vinyl. They think of the old sheet vinyl.
The winner? Laminate
Recycling and renewability
Since vinyl flooring is made up of PVC plastics, it cannot be recycled the way that laminate flooring can. There are companies out there that will recycle the vinyl flooring, although that service is not available in all areas.
Laminate floors are also recyclable under new manufacturing standards. Up to 85 percent of laminate floors can be reused or recycled into new floors if you do not want to throw it away.
Another benefit of laminate, a big portion of its base layer is made up of leftover wood. Neither floor requires new trees to be cut down, but I like laminate more natural materials vs the plastic of premium vinyl.
The winner? Laminate
Emissions
Almost all appliances, cleaning products, and furniture emit chemicals in the air. Generally, there are safety standards to limit the amount of these chemicals. But anything with an odor is releasing something into the air (that means you, too, candles). Floors are no exception, and the flooring industry has done a pretty good job of responding to make modifications of any chemicals that we think exposure could cause side effects over time.
Both laminate and premium vinyl floors have been improving their quality in recent years and that is making this less of an issue. However, since luxury vinyl is made up of more plastics (remember all the controversy with plastic water bottles years back?), I think laminate may have the slight edge.
If you want to check on the quality of your laminate or premium vinyl flooring before you purchase or install it, you can use the FloorScore, California Air Resources Board, or Greenguard Gold certification scores.
The winner? Laminate
Captain's parting words!
Premium Vinyl and Laminate floors are very similar to each other. Both are manufactured products designed to mimic the appearance of other floors, from stone to wood. Vinyl is a thinner material than laminate, and will feel softer underfoot, but is also the more durable floor especially if you plan on installing it in a bathroom or other high moisture area.
Since both are designed and marketed as a low-cost alternative to wood and tile floors (such as with TrafficMaster), the two floors are very similar in price, with average costs about five dollars per square foot. Laminate, however, has a better resale value and is considered to be the better looking of the two choices.
So which one should you choose? A lot of that is going to depend on where you want to install the floor. Otherwise, it is a pretty close call between the two floors, and you will not see a lot of difference aside from the general look and a possible impact on resale value down the line.
If you've decided on which floor you want, I recommend going through our unbiased premium vinyl guide or unbiased laminate guide to make the best purchase. Have any questions I didn't answer on luxury vinyl or laminate? Let me know in the comments below.
Average Cost To Install Laminate Flooring
Price Range:
$970 - $1,690