Vinyl and laminate are the leaders in "imitation" flooring, but linoleum is gaining a resurgence in popularity.
What do I mean by imitation flooring? Just that they often try to replicate natural tile or wood. And all of the floors are getting better and better at it. Today's designs can look extremely realistic.
Before you throw don't hundreds to thousands of dollars on your remodel, you probably want an idea of which floor is best in your home. If I could rank each "#1," #2," and "#3," I would, but it's a little more complicated then that.
Each floor wins a few categories, so the best in your home will depend on how much you value each category. It should be an easy decision once you're finished with this article, but if not, let me know in the comments below.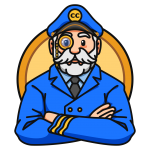 Captain's notice!
When I talk about "vinyl," I am generally referring to standard sheet vinyl. There is also luxury vinyl, which is much different than sheet vinyl (see sheet vinyl vs luxury vinyl). In cases where I am referring to luxury vinyl, I will specifically say "luxury vinyl," rather than just "vinyl." If you're more interest in luxury vinyl, you can check out my laminate vs luxury vinyl comparison.
What each floor is made of
Linoleum: Linoleum floors are made out of raw, biodegradable materials such as wood and cork flour, tree resin, and linseed oil. Its manufacturing process has been updated since earlier generations and you can now purchase linoleum floors in many colors, shapes, and styles. You can buy linoleum as sheets or as tiles.
Vinyl: Vinyl floors are made out of 100% plastic. They are thinner than laminate floors and have the picture pressed to their top layer. It is a synthetic linoleum, and like linoleum, vinyl comes in either sheet or tile form.
Laminate: Laminate floors have a composite base, which is made of natural wood materials covered with layers of resin and plastic. The picture of the wood or tile that the laminate floor is meant to imitate rests beneath the resin layer. They are sold in planks and have interlocking edges which snap together during installation.
Durability
Linoleum floors use the versatility of cork to "bounce back" from being walked on, which gives you a cushioning effect and the floor itself some durability. The look goes all the way through, unlike either vinyl or laminate, which helps with repairs.
Also, linoleum is stiffer than vinyl and usually carries a warranty for up to 25 years. With the right care, linoleum floors can last up to 40 years.
Vinyl floors can withstand heavy foot traffic, which makes them popular for homeowners with kids or pets. When installed correctly, they are very moisture resistant, which makes them a good choice for the kitchen or bath.
Typically, vinyl floors will last between 10 and 20 years.
Laminate has mediocre durability. Depending on the grade, it can last up to 20 years but many last closer to 10 before looking worn out. They are susceptible to general wear from foot traffic and moisture can be a problem (more on that later).
The winner? Linoleum
Cost
On average, linoleum floors will cost around 2-5 dollars per square foot, plus installation. Linoleum prices usually vary depending on the thickness of the linoleum sheet or tiles.
Vinyl floors are a very inexpensive option for your home. Standard sheet vinyl will usually be less than a dollar on the low-end and as much as 2 or 3 dollars per square foot on the high-end. Like linoleum, the thickness and strength of the vinyl have a direct impact on its price.
Laminate floors can easily become the most expensive of the three, even though it is generally thought of as a "cheap" floor. Decent laminate floors usually start around 2 dollars and can go as high as 8 dollars per square foot.
Usually higher priced laminate is more durable, contains fewer chemicals, and looks more like real wood flooring. The price also has to consider the foam underlayment. Boxes of laminate planks without underlayment may be less expensive, but you have to purchase it separately or risk moisture, noise, and unevenness under your floor.
Installation prices for any of these three choices will depend on the job's complexity. Large open spaces like living and dining rooms are less expensive than crowded zones such as kitchens with multiple cabinets or bathrooms since pieces will need to be cut down until they fit.
The winner? Vinyl
Appearance
Since all three flooring types are manufactured, they can be designed to look like almost anything. That is both an advantage and a disadvantage since none will ever quite match the look of the "real thing."
Linoleum floors have historical stigma working against them, but modern linoleum made out of organic materials have a startling array of colors, designs, and styles for homeowners to choose from. The pigments go down through the entire sheet or tile so do not have to worry about scratching a surface layer and having nothing beneath to look at.
Like most linoleum floors, vinyl floor tiles and sheets are made to repeat the same pattern across the entire floor. This brings continuity to large rooms and helps to unify smaller rooms but also showcases that the floor is manufactured. The colors can fade in direct sunlight and when scratched, the surface layer is easily broken.
Laminate floors look the most like hardwood or tile, although there are still major visual differences. The image quality improves with the quality of the planks and you can find almost any shade or species of wood look within laminate patterns. Usually, the boards are sold in sets with 5-10 different patterns within each set.
The winner? Laminate
Water resistance
If you want to install in a bathroom, kitchen, or basement, you'll want to look into the water resistance of your floor. Some flooring and water don't mix. And when I say "water," that can even just mean him humidity—doesn't necessarily have to be standing water.
Linoleum floors are water resistant and also anti-microbial. When sealed, they offer very good protection against water damage but lose that ability if not sealed or installed properly. You will want to avoid exposing linoleum to standing water.
Vinyl floors are most popular in bathrooms and kitchens mainly because they offer excellent water resistance compared to similarly priced floors. Unlike linoleum, it does not require sealing or waxing in order to be completely waterproof, but quality installation is key. Improper installation can leave gaps between tiles or sheets for water to pass through.
Laminate floors are mostly made out of wood and share wood's susceptibility to water and moisture damage. The wear layer provides some protection against water, which will be enough for basements or kitchens, but not enough for the bathroom. If you spill water on a laminate floor, make sure to wipe it dry as soon as you can.
The winner? Vinyl
Maintenance
All three floors are fairly "hands off" in your home, but some are definitely less maintenance than others.
Since they are hard surfaces, you'll want to regularly sweep (or brushless vacuum) and mop. This goes a long way to prevent your floor from wearing with scratches.
But wait?
Remember laminates poor water-resistance? You may want to hold off on mopping or it might damage the floor. Just stick to the sweeping. This could make laminate the loser in this category, but linoleum is a little higher maintenance:
Like hardwood, you have to seal linoleum every one to two years. If you don't, it's not going to hold up nearly as long as it should.
The winner? Vinyl
DIY Installation
Linoleum floors can be installed either as tiles or as sheets. Sheet linoleum is normally stuck to the subfloor using an adhesive. Many homeowners find it easier to leave this to the experts since it has to be laid perfectly to prevent unsightly ridges and bumps.You also have to worry about not cutting the edges perfectly, and once you lay it down, you'd have to start from scratch with a new piece.
Linoleum tile is rapidly gaining in popularity. It is much easier for the DIY homeowner to install since it does not involve adhering stiff linoleum sheets to the floor. You simply have to click them together the same way you would click together laminate floor planks.
Vinyl is similar to linoleum in the DIY department. It has sheet that can be tricky to install, and I think is better left with a professional for infrequent DIYers. That said, there are luxury vinyl planks that are probably the easiest floor to install.
Laminate flooring's interlocking system is one of the easiest for DIY installers to use. Planks are laid out on the floor and snapped together to form a single unit. Even for beginners, the work can be done in a day. Laminate isn't easier than luxury vinyl planks, but since all laminate is relatively easy (rather than just a segment of vinyl), I give laminate the win.
The winner? Laminate
Eco-friendliness
It seems like people consider how products they buy affect the environment more than they used to. This may be what is fueling the comeback for linoleum flooring.
It is made up of 100% organic products, and is considered the most environmentally-friendly flooring. This is different than most flooring that uses oils and other products that aren't nice to the environment.
Laminate is actually an exception as well. It uses a lot of recycled wood, so I give it a fairly high grade on the green side as well.
This leaves vinyl as the clear bottom of the pack with these floors. It's a synthetic floor that is made of manufactured materials. This has given people concerns over the off-gassing of vinyl flooring, although some manufacturers have taken steps to limit the chemicals used.
The winner? Linoleum
Captain's parting words!
Laminate, vinyl, and linoleum floors all have unique advantages in your home, and the game is changing fairly quickly. You almost definitely know someone with laminate in their home, but you don't hear of vinyl quite as often and linoleum has definitely dropped since it peak popularity.
With that said, linoleum is making a comeback. It's particularly nice if you want a floor made up of all organic material. If you do, just perform a little yearly maintenance, and you'll have a floor that will outlast almost any.
If anything turns you off about linoleum, laminate is popular for a reason. It doesn't stand out in many categories, but it's a fairly inexpensive, relatively durable floor, that can do a good job of imitating hardwood.
Then there is vinyl. I really like luxury vinyl (but not sheet) for a few reasons. It's generally more durable than laminate, more water resistance, and is coming in more and more cool and realistic looking designs.
Any questions on laminate, vinyl, or linoleum? Let me know in the comments below.
Average Cost To Install Vinyl Flooring
Price Range:
$1,105 - $1,960