Luxury Vinyl vs Traditional Vinyl
You've heard of vinyl flooring, but have you heard of luxury vinyl or standard sheet vinyl?
You may not, or maybe you do but aren't exactly sure how they stack up against each other. The purpose of this article is to make the difference in the two forms of vinyl clear by breaking down performance in multiple categories.
By the end, you should know which you want in your home.
What's the difference in materials?
Both vinyl floors are primarily made of… you guessed it: vinyl. They also both contain the same 4 layers. The difference in luxury vinyl is the amount of material used, creating a better-looking and in some cases performing floor.
It starts with the thickness. Luxury vinyl is about 5 times as thick! Most traditional vinyl floors are about 1mm thick. Luxury vinyl floors come in approximately 5mm tiles. The thickness of luxury vinyl is what gives it much more realistic "wood plank" or "ceramic tile" feel and appearance and also some other advantages I'll talk about later.
Durability
Luxury Vinyl was designed partly in response to perceived and actual durability issues with regular vinyl floors. The thinness of vinyl sheets and tiles leaves the floor vulnerable to scratches. Usually, a vinyl floor will not last more than 15 years.
LVF more durable than vinyl. Not only is it a thicker material, the wear and film layers are also thicker, which gives it additional protection against wear and tear. LVF can theoretically last for twenty years or more, but it is still a very new product on the market and not many have been installed for that long.
The winner? Luxury Vinyl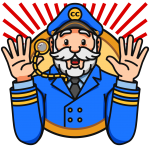 Captain's warning!
Both LVF and vinyl's greatest weakness are sharp objects. When used for a kitchen or dining room make sure you do not drop a knife or other sharp object onto them.
Cost
So luxury vinyl is a new and improved vinyl, but it's got to be worse at something, right? You can already guess what that something is: price.
This is where vinyl flooring still has an edge over its luxury vinyl counterpart. Vinyl flooring starts around 50 cents per square foot and may cost as much as 2 dollars for high-quality vinyl. It is one of the least expensive flooring choices you can make.
The cost of luxury vinyl picks up where regular vinyl leaves off. You can find LVF starting at 2 dollars per square foot, and the most expensive kinds can be 10 dollars per square foot. Typically you pay more for more detailed and unique designs, as well as improved durability (although, this isn't always the case).
The winner? Vinyl
Appearance
Vinyl floors come in a wide range of colors and styles, but do not come as close to the natural look of wood or stone as the luxury vinyl floors do. Vinyl floors are sold either in tiles or in sheets.
One feature of a vinyl floor is the repetition of the same or nearly the same pattern across every tile. This unifies your floor's color and look, but also gives an artificial appearance that some people find off-putting in a vinyl floor.
Luxury vinyl floors are often sold either as planks or as tiles. They use an embossing process and a better picture quality to look less artificial and more like a natural stone or hardwood floor.
As manufacturers continue to corner the luxury condo and home market with LVF, the design quality is likely to keep going up.
The winner? Luxury Vinyl
Moisture resistance
Vinyl floors are one of the most water-resistant materials you can buy. Vinyl sheets lack seams, which prevents any water from seeping through gaps and into the sub-floor. If you are looking for a highly water-resistant solution for a bathroom or basement, vinyl is probably going to be one of your best options.
Since luxury vinyl is made out of the same materials as regular vinyl floors, you might expect it to have the same versatility in wet and humid conditions. For the most part, that is true. However, LVF is only water-resistant, not water-proof. The thin gaps between planks or tiles give water enough room to drain down to the sub-floor.
The winner? Vinyl
Installation
Luxury vinyl is maybe the easiest floor to install. I often recommend it as a first DIY flooring project for new homeowners. Once they build their confidence, they can move on to more difficult projects.
Traditional vinyl can be more difficult. The thinner the floor, the fewer imperfections you can have in the subfloor. Also, with sheet vinyl, cutting it out to match your corners of walls and appliances isn't easy. And if you mess up? You've messed up the entire sheet.
The winner? Luxury Vinyl
Resale value
Vinyl does not add much value to the home. While vinyl in a bathroom, mudroom, or kitchen is seen as a utilitarian choice, its bland appearance and low cost do little to endear it for its own sake. Its main value comes from being easy to clean, resistant to water, and practical.
With luxury vinyl, you have a thicker material that sometimes is nearly identical to wood or stone until you look closely or feel it with your hand. New home buyers who want a wood or stone floor may decide that they like having the benefits of a vinyl floor without sacrificing the particular look or style that they wanted originally.
Luxury vinyl is interesting because on a home listing it will just say "vinyl," so it may get an unwarranted poor grade from homeowners. But as luxury vinyl becomes more popular, there will probably be options to list your home with "luxury vinyl." And as of now, when a homeowner looks at your house, they'll appreciate the difference.
The winner? Luxury Vinyl
Care and maintenance
Vinyl is one of the easiest floors to care for. It can be swept, mopped or steamed clean and rarely requires any special cleaning solutions. Just by cleaning it regularly you can keep the vinyl looking great for 15-20 years.
Over time, vinyl floors can fade when exposed to direct sunlight. This is also an issue with luxury vinyl floors, so if you want your floor to last you may want to also use blinds and screens where the floor is exposed to the sun. Once faded, neither option can be stained or repaired.
Luxury vinyl floors are also very easy to keep clean. Their smooth surface responds well to a broom and basic cleaning supplies.
The winner? Tie
Captain's parting words!
Luxury vinyl floors have taken the effectiveness of a vinyl floor for the kitchen and bath and improved upon them to the point where some luxury vinyl is almost identical in design to a hardwood or stone floor.
Vinyl remains a great option for homeowners who need a simple, inexpensive flooring solution for high-moisture areas of the home. In the bathroom or kitchen, it will hold up to foot traffic and spilled water. It is both thinner and less expensive than luxury vinyl.
Luxury vinyl flooring is thicker and more durable than vinyl. While it is also susceptible to scratches, you can expect it to stand up to pets, kids, and footsteps. Since vinyl is a softer material than hardwoods it is also comfortable to stand on for long periods of time.
LVF is a relatively new product, but already making its mark in the flooring market. Many new design ideas are coming out each year, and you can probably find one that matches your tastes.
Interested in luxury vinyl? Check out my unbiased guide on luxury vinyl. It will fill the gaps on everything you need to know when buying it.
Once you have your vinyl floors installed, regular cleaning is a cost-effective way to make them last. I've reviewed the 10 best mops for vinyl plank floors to help you do just that.
Any questions on luxury vinyl or vinyl? Let me know in the comments below.
Average Cost To Install Vinyl Flooring
Price Range:
$1,105 - $1,960