How to Find a Hardwood Installer You Can Trust
You can't have a good floor without good installation.
You can buy the nicest hardwood, laminate, or tile money can buy, but it won't matter if you have an experienced, or worse, shady installer. It would be like taking Lexus car parts and have an inexperienced mechanic build your car from scratch.
So how do you find an installer worth your money?
Let's start with where to look:
Start with your type of floor
This guide is directed toward people for shopping for hardwood, but really applies to laminate, tile, luxury vinyl, and other types of floors. Many floor installers will install each of these types of floors, but there are definitely some who don't. Or there are some who may be better at some floors than others. With easier DIY floors like laminate and luxury vinyl I may not be as picky, but with hardwood or tile, I'd make sure the installer has a good work history specifically with these types of floors.
Where to find installers
You'd think this would be easy, but this is the most difficult part of hiring an installer. The reason is where you get your installer might determine their quality.
Here are the pros and cons of different ways you can find an installer you trust:
Recommendations of friends and family
One of the first places people look when hiring a flooring installer is among the friends and family members who have put a new floor in recently.
But you also have to be careful. Word of mouth referrals aren't as secure as you'd think they'd be, and it's never the friend or families fault.
If your friends says they did a good job, there are still a couple of traps to watch out for:
There are a few caveats to this approach:
Is the installer as good with your type of flooring as the one they did for your friends?
How long has it been since your friend's floor was installed?
Let me elaborate:
For one, not all installers are experts at all types of flooring. If your friend or cousin had hardwood installed and you are planning on laying out tile, the hardwood expert may or may not have similar expertise with tile. Most honest contractors will be upfront about this and refer you to another if they really cannot do the work, but it is worth asking for references on your type of floor first. Installers, especially those new to the game, could have started out with a lot of experience in carpet, but your hardwood project may be a learning experience. And you're not paying for an intern!
The other is how long has it been since the work was done. I had a friend and neighbor who had a remodel by an independent construction work. My friend would have recommended him highly until he saw the construction on the news for doing shoddy construction. Turns out the materials he was using weren't what was discussed, and rather than haul away old construction (which he charged them for) he was burying it under the construction he did. They never did have any recourse because he went bankrupt on his way to jail.
Friend and family referrals can be a great way to find an installer, but make sure there is a long history of work. Sadly, I can't tell you how many times I've heard of people getting scammed by an acquaintance they thought they could trust.
"Big box" stores (Lowe's, Home Depot, etc)
Installers for big box stores are contracted.
Big box stores generally don't want to be part of the installation business, so they outsource it. Basically, the installer applies to be someone the store will put on their contact list when a customer wants their floor installed. They probably accept a reduced rate for the volume of business the big box store will give them.
There are good and bad parts to this.
The good parts are big box stores are all about reducing risk. This means installers are going to be screened and have red tape to get through to get the job. This pretty much guarantees your installer:
is properly credentialed in installer your type of floor
installer is bonded and insured
The bad part is this ensures you get a good installer. An installer who knows what they're doing and won't leave you scammed. So what's bad?
You don't necessarily get an installer who will go above and beyond. Installers have more incentives when their business is based on word of mouth or a local store to give you excellent installation.
Excellent installation can mean giving you consultation on why you may be picking the wrong floor, other considerations such as add-ons you may want or may want to avoid, etc.
Local stores
This is somewhat of a hybrid of word of mouth referrals and big box referrals. The difficulty in summarizing local stores is they vary more than big box stores. This is where local stores are similar to word of mouth:
make sure the store has a good reputation
make sure the store has been around a while
make sure it seems like the store is still doing well
The reason for the last point is if the business could be in financial trouble, they, unfortunately, may cut corners or just not be around when you need help in the future.
But for local stores with a good reputation:
Some will contract installers like the big box stores, and some will have a fully employed installer.
Usually, with both, you're going to get someone who is treated pretty well and wants to keep their job with the local store. This means your "report card" on the installer is important to them. This is where the excellent service comes in.
Also, the majority should have the proper credentials and insurances just like big box stores, but there's not as much of a guarantee, so I'd verify it (more on that below).
Online
Online is like the wild west. There's Craigslist and all kinds of places you can find capable installers. Possibly for much cheaper than you would otherwise. The reason they're cheaper? They don't have costs of doing business being independent without much marketing costs etc.
The problem with online? I probably don't have to preach this to you, but you don't know what you're getting. Particularly with more anonymous sites like Craigslist, the quality of the installer is a gamble and there's even the risk of the person being criminal.
Personally, I don't think any money savings is worth going this route without word of mouth. This is especially true with a more expensive floor like hardwood. I'd maybe roll the dice with a small room with laminate or vinyl flooring.
The exception online is going through web services that filter out good contractors. This can be as simple as referrals or more complex as sites that set you up with "trusted" installers.
It's beyond this article to review each of these sites, but if you have questions on any, let me know in the comments below.
Licensed, bonded and insured (and fakes)
I've known people who have done good service work without being bonded and insured. They didn't want to go through the costs of it because they were self-employed.
But with this in mind, I'd never hire a floor installer who isn't.
Installation has a lot of risks from damage to your floor to injury. Even if the person comes from excellent word of mouth, what happens if they have a bad day or run into something they weren't used to and make a mistake?
They probably don't have the money to cover it.
Worse, if someone gets injured, it may now be on your homeowner's insurance.
Licensed, bonded, and insured reduces these risks:
Licensed
A licensed flooring installer has proven to the state that they have taken classes or other certification in their work. That's different from registration, which simply means they have given written record of who is doing the work. Essentially, with a licensed flooring installer, you have an extra layer of assurance that they know what they are doing.
Bonded
Bonding and insurance both help to protect you, the homeowner, from financial liability.
A bonded installer puts up a bond against not finishing the job. If they do not finish installing your floor, do not pay for the required permits, or other financial obligations, the bond helps to pay you back.
Most bonds are placed like insurance with a surety company, and the installer has a bond number. You can verify that the company is bonded by asking for the bond number and checking with the surety company that the bond is in good standing.
Insured
Insurance can be one of two types: liability and worker's compensation.
Worker's compensation covers the installer's employees with any injuries that may occur while they are on your property. It covers lost wages and medical bills. Workers who are paid under the table are usually not covered, so this also checks to make sure everybody is well-trained and on the books.
Liability insurance protects you against any damage the installer may cause to your property. This doesn't usually include incomplete or incorrect work, which is covered by the bond.
So as you can see, having a flooring installer who is licensed, bonded, and insured is a real benefit for you and a sign that you are hiring a good floor installer. Those who cut corners on those three things may be cutting corners in other parts of their operation at worst or leaving you open to the risks of injury or incomplete work at best.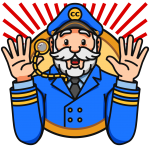 Captain's warning!
It's not unheard of for hired installers to provide fake or expired licenses and insurances. Simple way to avoid it? Ask if you can have their numbers for your records and who it's through. Research the company their through online, and call the company to verify they are actively insured.
Asking the right questions
When you find one or two installers that you really like, asking them the right questions will help you know if they are the best floor installer for your job. We already covered the licenses, bonded, and insured. Here are a few others:
If costs aren't already covered, get a detailed list of anything that can be charged for (removal of old flooring, waste fees, etc). You don't want a bunch of surprise fees, so try to get the invoice before the job
Ask about the basic installations process and any problems they foresee. You aren't an expert, but usually can sniff out if someone doesn't know what they're talking about by their confidence, detail, and quick verification with an internet search
How long will the job take? Are there any possible causes of delays?
What materials will you need outside of the floor and underlayment (if required)?
By having some key questions laid out in advance, you can put the same questions to all of your installers when they come into your home for an estimate. This makes comparing and contrasting easier to do, especially if you want to look at more than just the price.
Captain's parting words!
Finding a good floor installer can make or break your home improvement project. The right installer will leave you feeling confident about the job and looking forward to the results.
You might be able to find them in a variety of places, from friends and family to online and in-store searches. Good installers will be able to show that they are licensed, bonded, and insured to keep you protected from financial and civil liabilities.
Finally, have a conversation with the installer first. It's amazing how you can sense when someone doesn't know what they're doing or doesn't have your interests in mind with a short conversation.
What's your experience with having floors installed? Any tips or questions? Let me know in the comments below.
Average Cost To Install New Flooring
Price Range:
$1,215 - $2,460