Pergo Flooring Review and Comparison
Considering buying Pergo flooring?
A lot of people are. It's one of the most popular brands of flooring (at least that I hear about). I get questions ranging from what type of flooring is it to does it actually live up to the hype.
So let's review Pergo flooring starting with what it is, and then ending with my opinion on it as well as some frequently asked questions.
As always, feel free to ask questions in the comments if I don't cover anything you want to know.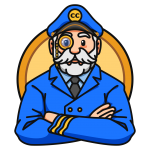 Captain's unbiased (not a rep)!
I think it's important to make clear: I have no affiliation with Pergo. I don't work for Pergo or receive money for Pergo. The bad news of this is maybe I don't know Pergo as well as a rep for Pergo would. The good news is this is unbiased, just my opinion, with no sales pitch.
What is Pergo flooring?
Sometimes I get asked, "What is better Pergo or laminate?" Or, "How is Pergo flooring vs laminate?"
The short answer is they are the same. Pergo is a brand of laminate (they also make hardwood but are best known for laminate). For some people, they may have meant what makes Pergo stand out, and I'll cover that a little later when I compare Pergo to other laminates.
what is pergo flooring made of?
Pergo flooring has the same general structure of other laminates. It's composed of multiple layers:
bottom padding (optional): some lines of laminate will have an attached pad on the bottom to help comfort, insulation, and sound
bottom stability layer: a solid plastic-like layer that gives the laminate structure to keep it from buckling and sometimes acts as a water-resistant layer
core layer: the thickest layer is made of compressed fiberboard. this is also where the locking joints are
decorative layer: this is basically a picture that gives laminate its design
wear layer: an important layer that is similar to the stability layer, but in this case, it protects the decorative layer and keeps the laminate looking good.
I'll go more into how Pergo does or doesn't separate itself with these layers in the next section.
Pergo review: Is Pergo the best laminate?
Now we've seen that Pergo is just a brand of a laminate. But it's generally considered a brand with an excellent reputation. It's been around for
So how is Pergo vs other laminate? Let's take a look at some of the differences.
Differences in pergo vs other laminate
Pergo is one of the oldest brands in the laminate world and has been considered an innovator. When you look at Pergo's website, they bring up these 4 things as why the stand out:
durability
designs
ease of installation
warranty
But the real question is, Does Pergo truly stand out in these areas, or is it all just marketing?
My personal opinion: it's a little of both. They've done a great job innovating over time, but I don't think they currently do anything that makes Pergo clearly ahead of the rest of the laminate industry.
With that in mind, they're also a brand name that takes pride in their laminate, so you can expect higher quality than your average laminate you'd pick out of a store, especially compared to budget laminate.
This means you can expect more detailed designs. Their installation is about as easy as laminate gets, but this is getting more and more common in the industry with easy click-lock laminates.
Durability and warranty I don't have personal experience with. I've heard people who say they've had Pergo that's last decades. I've had other people say it scratched shortly after they had it.
At the end of the day, I think it's about like any other laminate: you have t pay attention to the details that you can find our laminate guide. These will guide you to durable vs not durable laminate flooring.
Is pergo waterproof?
Yes and no. To start, laminate is notoriously bad against moisture. It tends to bubble and buckle. The worst laminates will do this with hardly any standing water (eg a spill you take 5 minutes to clean up, or sometimes even if you clean it up right away).
Pergo (and some other laminates) have technology to improve its water resistance. I think Pergo does a pretty good job here. It will be forgiving as far as most laminates go.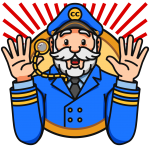 Captain's caution!
No laminate is waterproof. Some do better at being forgiving against spills or even short periods of standing water. I'd never
install laminate in a bathroom
or basement with a big moisture problem.
is pergo toxic?
This is becoming a more common question with all floors. How toxic are they?
I've researched this a lot between different brands and different types of floors. The truth is it's not an easy question to answer.
Why?
Because some people consider certain material chemicals toxic and some don't. But here's usually what people are concerned with in laminate flooring: formaldehyde.
It's considered reasonably toxic, but also found commonly in laminate, cabinets, wood products, and other areas in the home. That said, high exposure can be considered dangerous.
Pergo took one of the strongest steps in the right direction by having its new laminate certified by CARB (California Air Resource Board) which has strict standards for indoor air pollution in flooring and other home improvements.
Captain's parting words!
Hopefully this gives you some good background on one of laminate's most popular brands. I think there's some great Pergo laminate out there, but I also don't think its an automatic gold-standard that means you'll be happy with your floor.
Just like any laminate floor, doing your homework helps. Our unbiased laminate guide will help you cover the important details.
Let me know if you have any questions in the comments below.
Average Cost To Install Laminate Flooring
Price Range:
$970 - $1,690