Best Canister Vacuum
Decide you want to ditch the clunky upright vacuum and go with a sleeker canister?
Good choice… maybe.
The key is figuring out which cansiters are worth of your home and which don't make the cut.
You don't have nearly as many options in canisters as you do uprights. You'd think this would make an easier choice, but it seems like there's more duds than high-performers when it comes to canisters.
So what are the best canister vacuums?
Here are the top 3 from 'no budget' to 'tight budget':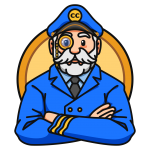 Captain's notice!
When I recommend a vacuum, there is a link to a product page (usually Amazon), and I may receive a small commission if you purchase after clicking it. This does not change what you pay or what I recommend. It does help fund the research I put into the site, and I'm grateful for any support!
Top 3 canister vacuums (one winner for every budget)
#1 Miele C1 Turbo Team (best overall)
Miele has multiple canister models and all rank extremely high in nearly every category. This is why you'll notice I seem to have a Miele bias on this page (which I try not to do), but I just felt they truly have the best canisters. The Marin version that I list below as the "best splurge" is over twice the cost of this vacuum, but it does have advantages that I'll reveal in the bullet points.
(note: if you don't have carpet or have lower pile carpet, you can consider the Miele C1 Pure Suction, instead. It will save you around $100 by sacrificing carpet cleaning ability)
Here's what stands out (good and bad) for the Miele C1 Turbo Team:
excellent construction and known to last until you get tired of it
excellent overall cleaning ability
variable suction improves versatility for anything from carpet to drapes
has good air filtration but lacks the sealed system of the Miele C3 Marin, making it good but not top-of-the-line for allergies
not as durable constructed as the Miele C3 Marin (although still very durable)
lacks other convenience features like bumpers, lights, and foot pedal power adjustments
Check the latest price on Amazon by clicking here
#2 Miele C3 Marin (best luxury)
There are some vacuums that are expensive for the wrong reasons—because they don't have efficient manufacturing or as a marketing ploy. Miele's top vacuums are in the $1,000 price category, but I think they actualy live up to the hype. This Miele C3 cannister is the most luxurious canister vacuum I've found. If you have the money to shell out, it's worth considering.
Here's what stands out (good and bad) in the Miele C3:
excellent suction technology, makes this vacuum better than most high-end uprights
durable construction, made in Germany
a top vacuum for allergies with a sealed filter system
extra mini-brush tool effective at remvoing pet hair from upholestery
effective on carpet and hard floors
specialized brush heads for different tasks
foot controls for vacuum power improves versatility, improves cleaning, and reduces chance of damage to flooring by tailoring the power
has automatic suction control for mindless conversion from soft to hard flooring
one drawback is its not the lightest canister but is under 20lbs (not many complaints on it being heavy—just no the lightest)
Check the latest price on Amazon by clicking here
#3 Bissel Zing (best budget)
You can find this vacuum for close to 50 bucks, and it actually is an effective cleaner and versatile vacuum. It's not going to clean as well as the first two on our list, but for this cost, it's a great overall vacuum. This is a versatile cleaner like many canisters but cleans better than any under the $100 price category. That said, if deep cleaning carpet is your main goal, I'd avoid the Zing.
Here's what stands out (good and bad) in the Bissel Zing:
great cleaning power for the price
can clean anything from carpet to hardwood to upholstery
height adjustments to work on different surfaces
doesn't have a HEPA filter so not great for allergy sufferers
not great on thick carpet or if you want to deep clean carpet
will work but not the best with pet hair
Check the latest price on Amazon by clicking here
Things to keep in mind when buying a canister
I don't like writing an article on products without covering why you might not want to buy it. After all, nothing is for everybody.
Using my experience, analyzing multiple reviews, and discussions with homeowners, I wasn't able to come up with many reasons that you shouldn't buy a cannister vacuum. With that in mind, here are a few things to be aware of:
Canister or upright?
One of the first things you have to ask yourself with a canister is, "Do I want a canister vacuum? Or would an upright vacuum be better.
Canisters biggest advantage is for stairs, but they are also good for overall mobility. You can vacuum hard to reach areas with your canister, since the motor is detached from the vacuum head.
As far as disadvantages, most canisters don't have quite the cleaning power of uprights. Our best canister vacuums still have excellent cleaning, but as a whole, canisters aren't as good.
You can learn more of the differences on our canister vs upright page.
Weight matters since you're carrying it around
Part of what makes a canister so versatile is that you can easily carry it around. The problem with this is… you have to carry it around.
Most canisters weigh 10 to 25lbs and are designed to make them easy to carry. I hear very few comlaints on having to carry the canister, but if the vacuum is for someone with a disability, severe arthritis, or otherwise difficulty carrying 15lbs, you may look at another type of vacuum.
You may want to avoid them if you want the deepest clean AND are on a tight budget
I don't want to scare you off here because canisters are pretty much equal to uprights for cleaning pet hair and overall suction. However, I think in the mid-price ranges $100-$300 you can often get more bang for your buck. Many of the elite suction and pet hair cleaning canisters are closer to the $400+ price range.
With these "negatives" of cannisters in mind, remember they are much more versatile cleaners than uprights. You can get places you couldn't go with an upright and this includes stairs.
A note on Miele vacuums
I have no brand loyalty on any vacuum, but in reviewing canisters, I couldn't get past Miele nudging out the competition. That's why you see it as my "best splurge" and "best overall." Don't get me wrong, there are other great cannisters out there. This Dyson was in close competition for the "best overall", and there are other great cannister vacuums that are a little more affordable such as this Electrolux.
Captain's parting words!
Uprights definitely outsell canisters, but a good cannister makes a much more versatile vacuum. You'll thank yourself for your decision on a canister when vacuuming your stairs.
But one thing I've found is it's more difficult to get a great cannister. There are so many uprights, there are many I can recommend in every price range. Cannister there's not quite the competition.
Hopefully this article directed you to a canister for your home. Or do you want a cordless vacuum? Let me know if you have any questions or anything I didn't cover in the comments.