Have new Berber carpet and want to keep it clean?
A good starting point is figuring out the best vacuum for Berber carpet.
Berber has some unique challenges (more on that later), but it's a long-lasting and easy to clean carpet if you take care of it.
Let's start with a preview of my top 3 vacuums, then we'll go into the challenges Berber presents (so you know what to look for), and finally, I'll go into detail on why I like each vacuum.
Here's a preview of my top 3 vacuums for Berber:
Dyson Ball Animal (best overall – click here for price on Amazon)
Miele Complete C3 Marin (best high-end – click here for price on Amazon)
Hoover T-Series Windtunnel (best budget – click here for price on Amazon)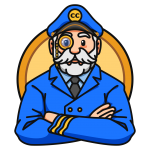 Captain's notice!
When I recommend a vacuum, there is a link to a product page (usually on Amazon). I may receive a small commission if you purchase after clicking it. I receive the same small flat percentage with any vacuum, so it does not change what I recommend or what you pay. All reviews are 100% unbiased.
The unique challenges of Berber carpet
If you go way back, Berber was a tribe in Africa. And this isn't just a random fact. This ancient tribe created a specific weave for rugs.
This weave was so popular that it was named after the tribe, and you still find it on carpet today. Now that Berber is much more common, you can take its unique weave for granted. But it never goes out of style.
The loop style of Berber can make it a durable carpet. This is why you'll sometimes see looped carpets in commercial buildings and schools. But there's one thing Berber doesn't hold up well against vacuums.
And that's the point of this article. How can you vacuum your Berber to get it the cleanest without ruining it?
Top 3 vacuums for Berber reviewed
I gave a preview of my top 3 vacuum cleaners for Berber above, so what makes these vacuums stand out?
In other words, how do my favorite vacuum cleaners for Berber meet the challenges that we talked about before?
We know certain features make vacuums stand out: suction power, ability to pick up different things (dust, animal hair, long hair, food crumbs, etc) easy to maneuver, easy to empty and perform maintenance, useful tools, and adaptive features such as a controllable brush roll and vacuum height.
The last part is important for anyone's vacuum but critical for Berber owners. This is where my vacuum research started. If the vacuum isn't adaptive, it was thrown out. If it was, it was in consideration for the best vacuum for Berber.
The way I rate vacuums is I have an ongoing list of vacuums, and how I feel about them in multiple categories. These reviews come from a mix of experience from carpet cleaning, reviews (in-person and online) of what people like and don't like, and my personal experience using the vacuums. I've tested more vacuums than any sane person should. With that said, here are the vacuums I think are best for you and your Berber carpet:
Dyson Ball Multi Floor 2 (best overall): I love this vacuum so much that all of the vacuums I've tried, this is my go-to vacuum in my own home. It's suction power and overall ability to pick up dust and debris is only comparable with the best of the best vacuums. And for as powerful of a motor as it has, it has "minor" unique features that make it easy to maneuver including the ball, support back wheel when getting under objects, and a simple to remove and empty canister. The only negative I can come up with is the brush bar isn't the easiest to clean of vacuums I tested, and it's not lightweight so not the easiest to go upstairs. Here's why it stands out:
excellent suction
excellent pet hair removal
easy push-button beater bar and off (critical for Berber)
auto-height adjustment of the beater bar
effective pet hair removal tool for upholstery
HEPA filtration with complete vacuum seal
Click here to check out more info and the latest price on Amazon
Miele Complete C3 Marin (best high-end):There's no denying you'll pay a premium for the Miele Marin, but it's my winner for luxury vacuum. Like any luxury, the extra you pay doesn't correlate perfectly with performance (eg it may be double the cost of the Dyson above but not double the performance) but you pay for fine details. There are no details spared: auto-height adjustment, LED front light, change of bag indicator light, etc. This is the Lexus of vacuums. I don't see anything not to like about this vacuum other than if you dislike canisters or the price tag. Here's why it stands out:
excellent suction
excellent pet hair removal
no-details-spared features: auto-height adjustment, LED light, change of bag indicator, footswitch controls
6 speeds to customize to your floor
can turn of beater bar
excellent air filter
easy to use telescopic wand for versatility for high up and other difficult to reach areas
Click here to check out more info and the latest price on Amazon
Hoover T-series Windtunnel (best budget): I always recommend considering our vacuum a decade-long investment, and in that case, a $500 vacuum is only $4/month. Well worth it in my opinion. But sometimes you just don't have the money right now to throw down on a vacuum. If that's the case, I really like this vacuum by Hoover. It doesn't compete with the best vacuums in suction, but it definitely outperforms the vacuums in its price category. Here's what stands out:
great suction and pet hair removal for the lower price range
beater bar turns on and off
manual height adjustments
Click here to check out more info and the latest price on Amazon
Berber carpets and vacuum snags
You may have noticed one feature listed in every vacuum was a beater bar that turns off. That's because of this:

Those beautiful loops designed by an ancient African tribe can get snagged by vacuums. The problem is the beater bar. Depending on the design of the beater bar and the height of it, the bristles can grip one of the loops and rip it. There are ways to repair ripped loops, but it's definitely a headache. Not to mention, once it rips it can continue to unravel like a loose thread on your close. So don't pull at it!
So what's the fix? In order of least to most effective:
hope it doesn't happen and vacuum as is
raise your vacuum height slightly
turn off the beater bar
While the first may sound like a joke, many people vacuum their Berber carpet with the beater bar on the vacuum with no problem. In fact, that picture came from a test carpet. Although it clearly ended up snagging, this was after many tests.
My rule of thumb is I would turn off the vacuum the majority of the time. If you want to do an occasional clean with the beater bar on, go for it. Just know there is some risk of a snag. The second you get a snag, stop the vacuum and repair the snag. And consider that your test, I wouldn't use the beater bar (or raise the height) because otherwise, it will almost definitely happen again.
Other information and challenges with Berber carpet
Berber is one of the most popular carpets, and much of that comes from it's unique weaved style. Fun fact: it gets its name from the native Berber tribe in Africa. They were the ones to originate the weave for textiles.
It's this same weave that gives some of the problems with vacuuming Berber (like the snag shown above). It's a tight weave, which can also make Berber a little more prone to stains, but I think the material and brand of the carpet make much bigger impact as far as stain resistance.
If you want to learn more about Berber, check out my page on Berber carpet pros and cons.
Captain's parting words!
Having a vacuum you love takes a lot of headache and pain out of your life.
For Berber, loving your vacuum means it does two things: cleans your carpet but also doesn't snag it. These 3 vacuums all should do an excellent job depending on your needs.
If you're in the market for a cordless vacuum (for specific use cases) check out my full guide!
Any questions on the best vacuums for Berber carpet? Let me know in the comments below.