I don't love vacuuming. But what's worse than vacuuming?
Trying to vacuum and long hair gets wrapped and tangled in the brush roll.
This not only is annoying, but it also leads to breaking the brush roll (not a cheap repair).
So as someone who reviews vacuums regularly and also has girls in the house who shed long hair, what do I do about it?
Either buy a vacuum that has a tangle-free brush roll (these aren't perfect but do help–I'll go into that more)
Perform regular maintenance on the beater bar (this isn't too difficult and will be covered after listing the best vacuums for long hair)
Top 3 best vacuums for long hair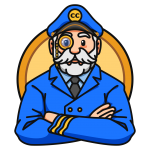 Captain's notice! When I recommend a vacuum, there is a link to a product page (usually on Amazon). I may receive a small commission if you purchase after clicking it. I receive the same small flat percentage with any vacuum, so it does not change what I recommend or what you pay. All reviews are 100% unbiased.
After reviewing and trying out multiple vacuums, these are the 3 best vacuums for long hair that make my cut. I'll give a review of each vacuum for long hair with both the pros and cons. You'll also find one for every price range.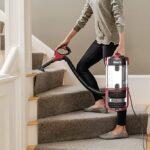 I used to have a Eureka vacuum at the top spot, but they discontinued my favorite Eureka vacuum and this Shark came on the market. It's a pretty good trade-off. The Shark Zero-M has a "self-cleaning"/anti-wrap brush roll that actually does a pretty good job. It's not perfect, but you'll have far less tangled hairs than your average vacuum. This makes it my runaway favorite on this list. It's also usually under $250. A great deal for an amazing vacuum.
self-cleaning brush head: this isn't 100% perfect, but it actually does a great job. some people never need to clean the brush head, but if you do, you'll need to clean it far less
brush roll can be turned off (important for hard floors and loop carpet)
attachment for crevices and non-floor areas
great cleaning power
con: not the highest-rated for removing debris (but still very good)
great value price—won't break the bank
Check the latest price on Amazon by clicking here.
---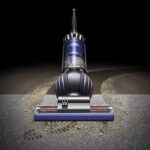 Long human hair is definitely a different challenge than animal hair, but this Dyson vacuum is awesome in every category. It does a great job of sucking up long hair. Admittedly, it's not the best at preventing tangles, but this can be overcome with regular maintenance (and I think that vacuum performance is worth it). This vacuum consistently sucks up more debris than 90% of other vacuums I test. It also has some other features that make it stand out:
top-of-the-line suction
easy to use features: auto-adjusts to floor height, easy to maneuver ball, and more
parts detach easily for cleaning (easy access to clogs from hair or objects)
con: brush roll doesn't come off to clean easily; you have to reach in and cut hairs off periodically
con: cost is higher than some vacuums and some people have difficulty pushing due to high suction
excellent hair removal tool: best I've used for objects like couches and other spot cleaning
Check the latest price on Amazon by clicking here.
Want to get rid of pet hair on a certain couch or area your pet lies in? This handheld vacuum doesn't cost much and does an excellent job. There are obvious drawbacks of a handheld; it's not going to be your only vacuum, but it can be a great option if you want to save your current vacuum from getting tangled up in hair, and use it after to deep clean your home. Here are some things to know about the Eureka handheld:
great job of picking up hair from about any surface
it's powered with two motors: one directs the suction, the other directs the rotating brush
has two accessories that help clean in hard to reach spots
con: biggest complaint is the motor and belt aren't replaceable. when they die, the vacuum is dead. it seems that over-use of the vacuum can cause it to burn out, so I'd limit cleaning to one "surface" (couch, area, etc) at a time
lightweight, easy to store, easy to use
cheap compared to vacuums that are effective at cleaning hair
Check the latest price on Amazon by clicking here.
Check out our curated list of best handheld vacuums here.
---
The big issue with long hair wrapping in your brush roll, and simple maintenance to keep it tangle-free
There are two major issues when vacuuming long hair:
The vacuum can't pick up the hair
The vacuum picks up the hair, but the hair gets wrapped inside the vacuum
#1 one was easy for me to figure out because I've tested many vacuums. Basically, I took my best vacuums for pet hair, and I put them to the test on long hair. This definitely worked.
That's where my #2 pick on this list (the Dyson) came from. It's excellent at picking up hair in general, not just long human hair.
#2 Was more of a challenge. I've always had an issue with hair getting wrapped up inside the vacuum and tangled around the beater bar. I've known many people where this blew out their vacuum motor.I've avoided this… maybe because I perform the maintenance I'll describe below.
To solve the problem of long hair, vacuum companies have made anti-wrap vacuum rolls. I was surprised to find that these actually do workpretty well. However, they aren't perfect. The Shark listed above is the best example of a vacuum that is both good at avoiding tangles and good at cleaning.
So what do you do if your hair still gets tangled?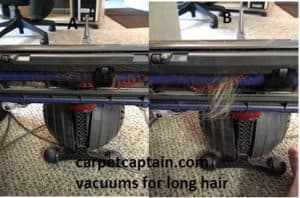 This is my Dyson vacuum. The pictures on the left hair tangled on the roller (you can't see it that well), so the picture on the right is after I pulled on some of the hair.
And that's how you maintain it: After every few cleanings, just tip the vacuum over and perform these steps:
grab some of the hair with your fingernails (or pliers)
pull on the hair slowly: it will start to unravel off the bar
if it does unravel completely or you get a loop, use scissors to cut off the hair
This takes a total of about 3 minutes, and it will save you a ton of headaches down the road.
Other features to consider if you have long hair in the house
Here are a few other things I've found helpful in a house with long hair:
Accessory hair cleaning tools
You might think some of these are a marketing gimmick, but many of these tools actually work. Or at least the ones we tested on highly rated hair cleaning vacuums work really well. Here's a picture of the "turbine tool" that is found on many Dyson vacuums, including the one we mentioned above: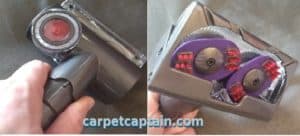 I'm surprised how well this works, but it leaves little to no hair in its path. I even use it to clean jackets I have that attract hair.
Brushroll considerations
Every vacuum has a brush roll and by nature, it will tangle with hair. Some people ask if having a brush roll that turns off is important. It's nice for certain homes–like if you want to vacuum hardwood floors. But for long hair?
It doesn't really matter because you need the brush roll to pick up the hair. If you turn it off, you'll fix the problem of hair getting tangled in it, but you also won't pick up much hair.
One feature that is important for the brush roll is how easy it is to clean.
This can either be a self-cleaning brush roll (you don't have to clean it as often), a push-button cleaning brush roll (you push a button and the hair is removed), or if not the first two options, the brush roll is just a little easier to access and clean.
Hose and bin considerations
The hose and bin don't do much as far as sucking up the hair, but you will find some hairs get stuck in these areas. There are two key features to look for here:
Are the hoses at least 1.5″ wide, and there aren't many sharp bends?
Is it easy to access all areas of the hose and bins
The first point keeps things from getting stuck; the second point allows you to clear the clogs when they happen.
Suction power
Suction power matters. The higher the suction power, the easier it will be for the vacuum to pull the long strands of hair all the way into its canister or bag. At the end of the day, it's more the brush features that will pick up long hair, but you do need suction to pull it through the vacuum.
Captain's parting words!
So there you have my favorite vacuums for long hair. They should make a big difference in your brush roll being wrap and tangle-free.
Whether or not you get one of these vacuums, make sure to perform occasional maintenance on the brush roll. It sounds like a pain, but it's not too bad and much better than have your brush roll motor blow out.
New technology is added frequently, and I try to keep this updated (my top pick wasn't even on the list a year ago–newly added for 2022).
What's your experience with vacuums and long hair? Any vacuums you love or hate? Let me know in the comments below.