Best Vacuum for Shag Carpet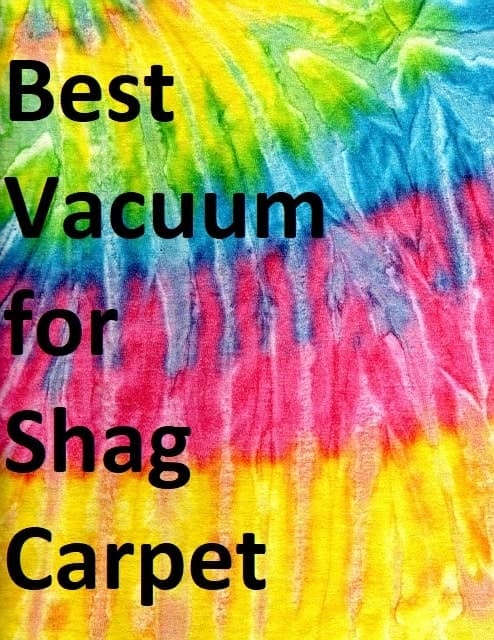 You know what's fun? Shag carpet. It's a throwback to the 70s, and it's got that care-free look that comes with the long strands.
You know what's not fun? A vacuum that can't clean your shag. Or a vacuum that is super hard to push through your long pile shag carpet. Or the worst of all, a vacuum that snags and tears your shag carpet.
So what is the best vacuum for shag carpet?
And how should you care for your shag carpet?
I'm going to cover both in this article. Here's the topics in order:
define what I mean by shag
best vacuums for shag carpet
what features to look for in shag vacuums
challenges and techniques for vacuuming and taking care of shag
What do I mean by shag?
What do I mean when I say shag carpet?
Any high pile carpet. This includes the classic 70s shag, but it also includes the more "modern shag" aka frieze carpet. For purposes of this article, I'll often refer to all of these carpets as "shaggy carpet" or "shag." Any carpet with a long pile height will have the same challenges (more on these later)
Now that we're on the same page, let's dive into my favorite vacuums for shag carpet.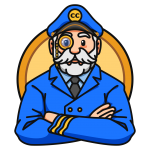 Captain's notice!
When I recommend a vacuum, there is a link to a product page (usually Amazon), and I may receive a small commision if you purchase after clicking it. This does not change what you pay or what I recommend. It does help fund the research I put into the site, and I'm grateful for any support!
Top 3 vacuum cleaners for shag carpet
This Soniclean vacuum is the only vacuum that is specifically designed to fix the problem of getting "stuck" on soft, dense carpets. It was also designed in cojunction with one of the major carpet manufacturers. With the easy to meanuver features in mind, it also doesn't disappoint in cleaning ability. Truly a great vacuum, and my top for shag carpet owners.
What you'll love about this vacuum…
specifically designed big wheels for easy moving on shag carpets
softer bristles don't damage long carpet strands
good overall cleaning with pet hair and powerful suction
lightweight <11lbs and easy to meanuver
sealed HEPA system great for allergies
What you should be aware of if buying this vacuum…
Get latest price and more info on Amazon by clicking here
This bagless Shark vacuum gives you multiple controls to throttle your vacuum from gentle to deep clean. This is the exact type of customization you need to make sure you're getting your shag carpet clean without damaging it.
So what are the key controls? It allows you to turn the beater bar on and off. That is the most critical feature to keep from damaging the shag, but it goes a step further and allows you to adjust the suction power. This is great if you find the suction is too high to push the vacuum through your shag.
What you'll love about this vacuum…
super suction
easy to maneuver with variable suction and swivel head
cheaper than many best performing vacuums
cleans all types of flooring
upholstery and pet accessories
other accessories such as microfiber pads and crevice tools
converts from an upright to a canister for stairs
HEPA filter with sealed system
dust collection bin easy to empty
What you should be aware of if buying this vacuum…
stiff hose slightly difficult to use
not as "sturdy"/durable feel as Dyson vacuums
Get latest price and more info on Amazon by clicking here
This Hoover vacuum doesn't have quite the cleaning power of the first two on our list, but for its price of right around $100, people are happy with how clean it gets there homes.
It also won't have any problem cruising through shaggy carpets when you choose the correct height setting (you get 5 choices). Just remember to set the height as low as you can and still comfortably move the vacuum. Comfortably is the keyword because it isn't just about whether or not you can move it—if you're using a lot of force to push the vacuum, there's a good chance it will damage your shag.
What you'll love about this vacuum…
adequate suction to pick up most debris
has a separate tool for upholstery pet hair that seems to work
push button cord rewind (so simple but love this)
beater bar that can be turned on and off
quiet compared to many other vacuums
HEPA filter
What you should be aware of if you buy this vacuum…
leaves some stuff behind that top-tier vacuums pick up
not as light and easy to maneuver as the others on this list
other than pet hair tool, accessories not great
Get latest price and more info on Amazon by clicking here
What to look for in vacuums for shag and frieze
We've covered the challenges with shag and our top 3 vacuum cleaners for shag. But what things can you look for in a vacuum if you're out shopping for yourself?
Adjustable suction and/or height
One of the biggest problems people have vacuuming shag or other thick carpets is their vacuum gets stuck. I've heard this complaint with many Dyson vacuums I otherwise love. Adjustable suction fixes this issue. Adjustable height of the vacuum can also help.
Big wheels
Ths isn't a must-have, but it is definitely a nice-to-have with shag carpet. Big wheels keep the vacuum from getting bogged down on the long, shaggy carpet.
Beater bar On/Off and other Beater Features
You want a beater bar that can turn off or at least is adjustable. If it's not adjustable, it might end up beating your car… until it looks worn out. Beater bars are important for cleaning, but can also damage carpet–it's sort of a catch 22.
Some vacuums have worked around this catch 22 by making a beater bar that is effective but also soft enough to not damage carpet (see our #1 vacuum choice above)
Powerful suction
To be fair, this is most any time you look for a vacuum. But it's still worth mentioning, especially since shaggy carpets can block some of your suction power. The difficult thing with suction is there isn't a great "rating" for it. Some people try to use the watts a vacuum has for suction, but that doesn't work. The power of the motor is only a small part of the equation—it depends more on how the vacuum is designed.
You are best off reading review on what other people think of the vacuum suction.
Other features to keep in mind but not as important
These are features that aren't required for a shag vacuum, but important enough to mention here. The last thing you want is to do a great job research the perfect vacuum for shag, but then forgetting that you also have dog hair or hardwood flooring that you also need it to clean.
Here are some other things to keep in mind…
Versatility
Realize before you purchase your vacuum what jobs it will need to do. This sounds simple, but sometimes you don't think of everything. You want it to clean your shag carpet, but would it also be nice if could quickly adjust to vacuum your hardwood floor? What about tools to clean your couch? Some vacuums will even clean blinds. But some high-quality vacuums do none of these things. Make sure to read the features and reviews to see what your vacuum can clean, and what it cleans best.
Bagged or Bagless
The dirt has to be accumulated somewhere, this will be in a replaceable bag or in a fitted removable canister. There are pros and cons to both methods, and which one you choose will depend on how you like to operate. Removing the canister and dumping the dirt can be messier than just replacing a bag, but on the other hand bags cost more, so the decision is yours. Either way most of these vacuum cleaners have a filter system and seal to trap the dirt. We have a whole article on bagged vs bagless vacuums here.
Pet hair capability
An interesting but important thing to be aware of on vacuums is good suction and cleaning ability doesn't not always equal good ability to pick up pet hair. The technology needed to pick up pet hair is different. Some otherwise great vacuums either get clogged with hair or can't pick it up in the first place.
Maintenance
Most multi-functional, and versatile vacuum cleaners will require some maintenance. The filter that most of them have needs to be washed regularly and the machine itself should be wiped down with a damp cloth occasionally. The beater brush also has to be cleaned, and the bag or bagless canister will have to be emptied. This is all standard, but make sure to check reviews so that your vacuum isn't a maintenance hog—some require special care or are just poorly made so need frequent maintenance.
Challenges with vacuuming shag and tips on how to care for it
The first step to defeating the enemy is knowing who you're up against. There are three types of challenges when vacuuming shag:
shaggy fibers block the vacuum suction from the dirt
long strands can catch in vacuum's beater bar
dense fibers can make it hard to push the vacuum
Let's dive into each of these 3 challenges in a little more detail…
Challenge 1: It's no secret that dirt, dust mites, and other debris hide in your carpet. That's why you buy a vacuum in the first place.
The question is how easy is it to remove that dust. The answer is a little more difficult if the carpet is shag. The reason is shags long fibers "blanket" over the debris. This makes a barrier between your vacuum suction and the dirt.
Challenge 2: What would happen if you set a large piece of yarn on the ground and vacuumed over it? It's not a trick question… your vacuum would suck it up.
Carpet is basically yarn woven into a backing. The vacuum doesn't suck it up because it's firmly attached to the backing. But shag is long enough that the fibers can sometimes be damaged by a vacuum.
This is especially true if the vacuum has an aggressive beater bar. The beater bar is designed to lift up dirt but it can also wear the long shag fibers. In some cases, the fibers could get pulled by the beater bar and sucked on by the vacuum.
Challenge 3: We just talked about how the long fibers can get damaged by the vacuum, but they also can make it difficult to push the vacuum.
Long pile carpets mean they have more surface area of fiber. This can create a problem when you have a high suction vacuum. The vacuum will "stick" to the carpet, making it feel like you're trying to push your vacuum through wet concrete.
Captain's parting words!
Hopefully you found your best vacuum for shag carpet. You can find a list of more suggestions for vacuums for high-pile carpets here if you'd like to dive in a bit more.
Remember: adjustable suction, adjustable or soft beater bar, big wheels, and powerful suction.
Here's to these recommendations keeping your new shag carpet clean! Let me know if you have any questions in the comments below.
Average Cost To Install New Flooring
Price Range:
$1,215 - $2,460