Best Cheap Vacuums Under $100
Got less than $100's to spend but need to buy a vacuum?
Ever heard, "You get what you pay for?"
There's a lot of truth to it. No question that the higher you go up in price, the better vacuums you find. But there's good news: there are a few hidden gems in the under 100 category. I've analyzed 83 (and counting) of the top selling vacuums, and the cheap vacuums that stand out perform better than many vacuums 3x their cost.
So while you can't blindly pick a $80 vacuum off the shelf and expect it to perform like a $300 vacuum, you can find a great vacuum on a budget with a little research. I'll give you my top picks after analyzing thousands of reviews, and then I'll give you tips if you decide to search on your own.
The reason you can find high-performing vacuums under $100
Before buying a cheap vacuum, it helps to understand why you can find high-performing vacuums for much less than the heavily marketed vacuums. Because if there's not a  good reason, then you have to think, "If it sounds too good to be true, it probably is."
Here's the dirty secret of why you can get an excellent vacuum for cheap: new technology.
Okay, so that's not a huge secret. But think about it. How much is the newest iPhone? $800+. How much will that same iPhone be in 3 years? About $400. It's still the same iPhone that was great just a few years prior.
The same is true of vacuums.
A good motor 5 years ago or an awesome new tool 5 years ago or a cool swivel ball for easy maneuvering 5 years ago are all not cool now.
This means 3 things:
The vacuum can no longer get the "cool top-of-the-line" premium price.
The company doesn't spend money marketing the vacuum, so this cost isn't passed on in the price of the vacuum

They don't have to add features most people don't use just to "keep up with Joneses" of have priced vacuums
And don't get me wrong, most vacuums under $100 were never the best vacuum on the market, but many were very good vacuums that are now just an older model.
Do you sacrifice performance/features when buying a budget vacuum?
The short answer is "yes."
Even though I just explained why you can get a great deal on an older technology vacuum, the new technology you get in higher priced vacuums isn't all fluff. Some of this technology improves suction and allergy filtration. Other technology just makes your life a lot easier.
If these shiny new features peak your interest, check out our page on the best overall vacuums. …Pretty cool, huh? Now let's move on to the Captain's top picks for vacuums that won't break the bank.
Top 3 vacuums under $100
Finding the top vacuums under $100 started sifting through many reviews. This doesn't mean just looking through the overall star-rating, many vacuums with 3-stars are great vacuums but just have one bad feature. So I had to include these.
After filtering out reviews, I tested the ones I found worth out myself. If I only had $100 to spend, these are the vacuums I'd buy: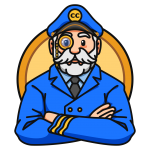 Captain's notice!
When I recommend a vacuum, there is a link to a product page (usually Amazon), and I may receive a small commission if you purchase after clicking it. This does not change what you pay or what I recommend. It does help fund the research I put into the site, and I'm grateful for any support!
#1 Dirt Devil Razor Pet Steerable: This impressive Dirt Devil vacuum stood out for its carpet cleaning ability, suction, and ability to remove pet hair. Many vacuums throw "pet" in the name to get more sales, but pet owners think the special pet roller technology in this vacuum lives up to the hype. It's a lightweight vacuum with a swivel technology that is easy to maneuver around small rooms and up stairs. Removing tangled hair from a roller bar and other maintenance is a headache with some inexpensive vacuums, but this Dirt Devil gets consistent compliments on how easy it is to take apart for maintenance. Here are some other pros and cons:
suction comparable to vacuums double to triple the cost
easy to remove beater bar = easy to maintain
beater bar can turn on and off  (an important feature for certain types of floors–even some carpets)
effective on both carpets and hard floors
upholstery cleaning attachments
bagless with easy to empty canister
good cord length as long as you have a standard number of outlets
con: no HEPA filter for allergies
con: some parts seem to be made of cheap plastic
con: excellent pet hair removal and suction for the price but not quite high-end suction
Get the latest pricing and more info by clicking here
#2 Bissel Cleanview Onepass 1330: This Bissel vacuum is tough competition for the Dirt Devil reviewed above, but one decision wasn't tough: both of these vacuums stand out from the pack in the under 100 category. This vacuum provides consistent strong suction. It has a filter system that helps limit allergens, but it's still not the most allergy-friendly vacuum. Even though it's equipped with attachments, they aren't the easiest to use, making it not a great choice for upholstery or stairs. Similarly, overall ease-of-use gets an average grade for this Bissel: it's not complicated to use but not quite as easy as the Dirt Devil. Let's end on a win for the Cleanview Onepass: it's slightly cheaper (at the time of writing) than the already great value Dirt Devil. Here are other pros and cons:
excellent consistent suction for the price
usually slightly lower cost than the top-rated Dirt Devil
effective on carpet and hard flooring
25ft cord length
5 height adjustments to optimize cleaning for different floors
versatile set of tools for upholstery but they have short extension
con: can't turn beater bar off
con: no stair attachment and too heavy easily use on stairs
con: mediocre for allergies—has a filter but it's not HEPA
con: few complaints on durability (but mostly good)
Get the latest pricing and more info by clicking here
#3 Hoover WindTunnel 2 Pet Rewind: The top 2 vacuums stood out for their suction and ability to clean pet hair. This vacuuming isn't quite as good but still well above average. So why did I include it if the top 2 options are superior? It has a HEPA filter. For allergy sufferers wanting a vacuuming under $100, this is your pick. And if you pick it, you won't be disappointed in its cleaning, versatility, and ease of use.
HEPA filter system
good suction
push-button retractable cord
5-height adjustment
con: beater bar can't be turned off
con: not a sealed system meaning allergens can escape past the HEPA filter (note: you won't find a sealed system in the under $100 category)
con: few complaints on the dust canister: small and not the simplest to empty
con: not as good with pet hair as the top 2 options
Get the latest pricing and more info by clicking here
Bonus vacuum that is sometimes under $100: If you're an allergy sufferer but want a slightly better vacuum than our #3 option, check out the Hoover T-Series. It's cleaning power is equal or beats the top 2 on this list, and it has a HEPA filter with a better seal than the WindTunnel 2. This vacuum can be closer to $150 at times, but if you can find it under $100, it may top my list. Check out the current price on the Hoover T-series by clicking here.
What to look for in a cheap vacuum
The under $100 vacuum category is tricky to navigate because there's a lot of junk. To find a gem, you have to sort through about 10 lemons. How do you quickly sort out the losers? Here's the approach I'd take:
Make a list of what you need your vacuum to clean. This is important because I didn't find any vacuums in the under $100 that were good at every. Just some that were much better than the category at one thing. In example, if you just need a vacuum to sweep up Cheerios, you might be able to get by with a handheld which you can get under $50. If you need it to clean your hardwood or laminate but not carpet, you might get by with a stick vacuum in the $40-$80 price range. If you need to clean carpet, finding an inexpensive vacuum is a little more of a challenge, and you're best going with one of our recommendations above.
Do you have severe allergies? HEPA filters are the gold standard for filtration, but be careful because many cheap vacuums leak dust and debris that doesn't go through the filter. You can read more on our guide to vacuums for allergy sufferers.
Check reviews carefully on multiple websites. Most inexpensive vacuums have at least one annoying problem, so finding out what that is can help you know if a vacuum is for you. For example, you may overlook a vacuum that has a 3-star review. However, that vacuum got 1-star reviews all from people claiming it has a terrible upholstery cleaning tool, but you don't want to clean upholstery. It's overall cleaning power is excellent. This actually isn't too uncommon as I've sorted through many vacuum reviews. The hard part is finding these gems.
If you want a vacuum for carpet under $100, avoid the bells and whistles. At the end of the day, selling a vacuum for under $100 for a profit requires making a vacuum for near nothing. That means if the company puts a bunch of extra cleaning tools and features on the vacuum, there isn't much budget left for a motor to improve suction power. This holds true with what I've found; most cheap vacuums with a bunch of add-ons don't have great suction.
With the above in mind, if you want a do-it-all vacuum for under $100, you can find them. There are many feature-rich vacuums in this price range. If you don't have carpet, many will also do an acceptable job cleaning up spills of your laminate floor.
Captain's parting words!
You don't have to spend over $100 to get a vacuum that does its job. You just have to decide what the job is you want your vacuum to do and eliminate any "nice" but not completely necessary features. This shopping strategy will open you to a bigger pool of vacuums. And with a big enough pool of vacuums, you're sure to find some gems.
Hopefully, my top recommendations gave you a vacuum that fits your needs. From researching too many vacuums to count, those are the vacuums that stand out for impressive performance despite the value price tag.
Any other questions on finding a vacuum on your $100 budget? Let me know in the comments below.
Average Cost To Install New Flooring
Price Range:
$1,215 - $2,460