Best Times to Buy Carpet
"Strike while the iron's hot" –unknown proverb. Carpet prices are rarely set in stone. There is almost always room for negotiation. And even if there's not, almost every store runs sales certain times of the year. So
when does carpet go on sale?
I'll cover it in detail below, but it comes down to simple supply and demand. When demand is low, carpet tends to go on sale and your chances of negotiating a good deal are higher. When demand is high, you're probably paying the store's highest retail prices. (Note: Are you sure your carpet even needs to be replaced yet? Check out our article on
how often carpet should be replaced
to get an idea.) There are always exceptions, but using this information, you put your self in a better position to save. And carpet is a big purchase, so saving can mean
hundreds, and in some cases, thousands of dollars.
Not bad for information that can be summarized in one image: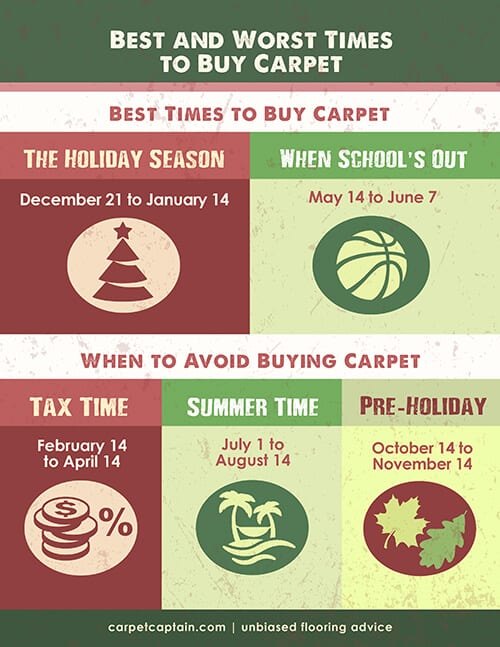 2 best times of the year to buy carpet
Going back to supply and demand: demand for carpet is lowest when people don't have time for major remodeling projects. There's also a tendency to want to remodel in warmer weather. With that said, these are the two best times of year to buy carpet:
The Holiday Season
Kids are out on winterbreak. Many people are traveling. Money is tight after buying Christmas and Hanukah presents. People are stressed out and decorating to have family and friends over; the last thing they want to do is clear out their home to have carpet installed. Some salesmen may be desperately looking for a Christmas bonus from commission on your sale. This is when the biggest savings happen.
Best time to shop:
December 21 to January 14.
Schools out
Late spring is a great time to shop for new carpet. School is winding down, so kids have final tests, while adults are planning Memorial Day events and vacations. In addition, this is the calm before peak home sales season.
2nd best time to shop:
May 14 to June 7.
3 times of the year to avoid buying carpet
Again, back to supply and demand. Avoid buying carpet when demand is high if you want to get the best deal. People love to perform big remodeling projects like carpet when the weather is nice and life slows down. Here are 3 times of year you may want to avoid:
Tax time
Everyone is rich. The "unexpected" bonus from the government gives people extra room in their budget, and many people spend this on new carpet.
Avoid:
February 14 to April 14.
Summertime
The warm and dry summer months are the peak times for remodeling and moving into new homes. With this comes the need for new carpet. The end of this season is marked when kids start going back to school.
Avoid:
July 1 to August 14.
Pre-holidays
This is a rare time when many families don't have a lot going on. Summer vacations are over. Kids are now back in the swing of things at school. The next big event is often Thanksgiving with the winter holidays following shortly after. People want their homes to look nice for these events, so sometimes a holiday makeover is necessary.
Avoid:
October 14 to November 14.
Captain's tips on what to do next:
You can get a good deal on carpet any time of year, but there's no question it's easier when demand is low. If you can't shop at the best times, maybe you can at least avoid some of the high demand times of the year. Here's what I recommend you do next:
If you want to learn more about how to get a carpet deal, check out our guide on how to negotiate your flooring purchase.
If you want unbiased help from start to finish of carpet shopping, check out my free guide on how to buy carpet.
A carpet installer can make or break a carpet purchase (installers can also make or break a carpet purchase),clicking here to get a free quote from 3 pre-qualified installers in your area. HomeAdvisor pre-vets the installers for you (note: I get a small commision that helps support the site).
Any questions on what time of year you should buy carpet? Let me know in the comments below.
Average Cost To Install Carpet Flooring
Price Range:
$845 - $1,650