Negotiating Your Carpet and Flooring Price
Note: this article was originally written specific to carpet, but the principles stand for all flooring
It's been stressful enough shopping for flooring, now you get the invoice.
You had no clue flooring would cost this much.
Maybe it's not in your budget, or maybe you just have a hard time stomaching giving up a big chunk of your hard-earned money for a home improvement.
Either way, you should consider negotiating your floor price. Most retailers are willing to work with you if they know you're ready to pay.
Before giving you tips on how to negotiate, let's cover some concerns about negotiating that you likely share with many people.
Is it awkward to negotiate? And is it even worth the stress?
Note: I wrote this post title before the book Never Split the Difference (click here to checkout more details on Amazon) came out. Long story short, it's written by an ex-FBI hostage negotiator who consults for businesses on negotiation. It's my new favorite book on negotiating. Since we all negotiate (dinner plans, kids "screen" time, cars, home remodels etc), I think this books worth anyone's bookshelf space as a reference and entertaining read.
Is it "normal" to negotiate at a flooring store?
Let me start by telling you this: it doesn't make you cheap or annoying to negotiate flooring.
Also, it doesn't make you annoying or seem like a tightwad to the salesman.
That's what they're there for. To get the sale. And this may mean that they have to lower the markup (their profit) on the carpet a bit.
Many people pay lower than the sticker price for carpet. The retailer won't find it unusual if you ask (especially if you use our tips below). They know carpet is a big investment, and there's plenty of other things you could be spending your money on. They're people too.
Will all flooring stores negotiate? Even big-box stores like Lowe's and Home Depot?
The short answer, yes.
Okay, I can't say all stores. There probably is a store out there that has a firm no-negotiating policy, but this is rare. I personally don't know of any.
Even the big-box stores will negotiate.
True, at a local store, chances are you'll talk to either the owner or someone who is a phone call away from the owner. And that means no limitations on how far they can lower your price.
But big-box stores like Home Depot and Lowe's typically give their salesman some freedom to lower the price or throw in free extras for a savvy shopper. All it takes is asking.
Negotiating seems stressful. Is it worth it?
First off, hopefully now that you realize negotiating (in a civil manner) is normal and often expected, it doesn't seem stressful.
But sure, you're still a little hesitant to talk to the retailer about price.
So let me give you a little more motivation. Negotiating flooring saves you way more money than you think.
Why?
Let's start with the fact that many Americans love using buy one get one free coupon on Big Macs. I get the love for Big Macs, but let's say that saves you $5 (depending on where you live, a generous estimate).
How hard do you think it would be to negotiate $5 off your carpet purchase? Probably as easy as saying, "Can I have $5 off my carpet purchase?"
No retailer is going to turn that down for a sale.
Flooring is such a big investment that it's simple to save $5-$50, and you may even be able to swing $500 or more off. There are stories of even talking retailers down over $1,000.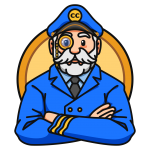 Captain's sneaky savings tip!
Think you're saving $500 on your carpet purchase? Here's a secret, you're actually saving around $750 of your earned money. That's because it takes earning $750 to come home with $500 of spending money (after taxes). If you earn $50k a year, your carpet savings is worth almost a weeks worth of work!
So is it worth it?
It takes about 10 minutes to read this article and putting yourself slightly outside your comfort zone to potentially save $500+. The equivalent of an 8 hour day on a doctors salary after taxes.
Worth it to me.
4 steps to negotiating your floor price
Now that you're in the right mindset to negotiate, it helps to know how to play the game.
So let's talk about how you should negotiate. These tips come from a mix of watching other people be successful in negotiating, my own successes, and most importantly reading books by experts on the subject.
What books? Fearless Negotiating by Michael Donaldson or Getting to Yes by Robert Fisher and William Ury
were two of my favorite, and recently, Never Split the Difference: Negotiating as if your life depended on it by Chris Voss takes the title as my favorite negotiating book.
Here are key strategies for negotiating your floor purchase:
Captain's parting words
Negotiating is a powerful tool to make sure you don't spend more than you should on your new carpet. But be careful. Power can be a dangerous thing. It's important not to get greedy (especially with the game theory). Because at the end of the day, the best deal isn't necessarily the one with the lowest price. The best deal is a fair price from a retailer you trust. You'll lose any money you "save" from a sketchy business as quickly as you can say "poor after-purchase customer service" or "scam." But the good news is reputable stores are willing to give you a fair price. And when you break down negotiating it's simple: Be knowledgeable. Find a retailer you trust. Make friends with them. Ask for a fair price at a good time. Watch the savings add up.
Average Cost To Install New Flooring
Price Range:
$1,215 - $2,460