Cut and Loop Carpet Explained: Which Is Better + Pros & Cons
Cut pile and loop carpets are the two major styles; every carpet is either a cut pile or a loop pile.
So what about the carpets with fancy style names like frieze, Berber, or plush?
These are all subcategories of cut or loop carpets. The names just give more insights into how they're constructed. At the end of the day, carpet styles are just names for how a carpet is constructed. Every carpet is cut or looped, but some carpets have other unique construction characteristics, such as twists or fiber height, that give them a special name.
With this general concept in mind, let's learn a little more about cut pile and loop carpets since you're likely to encounter them during your carpet shopping experience.
If you want help finding a pre-qualified installer,
HomeAdvisor
is a company I recommend because they do the homework on the installer for you.
Click here
to enter your zip code and get connected with 3 installers in your area OR call this number instead: (888) 231-5203. I get a small commission if you use their service, but I believe it's a great service.
A little background on carpet construction
To appreciate what a cut pile carpet or loop pile carpet really means, it helps to have a little background on the carpet manufacturing process. Here are the highlights you should know: Know what pile means; in the carpet world, it's just another name for the carpet fibers. When manufactured, the pile is woven in and out of the backing of the carpet. This manufacturing process creates a bunch of loops of fiber attached to the hard carpet backing.
Loop Carpet

If you leave the carpet in its woven form, it is a loop carpet. All that this means is that the carpet consists of a bunch of loops of fiber. There can be many variations of loop carpet. Subclasses of loop carpet are level loop carpet, textured loop, multilevel loop, and special loop styles such as Berber. Berber carpet is a popular enough name to deserve its own page, but the rest of the loop carpets can be described here:
Level Loop Carpet
All of the loops are the same height in this carpet. It's nothing fancy, but if you like a clean orderly look, you may enjoy a level loop carpet. The loops can be big or small, but smaller loops tend to be more durable. Typically, standard level-loop carpets are found more in commercial settings.
Textured Loop Carpet
Textured loops have subtle height variations giving the carpet a patterned appearance. The different sized loops reflect light differently. This makes noticeable patterns in the carpet, which can be a nice touch to make any room look a little more interesting.
Multi-level Loop Carpet
For practical purposes, this is the same as textured loop. Multi-level loop carpets have more noticeable patterns due to greater difference in loop sizes. Expect the same patterned loop carpet appearance, just a little more noticeable with multi-level loop.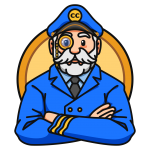 Captain's warning:
Avoid looped pile carpets if you have animals or kids. These carpets are prone to snagging, and then they may unravel (an expensive and annoying repair). If durability is an issue, avoid larger loops. Larger loops have a tendency to
matte down
, making them look prematurely old. Don't let these disadvantages scare you away—smaller looped carpets can be some of the most
durable flooring
on the market if utilized properly.
Want more carpet buying tips? Click here
Cut Pile Carpet

Cut pile makes up the majority of residential carpets. As described earlier, all carpets begin as a loop carpet, but these loops can be cut—hence the name 'cut pile' carpet. In other words, if a carpet doesn't consist of loops, it's a cut pile. Popular cut piles are plush, Saxony, and frieze. Each of these cut piles is worth reading into for their own unique characteristics, but here's a general overview of all cut piles:
Cut piles are better for those who have kids or animals because they don't snag as loops do. However, cut piles can blossom, giving them a frayed look as they age. There's no way to rate the performance of a cut pile—it's too big of a category (it'd be like asking to rate how durable high top shoes are compared to low top shoes). If you're interested in cut pile (or loop pile) and durability is a concern, read up on the rest of the carpet fundamentals on this website to get insight into what really affects your carpet.
Cut and Loop Carpet
Some carpets will have both cut and loop sections. This allows for some really cool patterned designs. Just like loop carpets, you should avoid these if you have animals or kids.
Captain's parting words!
There are a couple of areas of confusion with cut and loop carpets. It starts with "What is the difference between cut pile and loop caret?"
The difference is simple:
Loop piles are carpets with looped fibers and cut piles are everything else.
The more complex question is "Are they a style? And if so, how do they compare to other styles?"
At the end of the day, cut and loop piles are a style of construction, making them a "style of carpet;" in fact, they are a more general term for the style of the carpet, meaning that many of the carpet styles could also be called loop/cut pile carpets.
The take-home message is when you see a carpet style/construction listed as 'loop carpet' or 'cut pile carpet,' it says nothing about the quality of the carpet. Carpet styles generally don't tell you much about the performance/durability of the carpet, and when they are described as loop carpet or cut pile, this is even more so the case.
This means it's up to you to look into the other aspects of carpet construction such as twist level and density to determine how long you should expect the carpet to last in your home.