Pros and Cons of Carpet Fibers
Want to know the secret sauce that makes a carpet durable?
Hint: it's the topic of this page.
This might be a small exaggeration since every carpet feature matters in making a durable carpet. After all, a chain is only a strong as its weakest link. But the carpet fiber will have the biggest impact in how your carpet performs. It's worth spending some extra time on this section.
Each carpet material has unique properties that impact its ability to come clean, stain resistance, durability, comfort, potential to grow mold, eco-friendliness, cost… you get the point.
Let's start by grading each of the carpet fibers: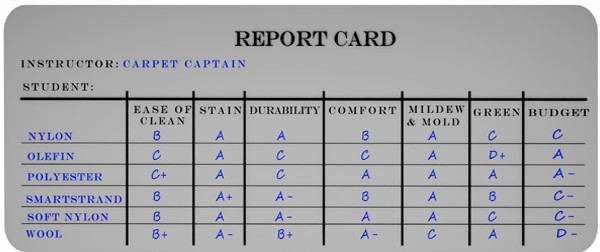 *Explanation of report card categories
In a sea of biased misinformation, I've got you covered
There's a lot of misinformation out there. There's no best fiber or worst fiber, but you'll often hear there is. It's true that certain materials have advantages over other materials, but knowing which material is best depends on what you're looking for in your new carpet.
This is why we're in this together. I'll give you the pros and cons of each carpet material, but it's up to you to use this information. The best carpet fiber for your home will depend on what you need most out of your carpet.
How long do you plan on living in your home? Is stain resistance or durability more important? How strapped for cash are you right now? Will the carpet be near a kitchen? And the list of questions go on.
Below you'll find a summary of each of the major carpet materials. This will help you narrow down your choices between two to three. Then, you can click the title of each paragraph (the name of the material) to get more details to help make your final decision.
Nylon is homeowners most popular choice. This isn't surprising because nylon is debatably the best in two of the most important performance categories: stain resistance and durability. If comfort is important, soft nylon is also an option.
The problem with nylon is that not all nylons are created equal. Some people buy a nylon thinking it guarantees great stain resistance and durability. This isn't the case. Another drawback for some people is it's not as eco-friendly and is more costly than other carpet options.
Olefin is another popular carpet material but for different reasons than nylon. Olefin may be the cheapest carpet material. And when you are getting quotes for carpet, cheap sounds good. Another benefit is olefin has impressive spill resistance.
Where olefin lacks is durability. It attracts oils making it look dirty, and it gets matted down prematurely. This can spell disaster for high-traffic areas.
If you want an inexpensive carpet that resists stain, you should at least consider an olefin carpet. If durability is a high priority, it's best to ignore the temptation of olefin's cheap price tag and move on to something else.
Polyester is like an environmentally friendly version of olefin. It's not that the two materials are related, but the way they perform is. Standard polyester looks great when it is new, is comfortable, is relatively inexpensive, and can have great stain resistance.
The drawback is it's not built to last. In hallways or main living areas, 100% polyester will show its age after just a few years.
If protecting the environment is important to you, polyester is an interesting case. It is made of recycled materials. But I have also received emails from recycling companies that say they hate polyester because it can't be recycled once you're finished with it. So while it is advertised as green, it may not be.
Smartstrand is the "new kid on the block." It's not brand new to the carpet industry, but it's getting more and more buzz. The sales pitch is that Smartstrand is an eco-friendly version of nylon with better stain resistance. In other words, they want yo to think Smartstrand is going to make all other carpets disappear.
The truth is Smartstrand is a great carpet but not a miracle carpet. It's proven itself to be a competitor to nylon but not to make it obsolete.
If durability and eco-friendliness are high on your list, Smartstrand is a great place to start. Just make sure to read the details on Smartstrand to make sure you aren't disappointed.
This is the elite carpet material. It's 100% natural. It's durable and has great stain resistance.
If cost isn't a concern, there aren't many drawbacks to wool carpet. But keep in mind, it does require a little more attention to its care. Certain treatments can ruin a wool carpet.
Wool is a great choice if you want a luxurious and green carpet that can last multiple decades.
Captain's parting words
By this point, you should have an idea of a couple of types of carpet that will be a perfect fit in your home. You've been empowered with the most up-to-date, accurate and relevant information regarding carpet materials. Now it's up to you to use this information to decide what's best for you. Remember that the type of carpet you choose is only part of the carpet-buying puzzle. Other factors, such as how well your carpet is made and the type of carpet, will also affect its performance.