Want to know the secret sauce that makes a carpet durable?
This might be a small exaggeration since there are at least 4 critical features for carpet durability (more on this in the conclusion), but finding the best carpet material is extremely important for how your carpet will perform.
Let's start with a quick comparison of the different carpet fiber types, and then I'll give the highlights of the pros and cons of each material.
Types of carpet fibers
So what are your options when it comes to carpet fibers? There are 5 common carpet materials to choose from, in order of popularity – not COST. As far as costs, most carpets cost in a range of $2 – $5 installed, except for WOOL, which can be very expensive!
Average Cost To Install Carpet
Price Range:
$845 - $1,650
Polyester (PET polyester)
Nylon
Olefin
Wool
Smartstrand or triexta
Acrylic
This order by popularity is my experience from talking with readers. It can vary by location, especially different countries. Also, I think olefin would be second to last for homeowners but is used more in indoor/outdoor carpet and commercial settings.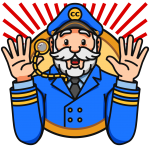 Captain's opinion on popularity: The popular kid isn't always the best! This is an important distinction. The fibers listed above are in terms of how many people use them, but sometimes the less common fibers perform better (more on this below).
Let's start by grading each of the carpet fibers:
Quick carpet fiber comparison (report card)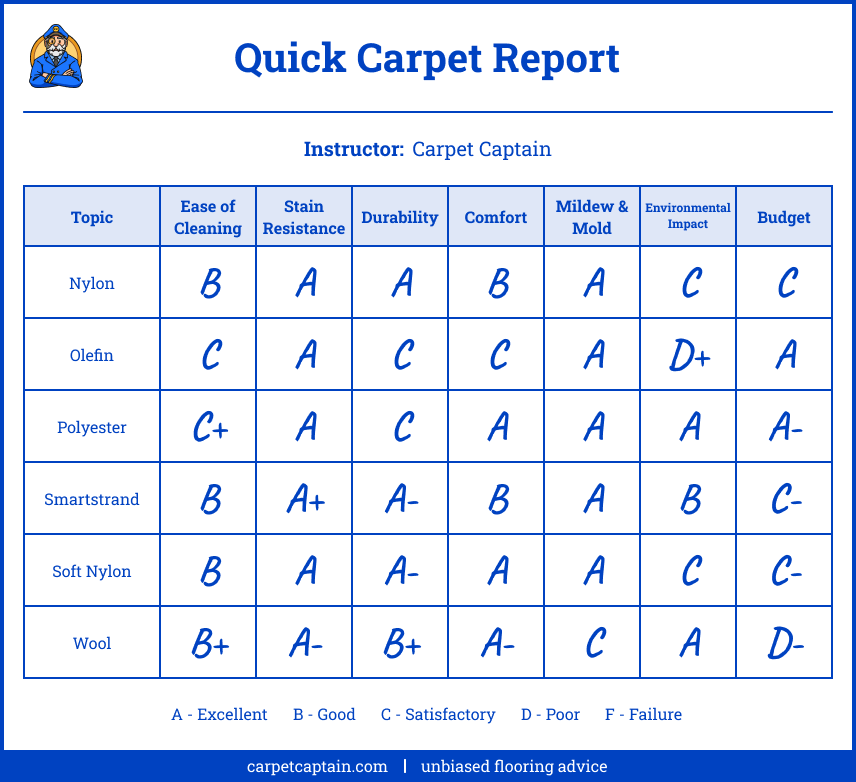 *Explanation of report card categories
Next, we'll cover each of these materials in more detail…
Carpet material highlights and pros/cons
There's a lot of misinformation out there. There's no best fiber or worst fiber, but you'll often hear there is. It's true that certain materials have advantages over other materials, but knowing which material is best depends on what you're looking for in your new carpet.
This is why we're in this together. I'll give you the pros and cons of each carpet material, but it's up to you to use this information. The best carpet fiber for your home will depend on what you need most out of your carpet.
How long do you plan on living in your home? Is stain resistance or durability more important? How strapped for cash are you right now? Will the carpet be near a kitchen? And the list of questions go on.
Below you'll find a summary of each of the major carpet materials. This will help you narrow down your choices between two to three. Then, you can click the title of each paragraph (the name of the material) to get more details to help make your final decision.
1. Acrylic Carpet
I used to not include acrylic because I don't see it much, but I do get some questions on it. Acrylic is a man-made fiber that's often used a replacement or in combination with wool.
This is sort of weird because it's a completely different fiber than wool. It resists mildew and is easier to clean than wool, but it is far less durable. Acrylic is man-made; wool is natural. Basically, they are completely different fibers
Best thing about acrylic:it's a cheap wool "filler"
Worst thing about acrylic:very poor durability
Other related articles:Acrylic is often mixed in with other carpet fibers, so our article on carpet blends can help you sort that out.
2. Nylon Carpet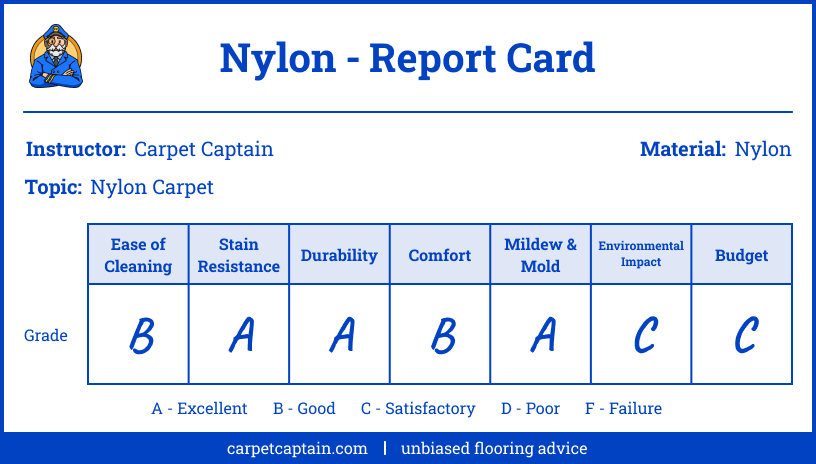 Nylon is homeowners most popular choice. This isn't surprising because nylon is debatably the best in two of the most important performance categories: stain resistance and durability. If comfort is important, soft nylon is also an option.
The problem with nylon is that not all nylons are created equal. Some people buy a nylon thinking it guarantees great stain resistance and durability. This isn't the case. Another drawback for some people is it's not as eco-friendly and is more costly than other carpet options. A famous brand is Tuftex Carpet.
Best thing about nylon: overall durability
Worst thing about nylon:stain resistance depends varies based on the treatment used
Other related articles: Learn more about nylon carpet pros and cons. Learn about branded vs generic nylon. Compare nylon vs polyester (two of the most popular)
3. Olefin Carpet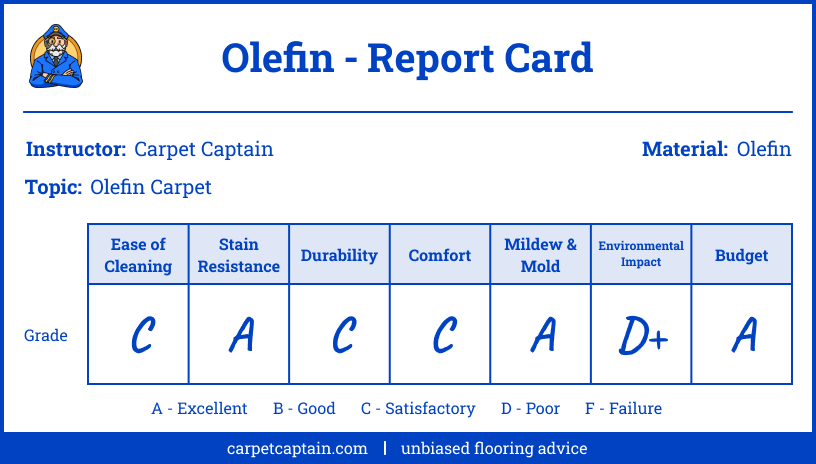 Olefin is another popular carpet material but for different reasons than nylon. Olefin may be the cheapest carpet material. And when you are getting quotes for carpet, cheap sounds good. Another benefit is olefin has impressive spill resistance.
Where olefin lacks is durability. It attracts oils making it look dirty, and it gets matted down prematurely. This can spell disaster for high-traffic areas.
If you want an inexpensive carpet that resists stain, you should at least consider an olefin carpet. If durability is a high priority, it's best to ignore the temptation of olefin's cheap price tag and move on to something else.
Best thing about olefin: mildew resistance makes a good indoor outdoor carpet
Worst thing about olefin: very poor durability/matts down in high-traffic areas
Other related articles:Learn more about olefin pros and cons.
4. PET Polyester Carpet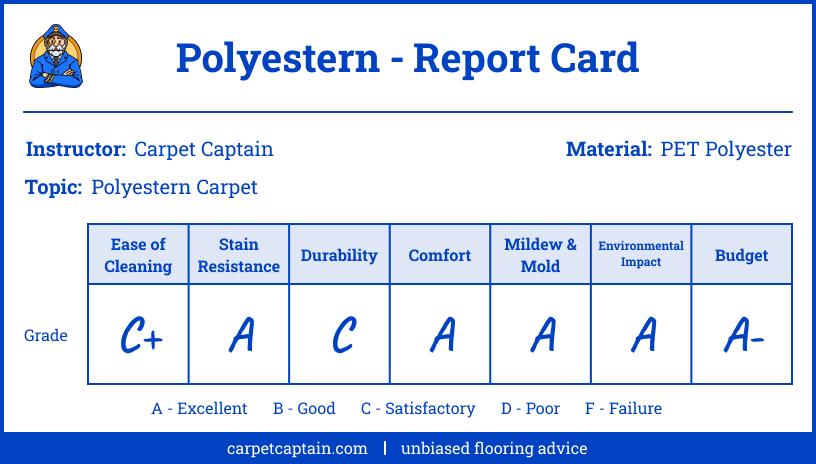 Polyester is like an environmentally friendly version of olefin. It's not that the two materials are related, but the way they perform is. Standard polyester looks great when it is new, is comfortable, is relatively inexpensive, and can have great stain resistance.
The drawback is it's not built to last. In hallways or main living areas, 100% polyester will show its age after just a few years.
If protecting the environment is important to you, polyester is an interesting case. It is made of recycled materials. But I have also received emails from recycling companies that say they hate polyester because it can't be recycled once you're finished with it. So while it is advertised as green, it may not be.
Best things about polyester: softness, stain resistance, and price
Worst things about polyester:doesn't hold up well in high-traffic areas
Other related articles:Learn more about polyester pros and cons. Compare polyester vs nylon (another popular carpet).
5. Smartstrand(aka triexta) Carpet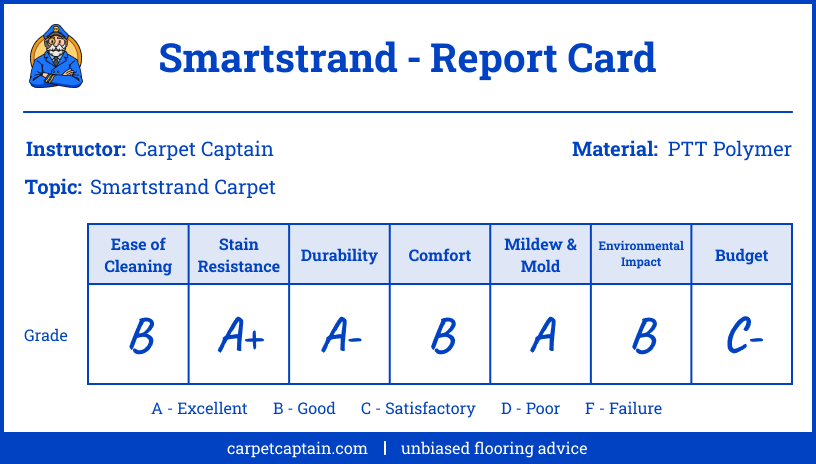 Smartstrand/triexta is the "new kid on the block." It's not brand new to the carpet industry, but it's getting more and more buzz. The sales pitch is that Smartstrand is an eco-friendly version of nylon with better stain resistance. In other words, they want yo to think Smartstrand is going to make all other carpets disappear.
The truth is Smartstrand is a great carpet but not a miracle carpet. It's proven itself to be a competitor to nylon but not to make it obsolete. I tend to think the durability of nylon is slightly better than Smartstrand, but the stain resistance of Smarstrand gets the edge over nylon.
Best thing about Smartstrand:stain resistance is top of the line and has better durability than polyester
Worst thing about Smartstrand:overall durability is controversial
Other related articles:Learn more about Smartstrand pros and cons, where I also cover Smartstrand vs nylon (it's main competitor).
6. Wool Carpet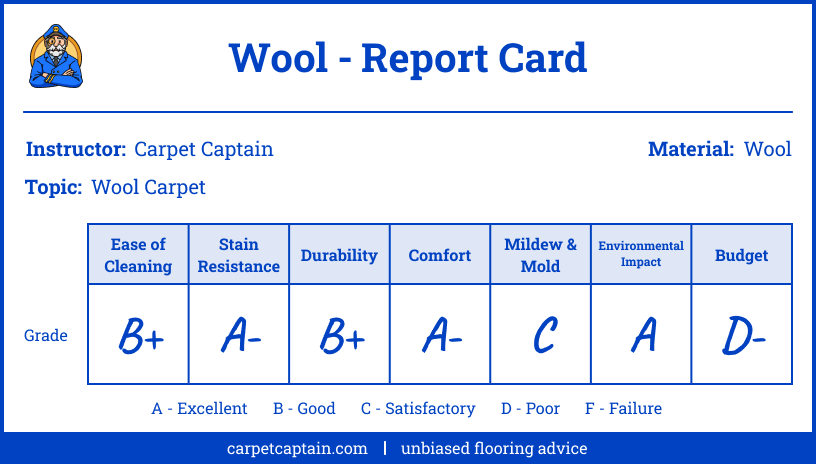 This is the elitist carpet material. It's 100% natural. It's durable and has great stain resistance.
If cost isn't a concern, there aren't many drawbacks to wool carpet. However, it's a natural fiber that carpet cleaners don't run into as often, so you have to be a little more careful when cleaning/caring for it.
Also, it can mildew if exposed to moisture that is not removed.
Best things about wool carpet:all-natural, eco-friendly durability
Worst things about wool carpet:cost
Other related articles:Learn more about wool pros and cons. Wool has some of the best durability, but it's also worth checking out a wool carpet disaster to learn why material isn't everything.
Captain's tips on what you should do now:
You now know the best carpet material for your home – from kitchen to bedroom.
By the way: if you run into mixes of carpet materials (eg 50% nylon 50% polyester), you can read more on carpet blends to help you make that decision.
Now that you've decided on the typer of carpet fiber you want, I'd check out these articles next:
Exact carpet face weight and other important factors that will have a big impact on your carpet durability.
Choose the type of carpet (Berber, frieze, etc) and learn why that's not as important as material
Consider getting a free quote from a pre-qualified installer by clicking here
Also, if you haven't check out our carpet buying guide, it will walk you through everything you need to know when buying carpet.
Any questions on your carpet material? Let me know in the comments below.
Average Cost To Install Carpet Flooring
Price Range:
$845 - $1,650