How to Install Vinyl Planks in Half a Saturday
I like vinyl planks for many reasons, but my favorite? It's simple to install. Whenever someone asks, "So Captain, do you think I could install my own flooring? I've never done it before?" My response is always: If you want to install your own flooring, start with luxury vinyl. Almost everyone has a room that is a good fit for luxury vinyl, and installing it is a confidence booster. With that said, don't expect to open your box of vinyl planks and stick them together like Legos. It's easy but not that easy. And that's where this article comes in. I'll walk you
step-by-step through installing vinyl planks, show you common mistakes, and the most efficient way to get it done.
Let's start:
Step 0: The homework (you can skip this if you want to go straight into installing)
Captain, you keep saying "vinyl planks" and "luxury vinyl." Which is this article about?
The short answer is both. Vinyl planks are a type of luxury vinyl. Luxury vinyl refers to the material, but there are planks and tiles of luxury vinyl (basically, just different design choices). It can get even more confusing because both the luxury vinyl planks and tiles are called by even more names that mean the same thing. Other names you might see for luxury vinyl planks: "vinyl planks", "luxury vinyl", "LVP". I may use any of these in this article.
What is luxury vinyl and how does it compare to other floors?
I really like luxury vinyl: it's the easiest DIY floor, and it can be very durable. I think the most comparable floor is laminate, and you can read more about the
differences in luxury vinyl and laminate here.
What type of luxury vinyl should I buy?
The specifications you choose will make a difference in how your luxury vinyl looks, feels, and performs. Low-quality luxury vinyl will definitely feel low quality. Don't worry, I've got you covered. Check out our
unbiased luxury vinyl guide
for everything you need to know before shopping for luxury vinyl. Now that we got that out of the way, let's get started. Here are the
5 steps to installing luxury vinyl…
Time needed:
Half a Saturday
Step 1: Gather materials to start the job
First, let's make sure we have everything we need. If you're missing anything, you can go out and buy it or borrow from a friend, but most of these tools and materials are necessary:
Must-have tools/materials:
Tool or Material
vinyl planks
tape measure
level
utility knife
crowbar (or other prying tool)
carpenter's pencil or non-permanent marker
May-need tools/materials:
| Tool or Material | Why needed |
| --- | --- |
| oscillating tool | creating a gap under door jambs – usually only if you're installing on top of a floor |
| leveling compound | build up low areas on the subfloor |
| sander | sand down high peaks of the subfloor |
Nice-to-have tools/materials:
| Tool or Material | Why needed |
| --- | --- |
| floor pull bar | eliminates the headache of not being able to snap in the last tile |
| chalk line | easiest (and cheap) way to mark straight lines on the subfloor |
| nail gun | eliminates the headache of not being able to snap in the last tile |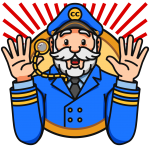 Captain's heads up!
Acclimate your vinyl tiles 48 hours in advance. Some say you don't need to do this with luxury vinyl, but I say play it safe. Not acclimating flooring, can lead to shape change in the future. Oh, and another tip: mix the vinyl planks from different boxes together while acclimating.
Step 2: Remove old flooring and baseboards
Your first task in installing your vinyl planks is removing your old flooring. This is down in two steps:
Start by getting your baseboards out of the way. Usually, this can be done simply with a crowbar. Start in the middle and pull the board out slightly and work your way down the board on each side.
Now you get to remove the old floor. This parts satisfying because it usually doesn't take the attention to detail that installing a floor does. Check out our flooring removal guides and pick your floor.
But Captain, I don't want to remove my old floor. Can I just
install the vinyl planks on top of my current floor?
In some cases, yes. Vinyl planks are (usually) a "floating" floor. This means they are connected together but not glued down. As long as the floor is smooth below—think sheet vinyl or sealed concrete—vinyl planks will "float" right over it with no issue. Laminate and hardwood can also work out at times. Tiles aren't an option without extensive prep work.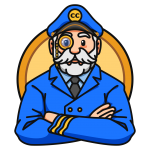 Captain's look ahead!
The importance of a smooth floor is discussed more in step 3, but it's worth touching on here. Luxury vinyl is relatively thin, so bumps and other imperfections will show directly through the floor. This includes grout lines, nails, etc. If you run your hand over the area and feel a bump, your luxury vinyl will likely show it.
One final word on leaving your old flooring: think about the door jambs. If you leave the old flooring and now the luxury vinyl won't fit under the door jamb, then you have to "undercut" the door jamb. That's easy, but if you remove the flooring in the future, the gap created between the door jamb and the floor can be a headache.
Step 3: Level, clean, and prep the subfloor
Now you get to prep the floor. This is a step you don't want to skimp on. I touched on it earlier, but luxury vinyl will show any bumps or dips of the floor it's installed over. You can prep the floor in a few simple steps:
Clean and dry the floor. The cleaner the better. I'd first use a broom, then a vacuum, then a mop, and let it dry completely.
Grab your level and make sure there aren't in areas of elevation or depression greater than 3/16" over 10 feet.
Sand down any areas of elevation
Fill in areas of depression with leveling compound. Word of warning: work fast! It dries quickly.
Check small imperfections like bumps from nails, staples, or glue. Remove these if possible. Fill any small chips in the subfloor with leveling compound
Floor's prepped. Now let's start what you came here for…
Step 4: Mastermind your install.
I could jump straight to installing the luxury vinyl. Your subfloors ready for it, but I believe in taking 15 extra minutes to plan your installation before going at it. It'll reduce your chances of headaches mid-install. But don't take my word for it, take Abraham Lincoln's, "Give me 6 hours to chop down a tree, and I'll spend the first four sharpening my axe." (side note: While Google searching this quote, turns out Honest Abe may have never said it. Oh well, seems to make sense to me.) I have 3 rules of thumb when prepping your luxury vinyl install:
the 5/6" rule
the 6" rule
and the 1/3 rule
They're pretty simple, but let me explain: Leave
5/6" between the vinyl planks and walls.
This allows the planks to expand, which they will. If you don't leave the gap, the planks will buckle. Leave at least
6″ of a plank when you come to a wall.
If you're laying out your vinyl plank and you have less than 6″ left on the final plank, cut the starting plank 1″ more than needed to make your last plank 6″. Additionally, always leave at least
6″ between seams
of adjacent rows. In example, if you realize you only have 4″ to the end of the install for your last plank, then you need it to be 2″ longer (6 inches needed – 4 inches to the wall = 2 more inches needed). Take the 2″ neededand add 1″. This gives you 3″ total that you need to trim off your first plank. The last row needs to be
more than 1/3 of a plank wide.
You can catch this ahead of time by laying plank side-by-side. You can then "eyeball" if finishing it will require < 1/3 of a plank, or you can measure a plank and the gap. Take the plank width, divide it by 3, and see if the gap is less than that. If it is less than 1/3 remaining, cut about 1/3 off of the first row, and that will fix the problem.
Step 5: Lay the planks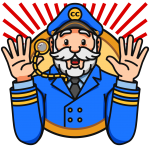 Captain's warning!
For installation, I use tongue and groove planks as my example. Less common, you might have peel and stick planks. These are installed the same way, except you don't have to lock them together. You just have to peel the adhesive backing and stick them down. But be careful, preparation is even more important here, so you don't have to pull up your sticky planks!
Now it's time to start the install and lay the planks. Some of this you may have already done in the planning.
Laying the first row…
Start with row one. The first decision is what direction should you lay your planks?
Start against the longest wall and run the planks parallel to that wall.
You'll attach each plank in the first row by holding the next plank at a slight angle to it, and then push it down and into the previous plank. If you need to cut any planks (usually determined in the previous planning step), all you have to do is "score" the plank with your utility knife, and then you can snap it by bending the plank across the scored edge. Easy!
Laying the second row (and every row after)…
Next, you move on to the 2nd row. If the piece you cut off of the first row is larger than 6″, you can use that piece to start the 2nd row. If it's not, then you need to cut a piece to start the second row that is at least 6″ long but also leaves 6″ between the seam of the 1st row and where the seam of this 2nd row will be. Just lay down your planks like you did the 1st row. The only difference is you angle the tongue of the new piece into the groove of the 1st row piece and snap it in. Complete this process until you've finished your last row. Not too difficult, huh?
Step 5: Finishing touches
Now you just have to hide the traces of your installation. This means start by re-installing the baseboards. Also, you can add any trim strips or molding to smooth out any rough edges/transitions.
Captain's parting words
Congrats on your DIY flooring job! Did you finish it in half a Saturday? Maybe not for your first attempt, but if you didn't, I think you can see how next time it can easily be done. Have any questions or any tips on how I can improve this article from your experience? Let me know in the comments below.
Average Cost To Install Vinyl Flooring
Price Range:
$1,105 - $1,960