There's a best time of year to buy about everything.
Usually, this is when the new models come up. Whenever I'm flexible on a purchase, I try to look up the best time to buy. You really see a big difference in the deals, and in some cases, the ability to negotiate.
Flooring isn't any different. Whether you're buying hardwood, laminate, or tile, there's a best time to buy flooring to get a good deal. In fact, it's usually right around the New Year.
The difference in flooring is it's not because new models are coming out, and stores want to get rid of new product. It's because demand is lower. And that's the key:
Shop when other people aren't shopping, and you're more likely to get a better deal.
Hint: You will get best installation price during off-season, which is typically from October through March. However, since flooring is not as seasonal as other home improvement trades, even during spring/summer you will usually get decent price on installation.
Prices
Low End
Mid Range
High End
Materials
$513
$658
$1,000
Total Cost
$1,079
$1,383
$2,102

See Costs in Your Area!
Start Here - Enter your zip
How I choose the best time to buy flooring?
The other difference with flooring is it's not all about the price. Like I said, I'm all about getting a great deal, but there are 3 things to consider:
best floor deals/lowest prices (related: how to negotiate flooring)
how when you buy affects the installation
your families health (more on this below)
I'll go more into these below, but basically when you choose to install your floor, can make a difference in both of these. It's something to consider outside of price.
Now that we know how to decide the best time to buy your new hardwood, laminate, or tile, let's break it down:
Recommended reading: Check out all flooring options here.
Average Cost To Install New Flooring
Price Range:
$1,215 - $2,460
When is the best time to buy flooring?
Back to our economics lesson, you get the best deal on flooring when other people aren't buying.
Flooring stores are more willing to give you a good deal when they're desperate for a sale, and plus, negotiating a better price is less annoying when they don't have a line of customers waiting behind you.
I've found these times (in order) to be the best for getting a good price on flooring:
Dead of winter (Late December and January):Most people are too busy this time of year to mess with flooring. There's also the fact that flooring stores are starting to ramp up for the new remodel season starting in the Spring/Summer and want to clear out old flooring for the new. This combo makes an excellent time to find the best prices on flooring.
Mid to late May:This one is a wildcard. But when I talked about new product coming in, it's often around this time. This means you might find great clearance sales on last-ditchattempt to get out the "old" flooring. Also, people are busy this time of year with graduation and the Memorial Day holiday coming up.
There are also a few timesyou should avoid. Early fallis the worst in most states. It's usually a time when things are winding down for the summer, people moved into new homes, and kids are going back to school, so there's free time. I'd try to avoid August 1st to November 1st.
Best time for installation and health
Is it weird to combine these two?
It felt weird writing it, but it makes sense: both installation and your health depend on the weather. The critical part is that you can open your doors and windows.
For installation, tile is more versatile, but hardwood and laminate usually need to be "acclimated" to your environment. In other words, you need to set the planks out for a couple of days because they can slightly change shape due to the weather.
Average Cost To Install New Flooring
Price Range:
$1,215 - $2,460
It's critical you let this happen before the floors are installed, or it will cause the installation to buckle. So back to the weather, this is easiest to do in 50 to 75-degree weather when you don't need the air conditioning. In most areas, the fall is a great time for this, but if you live in Miami, January will probably do.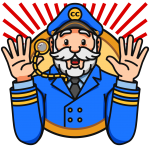 Captain's warning! The important part of acclimating the flooring is the humidity. Air conditioning and heating and can take the humidity out of the air. You can get around this by running humidifiers this time of year, but for the next point I'm going to discuss, I believe it's best to get humidity the natural way.
So what about health?
Health matters for a similar reason. You need to be able to open your doors and windows. All types of flooring (and any home remodel or furniture) do what's called off-gassing. This means they emit chemicals into the air that can be harmful to your health. The flooring industry is working on making safer products, but I'd avoid being in your house as much as you can the first 72 hours. And during that time, it's best if you can let fresh air in.
Captain's parting words!
If I give you just a small piece of advice from this article: try to avoid the fall, and pick a 65-degree day to install your new floor.
Good deals can be had at any time:
Make sure to check out our free, unbiased buying guides to make sure you don't rely on the salesman to do what's best for your home. Our hardwood guide and laminate guide are some of our most popular, but you'll find the other in the navigation.
Any other questions on when to buy your floor? Let me know in the comments below.
Average Cost To Install New Flooring
Price Range:
$1,215 - $2,460