Tile flooring vs Laminate
Choosing the right type of flooring for a room is often one of the most stressful decisions people face when working on their home. It just feels like a permanent decision—partially because it's a huge investment—doesn't it?
Well, it isn't necessarily "permanent" as it may seem (we'll discuss this more below), but there's no question that the choice between tiles and laminate is an important one. You're going to be "stuck" with one, so hopefully, it serves you well.
Here's the good news…
There are clear benefits for bothtile flooring and laminate. Once you know them, it should be an easy decision deciding which you will use to floor your room. You need to think of the aesthetics, the price, durability, maintenance, ease of installation, and ease of repairs/replacements.
I'll cover each below…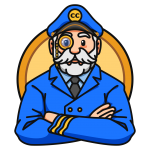 Captain's clarification!
There are different types of tile flooring: ceramic, porcelain, stone marble, and more. Fortunately, all tile more or less performs the same, so we use "tile" in this article generically to refer to all tiles with one exception: vinyl. Vinyl tiles are in a class of their own. If you're interested
vinyl tile,
you can click that link. If you're interseted in comparing
different material of tile
flooring can click there.
Durability
There's little you can do to damage tiles. They are made of hard rock, and like hard rock, trying to damage it can be difficult. It's possible to scratch and stain them but not easily. They are also resistant to water damage, which can be a problem with laminate.
Laminate gets a bad reputation for its ability to resist water. This reputation is valid in many cases, but laminate technology has improved over the year. This even included laminate that is mostly water resistant.
Tiles also wins vs laminate with scratches and dents. But like water resistance, laminate made big improvements in this category over recent years.
So the durability battle is a win for tile but laminate is closing the gap. One other thing to consider that favors laminate: is there a chance you will drop heavy objects on your floor? While this would scuff or dent laminate, it cracks tile.
The winner?Tile. But…
A cracked tile may be a bigger issue to repair than damaged laminate. Let's discuss that next…
Ease of installation, repairs, and replacement.
Laminate has become one of the most popular flooring choices partially because it is so easy to install. It's built for a click and lock installation process so even an inexperienced DIYer can figure out how to install laminate flooring very quickly. If you hire a professional installer, the prices will be lower than if you are installing tile because it requires less work.
Tile can be difficult to install. Tiles are installed by laying them out on the floor and spreading the grout between them to hold them in place. Compared to laminate installs, it is more time consuming and you can make a mess if you don't know how to spread the grout perfectly. Many homeowners will prefer to hire a contractor rather than try to install their own tile flooring.
The winner? Laminate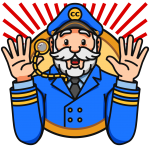 Captain's warning!
I'm fairly confident you can watch some videos and learn to install laminate if you're motivated. Tile can pose bigger problems, and the challenge is those challenges aren't always noticed on installation day. In example, if you don't have a smooth sub-surface, tiles will eventually crack. An expensive mistake!
Price.
There are two factors in the cost of laminate vs tile. The first is the cost of the flooring itself, and the second is the cost of labor. Laminate and tile are about the same cost for materials. But that's where the comparison ends. Laminate is significantly cheaper to install (and can even be a DIY job).
If something is quicker and easier to install, it's also usually cheaper, as is the case here. In fact, with some very basic skills, you can easily install your laminate boards yourself in half a day and completely skip on a professional's charge.
Floor tiles, on the other hand, require a ton of hard work, skill, and experience, to the point that even hired work doesn't always get it right. As a result, you're going to pay up to find a qualified professional in your area.
As far as the materials go, tiles and laminate boards are actually close in price. Both tile and laminate materials will cost $1 to $5 per square foot (with some exceptions, of course).
But what about the price of laminate and tile including installation. That's where laminate wins the battle. Here are estimated prices to floor your room with laminate and tile:
Laminate cost (installed): $2-8 sq. ft.
Tile cost (installed): $5-$13 sq. ft.
When you're talking a single square foot, these numbers aren't too dramatic. But when you're talking your entire flooring job, this may make a $1,000 (or more) difference.
The winner? Laminate
Maintenance.
Both laminate and tiles are pretty much hands-off when it comes to maintenance, but the winner is laminate because it essentially requires no maintenance—just some precautions.
With laminate, you need to protect it from water. This means if you mop it, make sure to absorb the excess water. Also, you need not let spills sit on the laminate floor.
With tiles, you should scrub and reseal the grout yearly. Remember, tiles aren't as easy to replace. A little time spent on maintenance can go a long way to preventing headaches in the future.
Other than that, neither type of flooring should give you much trouble.
The winner?Laminate
Pets
Tile's durability and ease-of-cleaning make it a great choice for pet owners. Unlike laminates, which can be damaged by large or energetic dogs, tile floors are almost impervious to claws and scratching. Shedding animals mean hair goes all over the floor, but with either tile or laminate the fur can be easily swept clean.
For young puppies not yet housebroken, tile floors will be a safe choice. It is easy to mop up any messes that they leave behind, and when the tiles and grout are sealed the accident does not leave behind any smell.
That said, laminate flooring is still a good choice for pet owners. It is largely scratch resistant, and the softer floor may be easier for older animals to walk on than tile. Many laminate brands will market their floors as "pet-proof." While I find this usually to be an exaggeration, they tend to hold up pretty well.
So tile may be your best option for Fido, but for what it's worth, Fido may not love your tile floor (it can be cold and hard under his paws).
The winner? Tile
Resale Value
Tile floor's durability and appearance add to the resale value of your home. Many buyers like the look of tile floors, especially with the array of new patterns and styles to choose from. You can be very creative or very traditional with your tiles, and once installed, they last a long time and are more durable than laminate floors.
Laminate floors are not known for adding a lot of value to a home's resale price, but many buyers do appreciate its benefits and practicality as a good looking yet low maintenance flooring style. As a result, high-quality laminate floors, if well-maintained, can help with your home's value.
The winner? Tile
Appearance
Both tile and laminate floors come in a wide variety of colors, styles, and sizes. With tile floors, you can have large or small tiles, and colorful or plain tiles. Grout also comes in different colors for between the tiles. Natural stone is noted for its subtle elegance and colors, while ceramic comes in almost any color you can imagine. Many homeowners will choose a single color scheme to go with their tiles, but you can also create patterns out of lighter and darker tiles.
Both porcelain tiles and laminate floors can be made to resemble natural wood. When comparing the two, the porcelain tiles look more like wood but both have an extra shininess that natural wood lacks.
Laminate floors will usually look like wood, but some laminate floors use other images for their top layer. You can find laminate flooring that looks like stone, tile, or even brick. The main disadvantage of laminate flooring is no matter how hard it tries, no one standing on the floor will be tricked into it being the real thing—whether that's hardwood or tile.
The winner? Tile
Comfort
One of laminate flooring's major advantages over tile is its comfort underfoot. Tile floors get cold faster than laminate floors do, which is why they are preferred in kitchens or bathrooms but not necessarily the bedroom or living room. Very few people like waking up to cold tile floors in winter. Luckily tile is compatible with radiant floor heating, and many homeowners choose to make that investment – especially in cold climates.
Not only that, both are hard floors but tile is basically a smooth rock. It shouldn't cause you pain to walk on, but there's no "give" to make it soft at all.
The winner? Laminate
Laminate vs Tiles in the kitchen.
How do tile and laminate hold up in the kitchen?
Let's first go over the unique demands of the kitchen. It's really pretty simple: spills and crumbs. This is why hard surfaces are favored in the kitchen. You need to be able to clean up messes easily and spills foods and grease need to not damage your floor.
Good news for both laminate and tile: they don't stain easily, and their hard surfaces make it easy to clean up your mess. But I give tile the slight edge.
The reason goes back to water resistance. You can find laminate that is resistant to water, but in general, water doesn't mix well with laminate. You're bound to have a spill you forget or don't see to clean up.
With this in mind, tile floors are more difficult to replace. If you don't seal it properly, chemicals or grease in the kitchen could stain the tile. Oh, and don't lose drip of that heavy pot. Cracked tile isn't nearly as easy to replace as damaged laminate.
So which flooring wins in the kitchen? Either works. I'd pick whichever you like better.This may go against what most people will tell you–tile being the natural favorite for the kitchen. And true, tile will be a little more resistant to the demands of the kitchen but also a little more difficult to replace.
Laminate vs tile in the bathroom
Tile is the clear winner for bathroom flooring. The biggest issue in bathrooms is moisture. As discussed earlier, laminate is making progress in moisture resistance, but I wouldn't put it in the one room in the house that is exposed to sitting water daily.
If you're flooring a bathroom, vinyl tile should (not to be confused with stone tiles reference in this article) be considered. It is waterproof, inexpensive, and—like laminate—is coming in more and more "natural" looks.
Still considering laminate in a bathroom? Make sure you read this guide first.
Using laminate and tile together
This article is dedicated to which is better laminate or tile, but what about using both?
There are many creative ways to combine laminate and tile. Some of the most common ways is to use tile surrounding an area that will be exposed to moisture, and then laminate in the rest of the room. Think of a kitchen with tile around the island or sink, and then laminate in the rest of the room. Or a living room with tile at the doorway for wet shoes, and then laminate in the rest of the kitchen.
This combination maximizes cost effectiveness and longevity. You use just enough of the more expensive tile to be durable where it needs to be, and then use less expensive laminate in the rest of the room.
But outside of being practical, you can pull off some amazing designs contrasting the two types of flooring! If you aren't much of a designer (like me), you may want to borrow some ideas from a professional or get some Pinterest inspiration.
Captain's parting words!
Have a good idea which floor your want?
If you decided on laminate, my unbiased laminate guide will help you buy it. I've also gathered the best mops for laminate floors to help you maintain your new floors.
If you decided on tile, my unbiased tile guide will help you buy it (including which material to use).
Still stuck on whether laminate or tile is the best for your home? Let me know why in the comments below.
Average Cost To Install Laminate Flooring
Price Range:
$970 - $1,690