Best Flooring for Bathrooms: Choose like an Expert in 2022
Choosing the best bathroom flooring for your home or office isn't always easy. With so many options to choose from, how do you know what's right for you?
Our 2022 guide on the best flooring for your bathroom will give you a rundown of everything you need to know. We'll take a look at the different bathroom flooring options, the ones to avoid, how to maintain them, and answer all of your most common questions.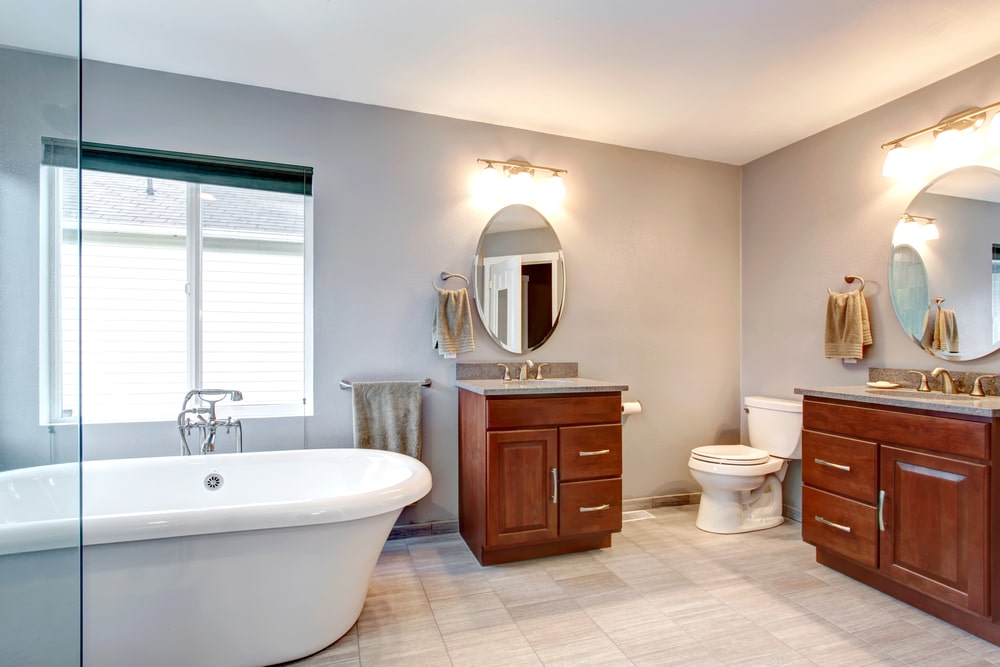 In Short – Best Flooring for Bathrooms
Develop a plan and consider all your options before purchasing and installing new bathroom flooring.
Waterproof and water-resistant aren't the same thing. Waterproof means water will never penetrate the lower layers. Water-resistant means bathroom flooring can withstand some water but may still suffer water damage.
Ceramic and porcelain tiles are cost-effective, completely waterproof, and have many designs. However, they're cold, hard underfoot, and slippery when wet.
100% waterproof vinyl is an excellent bathroom flooring option as it's inexpensive and durable.
Cork flooring is prone to damage and not waterproof, but it's eco-friendly. 
Using a proper sealant will protect cork from moisture, but you should reapply it every few years. Cork is soft and warm underfoot, naturally slip-resistant, and beautiful.
Engineered hardwood flooring isn't waterproof, but it adds value to your home because of the wooden finish. It can be expensive and tough to replace if damaged.
Stained concrete is a brilliant option that's cost-effective and unique. It's slippery when wet, and we recommend hiring professional stainers.
Natural stone flooring is expensive, but it's a good bathroom floor option. It is easy to heat, you can reduce slippage, and it adds value to your home.
A few flooring options to avoid in the bathroom include hardwood, linoleum, carpets, and laminate.
You can purchase bathroom flooring from most home improvement stores, online, or directly from the manufacturers. 
Buy flooring samples before making a final decision.
DIY installation is possible. Remember to examine and prepare your substrate before installing any new flooring.

Considerations When Choosing Bathroom Flooring
How do you know which bathroom flooring to choose? Well, that's for you to answer. 
Numerous materials and styles are available, but it all comes down to your personal preferences and needs. Consider these ten things when choosing the best bathroom floor for your home.
Your why – Are you selling, remodeling, or buying? Your reason for refurbishing can affect the type of bathroom flooring you choose. 
Who the bathroom is for – Some bathroom flooring options are more slippery than others. You might want to avoid flooring types that increase the risk of injury if you have children or live with older people.
Your Budget – Bathroom flooring can be expensive. Consider your budget, and then look at the available options in your price range.
Bathroom Size – The size of your bathroom will impact the price and style of the bathroom flooring you choose. Large tiles make the bathroom feel bigger, while lighter color flooring makes it feel comfortable. Some bathroom flooring options are colder than others, particularly ceramic tiles and stained concrete. 
The Traffic Flow – The frequency of use will impact what bathroom flooring you choose. Invest more in busy bathrooms to ensure longevity once installed. 
Durability – Tying into the traffic flow, durability is a crucial consideration. Completely waterproof bathroom flooring that doesn't stain or scratch easily and has good protective coatings is ideal. 
Waterproofing – Bathroom floors see a lot of moisture, so make sure the option you choose is waterproof. I'll talk more about waterproof vs. water-resistant soon.
Cleaning and Maintenance – The easier a bathroom floor is to clean and maintain, the better. Remember that installing tiles requires grout, which can mean a little extra cleaning. 
Installation Process – Some bathroom flooring options make a fun DIY installation project, while professionals should do others.
Adaptability – Styles change faster than the click of a finger. Choose colors and patterns that can easily adapt to your tastes and those of others, especially if you plan to sell your house.
Installing new bathroom flooring can be expensive. Take these things into consideration and make a plan before making any purchases. You'll save yourself time and money. 
DIY vs. Professional Installation
Most bathroom flooring is easy to install on your own. You'll need plenty of time and patience to complete a DIY remodeling job effectively.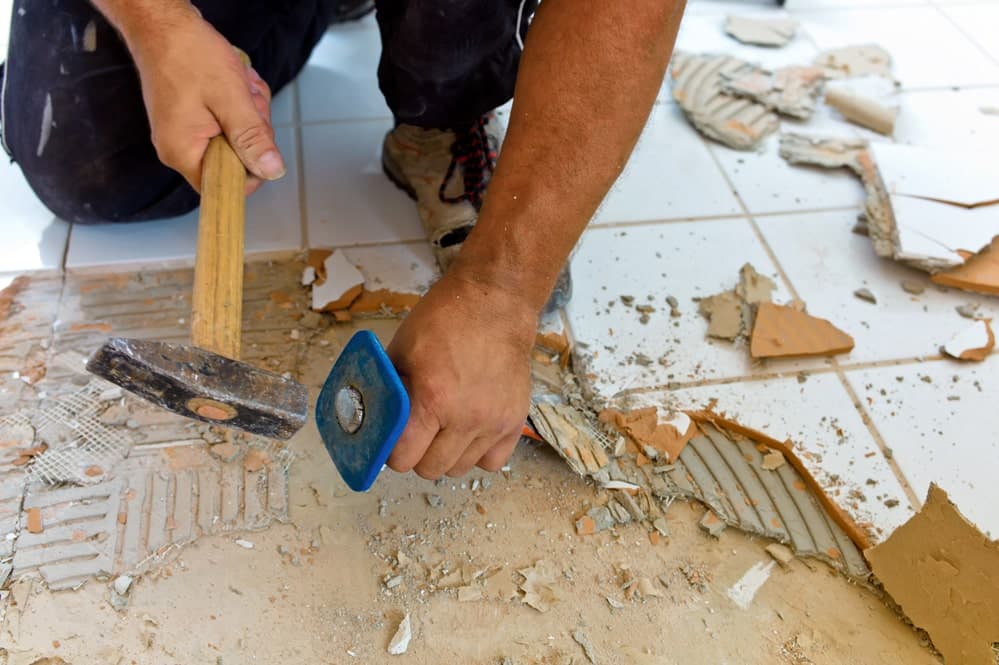 Consider how much experience you have with DIY installation projects. Taking accurate measurements is one of the most important steps when you install new bathroom flooring. 
Bathroom flooring is more intricate to install because everything should be completely waterproof to prevent mold and warping. The distance between joints and seams can impact the way water pools. 
Hire a professional if you want to avoid all mistakes. Be sure to check their experiences and follow up on reviews. Try asking your loved ones if they have any recommendations. 
DIY installation can save you money, but only if you install it correctly. You might have to redo the whole bathroom floor if the substrate or concrete isn't sealed properly. Professionals cost more but can save you time and money in the long run.
Waterproof vs. Water-Resistant
Believe it or not, waterproof and water-resistant don't mean the same thing. 
Waterproof flooring can't absorb water. No matter how long the water sits on the surface, it will never sink in and cause damage. 
Remember to adequately waterproof your substrate or concrete before you install new bathroom flooring. If that isn't done properly, it won't matter how waterproof your bathroom flooring is.
Why? Sometimes water seeps through to your substrate. If it's not waterproof, that water will sit underneath and slowly disintegrate your subfloor. 
Any bathroom flooring you lay on top will become damaged because the ground will become uneven as crevices form from water damage.
Water-resistant flooring can resist water but will get damaged if it stays wet for a prolonged period. Bamboo flooring is water-resistant. You can spill liquids on it, but you should wipe them up immediately to avoid damage.
Completely waterproof your bathroom flooring and substrate for maximum protection against moisture.

Ceramic or Porcelain Tiles
Ceramic or porcelain tiles are one of the best bathroom flooring options available. You can choose from various colors, patterns, and tile shapes to create unique designs. It's also one of the cheaper options available, easy to install, and requires little maintenance if you clean regularly.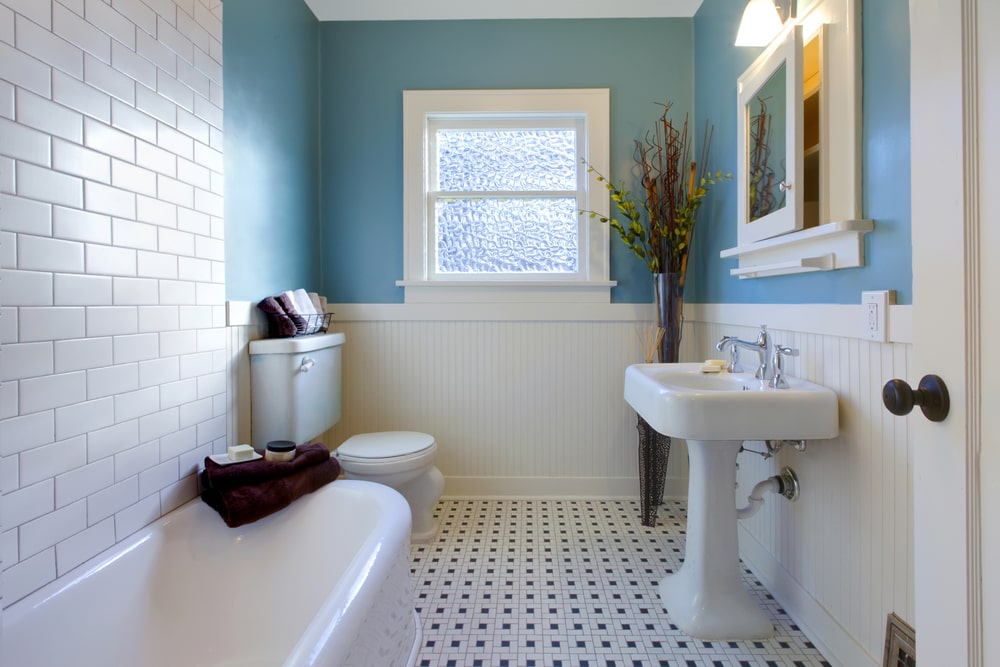 Are ceramic and porcelain tiles different? Well, yes. Porcelain is a ceramic type that has a water absorption rate between 0 – 0.5-percent. The Porcelain Tile Certification Agency examines and certifies the tiles. 
Install porcelain tiles in bathrooms with bathing facilities because it is impervious to standing pools of water. Remember that tile is cold, so you might want to install radiant or heated tiles underneath the surface. 
Ceramic tiles offer the most diverse range of designs, with some designed to look like wood or stone. You can create the exact style you want for your bathroom. Ceramic tiles are slippery, so consider who will use the bathroom before installing them.
Ceramic and porcelain tiles can last anywhere between 75 – 100 years if you care for them properly. It's one of the few bathroom flooring options that add value to your home. They're durable and affordable.
Pros
Excellent resale value
Numerous style options
Works well with radiant or heated tiles
Easy to clean and maintain
Waterproof and stain-resistant
Good price on a budget
Cons
Difficult to install
Slippery when wet
Cold and hard to the touch
Difficult to stand on for a long time
Pricing
Ceramic and Porcelain tile prices vary depending on where you buy them and the size you choose. The average cost ranges from $1-$20/ft2. Installation costs anywhere between $5 – $10/ft2.
Natural stone also comes in tiles. Read my floor tile types pros and cons for more information about the different types.

100% Waterproof Vinyl
Some argue that vinyl isn't a good bathroom flooring option, and they're correct if you choose a water-resistant vinyl. Conversely, 100% waterproof vinyl is ideal for bathroom floors because it's inexpensive and has a spectacular range of patterns and colors. 
Wood Plastic Composite (WPC) and Stone Plastic Composite (SPC) are the two predominant styles for waterproof vinyl. As their names imply, WPC uses wood and plastic powder, and SPC uses stone and plastic. 
How does it work? WPC and SPC vinyl flooring has four layers that differ depending on the manufacturer. The four layers are:
Wear layer – Top-most layer that protects the other layers from damage. It is clear so that you can see the printed layer beneath it. Thick wear layers offer the best durability.
Printed vinyl layer – It's the decorative and patterned portion of vinyl flooring that often resembles stone or wood.
Waterproof core – This layer keeps all moisture out no matter what. You won't get mildew, rot, or warping. SPC vinyl uses a thinner waterproofing layer than WPC, but it's denser, making it more durable.
Backing layer – Usually made from cork or foam, the backing layer adheres to your substrate. You won't have to buy any underlays, but be sure to waterproof your sub-floor.
Vinyl flooring comes in sheets, planks, or tiles and isn't always WPC or SPC. 
Sheet vinyl is usually the best option for bathrooms with high traffic and lots of spillages. Why? Because they come in 12-foot-wide rolls that create the fewest seams when installing. Water has virtually no room to seep through to the subfloor. 
Plank vinyl is a popular choice because it's easy to install and maintain. They measure five inches in width and 48 inches in length. 
Vinyl tiles aren't suitable for high-traffic and wet bathrooms because of the many seams. If you have happy kids who love splashing about in the bathtub or shower, use silicone caulk to seal all the edges in the bathroom.
Pros
Inexpensive and easy to install as a DIY project
Waterproof vinyl flooring truly is waterproof
High durability, especially for busy bathrooms
Many designs and styles that are easily adaptable over time
Easy to clean and maintain
Plank seams are usually waterproof
Vinyl works as a floating floor and is easy to replace
Cons
It doesn't have the best resale value
WPC vinyl can be more expensive
Depending on their severity, blemishes in the substrate, like bumps, can show up on the vinyl surface
Pricing
Vinyl is one of the most cost-effective bathroom flooring options available. The type of vinyl you choose will impact the price. Here are the average costs based on the vinyl flooring type:
Sheet vinyl – averages $1 – $2/ft2 and $1 – $3/ft2 for installation.
Plank vinyl – averages $3 – $7/ft2 and $1 – $5/ft2 for installation, depending on the thickness. You'll pay more to install vinyl planks that are less than 4mm thick. Thin planks are more challenging to install, so you require more time.
Vinyl Composite Tile (VCT) – averages $3 – $5/ft2. Installation prices are the same as plank vinyl.
Luxury Vinyl Tile (LVT) – averages $5 – $10/ft2 and $1 – $5/ft2 for installation.
Luxury Vinyl Plank (LVP) – averages $5 – $12/ft2 and $1 – $5/ft2 for installation.
Wood Plastic Composite (WPC) vinyl – averages $3 – $6.5/ft2 and $1 – $5/ft2 for installation.
Stone Plastic Composite (SPC) vinyl – averages $3.5 – $7/ft2 and $1 – $5/ft2 for installation.
Most vinyl flooring comes with a backing already installed. If yours doesn't, you can expect to pay $1 – $1.50/ft2 for felt backing and $1 – $2/ft2 for fiberglass.

Cork Flooring
If you're green-conscious, then cork flooring is the way to go for your bathroom. It's water-resistant and feels soft underfoot.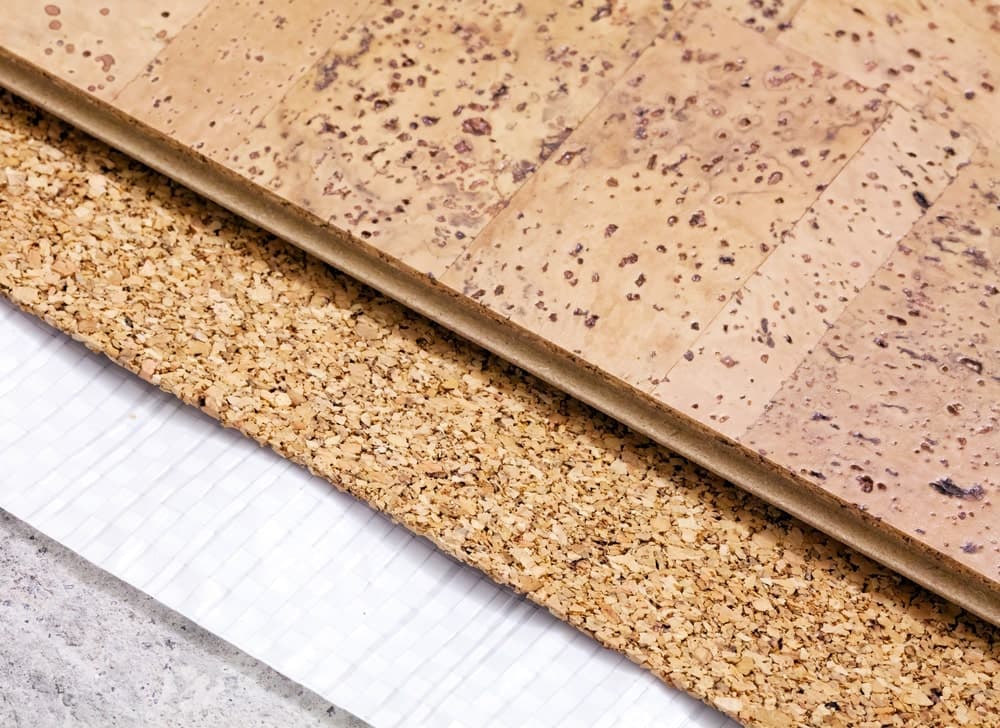 Apply a polyurethane sealant and underlay for maximum protection. Reapply the sealant every few years to ensure longevity. 
Use cork for smaller bathrooms or those with low foot traffic and little splashing.
Manufacturers make cork from harvested tree bark, making it one of the most sustainable and environmentally friendly bathroom flooring options. The surface is naturally slip-resistant because of its texture.
Cork flooring usually comes in 12 x 12-inch tiles or 1 x 3-inch planks that create many seams. A solid sealant will solve this problem. Cork flooring has a range of unique and natural patterns.
Pros
Soft underfoot and well insulated
Can be refinished
Eco-friendly
Hypoallergenic
Easy to install, clean, and maintain
Mold- and mildew-resistant
Cons
Susceptible to damage from furniture 
Requires water sealing and reapplication
Water-resistant not waterproof
Pricing
Cork flooring costs between $3 – $12/ft2 with professional installation only adding an extra $1 – $2/ft2. 

Engineered Hardwood Flooring
Contrary to popular belief, engineered hardwood flooring isn't laminate. 
Laminate flooring uses artificial materials layered over fiberboard. A photographic pattern and clear wear layer cover the top to create unique designs and offer protection. 
Engineered hardwood flooring is made from thin layers of real wood and high-quality plywood. Some people prefer it to solid hardwood flooring because it offers dimensional stability at a fraction of the price.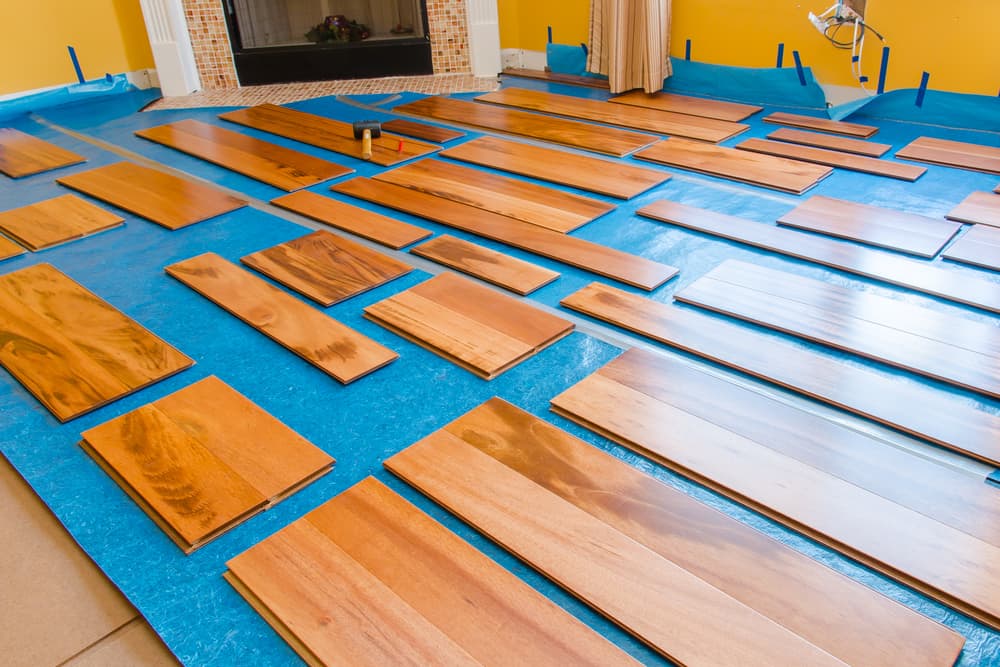 The multiple layers and veneer top make it a fantastic bathroom flooring option. It won't warp like solid hardwood but gives the same look. You can choose from countless tree species and styles.
Like vinyl, engineered hardwood is a floating floor, making it perfect for remodeling projects. It's more expensive than other bathroom flooring options but worth the investment. 
Cheaper engineered hardwood options last between 20-30 years, while more expensive options have a lifespan of around 50-60 years. Refinish your engineered wood once or twice in its lifespan, depending on the traffic flow.
Engineered hardwood flooring is water-resistant. Leaky faucets or pooled water will eventually cause damage if you leave moisture to sit. It can be difficult to replace damaged planks.
Engineered hardwood flooring adds value to your home as wooden finishes are still among the most popular styles for homeowners.
Pros
Made from real wood
Water-resistant and can withstand heat and humidity
Floating floor option
A huge number of styles
Cons
It isn't waterproof
Tough to repair damages
Fairly expensive
Standing water will cause damage
Pricing
The quality of engineered hardwood flooring determines the price. It can cost anywhere from $3 to more than $14/ft2. Installation costs average $3 – $8/ft2.

Waterproof Carpeting
I'm sure you think this is some magical joke, but it's not. It's real science. Yes, you can buy waterproof carpets for your bathroom floors. How does it work?
A new technology called RX2 coats each carpet fiber in its entirety. Special Lifeguard backing made from 100% thermoplastic doesn't let anything penetrate the carpet. Liquids that reach the bottom are pushed to the surface and sit on top until wiped away.
Waterproof carpeting is stain and dirt-resistant. You can buy it in tiles or rolls. They are easy to install, clean, and maintain.
Pros
100% waterproof
Mold- and mildew-resistant
No stains
Super comfortable and warm
Easy to clean and maintain
Cons
Expensive
Not always the best aesthetic for bathroom flooring
Pricing
The cost of a waterproof carpet starts at $11/ft2. Installation prices range anywhere from $1 to well over $8/ft2.

Stained Concrete
Stained concrete may not seem like a good bathroom flooring option, but consider this—concrete is often the substrate beneath installed flooring and has to be completely waterproof before you can lay anything over it.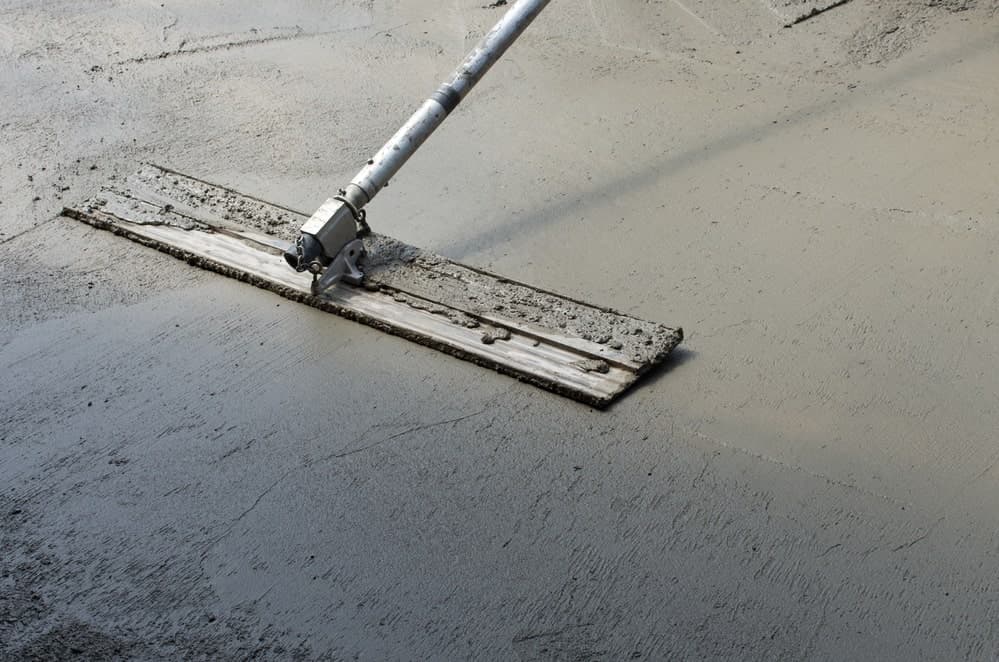 Yes, concrete isn't waterproof, but you can make it water-resistant with a finish and seal. Most concrete waterproofing uses grinding and an acid etching process in preparation for staining. You will need machines to do it properly, but they're easy enough to hire and do on your own if you wish. 
Stained concrete is sometimes cheaper than other bathroom flooring options. Some high-end designs are expensive because they require more intricate work. Design ideas are limitless with stained concrete.
One drawback is that stained concrete is slippery when wet. It's not a good option for bathrooms with high splash zones or that older people use.  
Pros
Super low maintenance
Easy to clean
Beautiful and unique designs
Can use radiated heat
Cons
Slippery when wet
Cold to the touch
Can crack over time
Not environmentally friendly
Pricing
Stained concrete prices are for labor and materials. They vary depending on the quality and intricacy of the service. Here's a quick rundown.
Basic stain job – $2 – $4/ft2
Intermediate stain job – $4 – $10/ft2
Upgraded stain job – $8 – $15/ft2
High-end stain job – $12 – $25/ft2
Stained concrete prices make it an accessible bathroom flooring option. You will need to consider crack repair costs, but it isn't common.

Natural Stone Flooring
Natural stone is one of the more expensive options, but it's an excellent bathroom flooring choice. It's waterproof and durable. The most common natural stone flooring types are:
Marble
Travertine
Granite
Limestone
Slate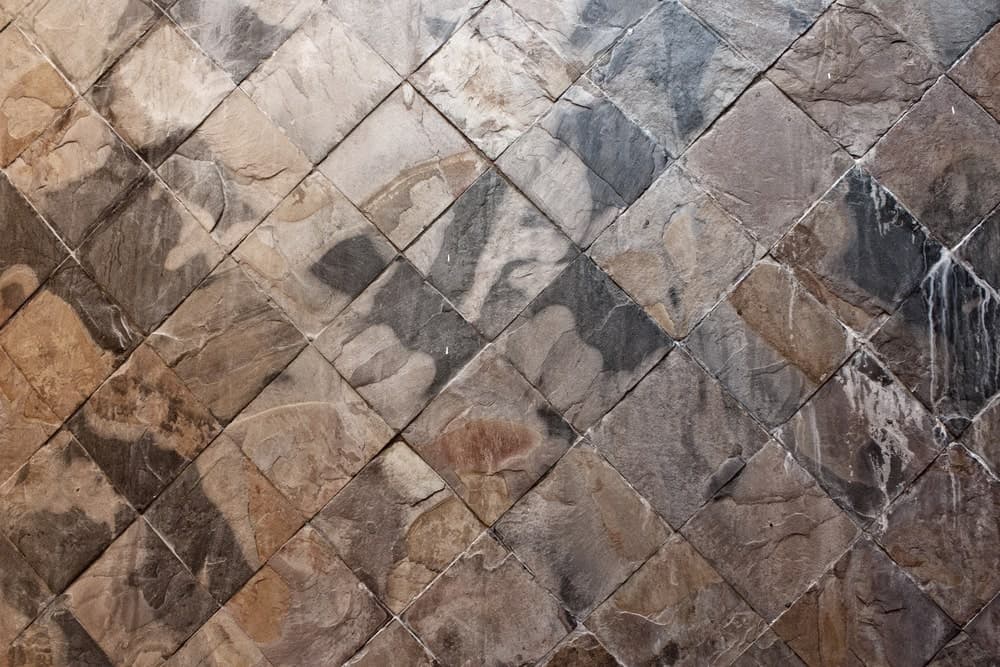 Natural stone flooring is cold and slippery, but there are solutions. Radiant heating is easy to install beneath the stone, and using textured stone reduces slippage. You can buy naturally textured or manually sandblasted, etched, or tumbled stone.
While stone flooring is expensive, it does boost a home's resale value. Regular cleaning and sealant application are necessary to preserve the integrity of the natural stone. It will last anywhere from 75 to 100 years with proper maintenance.
Pros
Many natural stone varieties
Has textures to reduce slippage
Works with radiant heating
Durable
Waterproof, but should be sealed for added protection
Cons
Higher maintenance than other flooring options
Needs regular cleaning and re-sealing
Is expensive
Pricing
The type of stone you choose will impact the price you pay for natural stone bathroom flooring. 
Limestone – averages $5 – $20/ft2
Marble – averages $5 – $50/ft2
Slate – $2 – $20/ft2
Travertine – $3 – $20/ft2
Granite – $2 – $15/ft2
While it's an expensive bathroom flooring option, it does have exceptional longevity and adds value to your home.

Worst Flooring for Bathrooms
Non-Waterproof or Water-Resistant Carpets – Moisture and humidity can stick to carpet fibers, and mold or mildew begins to form. It's challenging to clean and maintain.
Solid Wood Floors – This includes bamboo flooring. Solid hardwood floors warp and develop mold when exposed to moisture.
Linoleum Tiles – They're water-resistant but can't handle heavy foot traffic.
Laminate Flooring – Yes, it's water-resistant, but it's not waterproof. Plus, most laminate flooring has a wood chip backing. If that gets wet, you have to pull up the entire floor to replace it.

Tips for Cleaning and Maintaining Bathroom Floors
It's crucial to clean your bathroom flooring properly no matter what option you choose. Regular cleaning and maintenance reduce the risk of damage and can increase your floor's lifespan.
The cleaning frequency depends on the foot traffic in the bathroom. We recommend cleaning busy bathrooms once a week. Always try to clean up puddles or splashes of water immediately as it will prevent damage.
Cleaning Ceramic and Porcelain
Cleaning ceramic and porcelain is simple because they're waterproof and durable. Follow these easy steps for sparkling bathroom floors.
Sweep or vacuum regularly – dirt won't penetrate the surface but can dull glazed tiles if left to sit.
Avoid using a sponge mop – dirty water seeps into the grout when using sponge mops. 
Change water frequently – if you're cleaning a large bathroom, change the water you're cleaning with often to prevent cloudy floors.
Dry tiles – to prevent stains and soap residue, dry the floor once you finish cleaning it. Use a lint-free cloth so that your floor isn't covered in fibers when you're done.
For more, read through my guide on how to clean tile floors easily.
Cleaning Vinyl and Cork
Vinyl flooring is super durable and easy to clean. Vacuum or sweep up any surface dirt. After that, use a vinyl floor cleaner or vinegar mixed with water to mop it clean.
Clean polyurethane sealed cork with a mild floor cleaner or a water and vinegar mixture. Make sure you dry the surface thoroughly to prevent marks and stains. Waxed or unfinished cork should get a layer of solid or liquid wax after you clean it.
Cleaning Stone
Some chemicals damage natural stone flooring, so use detergents specifically designed to clean them. Avoid cleaning stone tiles with any acidic substances like lemon or vinegar.
The best natural stone cleaners have a neutral pH that won't stain or damage the material. Avoid using any cleaning brushes, brooms, or mops that will leave scratch marks. Dry with a lint-free cloth after mopping to remove all potential water spots.
Whether it's granite, marble, slate, or limestone, these cleaning tips apply.
Cleaning Engineered Hardwood Flooring
Following a similar pattern as above, start by sweeping or vacuuming any dirt on the surface. It's better to use a broom or vacuum with soft bristles so that it doesn't scratch the surface (check out my best vacuums for every use roundup to help find the perfect one). 
Once you've removed most of the surface dirt, use a damp, not soaking wet, mop to catch anything left behind. Hardwood steam mops will also work as engineered flooring can withstand moisture. Leaving a liquid to stand for long periods will cause damage, so be sure to dry the floor after cleaning it. 
It's a good idea to treat your engineered hardwood flooring every so often. Most manufacturers have cleaning kits for their brand, but you can also buy them from your local grocer. 
Apply the treatment to your floor, let it sit for the recommended time, mop it up, and then dry it. It's that simple.
Cleaning Waterproof Carpets
Because liquids are pushed to the surface and never seep into waterproof carpeting, a good vacuuming should suffice. Ensure you check for any liquids beforehand and wipe them up in a flash.
Cleaning Stained Concrete
Like natural stone, avoid using harsh cleaning products, like vinegar, lemon, or ammonia, on stained concrete bathroom flooring. Pine cleaners will also cause damage, so avoid those too.
Use pH-neutral cleaners. If you aren't sure what's best, ask the professional stainers who designed your bathroom floor. They often know the best products to use.
Start by sweeping or vacuuming your stained concrete bathroom floor. Use two microfiber cleaning pads, one for mopping and one for drying. You can use a swing buffer to clean high traffic or commercial bathrooms.
Cleaning Grout
Tiles equal grout, and keeping it clean always makes the bathroom floor look better. Grout absorbs everything because it's porous. Dirt and grime build up in the grout, sometimes changing its color. 
Here are some quick tips for cleaning the grout of your bathroom flooring.
Make your cleaner – A little bit of baking soda and water goes a long way and is one of the best ways to clean grout. The baking soda eats away the grime without damaging the grout.
Give it a good scrubbing – With your baking soda mixture in hand, layer it on your grout and leave it overnight. Then, grab a stiff nylon brush and scrub away any stains. Avoid metal brushes because they can cause damage.
Apply for protection – Once clean, re-seal your grout using a silicone-based sealant. Do this about 10 to 14 days after installation or renewal.
To steam or not to steam – People have mixed reviews on this one. Some say it's a superb way to revive your tiles without damaging the grout. Others think it'll damage your grout over time. This possibility is especially true with older grout.
Removing Stains
Most stain removing techniques involve using acidic substances like lemon, vinegar, and bleach to remove stains. It works for all bathroom flooring types except stained concrete and natural stone. Fortunately, these two flooring options don't usually stain.
Steam cleaners also work well. Remember to avoid using them on bathroom floors with grout. Yes, some say steam is okay, but it's better to use another method if you want to preserve the integrity of your bathroom flooring.

Where to Buy Bathroom Flooring?
Most bathroom flooring options are available for purchase from home improvement stores. You can also make purchases online, but you won't get to feel the texture before buying. 
If you purchase online, see if you can buy samples before making a big spend.

Can You Paint Bathroom Flooring?
Yes, you can paint your bathroom flooring, but usually only if it's ceramic or porcelain tiles. It's an inexpensive way to give your bathroom a whole new look.
Use a paint that's not water-based. One of the best options is water-resistant epoxy paint that has antibacterial properties. Colors are usually limited to gray, white, and black, but some brands simplify tinting the paint.
You can also buy pre-packaged bathroom floor painting kits from certain home improvement stores or online. Use a waterproof sealant on the top layer to preserve the quality of your paint job.
Here's a quick flow of how to paint your bathroom tiles:
Make it shine – Thoroughly clean the surface by vacuuming and mopping away any debris. Make sure to use a mop or cloth without microfibers. 
Sand it down – You don't always have to sand the tiles before painting them, but we recommend it for maximum longevity. Use 120-grit to 180-grit sandpaper with a hand-held sander. Avoid using power sanders because they can damage the tiles.
Apply that primer – Use an epoxy primer and cover the floor with it once you've sanded it and cleared away all the debris.
Paint away – Before you start painting, remember to apply tape around all the edges that the paint mustn't reach. Now, you're ready to start painting. Use angled brushes for tight corners and long-handled rollers for the center. It's best to start farthest from the door and work your way out. Sometimes you need to apply a second coat.
Seal it up – After the paint is completely dry, you can apply a waterproof sealant to prevent damage to your new paint job but also protect the tiles beneath.

What Bathroom Flooring is Best?
The best bathroom flooring is anything that's completely waterproof, but ultimately it comes down to you. 
Ask yourself these questions to find out what the best bathroom flooring is for you.
What's my budget? 
How big is the bathroom? 
Do I live with many people, some young, some old? 
What styles do I want?
Why am I redoing my bathroom? 
Want something new? 
Am I refurbishing to sell and add value?
Once you know what your needs are, you can choose the best bathroom flooring for your home.

Quick Installation Tips
If you're planning to install your bathroom floor yourself, here are a few quick tips to remember. Also, check out my detailed guide on removing ceramic tiles if you're changing floors.
Use a Professional if You Aren't Sure
It's better to get professional installers if you have little experience or are installing stained concrete, waterproof carpeting, or natural stone flooring. These are tricky, and you'll pay more to redo it if it was wrong the first time around.
Adequately Prepare Your Substrate
One of the most crucial steps for installing bathroom flooring is preparing your substrate. If you don't use a waterproof underlay, you will have problems down the line. 
Always examine your substrate before prepping it or laying down new bathroom flooring. It's important to know what materials (usually hardwood or concrete) make up this underlay and fix all blemishes like cracks or bumps.
Apply any waterproof sealants and make sure it's spotless before installing your new flooring. 
Simplest DIY Bathroom Flooring Options
Use these bathroom flooring options if you want an easy-to-install DIY project.
Cork
Vinyl
Engineered hardwood
Why are they easy to install? They usually come in tiles or planks, sometimes sheets, with grooves to click everything into place without much fuss. Read my complete guide on the easiest flooring to install.

What Are the Bathroom Flooring Trends of 2022?
You don't need to keep up with bathroom flooring trends to have a beautiful bathroom floor. If you're curious about what's happening in the world of bathroom floors, these are some hot topics.
Most Popular Bathroom Flooring Types
Waterproof and sheet vinyl
Waterproof carpets
Ceramic or porcelain tile
The Styles and Looks
Wood
Marble
Stenciled patterns
Mosaics
Colors
White
Black and white
Gray
Cool-blue
Tan
Wood
Whether you want to refurbish or resell your home, you can create numerous unique designs that sometimes add value, depending on the material you use. 

Did you enjoy this article? Have fun exploring flooring with my guide for bedrooms, the cheapest flooring guide, or my guide to the best time of year to buy flooring. If you have any questions that I haven't answered, please drop a comment below.