Hardwood Finish Guide
Hardwood finishes protect your hard earned investment.
Wood is a durable material, but floors take a beating: constant foot traffic, sand and grit get ground into them with shoes, exposure to sunlight and UV, and movement of heavy furniture.
There's only so much even high-quality wood can withstand. Fortunately, finishes are here to protect the wood. Let's start by going over why you want a finish, whether you want your floors pre-finished or un-finished when you buy them, and how to pick the best finish.
What's a finish's purpose?
Wood finish is like a paint coating to a car: without it, your expensive investment gets damaged by its environment. Wood finishing takes the beating from water, sand, and grit, instead of the wood itself.
Water and other liquids are the kryptonite of wood flooring. Finishes add a layer of protection between accidental spills and your wood floors so you have time to wipe them up before the liquid soaks into the wood. Once liquid soaks into wood flooring it can leave stains, discoloration, and smells behind.
Some finishes will also protect a wood floor from foot traffic, scratches, and dents. These form a durable layer of protection between the floor and the people, pets, and furniture walking and moving above it. Without this layer, the floor looks worn out and older. As decades go by, it needs to be reapplied to make the floor look like new.
Finished vs unfinished floors
Unfinished hardwood floors used to be the norm among hardwood manufacturers. You would install the wood floors first, then sand down the wood, then apply the finish. This process levels out the final floor surface, hiding any irregularities that may exist from the subfloor or slight variations among the floorboards.
If you love a manufacturer's products, but not the colors of their finished pieces, this is a way of getting exactly the stain and finish that you want. Unfinished wood floors are less expensive to begin with, although you will end up paying extra for supplies and labor.
However, most of the time you'll want a pre-finished floor.
For some homeowners, the extra time and effort that it takes to finish the hardwood floors onsite are not worthwhile. Until the stain dries, you cannot walk on the floor, and the house has to be kept well-ventilated to remove the smell of wood stain that will fill the rooms.
Pre-finished hardwood floors have their initial coat done in the factory with high-pressure sealants and stains. The color is more consistent and you will not have to re-stain the floor for a longer period of time compared to an onsite finishing job.
However, once you do decide to re-stain the floors, you will need to sand down further to reach bare wood, making the boards thinner and reducing the number of times they can be refinished in the future.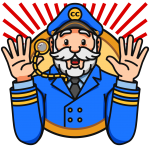 Captain's warning!
Hardwood finishes can off-gas. If you're finishing your hardwood yourself, it's best to stay out of the home for a few days after (plus it takes time to set). If your hardwood is pre-finished, it is best if you or the installer can air the wood out before installing it in your home. Opinion on off-gasses very, but most agree it's best if you don't breathe in these chemicals when they're at their peak.
How often should you finish your floors?
So the finish is important, and you need finish when you buy your floor (whether you put it on yourself or it comes pre-finished).
But how often do you need to finish your floors for maintenance?
The National Wood Flooring Association recommends adding a maintenance coat of finish every 3-5 years, and to stain and refinish the wood floors every few decades as it becomes worn down.
I agree with this, but would add it definitely depends. If it's a rarely used room, you can probably double that time frame for maintenance finish, but on the other hand, if you really tear into your finish by moving furniture or having kids run in and out, you may want to add a coat of maintenance in 1-2 years.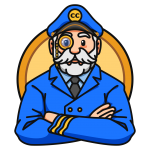 Captain's money saving tip!
You don't always need a complete refinishing job, and unless you have deep gouges or a very dull floor, you can probably get by with a much less expensive maintenance refinishing technique called "screening." This is a process where the current finish is only lightly sanded, so a much thinner layer of finish can be added to the floor
Types of hardwood finish
One of your main decision with stain is what type you get. Since it's the barrier for your floor, the performance matters a lot based on the material of the stain. Let's dive into some of the most popular types of stain:
Water-based polyurethane
The polyurethane finishes are also known as "surface finishes" because unlike wax, they do not soak into the pores of the wood. Since entering the market in the 1970s they have become a popular way of sealing the wood floor quickly and easily.
Water-based polyurethanes are known as the more "eco-friendly" polys. They have a very low-VOC content, which many people prefer in homes with children, animals, and asthmatics.
For DIY'ers, water-based polyurethane finishes will be quick and relatively simple to install. The average drying time is 2-4 hours between coats, and it's recommended to apply three to four coats in total.
After it dries, water-based polyurethane will show clear and not have the yellowing effect of an oil-based variety.
Pros
Low-VOC content and minimal odors
Dries clear without yellowing.
Easy to apply
Cons
Often more expensive than an oil-based polyurethane
Not as durable as other finishes, especially oil-based polyurethanes
Oil-based polyurethane
Oil-based polyurethane is the go-to finish for many professional finishers. Even though it's not as DIY friendly as wax or water-based polys, it is now one of the most commonly used and seen wood floor finishes.
Oil-based polyurethane finishes will cover the surface of the wood floor, preventing stains and spills from seeping into the wood planks. It also adds a moisture barrier. As with other surface-based finishes, you will want to be careful of how you clean the floor in the future to avoid scratching or removing the finish.
One downside, and the main reason why it's done by professionals, is the smell and high VOCs before drying. One coat can take 8-10 hours to dry, so if you need multiple coats it will be a long project and during that time people and pets should stay out of the home. Manufacturers usually recommend laying down 2-3 coats of finish.
Pros
It is a durable and long-lasting finish
Easy to apply
Popular and commonly used in modern homes
Cons
High VOC and strong smells during the finishing process
Cannot be laid down directly over a water-based polyurethane.
Yellows with age
Long drying time
Wax
Wax is the historical way to refinish wood floors and was the most popular until polyurethane finishes were invented in the 1970s. Wax is all-natural and low VOC compared to some polyurethanes. It soaks into the wood and solidifies into a protective seal that keeps out water, stains, and dirt.
Paste and liquid wax sealant can be applied by hand, one area at a time until the entire floor is covered. DIY homeowners can catch on to the trick fairly quickly but depending on the square footage of your floors, it may be time-consuming. Usually, you need 2-3 coats, and occasional refinishing in high-use spots.
Wax sealant finishes are best for older homes and vintage flooring. Over time, the wax sealant will darken the wood, which creates an authentic and antique look in the home. To prevent darkening, add a shellac coat before you wax.
Pros
Its low-VOC content is preferred by some homeowners
Authenticates an antique or vintage floor in historic homes
Time-tested method for resealing wood floors.
Cons
Less durable than a polyurethane finish.
Can darken the color of wood floors over time.
Labor intensive.
Moisture-cured Urethane
Like the polyurethane sealants, Moisture-cured urethane finishes are placed over the wood floors to give them an extra protective layer. These finishes, however, are even stronger and firmer than the water and oil-based polyurethanes so they are a good choice for high-traffic areas and busy homes.
Unlike the polyurethane and wax finishes, this one can be difficult to apply correctly. It's rapid drying time allows for more coats per day but it can be tricky to apply it correctly before it dries.
Another installation drawback is the high VOC content. Most installers recommend that homeowners, pets, and families leave the home during the application period and for up to two weeks afterward. During that time, the house should be kept well-ventilated to remove the fumes.
Pros
One of the harder and more durable materials on the market
Dries very quickly, allowing time for multiple coats per day
Cons
High VOC content during installation, which might mean leaving the home for up to two weeks.
Not recommended for DIY'ers
Captain's parting words
The finishes you place on the floor are nearly as important as the floors themselves. Without the right finish, your beautiful new hardwood floor will remain vulnerable to water, stains, and heavy foot traffic.
It's clearly an important step, and even if you choose to have a pre-finished floor, you'll be refinishing it every 3 to 10 years. Hopefully, this article gave you a good start on what you need and when you need to finish your hardwood. And if you're shopping for hardwood, I'd suggest starting with our unbiased hardwood buying guide.
Any questions on hardwood finish? Let me know in the comments below.
Average Cost To Install New Flooring
Price Range:
$1,215 - $2,460