Best Rug Materials Comparison
What's the best rug material for your home?
Everyone, and sometimes every room, has different needs for an area rug. The point of this article is to compare rug materials, so you know the best rug to lay out in your room.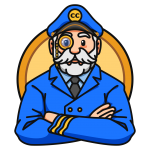 Captain's notice!
Throughout the article, I may have links to certain rugs. In these cases, I can get a small commission from what you purchase, but it does not change what you pay. It helps fund the site, and I appreciate the support!
Wool
One of the most common rug materials is wool, and that's not a bad thing. Wool is produced naturally from giving animals, mostly sheep, a hair cut. That may be one of the coolest things about wool is it's about as eco-friendly as you get; it also has some other unique advantages:
Pros of wool rugs
Wool is designed to protect the sheep, and it's a very resilient fiber. This makes for durable rugs. It tends to repel stains and moisture. Maybe that's what you've never seen a sheep with stain spots, or maybe that's because people don't let red wine sit on sheep. Moral of the story: it's forgiving to stains, but it's not invincible!
Besides being extremely durable, I love the fact that wool comes from giving a sheep a haircut. Often this is done in the summer months when they want to cool off anyway. This is much more sustainable and energy efficient compared to other rug materials that are factory made.
Wool can also be dyed, so you can find all kinds of cool colors. No limits there. So what are the drawbacks?
Cons of wool rugs
Remember my comment on never seeing a tie-dyed sheep? Well, that isn't necessarily because wool doesn't stain. Red drink spills, especially left sitting, will likely stain your wool. Wool rugs also aren't the cheapest to clean.
If moisture is a problem, you'll also want to avoid wool rugs. Wool naturally repels water, but it's also very absorbent. Constant exposure to high humidity (like in a bathroom or indoor/outdoor room), will cause mold and mildew.
You'll also want to avoid consistent direct sunlight. It can cause wool to fade over time.
You can check out wool rugs in all price ranges on Amazon by clicking here.
Jute and Sissal
These are two other rug materials I grouped together because they perform similarly. Both come from plants, so they are more eco-friendly than a synthetic fiber. They also both share some advantages and disadvantages:
pros of jute/sisal rugs
Both jute and sissal are very durable. They come from fibrous rich plants and these strands can take a beating without wearing down.
They're also eco-friendly. I don't think of using a plan quite as eco-friendly as giving a sheep a haircut (wool), but it's still a very sustainable fiber you can feel good about.
cons of jute/sisal rugs
Sisal isn't as comfortable as wool. It's more coarse, so it will feel a little bit rougher under your feet.
Similar to wool, it's not good in high-humidity areas. It will absorb moisture over time, and this can lead to mold and mildew.
Check out Amazon's collection of Jute rugs by clicking here.
Cotton
You have a lot of experience with cotton in your clothing, but have you walked on it? Cotton is a great inexpensive material, but has some drawbacks when it comes to rugs:
Pros of cotton rugs
Cotton rugs biggest advantages is its inexpensive versatility. Like clothes, they can be dyed about any color. They are also pretty easy to wash without damaging.
Cons of cotton rugs
Cotton rugs are less durable and not meant for high-traffic areas in your home. Even though they absorb colors well, they also stain easily due to their high absorbency and dry out slowly.
Over a long period of time, cotton rugs will start to turn brown. This happens when the cells break down, releasing lignin and producing a yellow or brown color.
You can check out some awesome cotton rugs on Amazon by clicking here.
Silk
Silk rugs have been associated with luxury and beauty for thousands of years. The silk trade linked entire continents via the silk road because so many people wanted to own beautiful silk rugs, tapestries, and carpets. Silk rugs have a unique sheen and can be dyed in an array of bright and subtle colors. Sometimes silk is combined with wool; silk on top, wool underneath.
Pros of silk rugs
Silk's delicate feel is misleading. Silk filaments are actually stronger than steel and can stretch up to 20 times their length. Silk rugs are durable, long-lasting, and can be placed in high traffic areas.
Silk also easily absorbs many colors. Silk filaments are usually dyed then woven into intricate patterns on the rug. Thicker materials, such as cotton or wool, cannot match the delicacy of silk thread.
Cons of silk rugs
Silk rugs should be kept out of direct sunlight. The dyes can fade under UV light, so you will want to either use blinds or keep them shaded and out of the sun as much as possible.
Silk is also chemically sensitive. Wine, alkaloids, and bleach can damage the rug. You should use a silk-rug specific cleaner or have your rug professionally cleaned by a company specializing in silk and oriental rugs if it becomes dirty or stained.
Check out Amazon's collection of silk rugs by clicking here.
Nylon
Nylon is the best all-around material for carpet, so it also makes sense that it makes a good rug material. There are two types: nylon 6 and nylon 6.6. The 6.6 is considered better at retaining color and resisting static but there have been enough improvements in the molecular structure of nylon 6 that there are few differences between the two anymore.
Pros of nylon rugs
One clear benefit of nylon is its durability. The fibers are able to hold up against abrasions and stains. When you buy a nylon rug, you know you are getting a product that can look great for years even in a high traffic area.
To make nylon stain resistant, most manufacturers will add a protective coating onto the rug fibers. Except for the cheapest nylon rugs, I'd expect your nylon rug to be stain resistant.
Cons of nylon rugs
Nylon doesn't have the luxurious feel of wool. The difference in carpet and rugs is most people want a good looking carpet that holds up well. For area rugs, people want a more luxurious feel. After all, it's a centerpiece of the room.
Olefin (aka polypropylene)
Olefin and polypropylene are used interchangeably in the carpet industry to refer to the synthetic fiber that looks like wool and is often used in looped or Berber area rugs.
Olefin rugs are often used in outdoor living spaces, boats, marinas, and basements. The colors do not fade under direct sunlight and the material repels water, mold, and mildew.
Pros of olefin rugs
Olefin rugs have become a go-to choice for indoor/outdoor area rugs. The synthetic fiber is moisture resistant and can retain its color even when exposed to the elements outside.
Another property of its moisture resistance is the rug's resistance to staining. The olefin fibers have to be dyed during the production process, otherwise, the rug will not take any new colors. As a result, even bleach cannot attach itself to the colors once they are set.
Cons of olefin rugs
Even though the rugs are stain resistant, they are not entirely easy to clean. Polypropylene attracts oil, to the point where it's even used to clean up oil spills. So any oil-based spill (think cooking oil in kitchens, or car oil in garages) will be nearly impossible to clean.
Olefin is a material to avoid in carpets because it can't stand up to high-traffic. The fiber just isn't resilent. If you have a high-traffic area, I'd avoid an olefin rug.
Polyester
Like olefin, polyester rugs were manufactured as an alternative to wool rugs. It is softer than nylon, though less durable, and known also for its softness. You might see them referred to also as P.E.T rugs, which stands for Polyethylene Terephthalate, which is the type of polyester used in the rug making process.
Pros of polyester rugs
Polyester is a fairly good product for those looking for a bargain rug. They cost less than rugs made out of nylon and natural fibers.
It resists stains fairly well. Pet owners may also like that it is made out of a very soft material so pets and humans alike will appreciate its feel under paws and feet. It doesn't absorb liquids very easily, so spills and messes can be cleaned relatively easily.
Some P.E.T rugs note that they are made out of recycled plastic bottles, keeping them out of landfills. This is one eco-benefit of purchasing them, along with their ability to be recycled into new rugs once the old ones wear out.
Cons of polyester rugs
Polyester rugs can shed fibers, which then enter the air or get on our hands and feet. Most scientific conclusions point to the materials being harmless to humans, but people still have some concerns about it especially for small children and pets.
Polyester rugs are also less durable than nylon in high-traffic areas. You should keep that in mind when placing the rug in those areas of your home. However, in low to mid-traffic situations polyester rugs are durable and long-lasting.
Best rug material for high-traffic areas
Rugs a versatile: some people want their rug to play the role of fine art in their home. Other people want it just it to act similar to carpet in a high-traffic area.
Fine art can be judged by shopping without paying much attention to the fiber.
But one question I get often is, "What is the best rug material for high-traffic areas."
Many different rug materials can be durable in high-traffic areas, but I have two favorites: nylon and wool. These represent the most durable synthetic and natural fibers. Keep in mind, construction of the rug will still come into play, but choosing these materials will be your best bet.
Also, consider your rug pad (click for a guide to rug padding) because it will make a difference in your rug durability and the floor beneath it.
Captain's parting words!
Now you should know the best rug material for your home. There may be a couple of options, but hopefully this material comparison helped you narrow the choices.
Padding for your rug is equally or more important to how it performs. I'd check out our rug pad guide next.
Any remaining questions on rug materials? Let me know in the comments below.