Updated: February, 2022.
Want a comfortable rug pad that doesn't slip all over the place?
Or maybe you just want something to protect your expensive rug or new floors.
Being around floors for the last 10 years, I've seen what types of rug pads damage floors, what features annoy homeowners, and the rug pads people love for years.
Now, the goal of this article is to help you figure out the best rug pad for your home (the exact pad specs you need varies based on a few of your home features… more on that later).
How to choose rug padding
I'll walk you through buying a rug pad like a good salesman would. But since I don't work for a rug manufacturer or don't get paid to push a specific product, you don't have to worry about a sales pitch.
Here's what we'll cover:
I'd recommend going through this guide from top to bottom, but you're welcome to skip to any of the sections listed above by clicking the links.
P.S. This is my most detailed guide on rug padding, but if you just want answers to the best rug pad for hardwood or laminate flooring, you can click that link.
Benefits of rug padding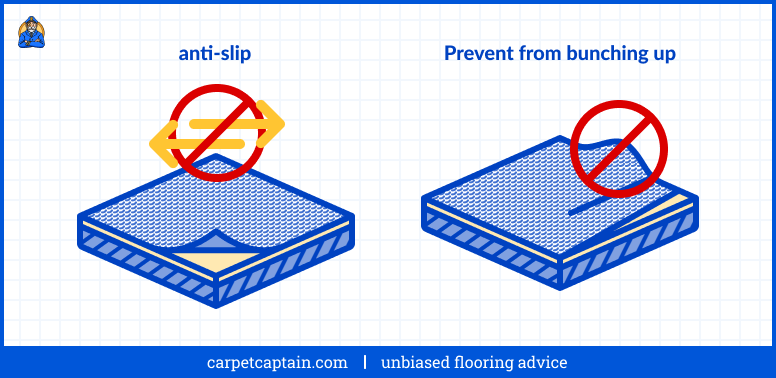 Rug pads are not just an upsell for the rug sellers. They bring several benefits to both your floor and your area rug.
The most important benefit is that the rug pad will keep your rug from slipping and getting bunched up. Bunched up or sliding rugs are a safety issue and potential tripping hazard for everyone, but especially kids, pets, and people with limited mobility. With the right rug pad, the rug will stay flat even on a smooth surface.
Did I say reducing slipping was the biggest benefit? On second thought, maybe it's the fact that it protects your floor and rug. This is especially true if you have an expensive rug. The padding will give a cushion, just like carpet pad does to carpet, that keeps the rug from wearing out prematurely. But it also protects the floor. Some rug backings are abrasive to the floor beneath it. A good rug pad should prevent this.
And there's also the benefit of insulation. This is a smaller benefit since the rug usually isn't over your whole home, but it provides insulation against cold floors (so your feet stay warm) and sound.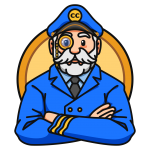 Captain's notice! When I link to a rug pad, I may get a small commission from Amazon based on what you buy. This does not affect what you pay or what I recommend. I only link to rug pads I would consider buying if I were in your shoes, and any commission helps pay the bills of the site.
What size rug pad do I need?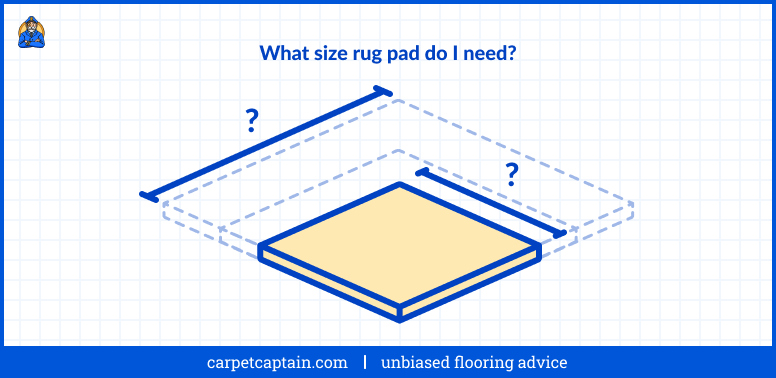 The first question you'll come across is what size rug pad do you need.
As you can guess, it's based on the size of your rug. Here are some common rug sizes, and the size of the rug pad you'll need:
| Rug Size | Pad Size |
| --- | --- |
| 9×12 | 8'10″x11'10" |
| 8×11 | 7'10″x10'10" |
| 8×10 | 7'10″x9'10" |
| 5×8 | 4'10″x7'10" |
| 5×7 | 4'10″x6'10" |
Side note: Amazon can actually be a pretty good resource for area rug padding. In particular, there is a "rug store" on Amazon I like. They let you filter by size, and you can see what other owners think of them, and what rugs they've had success with click here to check them out. (note: I receive a small commission if you buy through Amazon, but this doesn't affect the price you pay).
See the general trend?
The rug pad needed is 2″ shorter in the length and width. This makes a rug pad that is 1″ shorter on all 4 sides. Of course, you can always cut a rug pad that is bigger than your rug, and then trim it down, but definitely don't go with shorter than the guidelines above!
Materials for rug pads and how they perform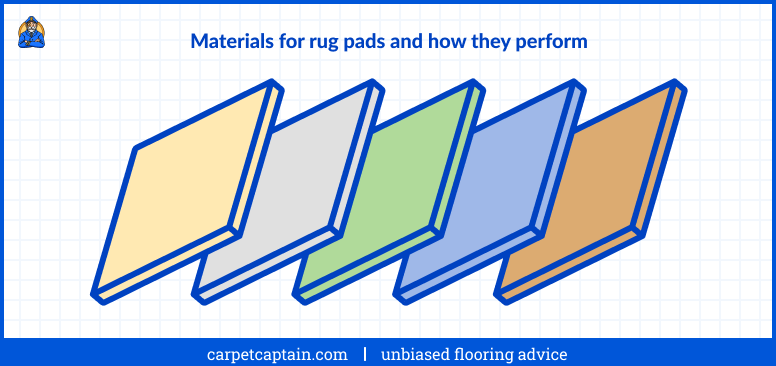 The material you choose for your rug pad makes a big difference in performance. You'll
PVC
Felt
Rubber
Felt/Rubber combo
Polyester and/or vinyl
Let's talk about each briefly, so you can be familiar with their pros and cons:
PVC rug pads are generally less expensive than others, but can cause some problems with the floor. The plastic chemicals do not interact well with vinyl or hardwood floors, causing discoloration or voiding the floor's warranty. They do make cheap non-slip surfaces. In most cases, I'd avoid PVC pads.
Felt pads are excellent for at extra cushion and support but do not do well at keeping the rug in one place. With larger, heavier rugs this will not be so much of a problem. Their thickness gives some added protection to your floor and more insulation under your feet. Felt pads are considered higher quality since they are great "shock absorbers" to give your rug protection. Here's a 100% felt pad on Amazon that comes in multiple sizes.
Rubber pads are thin and sticky. They provide a very small amount of cushion and insulation, nothing compared to felt. However, rubber only pads are perfect for smaller rugs where they critical job is keeping it in place. They're low profile so all you see is the rug; this is especially important for thin and small rugs. Here's a rubber pad on Amazon in multiple sizes that has good reviews and is fairly inexpensive.
Felt and rubber are the best of both worlds, and my top choice for most homeowners. They give more grip like a rubber pad, but also the comfort and protection of a felt one. Combined pads place felt on the top, to prevent abrasions on the rug's underside and rubber on the bottom to keep the rug from slipping. For most people with decent quality or better rugs, I think felt and rubber is the way to go. This is my favorite felt and rubber pad on Amazon at a good price. If that pad is too expensive, this is my second favorite felt + rubber pad, cheaper than the previous, but the rubber isn't quite as high of quality in my opinion.
Polyester and vinyl are usually used for rug to carpet padding. This material does well for preventing the rug from bunching on the carpet but also not damaging the carpet beneath.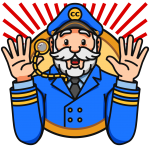 Captain's warning! If you're getting a rug for a carpeted floor, it's important to look for a pad that is specifically a "rug to carpet pad." Other rug padding designed for hard flooring may not work as well as it should on carpet, but worse, there's a good chance it will cause your carpet to blossom or fray.
Materials for rug to carpet pads.I've received a few questions on specifics of what type of padding is needed for carpet. Usually, the same type of materials are used that are used for hard floors: felt and rubber, but how they are composed can be different. You don't want the rubber too abrasive on the carpet, and it also helps to have a stiffer felt because the carpet already has some softness and give. Here a carpet to rug pad I recommend.
Still not sure which rug material you want? Your rug size can help you decide…
The last section gave you an overview of each material. And hopefully, it let you narrow down what you want.
There is one more consideration:
The size of your rug can help determine what material you should choose. Different sized rugs have different problems that the rug pad can fix. And depending on the problem to be fixed, different materials will be best:
Small rugs or runners
The smaller the rug, the harder it will be to keep it in one place without some sort of weight or padding. You will also want to keep the pad as thin and lightweight as possible since thicker pads would bring too much bulk underneath a small rug.
For these, a rubber pad is best, but it should allow air to flow freely or it can trap stale odors. The pad should be able to grip both the rug and the floor without sticking to your floor's finish. That way, the rug will be kept from bunching together or sliding when you walk on it.
Here is my favorite pad to support smaller rugs.
Medium rugs
Medium rugs, loosely defined as those 4-5 feet wide and up to 9 feet long, don't have quite the "banana peel" effect of smaller rugs where they slide under your feet. However, they still can have problems bunching up.
Unless your rug is under furniture, you'll want rubber in your pad to grip it.A blended material will do the job best, with the felt side able to grip the rug and the rubber side keeping it together. Usually, a medium rug pad will be between 1/8 and 1/4 of an inch thick.
Here is my favorite pad to support medium rugs (note: this is a fairly thin pad, which I prefer for most medium rugs, but if you want thicker check out my recommendation for large rugs below)
Large rugs
Large area rugs frequently take up most of a room and often have furniture such as couches and chairs placed on top of them. Those will help to hold it in one place, but even then the pads are necessary to keep the rug and the floor in their best condition.
A felt pad is ideal for large rugs that are heavy or bulky enough not to move on their own. They add extra comfort and provide a layer between the floor and the rug so neither of the more valuable items becomes damaged by constantly grating against each other.
If your large rug is in a high traffic area, is thinner, or tends to slide or bunch up to one side, then you would be better off using a combined felt and rubber pad to keep it in one place.
Here is my favorite pad to support large rugs.
Floor compatibility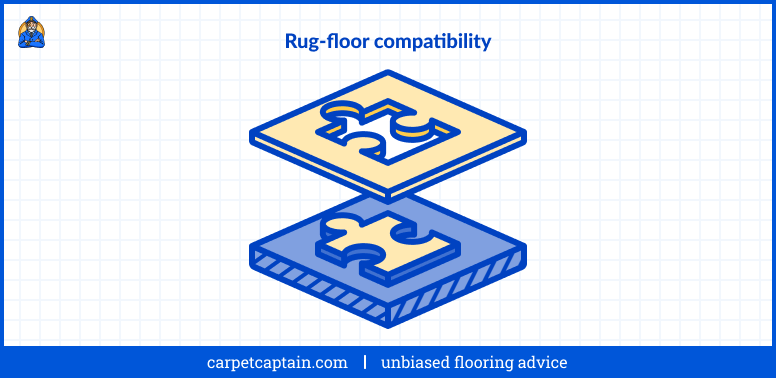 We've covered materials of rug pads and choosing your rug pad by size, but there is one more thing that may be the most important:
Compatibility with your floor.
One rug pad may work great on carpet, but it might slip on hardwood. Or another rug pad might leave your hardwood looking flawless, but stain luxury vinyl flooring that is under it.
The challenge here is there is no one size fits all answer. However, there are a few things you can consider.
If you're putting the rug pad on top of vinyl flooring, read the manufacturer's guide on the vinyl floor. Many prohibit the use of certain pad materials (PVC is a common one)
If you're putting the rug pad on carpet, there are carpet specific pads that may be preferred. Rugger based pads could wear on the carpet with time.
Outside of these two exceptions, most pads are universal with floors like tile and hardwood. However, considering the amount you invested into your floor, I would still read what the manufacturer recommends to be safe.
Rug pad thickness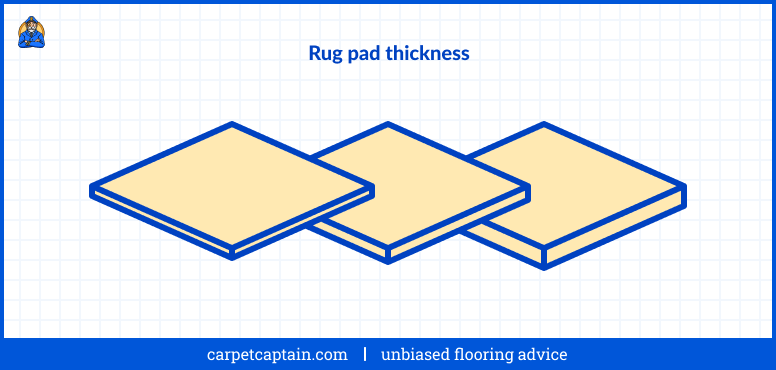 Another decision you're going to make is how thick of a rug pad you want.
Some people like to go with the "squish test:" pinch the pad between your fingers and figure out more comfortable.
But there's more to it than that. The thickness can affect the performance, functionality, and safety.
You'll find rugs pads anywhere from 1/16″ to ½". That's an 8x difference in thickness! Usually, people tend toward thicker pad, but there are times where thick may NOT be better:
with a thin or small rug (you don't want your pad getting more attention than your rug)
the rug has to be cleared by a doorway
with too thick of a rug (who wants to step over both a thick rug and pad?)
Shameless advertisement that I stand by: Want to shop for rug padding? Click here to check out a rug pad store
on Amazon that has great quality and lets you choose by about any size.
Thicker pads are going to cost a little more, and give your rugs more protection. If you have a nice, thick oriental rug, you'll want to protect it with a thick pad. However, if you have a thinner less expensive rug, you may just want your pad to keep it from slipping. You only need a thin pad to do that.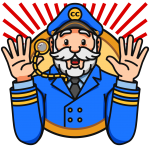 Captain's warning! Don't forget about your surroundings! While thicker pads are often preferred, be sure that you don't have a door that opens over the rug, or that the rug is in an area that potentially could be a tripping hazard. These cases a little thinner may be better.
Captain's parting words!
I hope this helped you pick out the perfect rug pad for you. But if you still want help choosing the best, here are my favorite rug pads for most situations:
Most people will want a felt and rubber mix because it gives you all the benefits: cushion, non-slip, insulation, and protection. My favorite felt-rubber pad is this one. These pads can get a little pricey, and if you want more of a budget option, this is second best.
If you have a really big rug or a rug that's under furniture, you may not need the rubber. You can get by with just a felt pad like this one.
If you have a small rug, the goal is to keep it from slipping beneath your feet like a banana peel. This rug pad should do the trick.
The rugs I chose above are a fairly standard thickness (in the middle). If you want more cushion, go thicker. If you're afraid of tripping or it getting in the way, go thinner.
Hope that helps. Let me know if you have any questions in the comments below.