Cork vs Bamboo Flooring
When I think of natural flooring, I think of cork and bamboo.
That's about where the similarities stop. In our 8 performance categories, you can see where both bamboo and cork shine. There's a few ties, but by the end of the article, the winner for your home should be obvious.
Durability
When it comes to durability, both cork and bamboo have excellent damage resistance. However, the way that they get that resistance is very different.
Bamboo outranks many well-known hardwoods on hardness, which means you can expect some resistance to scratches, dents, and general wear. The exact quality of varies manufacturer to manufacturer but expect any bamboo floor to be high on the hardness ratings: over 3500 out of 5000 Janka score.
Cork's durability is completely different. It is a very soft wood, but its natural springiness lets it bounce back from dents and it has excellent resistance to mold and mildew. Despite the softness of the wood, its density gives it the ability to withstand foot traffic.
One downside to cork is that you will not want to leave anything heavy on it for a long time. Also, you will want to leave runners or furniture pads on when moving heavy furniture because it can be scratched or cut.
Both cork and bamboo should be kept out of direct sunlight when possible, as their color will fade under strong UV light.
The winner? Bamboo
Cost
Cork and bamboo floors are about the same in cost. Prices for both start around 3-4 dollars per square foot and go up to about 8 or 9 dollars. For bamboo, you generally want to pay no less than four or five dollars per square foot at the low end, or else you may start to run into quality issues in the future.
These two floors are similarly priced, but bamboo tends toward the higher end of their range, while you can get a good cork in the middle range.
The winner? Cork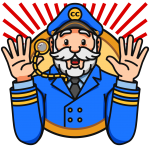 Captain's warning!
There have been concerns raised about formaldehyde being added to inexpensive bamboo flooring and other questionable manufacturing and fair trade practices. You may want to inquire about materials and be wary of especially inexpensive bamboo flooring planks.
Appearance
Bamboo floors can have either a sideways or vertical grain and look a lot like solid hardwood floors when laid out in planks. The color can vary slightly depending on the source and the manufacturer, but usually, they are sold in rich brown tones. If you want to mirror the look of hardwood floors, then you would probably prefer the bamboo over the cork.
Cork comes in a variety of texture and surface patterns. Many homeowners who opt for cork tiles will lay out those tiles in a way that their uniqueness suggests a pattern. No two cork panels or tiles will ever look exactly alike, which some homeowners love and others do not.
If you are not already familiar with cork flooring, you may want to bring home a few samples to see how it looks under your lighting and with your overall decor. With the right panels and colors, cork flooring can bring a beautiful, retro look to the home.
Appearance is subjective, and I've seen cork flooring look better than any other floor in certain rooms, but bamboo's classic hardwood look has much more versatility.
The winner? Bamboo (unless cork looks better in the room, then its cork 😉 )
Care and maintenance
Cork flooring's unusual pattern and coloring easily hides dirt and thus is very forgiving of lax sweeping and care. This can make it problematic if you are trying to get it clean, as you may need a few tries to ensure all the dirt and dust has been swept.
Cork also needs to be sealed to keep out moisture. If your cork flooring is in a bathroom, kitchen, or other wet areas you will need to follow the recommended resealing schedule to prevent the absorption of moisture.
Bamboo floors are very easy to maintain and clean. They can be cleaned with a damp mop or rag as well as swept regularly to keep out dust and dirt.
With both cork and bamboo, you will want to keep them clean to prevent the build-up of dust and dirt. Neither can be sanded down or refinished easily; bamboo is a grass, not a wood, and cork is too soft. If any area does become damaged, you will need to replace the entire board or tile.
The winner? Bamboo
Moisture resistance
Bamboo floors have some natural resistance to damp conditions. Although you would not want to get a bamboo floor wet it can be damp mopped. However, it is not usually recommended for bathrooms.
Cork contains a natural chemical known as suberin, which is what gives it natural protection against mold, termites and even allergens. Cork tiles are often glued down and sealed for use in bathrooms because they are better at preventing the growth of mold and mildew than ceramic or porcelain tile.
The winner? Cork
Sustainability
Both bamboo and cork appeal to homeowners who want to make their homes as green as possible. Unlike traditional hardwood, these two flooring choices can be renewed in a decade or less, whereas a forest may need decades before the trees are large enough to be re-harvested.
Cork flooring comes from the bark of the cork oak tree and it can be safely stripped every few years without causing any damage to the tree at all. On top of that, cork flooring is often made out of the leftovers from the cork bottle industry, keeping that waste out of the landfills.
Bamboo is also hailed as a green option for flooring. Bamboo grass grows very quickly and can be cut down and replaced every five years.
This is one area where you need to pay attention to the quality of the manufacturing. Some companies will cut down the bamboo stalks before they are fully mature and use chemical binders and fillers to make up the difference. Over time, these fillers can leak out and spread the chemicals to your home.
The winner? Cork
DIY Installation
Bamboo usually is sold as a plank, just as hardwood is, but cork can be sold as either a plank or a tile.
When installed as a floating floor, both bamboo and cork are relatively easy to install. Here, though, cork's softness will work against it. If you are doing the install yourself you will want to avoid hitting the cork with a hammer or mallet as that can dent the material. There are specific tools you can use which push them together without damaging the floor.
If you are gluing down cork tile, it can be a fairly labor-intensive process. Keep in mind that whether you are gluing down the cork floor or using a floating floor, you will need to make sure that the cork is either pre-sealed or seal it yourself.
Bamboo is a much harder material so it is easier to snap together floating bamboo planks without causing any lasting damage. Its natural toughness makes it resistant to nails and difficult to cut, so you need to be aware of that if you plan on nailing the planks down or cutting them to fit. Otherwise, bamboo is considered one of the easier types of flooring to install.
The winner? Bamboo
Comfort
One of cork's major advantages over bamboo is its softness underfoot and insularity. As you can imagine, the same hardness that makes bamboo so durable can also be felt while walking on it. In comparison, walking on cork is comfortable even without a layer of rugs underneath.
Cork also has better sound absorption than bamboo, which tends to amplify the sounds around it. If you live in a cold climate, cork floors are known to be better at insulating and regulating the temperature of the room than bamboo, which does not absorb changes in heat or cold as easily.
The winner? Cork
Captain's parting words!
I'm surprised both of these floors aren't used more often. They're unique, good for the environment, and have good performance in most flooring categories.
So which floor should you pick, bamboo or cork?
When it comes to price, you can expect to pay the same for quality bamboo or cork. Their appearances are distinct from one another, but both appeal equally to their fans.
Cork may be your better option if you are looking for a high moisture resistant, soundproof, or fully sustainable product. It's made out of the bark of a tree and regrown every few years without harming the tree itself and when sealed, will give the same moisture blocking abilities you find in a wine bottle's cork.
Bamboo appeals greatly to those wanting a very durable, hardwood floor that at the same time, isn't a hardwood floor. It is very easy to clean and does not need the regular sealing that cork would in a high-moisture environment.
Even where the two options stand out from one another, they are comparable, so whichever one you end up picking will not be significantly different in several key ways.
Any questions on bamboo or cork? Let me know in the comments below.
Average Cost To Install New Flooring
Price Range:
$1,215 - $2,460