Best Floor for Cats
I don't think picking a floor for a cat is as difficult as a dog.
Cats are light on their feet and many are declawed. This means scratching your floor isn't a problem.
The challenge with cats? They tend to want to puke up hairballs. And an older or not yet trained cat might think your floor is a perfectly good place to pee or poop (hopefully not!).
There's also the factor of what your cat likes. Because you do like your cat don't you? But really, we don't have to put too much stock in this. Your cat will find places it likes to hang out.
Picking my top floors for cats
There are many things I had to take into account to get my order of best floor for cats. First off, this is best for the homeowner with cats. It's not the best for the cat (see carpet below).
Second, all the floors in this list will work for cats. Especially if your cat is potty trained, nearly any floor will work. So if you hate a floor on the top of this list, keep moving down and you'll probably find something you like.
Some common things I took into consideration for best floor for cats were:
will it be easy to clean up vomit (or poop)?
is it easily damaged by moisture?
does anything make it difficult to clean in general?
how expensive is it and can you replace individual sections if there is damage?
1. Luxury vinyl
Luxury vinyl flooring can give you the look of almost any other type of flooring you can think of, from stone to hardwood, without having to worry about moisture. The surface layer is made out of plastic, and when sealed and installed correctly, there is no way for water or cat urine to seep through the luxury vinyl.
When you need to clean up after your cat, luxury vinyl makes it easy. You can mop, sweep, or clean up any messes with a damp rag. Its impermeability also prevents staining.
Despite its durability, luxury vinyl is one of the softer flooring materials out there. It insulates against temperature changes and the tiles or planks have a comfortable feel, which is good for your cat.
Luxury vinyl has better scratch resistance than regular vinyl sheets or tiles, due to its thicker protective layers, but it is not completely scratch-proof. You will want to pay attention to the protective layers and their width when choosing your luxury vinyl to keep your cat from scratching right through the floor.
This isn't to mention if your luxury vinyl is damaged, it is fairly cheap and maybe the easiest floor to DIY.
Interested in luxury vinyl? Check out our free unbiased guide on how to buy it.
2. Bamboo
Bamboo floors look attractive in almost any home and have many great features for cat owners too.
For one thing, bamboo floors are more stain-resistant than hardwood and more durable, so you do not have to worry about your cat staining your bamboo floors as long as you clean it up. They bear up well under heavy foot traffic and have enough texture to give your cat a secure floor to walk on.
Bamboo floors may cost a little more up front, but the longevity of the material means that with the right care they might last for decades.
For your cat, the bamboo floor is a surface smooth and easy to walk on. The bamboo is harder than hardwoods, which can make the floor a launching pad for acrobatic cat moves.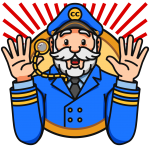 Captain's warning!
Always check the manufacturing process for bamboo. Some companies will cut young bamboo stalks, which reduces the durability of the finished floor.
3. Tile
Tile floors are also a great choice for water resistance. They tend to cost more than luxury vinyl, but you will be getting the "real thing" and even luxury vinyl cannot exactly match the look of a genuine stone, porcelain, or ceramic floor.
Porous tiles, such as natural stone, should be kept sealed to prevent any stains or moisture damage from your cat. Grout also needs to be kept sealed. Each manufacturer will have their own standards for how often that needs to happen, but aside from resealing the tiles, tiles require very little maintenance.
It is a hard surface, so you can easily sweep or mop up any messes or accidents that may happen. Cats can run and play on tile floors without ever harming the tiles, as tile is durable enough to handle a cat's claws and roughhousing.
The biggest downside for your cat is that tile floors are hard and can get cold very quickly. Cats excel at finding sunlight, and will probably choose the sunniest tiles if they want to be warm, but you should make sure your cat has some options for softer or warmer places to sleep if they want.
4. Laminate
Laminate floors are one of the most popular choices for homeowners, mostly because it has such a pet-friendly reputation. It may not be the best floor for cats, but if you want a budget-friendly option that works for you and your cat, it will work out.
Laminate planks show a picture of wood beneath a protective surface layer. This layer is designed to prevent your cat from scratching the planks and damaging that image.
If you want to choose a cat-friendly laminate floor, you should pay close attention to the quality of the protective layer. Generally speaking, mid to high-quality laminate floors are going to be more durable than the least-expensive laminates, and hold up longer if your cat decides to scratch them for any reason.
One downside to laminate is that it has a slick surface. When running or jumping on laminate floors, your cat might have a hard time keeping her footing. Also, there can be thin grooves left between the planks after installation, which may pose a hazard during play.
If you want to keep noise to a minimum, you should consider a soundproof underlayment. That way, your cat's nighttime races will not rattle as loudly throughout your house.
Laminate floors are slightly better at moisture control than hardwood, but you should clean any accidents or spills as soon as you can. If left unattended, the spills can seep through the laminate and damage to the fiberboard base layers.
Interested in laminate? Check out our free unbiased guide on how to buy it.
5. Hardwood
Hardwood floors are better for cats than they are for dogs, mainly because with cats there is less risk of them scratching or damaging the floorboards. You should still consider the type of wood floor carefully, and just as importantly, the types of stains, seals, and finishing that goes onto the floor.
Since cats are simply adding to the level of normal wear and tear, you can use a semi-gloss or low-gloss finish to hide the cat fur and dirt that gets tracked around the house.
One benefit to hardwood floors, if you have cats, is that they are so easy to clean. Fur can be swept with a broom or vacuumed off the smooth surface with almost no effort, leaving you with clean floors in just a few minutes.
Hardwood floors are also very durable. Cats usually do not scratch hardwood floors, but they could. Therefore you should choose a more durable hardwood so it can resist those scratches.
Mainly, cats simply add to the regular wear and tear your wood floor will experience. Over time the floor will need to be sanded down and refinished in order to look like new.
If your cat has an accident on the hardwood floors and you are not able to clean it up right away it can leave a lingering stain or odor behind. Wood is a porous material, which means that any moisture will be able to soak into it, especially if it is not sealed correctly. Sealant gives wood floors some protection against moisture.
6. Carpet
There's a lot of great thing about carpet, but the top 2 are its soft and a good insulator (against sound and temperature). The problem with carpet and cats is it's not easy to clean, and if your cat has its claws, it might try to scratch up your carpet.
Almost every cat owner will agree that carpeting is the most difficult floor if you own cats.
Carpet can be difficult to clean even without a cat in the home, and with cats, that chore becomes even harder. Cat hairs embed into the carpet and constantly need to be vacuumed loose, and messes need to be cleaned almost immediately before they soak through or dry.
Any cat, no matter how well trained and behaved, can have accidents and once cat urine soaks into the layers of carpeting, it can be nearly impossible to remove the smell. If you want the comfort of a carpeted floor, you might want to consider either carpet tiles or rugs instead.
Some cats see carpet as a large, horizontal scratching post, and will feel tempted to scratch and pull at it. From the cat's perspective, this may be a benefit, but certainly will not be one from your standpoint.
Carpet is very soft and makes a comfortable place for your cat to curl up and sleep. If you do choose a carpeted floor you will need to find one that has non-looped fibers, as those can catch on a cat's claws, and that has stain-resistance built-in.
So while carpet may rank last, if you want the floor that is best for your cat, carpet will be the choice that is most like a soft outside surface your cat will love. And at the end of the day, most cats are potty trained and carpet really won't be much of a headache at all. Just invest in a good vacuum!
Interest in making carpet work with your cat, check out our guide to carpet and pets.
Captain's parting words!
When it comes to your cats, not all floors are created equal. Some, such as bamboo, tile, and luxury vinyl, are great choices for cat owners. They are durable, resist moisture, and can be kept reasonably clean no matter what your cat does.
Other floors, such as hardwood and laminate, are more susceptible to the accidents or messes that your cat leaves behind. While these are still viable options for cat owners, they may require extra care on your part, and they are more likely to be scratched or worn down over time.
Carpet is considered the least viable option for cats, although even carpet has its benefits. Cats tend to love the soft material, and it is comfortable for them to sleep on at any time.
No matter which floor you choose to go into your home with your cat, you should always compare and contrast the benefits of each floor to make sure it is the smartest option.
Agree or disagree? Any questions on flooring with cats. Let me know in the comments below!
Average Cost To Install New Flooring
Price Range:
$1,215 - $2,460