Best Flooring for Bedrooms: 9 Best Options (Updated 2022)
Bedrooms are the most private areas in a house, and they're also the coziest. You want the utmost comfort in your bedroom, and the flooring can contribute to that. Bedroom flooring also needs to be long-lasting and good quality. 
If you want to replace old floors and install new ones, you need to know all about the best flooring for bedrooms. Join me as I take you through the ins and outs of bedroom flooring, and help you find the perfect fit for your room.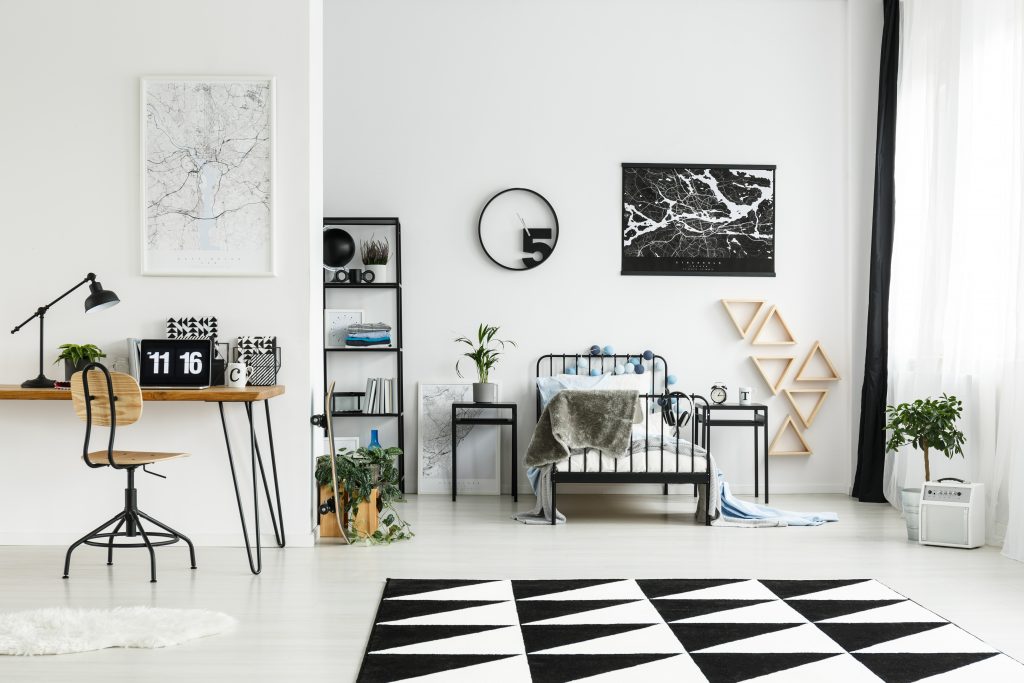 In Short 
Look for durable flooring that is easy to maintain and clean. 
Bedroom flooring for cold areas should provide insulation. 
Bedroom flooring should match the décor and appearance of the room. 
Find bedroom flooring that's sustainable, comfortable, and affordable. 
Natural wood flooring is an elegant option that looks great in any bedroom.
Luxury vinyl tiles, vinyl planks, or laminate flooring are more affordable than many other materials. 
For unique designs, choose clay tiles, ceramic, stone, or concrete floors. 
Carpets are best for providing warmth and comfort. 
Avoid soft floors like cork floors or potentially harmful ones like rubber floors. 
There are many flooring options available, and it's easy to get confused, especially if you're a first-time buyer. To help you experience the excitement of buying flooring, I'll take you through the essential elements. 
Below, you'll find just a few of the essential elements to consider when you're choosing flooring for your bedroom. 
Comfort
The flooring you install needs to be comfortable since you'll be walking or standing on it regularly. Natural wood, clay tiles, bamboo, and vinyl tiles or planks all feel good underfoot.
Laminate or concrete floors can feel a little uncomfortable, but you can increase the comfort levels by using soft area rugs on the floor.
Durability
When you're choosing bedroom floors, choose a strong flooring type that's durable and long-lasting. Natural wood, vinyl tiles and planks, and concrete are some of the most durable flooring options available. 
Bedroom floors don't receive as much traffic as a living room or foyer, but they need to bear the weight of heavy furniture like the bed, dresser, wardrobes, or even couches. 
Durable floors won't wear out easily and you don't need to repair or replace them frequently. 
Insulation
If you live in a cold area, you should purchase flooring that will insulate your home. 
Concrete flooring doesn't offer insulation, but is an excellent choice as you can use radiant heat. Carpets offer good insulation, but options like ceramic tiles provide neither heat nor insulation.
Aesthetics 
The ideal flooring depends on the aesthetics of your bedroom. If you prefer vintage decor or a cozy vibe, natural wood is your best bet.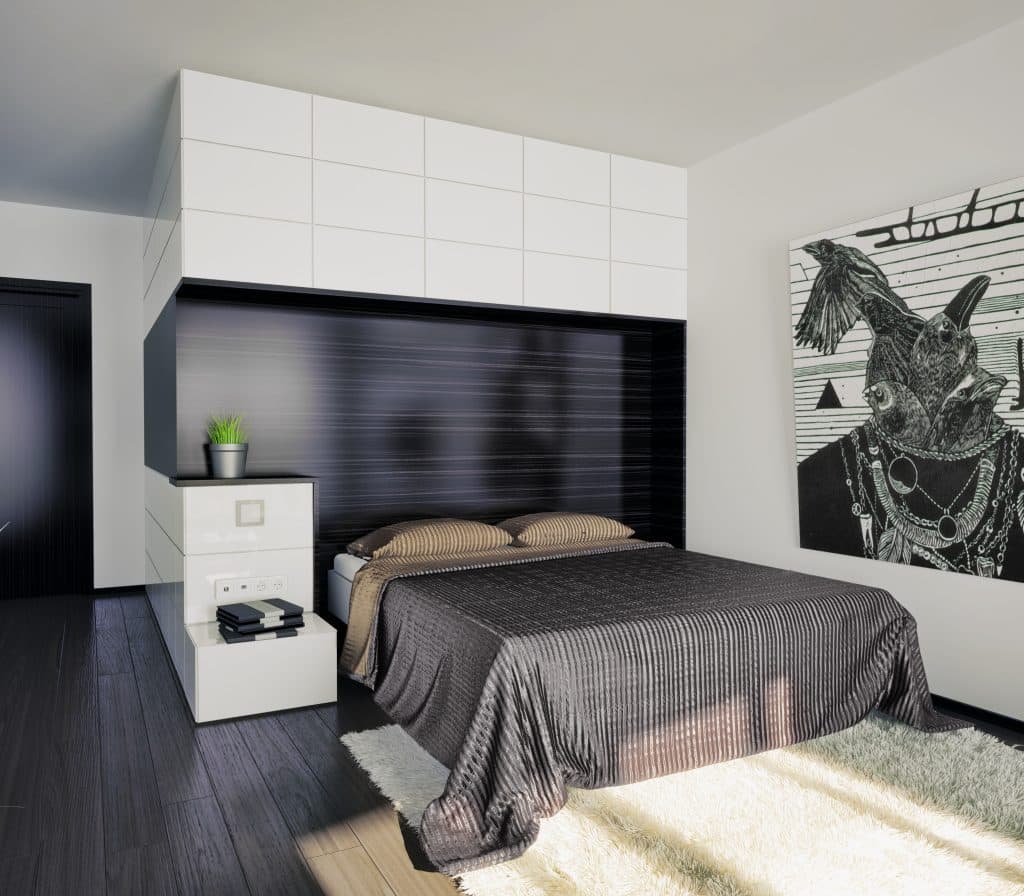 For bedrooms with modern or contemporary styles, laminate, vinyl tiles, or vinyl planks will look great. To give your bedroom a unique look, you can also choose clay tiles, ceramic flooring, or even stained concrete.
Cleanability
Maintenance and cleanability are other important factors that you need to consider when purchasing new floors. Bedroom flooring should be easy to clean. 
Natural wood floors, vinyl tiles, planks, laminate, and ceramic tiles are easy to maintain. You can clean them with a vacuum cleaner and a mop.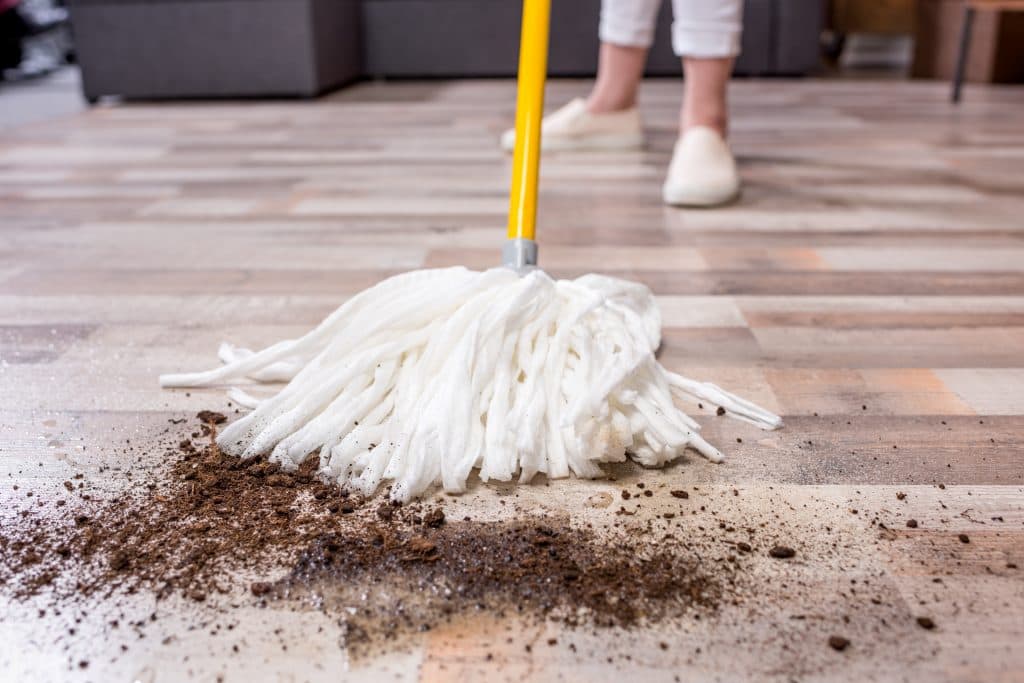 Stain removal is another aspect you need to consider. It's easy to remove stains from laminate flooring, vinyl tiles, and concrete. But you'll need to use proper stain removal agents to treat carpets and wooden floors. 
Affordability
There are several flooring options available, and you should look for one that fits your budget (check out these really cheap flooring options).

Natural wood flooring, ceramic tile, and clay tile flooring is often expensive. Laminate, vinyl, bamboo, and concrete floors are more affordable. 
You should also research the installation costs of each type of flooring before buying, as installation can add many extra costs.
Sustainability
Given the condition of the planet and the threat of global warming, it's important to incorporate sustainable practices. Installing eco-friendly flooring in your bedroom can be a step towards that. 
There are several sustainable options available when it comes to bedroom flooring, and you should select one that suits your budget and isn't harmful to the environment. 
The best kind of flooring for your bedroom will offer durability, affordability, and sustainability in one package, while providing the look you want. Before buying any kind of flooring, make sure that it checks all the right boxes. 
Read on to find out about the best bedroom flooring options available. 

Carpets
Carpeting your bedroom floor can provide comfort and a luxurious feel. Carpets are really suitable if you have young children as the cushioning provided will make sure that your children do not hurt themselves while running around in the house.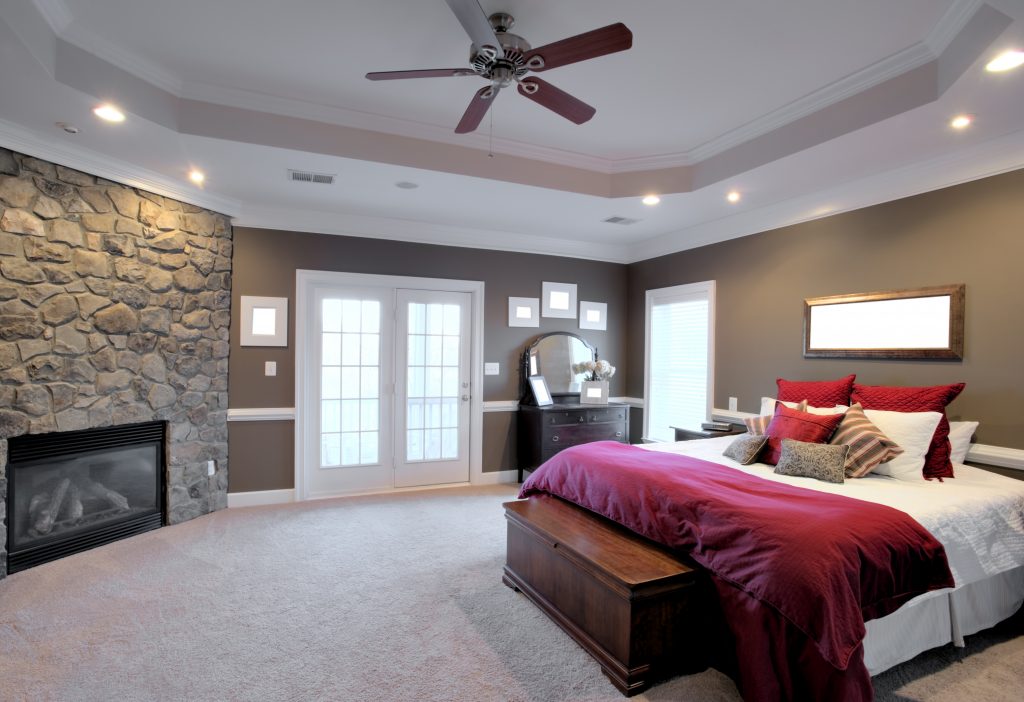 Pros 
Carpets offer insulation and are suitable for bedroom floors in cold regions. 
The soft surface of a carpeted floor offers comfort, especially to children and the elderly.
Carpeted floors absorb noise. 
Cons
Dirt, dust particles, and allergens can easily get trapped within carpet fibers and are difficult to remove.
New carpets can off-gas chemicals like formaldehyde leading to allergic reactions and illness.
Pricing
Carpets cost about $3 to $4 per square foot. The cost might vary depending on the type of carpet you choose. Carpets come in a range of styles and designs, like the cut and loop design. Always check the price of your specific product before purchasing.
Installation charges of carpet flooring ranges between $3.50 to $12 per square foot.
Maintenance
You should vacuum carpets once a week. 
If anything spills on the carpet, you should wipe the area immediately to stop the liquid from seeping in. Immediate cleaning also helps to avoid tough stains.
Installation
You can install carpets without hiring professional services. You'll need to take wall-to-wall measurements and prepare the subfloor to lay the carpet. You'll also need to install carpet padding before cutting the carpet to size and installing it.
Our guide to installing carpets on stairs can help you learn all the tips and tricks to installing carpets.

It's essential to note that some carpet brands only offer a warranty if you have the carpet professionally installed.

Clay Tiles
Clay tile flooring can add a rustic charm to your bedroom. It lasts a long time and feels comfortable underfoot.
Pros 
Clay tiles are tough and durable. 
Clay tiles are available in various shapes and colors. 
You can apply sealants to clay tiles to protect them from stains and scratches. 
Cons
Clay tiles can crack if not maintained properly. 
Clay tile flooring is porous and absorbs water.
Pricing
Clay tiles cost between $3 and $7 per square foot. Professional installation of clay tiles costs about $7 to $14 per square foot. 
Maintenance
To maintain clay tiles, vacuum and wipe the floor regularly. Use gentle cleaning solutions and avoid using solutions that contain acids, ammonia, or vinegar.
Installation
You should hire professional services to install clay tile flooring. The installation process can be long drawn and involves the use of heavy machinery. 

Vinyl Planks
Vinyl planks are thick and durable. Vinyl plank flooring is also waterproof. Given its resilient nature, this type of flooring is suitable for every room in the house, including the bedroom.
Pros 
Vinyl planks are easy to clean. 
Vinyl planks are extremely durable and last a long time.
Vinyl plank flooring is much more affordable than most other types of flooring. 
Cons
Vinyl planks aren't biodegradable. 
Vinyl planks can get damaged when exposed to direct sunshine.
Pricing
Vinyl planks can cost between $2 and $6 per square foot. Installation costs are about $3 to $5 per square foot.
Maintenance
Regular sweeping and dusting will maintain the quality of the floor. But you should use floor protectors beneath the bed and other furniture to help prevent scratches.
Installation
It's easy to install vinyl planks. They have a connection similar to a tongue-and-groove system, which helps the planks lock in place while you're laying the floor. 

Natural Wood 
Natural wood flooring is available as planks that have to be fixed on the subfloor. It's a popular choice for bedrooms and gives a luxurious look.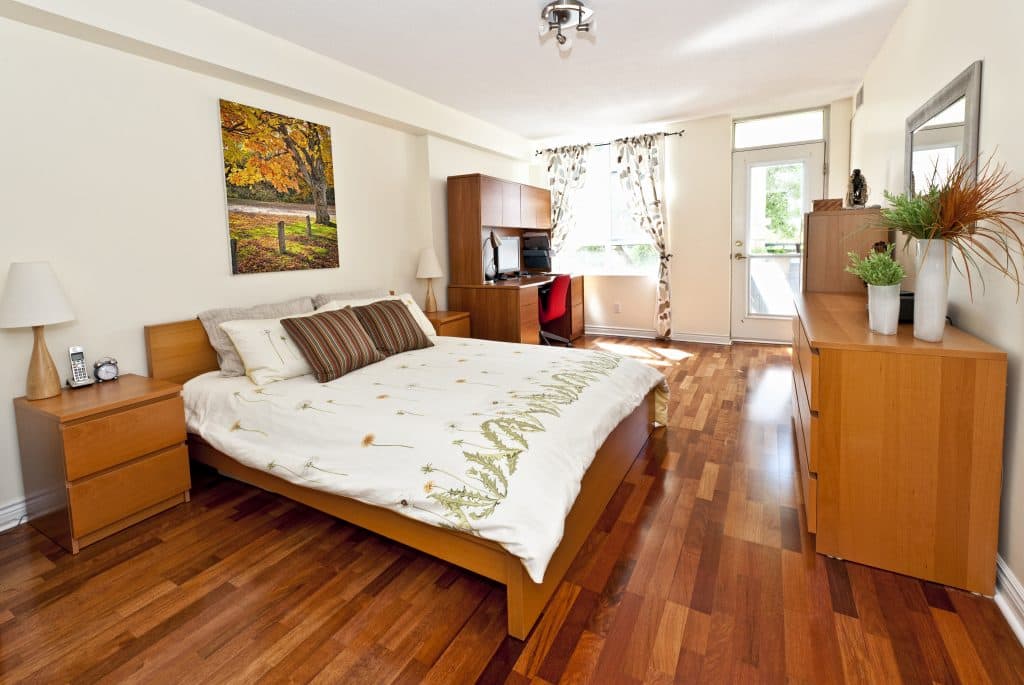 Pros 
Natural wood floors increase the value of the property. 
Feels warm and comfortable underfoot. 
Natural wood is recyclable and biodegradable. 
Cons
Natural wood doesn't offer thermal or sound insulation. 
Natural wood flooring is difficult to maintain as it has to be sealed and refinished occasionally.
Pricing
Natural wood flooring usually costs between $3 and $7 per square foot. Good quality hardwood flooring might cost $12 per square foot. 
The installation costs are usually between $3 and $5 per square foot.
Maintenance
You need to clean natural wood flooring regularly. You can sweep the floor, then use a microfiber mop and a suitable cleaning liquid.
Installation
You should hire professional services to install natural wood flooring as certain power tools are necessary to lay wooden floors efficiently. 
If you have some experience using pre-finished or factory-finished wooden flooring, you can do the installation as a DIY project!

Bamboo Flooring
Bamboo flooring is a great option if you're looking for an affordable, natural flooring product. It's suitable for bedroom floors and comfortable underfoot.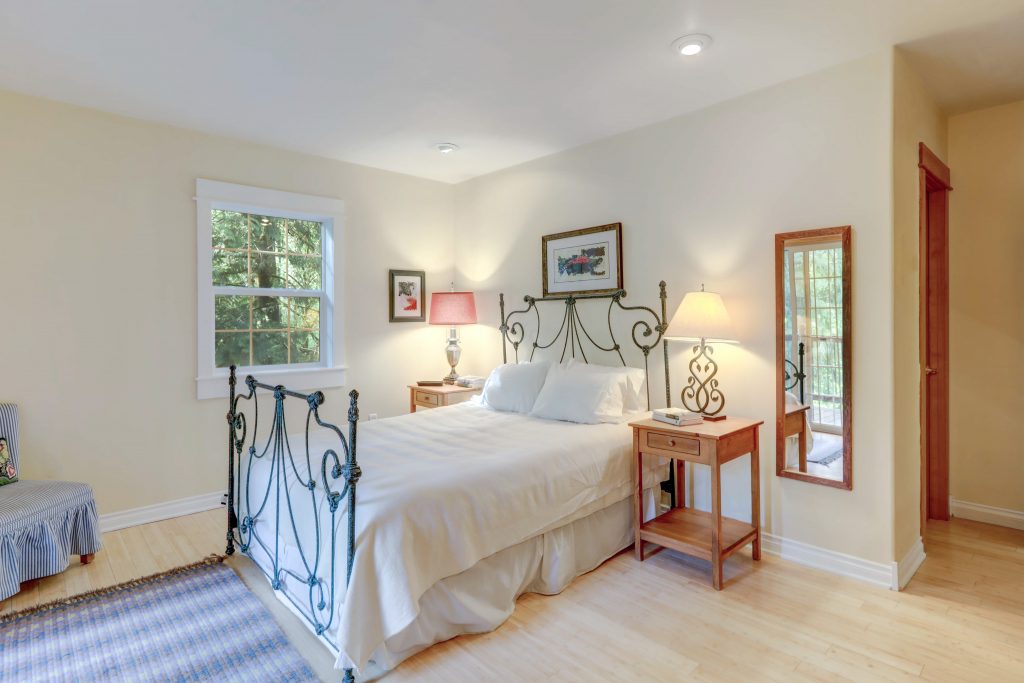 Pros 
Bamboo flooring is biodegradable. 
You can easily maintain bamboo flooring with regular cleaning and it doesn't require professional maintenance services.
Bamboo flooring is affordable when compared to other natural flooring products. 
Cons
Bamboo flooring can get scratched easily.
Low-quality bamboo flooring can emit toxic chemicals.
Pricing
Good quality bamboo flooring costs $3 to $5 per square foot. On average, you'll pay between $5 per square foot and $15 per square foot for installation.
Maintenance
You need to clean bamboo floors every day. You should wipe and treat stains with mild cleaners. 
It's a good idea to use door mats and rugs to reduce the dirt and dust on the floor.
Installation
Bamboo flooring isn't easy to install without professional help, but you can do it. You'll have to seal the subfloor to eliminate moisture, lay the underlayment, and then fit the bamboo. 
As with most types of wood, it expands and contracts depending on the temperature. After purchasing, give the bamboo some time to acclimate before installing it. 

Luxury Vinyl Tiles
Luxury vinyl tiles often resemble natural flooring materials like wood or stone. This type of flooring is durable and is resistant to humidity. Luxury vinyl tile flooring is an excellent choice for bedrooms. 
Pros 
Luxury vinyl tiles last a long time.
Feel soft and comfortable underfoot.
Luxury vinyl tile flooring is resistant to stains. 
Cons
You can't remove old luxury vinyl tiles easily. 
Luxury vinyl tile flooring can dent if heavy furniture is placed on it. 
Pricing
The cost of luxury vinyl tile flooring is $2 to $7 per square foot. The overall cost of vinyl flooring is also affected by installation costs. You can expect to pay between $7 and $10 per square foot for installation.
Maintenance
The easiest way to maintain luxury vinyl tiles is to clean regularly using a neutral floor cleaner and a damp mop. You can also use a damp cloth to wipe stains. 
Vacuum often to get rid of dust particles and loose dirt.
Installation
If you're looking for a type of bedroom flooring to install without professional help, luxury vinyl tile is the best choice. 
You'll need to sand the subfloor and mix the adhesive properly to ensure smooth and hassle-free installation. You can also hire professionals to do it for you. 

Laminate Flooring
Laminate flooring is synthetic flooring with multiple layers. It has a protective layer on top and can be of varying thicknesses. 
Pros 
Laminate flooring is affordable. 
Mimics the style and look of natural wood. 
Laminate flooring is available in different shades and designs. 
Cons
The wear layer of laminate flooring gets damaged easily. 
The surface of laminate flooring is hard, and children or older people can get injured.
Pricing
Laminate flooring costs $2 to $4 per square foot. You'd pay $5-6 for professional installation.
Maintenance
To maintain the shine and condition of laminate flooring, you should clean it with gentle cleaners. You can also vacuum to get rid of dust and dirt particles.
Installation
Even amateurs can easily install laminate flooring as it doesn't involve mortar, adhesive, or grout. You simply sweep the subfloor and install the underlayment, then you can fit the laminate floor planks. 

Concrete Flooring
Concrete flooring might sound a little plain for your bedroom, but you can choose from various styles. Stained, painted, or patterned concrete can add a quirky feel to your bedroom. 
Pros 
Concrete flooring offers many design options.
You can add radiant heat to concrete flooring for warmth. 
Concrete flooring is durable and easy to maintain. 
Cons
Concrete floors are hard and can feel uncomfortable. 
Cracks may appear after long-term use.
Pricing
Plain concrete floors usually cost around $2 to $6 per square foot. But high-end stained concrete is expensive and the price usually ranges between $12 to $25 per square foot. 
This price difference is because high-end stained concrete features hand-finished stains, stencil work and sawcuts, and also includes slab preparation. 
Installation of a basic concrete floor will cost about $3.75 per square foot. But installation of embedded concrete flooring can cost up to $20 per square foot. 
Maintenance
Sweeping and wiping concrete floors regularly is all the maintenance they need. Concrete floors are usually resistant to stains and scratches, and you don't need to worry about taking any extra maintenance measures. 
Installation
Professionals should install concrete bedroom floors. They need to prepare the surface and treat the concrete to give the desired finish. Later, they need to add a sealant to seal the final look.

Ceramic Tile and Stone
Ceramic tile and stone flooring are available in various designs and add character to a bedroom. This flooring is most suitable for warm regions because the surface of the floor is often cold. 
Pros 
Ceramic tile and stone flooring are long-lasting and durable. 
Ceramic tile and stone aren't easily damaged by excess moisture. 
You can easily remove allergens or dust particles from the surface. 
Cons
Ceramic tile and stone flooring don't provide insulation. 
The floor surface is hard and can feel uncomfortable.
Pricing
Ceramic tile and stone cost around $5 to $7 per square foot. Installation costs about $6 per square foot, which is almost equal to the cost of the material.
Maintenance
Cleaning with a vacuum cleaner every day will keep the floors in good condition. You can wipe stains with a damp cloth. 
Consider using heavy-duty floor cleaners once in a while for thorough cleaning.
Installation
Installing ceramic tile and stone flooring is a time-consuming process and requires some experience.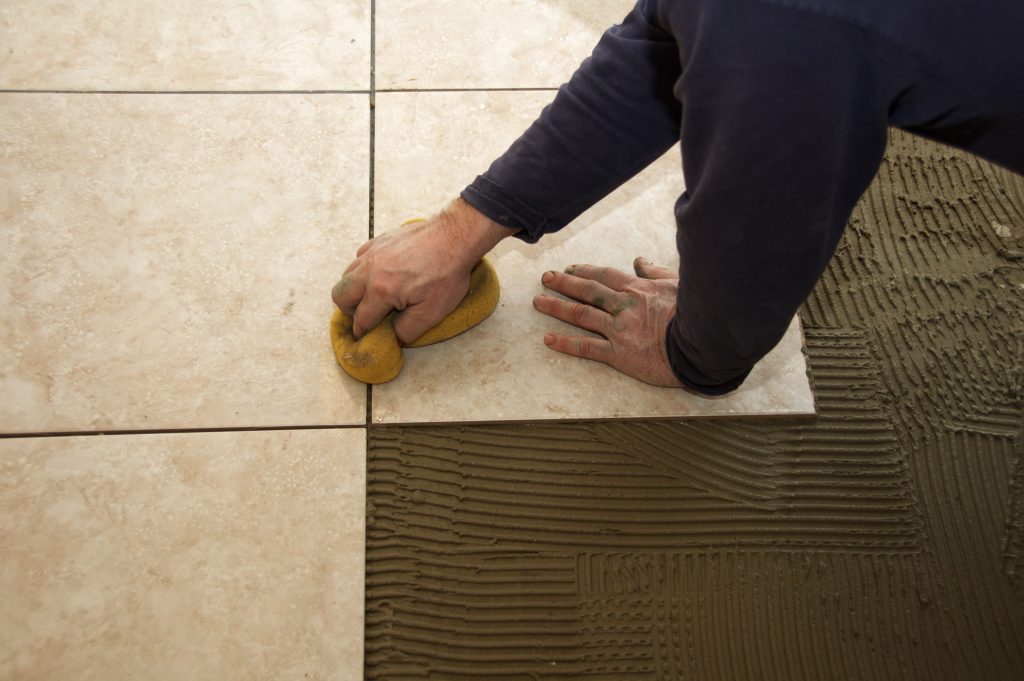 The material is heavy, and you need to apply a layer of cement board over the subfloor before laying the flooring. It's better to hire a professional installation service. 

Which Flooring Isn't Suitable for Bedrooms?
While there are many suitable bedroom flooring options, there are some that you should avoid. Cork and rubber flooring aren't great options when it comes to bedrooms. 
I'll discuss both these types in detail below. 
Cork Flooring 
Cork flooring is softer than most other floors. Heavy furniture like beds or sofas can leave a permanent indentation on the soft surface of the floor. 
Since your bedroom will have at least your bed, if not other pieces of furniture, it will affect the floor's surface significantly. Cork flooring also gets damaged easily and will need frequent repairs or even replacements. 
Rubber Flooring 
People use rubber flooring in gyms or alfresco areas but not usually in homes. The reason behind this limited use is that rubber has potentially toxic effects thanks to offgassing. 
Some people are unknowingly allergic to rubber, and using rubber flooring in the bedroom can trigger that allergy. 
Rubber flooring also has a persistent, and potentially unpleasant, odor. The rubber smell qualifies as an environmental odor and can adversely affect your health. 

Is Bamboo Flooring Durable?
Bamboo floors, like most natural flooring materials, are durable. Solid bamboo flooring doesn't get damaged easily and can withstand heavy traffic without any noticeable signs of wear.

Are Hardwood Floors Easy to Clean?
Hardwood floors are easy to clean.
You can clean hardwood floors easily by regularly sweeping to remove dirt and dust. You can use suitable cleaners to mop the floors. 

How to Measure Carpet for Your Bedroom Floor?
If you're installing carpets, you'll need to measure the space. 
The easiest way to do this is to measure the length and width of the room from one wall to the other. Add a couple of inches to each side, allowing you to compensate for any unexpected surprises.

What Is the Best Flooring for Bedrooms If You Have Pets? 
Vinyl flooring, including luxury vinyl tiles and vinyl planks, are most suitable for pets. If your pets come into the bedroom, you should install vinyl floors as they don't get scratched easily and are resistant to stains.

Is It Better to Hire Professionals to Install Bedroom Flooring?
It depends on the flooring type.
You can install certain flooring types without professional assistance. These include luxury vinyl tiles, vinyl planks, and laminate flooring. 
It's best to have professionals install options like hardwood floors, concrete flooring, and clay tiles. If you have no experience with installing flooring, consider hiring professional services. 
Now that we've reached the end of this guide, there's only one more thing that you should know: your bedroom flooring is as crucial as the décor and furniture! So, take some time and invest in beautiful, but durable flooring materials. 
If you have any doubts or wish to explore other materials, check out our other detailed guides and select your best floor in no time! 
Let us know your thoughts or queries in the comments below.