Floating Floor – The Ultimate Guide [Updated in 2021]
Thanks to their affordability and ease of installation, floating floors are gaining popularity. A newcomer to this flooring can feel overwhelmed by all the available options.
Let's look at the options, advantages, and drawbacks of this installation type.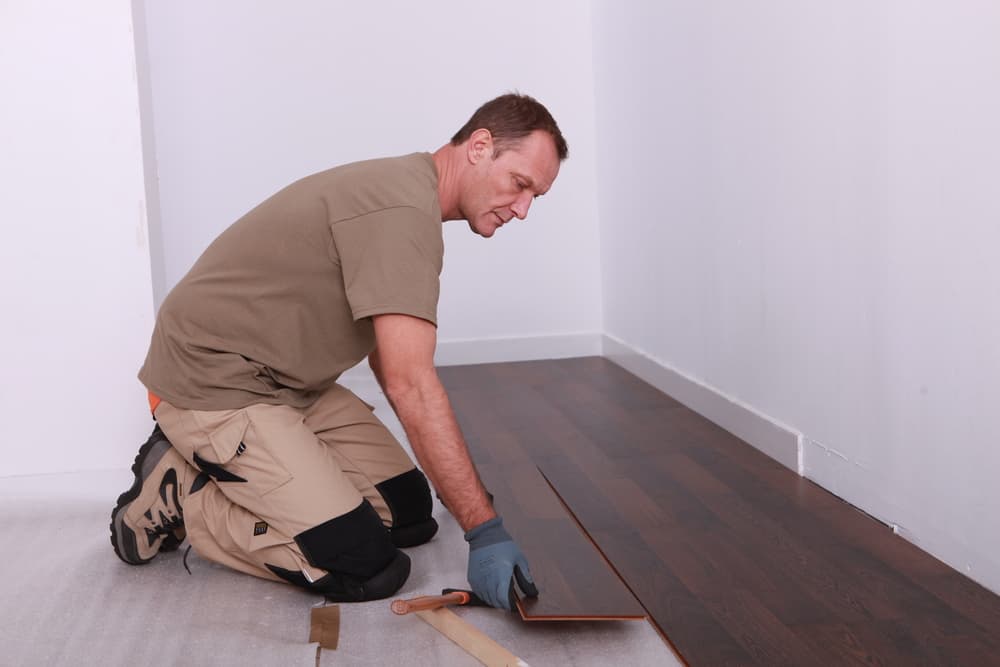 In Short
Floating floors aren't a specific type of flooring, they're a way of installing floors.
Most flooring types used for floating setups aren't waterproof, but a few (like Nucore's vinyl planks) are.
Some flooring types used this way are inexpensive (vinyl costs as little as $1/m2), while others are costly (engineered planking averages around $50/m2).
Laminate flooring is the most popular type of floor for floating, while vinyl is the cheapest.
You can do a floating installation over an existing carpet.
Underlayment is vital for a proper installation.
This is one of the easiest ways to install floors.
Many flooring types that you can use as floating floors are prone to water damage.

What Is a Floating Floor
A floating floor isn't a specific type of flooring, it's a way of installing floors. While most traditional installations involve gluing or nailing the flooring to the subfloor, floating installs rely on friction and clever engineering to keep the floor in place. You don't attach them to the subfloor, though you need to place them beneath door jambs sometimes.

Types of Floating Floor: Laminate Flooring
Laminate flooring is an affordable alternative to solid hardwood. Laminates consist of anything from bamboo to walnut or pine. This is one of the cheapest flooring types.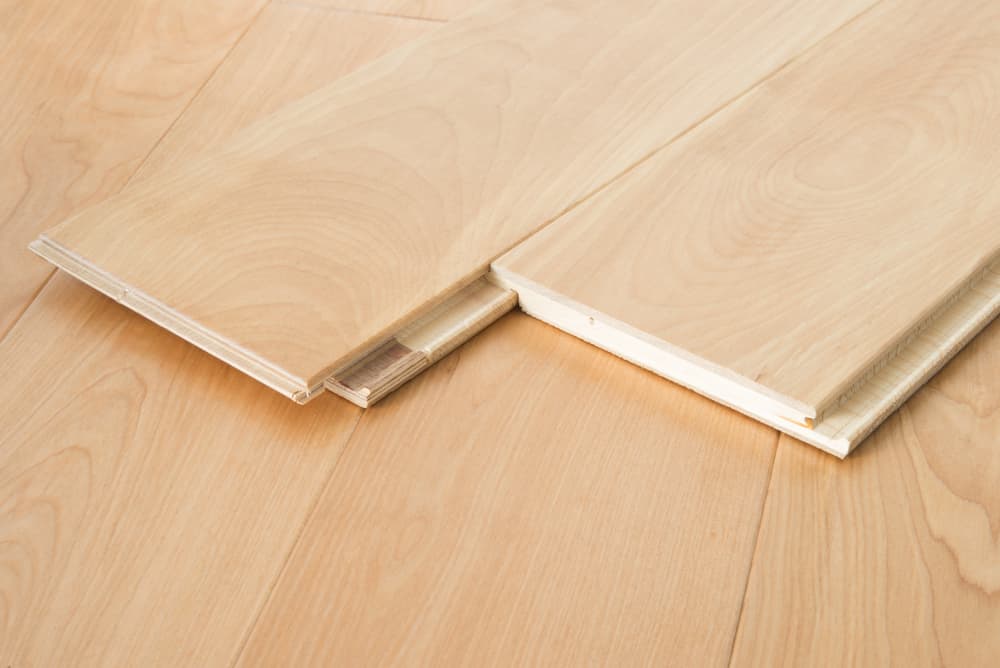 Pros of Laminate Flooring
Easy to install
Inexpensive
Stain-resistant
Cons of Laminate Flooring
Prone to water damage
Can look artificial
Pricing of Laminate Flooring
Laminate flooring options vary in price. Some budget options, like bamboo laminates, cost as little as $2 per square foot. Luxury types can fetch $80 or more per square foot. 
Typically, there's not a lot of difference between the different price ranges. The more expensive products usually contain costly types of hardwood, and it's their aesthetics that draws customers. Some high-priced options also undergo special processes to make them sturdier.
The Verdict: Is Laminate Flooring Right for You?
Laminate flooring is an ideal option for most rooms. 
But, can you put laminate in the bathroom? Yes, but I'd recommend using an alternative, like vinyl, in bathrooms and kitchens. Even water-resistant laminate flooring types are susceptible to water damage.
One advantage to this flooring is that you can buy almost any type of wood imaginable, for less than solid hardwood. The tongue-and-groove installation method also makes it an easy DIY project that you can do in a few days.
For more information about these floors, check out my laminate floor guide. It includes a comprehensive overview of different types and other detailed information.

Types of Floating Floor: Vinyl
People often confuse vinyl flooring and linoleum, since they have a similar appearance. Linoleum has been around far longer, and consists entirely of natural ingredients, while vinyl is entirely artificial. 
Vinyl offers excellent value and is a worthwhile option. The range of products has expanded over the years, and we now see luxury vinyl plank flooring even in high-end establishments.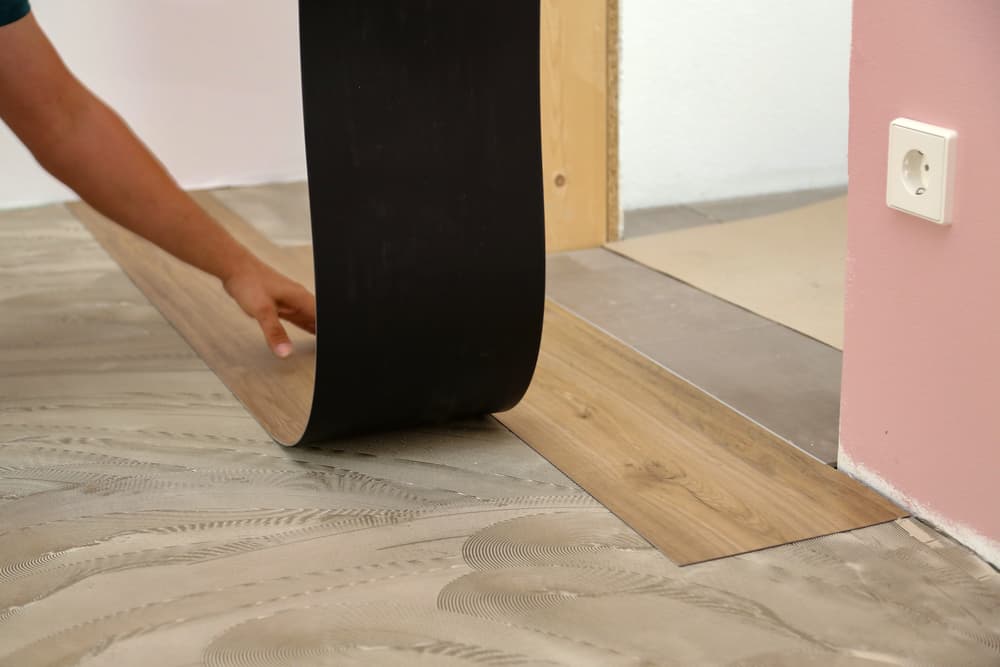 Pros
Cheapest type of floor for floating
Waterproof
Easy installation
Cons
Can dent easily sometimes
Lacks stain resistance
Pricing
Vinyl flooring is the cheapest flooring option for a floating install. You can pay as little as $1 per square meter (sometimes less in bargain bins). Vinyl plank flooring can cost more than rolls of vinyl, but typically not by much. Luxury vinyl flooring can fetch over $100 per square meter for high-end products. 
The Verdict: Is Vinyl Right for You?
From the most inexpensive vinyl plank flooring to the luxury models, this flooring offers value for money. It has stood the test of time, and its waterproof durability makes it an excellent option for kitchens and bathrooms.
If you're unsure whether to pay more for luxury vinyl flooring, you can consult the luxury vinyl vs. traditional vinyl comparison.

Types of Floating Floor: Foam Mat Tiles
People usually install this type of flooring in areas that receive a lot of traffic or heavy use. 
From the playmat type options used in kindergartens to the industrial varieties that garages use, the options are limitless. You can also buy products similar to foam mat tiles that consist of rubber and other flexible materials.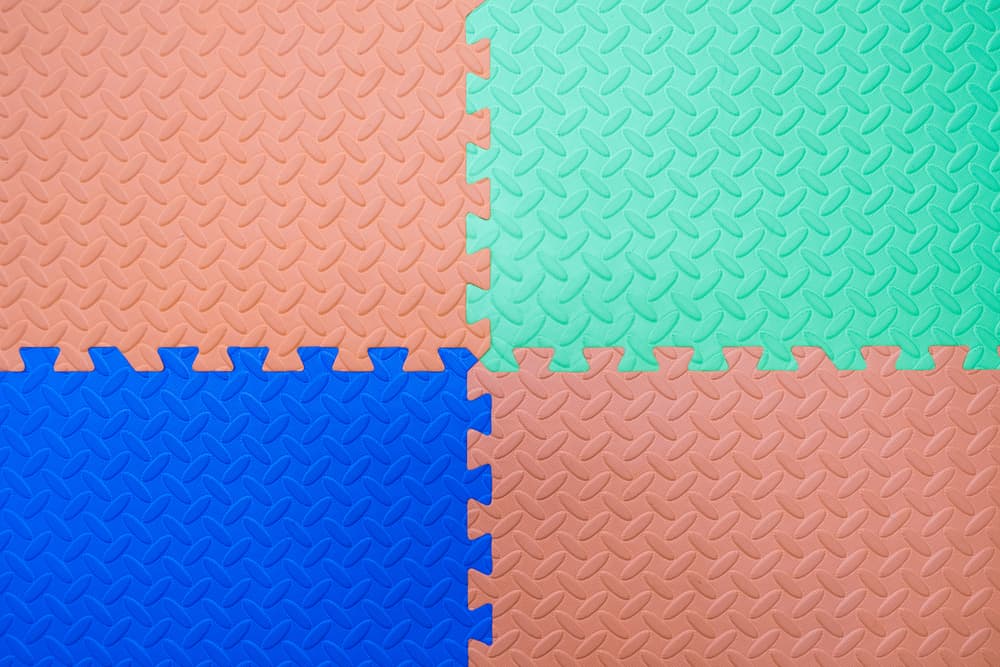 Pros
Easy to install
Easy to clean
Mostly waterproof
Cons
Some types damage easily
Water may leach into the underlay through the joints
Pricing 
As with other flooring types listed here, foam mat tiles come in various budget ranges. While you can find inexpensive options for as little as $1 per square foot, industrial options can cost as much as $80. You can almost certainly find an option to fit your flooring budget.
The Verdict: Are Foam Mat Tiles Right for You?
Their jigsaw puzzle type installation and wide range of prices and durability levels make foam mat tiles ideal in some ways. Many car dealerships use industrial foam mats as they provide comfortable flooring that works well for the cars. They're also popular for gyms and yoga studios.
I'd say this option is ideal for high-traffic areas, or where you need functionality. Traditional foam tiles aren't particularly beautiful, but marble- and wood-look foam mats are also an option.

Types of Floating Floor: Engineered Planks
Engineered planks are a relatively modern design that places a thin portion of solid hardwood on a structure made from faster-growing woods. They incorporate the same tongue-and-groove design as most laminate floors.
Designs come in as many types as there are hardwoods, and you can buy anything from walnut to locust wood. You get laminate and vinyl versions as well, but they aren't truly engineered planks.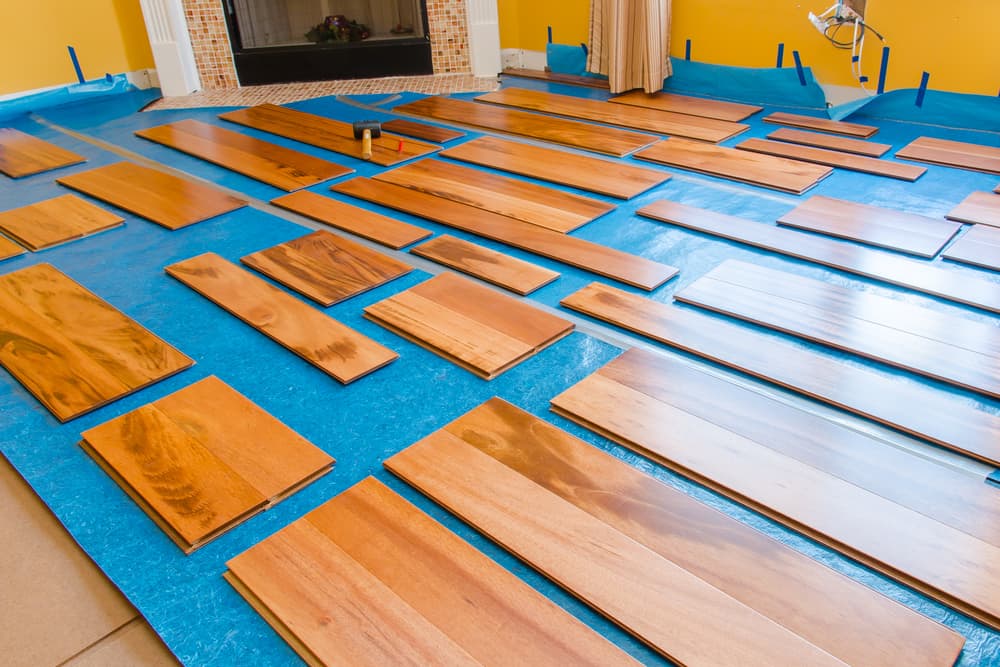 Pros
Cheaper than solid hardwood
Easy to install
Variety of styles
Cons
Expensive compared to other options for floating
Scratches easily
Pricing
While engineered planks are considerably cheaper than solid hardwood floors, the average options are still more expensive than laminate or vinyl. 
You can get inexpensive versions, usually eucalyptus or bamboo, for as little as $5 per square foot. These aren't genuine hardwoods, though. Mixed-species planks are an excellent option and sell for as little as $6.
Mid-range products, like oak or hickory, go for around $50 per square meter. For a genuine hardwood like oak or walnut, you'll struggle to find options for under $100 per square meter. 
The Verdict: Are Engineered Planks Right for You?
If you're willing to pay a bit more, engineered planks offer an excellent hardwood look. The rich tones, easy installation, and price (compared to hardwood) make this a desirable option.
You might prefer something like a floating tile or laminate flooring for high-traffic areas, as these scratch easily. If you're not picky about the type of wood, some options cost the same as mid-end vinyl.

Types of Floating Floor: Floating Tiles
Floating tiles are a relatively new concept and show great potential for the future. Unlike traditional tiles, which you attach to the substrate (see image below), each tile has an interlocking base plate (of which images are very hard to find). 
The base plate of each unit locks into the base plate of the next, creating perfect tile spacing and a uniform floor. Although you don't need mortar, you still need to apply acrylic-based grout to fill the gaps between the tiles.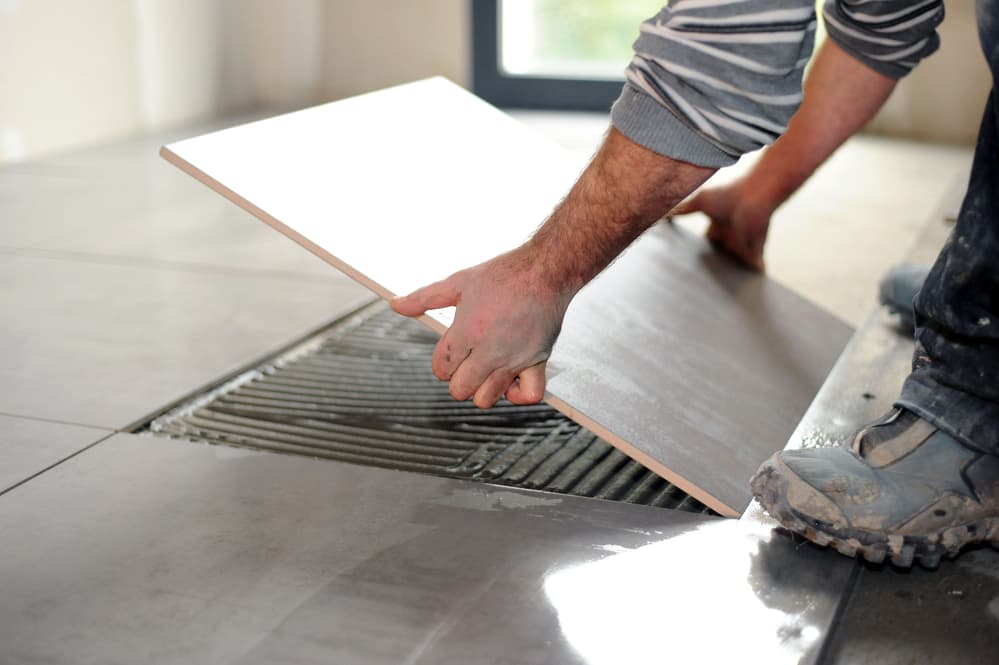 Pros
Easier to install than conventional tiles
No mortar needed
Automatic tile spacing
Cons
Expensive when compared to standard tiles
Cracks more easily than conventional tiles
Pricing
You can expect to pay approximately $45 per square foot on average. You may see this type of product for as little as $5 per square foot, but the cheap options are usually of inferior quality.
The Verdict: Are Floating Tiles Right for You?
While I'm confident that this flooring type will become a staple, we're not there yet. Due to inconsistencies in the base floor, or the tile base plates, these floors are prone to cracking.
They're also expensive to install and not yet available in many different looks. If you want to play around with this type of flooring, I suggest waiting a few years or using it in low-traffic areas.
If you're new to tiles and want to learn more, my guide to tile types might come in handy.

Advantages of Floating Floors
Floating floors' main advantage is that they're easy to install. Most varieties have an interlocking system that even a novice DIYer can use.
Many varieties are inexpensive, which makes them preferable over traditional options. It also makes it a lot cheaper to replace any damaged floor units.
Finally, most of the flooring types used in floating setups are stain-resistant and easy to clean. 

Disadvantages of Floating Floors
The main disadvantage of these flooring types is that many aren't waterproof. Engineered planks and laminate flooring are both prone to water damage.
Some people don't enjoy the way that these floors amplify sound. The real estate market hasn't caught onto the trend and sometimes offers less for homes with floating flooring.

Pros and Cons at a Glance
Here are the advantages and disadvantages at a glance.
Pros
Easy to install
Perfect for DIY flooring projects
Affordable (depending on the type)
Replacing damaged flooring is easy
Stain-resistant
Cons
Moisture damage is common
They can sound hollow
Could lower real estate value

Frequently Asked Questions
I've accumulated some of your frequently asked questions and answered them. If you'd like to know something else, feel free to comment below.
Is a Floating Floor Easy to Install?
The difficulty level of installing floating floors depends on the type of flooring you choose. Some simply roll into place, while others need to click or lock together. 
Vinyl rolls are exceptionally easy to install, and you can finish a room in a little over one hour. Engineered planks, laminates, and similar types of flooring will take longer because you need to cut the boards and space the walls.
Altogether, most floating floors are exceptionally easy to install and you can easily turn them into DIY projects.
Is a Floating Floor Waterproof?
In short, it depends on the flooring type you install. Most floors used in floating setups aren't waterproof due to their tongue-and-groove installation method. Other types have a click-together installation, which still allows for seepage. 
Foam tiles are relatively waterproof, but liquids will still seep through the joints. You can buy 100% waterproof vinyl flooring. 
With the wooden options, it's best not to consider them waterproof. Even the water-resistant laminate flooring options can suffer from moisture damage. 
Can Floating Floor Be Installed Over Carpet?
Yes, you can use a floating installation over your existing carpet. All types of floating flooring work equally well for this purpose.
People often use vinyl or laminate flooring when installing floating flooring on carpets. Essentially, the carpet takes the place of the underlay, keeping the new floor in place.
What Keeps a Floating Floor From Moving?
Several factors conspire to keep your floating installation in place. These are:
Mass – The mass of the collective floorboards results in a heavy mass that's hard to move.
Underlay – The underlayment beneath the flooring creates a friction lock that keeps the tiles or boards in place. Check out our underlayment guide to learn more.
Pressure – Unseen to the naked eye, the walls surrounding the floor apply mild pressure and keep it confined. 
Engineering – Most flooring types in floating setups lock together. This act of joinery helps prevent them from shifting.
How Much Does Floating Floor Cost?
The average price for installing this type of floor is between six and ten dollars per square meter.
The cost varies depending on the type of material you choose. Vinyl is the cheapest option and can cost as little as one dollar per square foot. Engineered boards are at the higher end of the range, and luxury models can cost as much as $50 per square foot. 
Can You Install Floating Floor Under Cabinets?
You can install floating floors under cabinets, and some manufacturers even design materials for that purpose. While you don't have to use specific under-cabinet floating floors, their design often saves time. Consider a waterproof option like vinyl if you want to install this type of setup under bathroom or kitchen cabinets.
If you found this article about floating floors helpful, we have many other articles you may enjoy. 
For more information about the different types of flooring, check out our guide to flooring options. If you like to do your own installations, you'll love our guide to the easiest DIY flooring. We hope you find the floor of your dreams, and if you have any questions feel free to drop a comment below.