Rug placement is hardly an exact science. If you ask a hundred interior designers how to place an area rug in a room, you may receive 100 answers.
That said, I'd compare rug placement to clothing styles:
There are some things you definitely should not do, and on the other hand, there are guidelines you can follow to give your room the best chance (just like when I've packed on a few pounds, I'm told not to wear a shirt with horizontal stripes).
Let's start with general rug placement guidelines, and then dive into tips for specific rooms.
General rug placement guidelines
There are a few basic rug placement guidelines to follow no matter where you're putting your rug. So let's start with these. Then, we'll cover specific rooms and situations for your rug next.
The first thing to consider with rug placement is how it complements the flow of the room. You want the rug to fit in seamlessly and not be a distraction.
The best analogy I can think of is a picture you hang on the wall: you put up pictures because you want people to see them, but at the same time, you want it to blend in with the flow of the room. A picture that is crooked is distracting in a way no human likes.
So how do you make rugs flow with the room? 5 simple rules:
1. Kids = mess on rugs/carpets
If you have kids – don't install fancy / luxury rug or carpet. While cleaning rugs & carpets is an option, with children, you will be cleaning all the time, and even then, some stains never come out.
If you must have a carpet in kid's room, go for budget option, with thicker padding and bristles. Kids don't care for color or how much you spent on your carpet – all they want to do is put that ketchup stain on your carpet, to mark their territory 🙂 …
Prices
Low End
Mid Range
High End
Total Cost
$728
$837
$1,415

See Costs in Your Area!
Start Here - Enter your zip
2. Match design shapes
You want your rug lines to match with your room or furniture lines. The first step is deciding if your rug is going under furniture or in a room. If it's under furniture, make the rug shape match the furniture shape. For a sofa, choose a rectangle rug. For a round table, a circular rug. For a squarish recliner, a square rug may be best.
The same goes for rooms. Generally, you want a rectangle rug, but if your room has rounded walls, choose a rug that matches it.
3. For rectangle rugs only: Match the length of rug sides with wall sides
This first step only applies to rectangle rugs and is simple to follow. Your rug has a length (longer side) and width (shorter side). Take the length and make it run perfectly parallel to the long wall of the room.
In other words, the rug dimensions should match the room dimensions (longer edge of the rug runs the same direction as the longer wall of the room; the shorter edge of the rug runs the same direction as the shorter wall of the room)
4. Center the rug with the room or furniture
You want your rug centered in your interior design scheme. This may not be quite as straightforward as it sounds, so let me explain.
5. Don't install rugs near wet areas
While this seems obvious – I often find rugs and carpet near in OR near kitchens, bathrooms, or even in basements that have occasional leaking problems. When carpet gets wet – mold and mildew starts growing on it, and this is often irreversible process.
In or near wet locations, we recommend Tile, Hardwood or Vinyl flooring, as these are much less susceptible to water damage.
Average Cost To Install New Flooring
Price Range:
$1,215 - $2,460
It doesn't mean you find the dead-middle of your room and throw the rug down there.  It's a little more less-scientific: it means you center the rug with respect to the rest of the furniture.
If the rug is doing under a piece of furniture, this is simple:
for tables, center the rug in the middle of the table, so it sticks out equally on all sides
if it's under a couch or chair, usually this furniture is against a wall. the rug can go under the furniture with ideally an equal amount sticking out on the side and in front of the couch
The trickier place is when it's not under furniture, but here you just want to place it to tie in with all the pieces of furniture, which usually means in the middle of this design scheme?
What's this mean? An easy example is if you have a couch on one wall and a recliner chair to the side, make the rug bring these pieces together by drawing an invisible line out from the middle of the couch and out from the middle of the recliner. The intersection of these two lines is where you would put your rug.
This gave you 3 guidelines to follow for any placement of a rug, but sometimes the question is, where exactly should I place my rug in my room setup. Let's cover that next:
Room by room placement tips
The general rug guidelines can be taken a step further. Every room in the house has a few classic places to put a rug. Here are tips for whichever room you're interested in:
(not much of these guidelines go hand in hand with our rug sizing guide, so you might check that out as well)
Living room
Average Cost To Install Carpet
Price Range:
$845 - $1,650
Some people say an area rug should go under the furniture and other people say it should go in front of the furniture. This is really a style choice for you to make, but there are a few benefits to either side.
If you place the rug under the furniture, it helps to hold a large room and several pieces of furniture together. It also makes it harder to trip on the edge of the rug because you will only be walking on and using the middle of your area rug when going to and from the sofa and chairs.
Heavy furniture should be placed on top of area rugs, not the floor. This way, the rug and rug pad can protect your flooring from being dented or scratched from the legs.
When the furniture is lighter or your living room is small, you might want to center the area rug in the middle of the room. A centered area rug leaves a border space between the furniture and its edges, which opens up the space and makes it seem larger. Lighter furniture also leaves less of a mark on your floors. If you do take this route, you should always use some type of padding on the furniture legs so they do not scratch.
One additional option with furniture: you can place a "runner rug" at the edge of the furniture (usually a couch). In this case, the rug starts at the edge of the couch where you put your feet.
Whether you are leaving the rug under the furniture or not, the area rug should not run all the way to the wall. On the wall side, you should leave a gap, approximately a foot wide, to keep the rug from overpowering the room.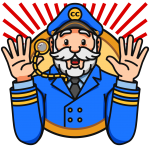 Captain's tip!
Placement and size go hand in hand. Rugs should be placed where they can anchor the room, and not off to a side, and if you center the rug in your living room it needs to be large enough to fit in. A tiny rug in the middle of a large room will appear out of place, more than a large rug that runs up close to the furniture, so the bigger, the better. For more on this, check out our
rug sizing guide.
Dining room
Typically, a dining room rug will go underneath the dining room table. You will want to make sure the rug is large enough to center underneath the table and allow the chairs to be completely on the rug even if someone is sitting there. You can place a square rug there if you have a rectangular table, or use a circular rug under a breakfast nook or round table.
You will find that a dining room rug needs similar placement guidelines to a living room rug, especially in an open concept living, dining, and kitchen floor plan. It should be large enough to be functional underneath the table, but not come up too close to the walls. Also, you should pay close attention to the walkway between the kitchen and the table. You can leave it clear, but where you first encounter the dining room rug you should make sure it is secured to the floor with a rug pad or grip.
Bedroom
There are a couple of patterns people usually use when laying down rugs in their bedroom. The most common choice is to have a single large area rug underneath the bed that comes out about 1-2 feet from the edge. This placement keeps the rug in place, because the bed is heavy enough to keep it from moving, and gives you something soft and warm to step onto when you wake up.
In addition to, or sometimes instead of the single large rug, you can ring your bed with a runner and smaller rugs to either side. When the rugs match, your bed now anchors the room and the rugs form an accent piece. This is a good option if you are looking to purchase rugs on a budget, as it saves you the cost of a single area rug in exchange for a few smaller and less expensive ones.
If you are using smaller rugs, you should also use non-slip rug pads to keep them in place. Small rugs can be shifted fairly easily especially on hardwood and tile floors. Find out more in my best carpet for bedrooms buying guide!
Hallway
The best rug placement for a hallway is with a runner. Runners should extend from just inside the hallway all the way to a foot or two from the end. You should have an equal amount of space (although less than a foot) from either side of the runner to the wall. For example, if you have a four-foot wide hallway and a three-foot-wide runner, you should place the runner so there are six inches to either side.
Kitchen and bathrooms
Average Cost To Install Carpet
Price Range:
$845 - $1,650
Rug placement in the kitchen comes down to practicality. Where do you stand in your kitchen the most? For a lot of people, it will be near the sink and near the stove. Kitchens rarely call for a single large rug, but if you have hardwood or tile floors, you will appreciate having one when you cook at the stove or wash up in the sink.
Captain's parting words!
Are rugs have multiple benefits in rooms: add to the interior design, provide insulation, softness underfoot, and can protect your floor from dirt and debris.
What you want out of your rug (it's purpose) and the current interior design of your room will make a difference on where you place the rug itself. If you're interested, I also did a deep dive into how to find the best garage carpet and get your money's worth.
You now know some general rug placement style guidelines, so you can choose where to lay out your rug. If you haven't already, it's worth checking out our rug size guidelines which is a good complement to this article.
Or you can head over to the unbiased rug guide to learn everything you need to know when buying a rug.
Any questions on area rug placement? Or have a different opinion? Let me know in the comments below.