Best Vacuums Under $200
I've tested and researched countless vacuums, and the best vacuums under $200 is the most interesting category.
The reason?
These vacuums have the biggest range from junk to hidden gems. There are some in this category where you can run over visible dirt and it doesn't pick it up on 3 passes, but there are also some that give the top of the line vacuums a run for their money.
I'll give you the top 3 vacuums I found to outperform the rest of the under $200 category, but first, I think it helps to give a little background on how I came up with these vacuums because I think other reviews you find on the internet don't put in quite the research:
How I choose the best vacuums
For all vacuum reviews, I keep a "big list" of almost every vacuum you'll find in stores. This list has notes on typical prices, key performance features, and a general sense of how people review the vacuum.
For this article, the first step was to filter out any vacuums over $200. I took this under $200 list and scanned other people's reviews. I used this to narrow down the vacuum to my top 15 under 200.
A generic top 15 list wouldn't help you much, so this is where most of the work came in. I look at each vacuum individually, and  I dive into key performance features of the vacuums, accessories, and personally testing the vacuums to see which stand out as my top 3.
So let's see what they are:
Top 3 powerful vacuums under 200
I was impressed by the performance of the top vacuums in this price range. I think the reason for the hidden gems at such a low price point is that vacuums have been around forever. Many of the top-tier vacuums come with bells and whistles that you may not need (robot features, bacteria-killing UV lights, etc), but the performance in a higher-end vacuum isn't such a huge upgrade (in some cases).
This leaves some excellent performing vacuums without extreme bells and whistles (they still have good accessories) at inexpensive prices. Here's the top 3: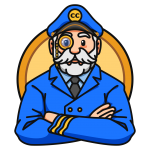 Captain's notice!
When I recommend a vacuum, there is a link to a product page (usually Amazon), and I may receive a small commission if you purchase after clicking it. This does not change what you pay or what I recommend. It does help fund the research I put into the site, and I'm grateful for any support!
Shark Navigator Lift-Away Professional NV351 [Winner]
This vacuum does an excellent job of doing what I think Shark tries to do with all of their vacuums: create a vacuum to compare with Dyson but at a lower price. The suction/cleaning ability on this vacuum is an 8/10, so not far behind the best and well above average for this price range.
It also hits a home run on what I consider the 2nd most important feature (outside of the ability to clean other surfaces like couches) with its HEPA filter. Many vacuums in this price range have HEPA filters but not completely sealed systems like this one does. Here's a review of the highlights:
8 out of 10 overall cleaning ability stands out in the under $200 category
sealed HEPA system meaning particles have no way of leaking around the filter
acts as an upright for floor cleaning and can be detached as a canister for stairs
above average maneuverability
check out pricing and more info on Amazon by clicking here
Oreck Commercial [#2 Lightweight and No frills]
: This is my ugly duckling pick: it has no fancy features, is a bagged vacuum, but its cleaning ability that is equal if not slightly better than our #1 pick.
Bagged vacuums don't look fancy but can be better for allergies. This is also only 8lbs, which makes it simple to maneuver. And if you're looking for made in the USA, this is the only one you'll find on our list. Here's a review of the highlights:
8 out of 10 suction and cleaning ability (slightly better than the Shark above)
only 8lbs and other ergonomic features make it recommended for arthritis sufferers
automatic adjusting brush height making easy transitions from carpet to hardwood
this would be the top pick except for a lack of accessories: no upholstery or crevice cleaning tools make it less versatile of a vacuum
Check out pricing and more info on Amazon by clicking here
Hoover WindTunnel 3 Pet Bagless UH72630PC [3rd Place]

All of the vacuums on this list have exceptional cleaning ability for the price, but this one may be the best for pet hair.
It cleans pet hair just as well as the Oreck in upright, but this has the advantage of having many accessories to get the hairs off couches and other furniture.
And every pet owner knows the hair isn't limited to just carpet. I'd rate this vacuum right along with the other top 2 except durability seems to be a bit of an issue.
Sometimes when I read reviews and hear complaints of durability it's more user error (sucked up something that clogged the vacuum, tore a belt by sucking up a rug, etc), but this vacuum has more negative reviews in this area than I'd like to see.
excellent suction rating 8 out of 10
top of the line accessories to clean area other than carpet
great pet hair removal
HEPA filter although it does have a sealed system like our Shark
possible durability issues keep it from taking the 1 or 2 spot
Check out pricing and more info on Amazon by clicking here
What to look for in an under $200 vacuum
If none of the vacuums we reviewed are for you, here are a few observations we made that can help you pick out a vacuum with your under $200 budget:
Tip #1: Focus on the cleaning power
At the end of the day, you don't need bells and whistles. You need your carpet clean. It's easy to get distracted by features, but focus on how clean a vacuum gets carpet. Cubic feet per minute (CPM) is a great measurement for determining the suction of a vacuum. But Captain's warning, many labels and manufacturers will try to confuse with similar but different measurements (our advice: stick to CPM).
With that in mind, suction doesn't always equal cleaning ability. Testing the vacuuming out, or reading reviews on Carpet Captain or other sites that independently test vacuums, and potential user reviews on how well the vacuum cleans may be the gold standard.
One other thing to consider is how well it will clean your hardwood. The other factor is how effective the beater brush is and if you can turn it off. I know this can all be confusing.
Tip #2: A few poor quality features that can hurt you
We just talked about not worrying about features because, for under $200, you want the quality of your vacuum to be all in on cleaning power.
But there are a few trends in the under $200 features you should know about:
One is the HEPA filter or air filter. Vacuum manufacturers know allergies are a big problem, so they'll do anything to put "air filter" or "HEPA filter" on their vacuum. The problem is the type of filter or having a filter doesn't matter if the air doesn't go through the filter. And you might be surprised, but many cheaper vacuums with filters do exactly that.
Another feature is a brush bar that can turn off or has an adjustable height. If yours doesn't, it might not be able to clean your hardwood without damaging it. Also, it may have difficulty or damage some specialty carpets like Berber and frieze.
Tip #3: Durability reviews
I wouldn't buy any vacuum without seeing how it holds up for other people. There are more lemons in vacuums than cars. I'd see how many one-star reviews a vacuum gets on popular sites (Walmart, Amazon, Target, etc) because those are using the vacuum breaking down.
Just take some with a grain of salt. Vacuums can break, especially if not treated correctly.
Captain's parting words!
After reviewing tens of vacuums under $200, I was pleasantly surprised at how many high-performing options there are. At the same time, there was a lot of junk.
I think this is the category where there are some real steals. And hopefully, this list helped you find them.
If you feel like these vacuums are still stretching your budget, you could check out my best vacuums under $100 list. On the other hand, you could also take a step up to my best under $300 vacuums. You won't notice a huge bump in cleaning performance but the vacuums on that list are often like a combination of all these best under $200 vacuums.
Just to review, if you'd like a high-performing vacuum any of these will work. For most people, I'd go with the Shark because it combines excellent cleaning and air filtration with just enough features to clean upholstery and other items in your home. If you don't need to clean anything but floors and don't need a vacuum that looks flashy, the Oreck would be your choice. And if you need more features and is a little cheaper than the other 2, consider the WindTunnel 3.
Finally, one effective way to save money is to look out for Black Friday vaccum deals.
Any questions on vacuums? Let me know in the comments below.