Want a great vacuum but still have a budget?
Most of the highest rated vacuums are in the 300 to 500 range but with a budget of $300 you're really not missing much.
That's if you find the right vacuum. Most vacuums in this category come with the features you'd expect: pet hair cleaning tools, auto-adjusting heights, air filters. The big differences came in pet hair and cleaning performance. Some of the $200-$300 vacuums don't deserve to be sold, while others could probably be priced much higher.
Top 2 Vacuums under $300
I was really surprised out how well the top performers under $300 performed. There are very few vacuums at any price that I'd rather have.
I go more into how I picked up top vacuums at the bottom of the article, but let's review the 2 vacuums that stood out: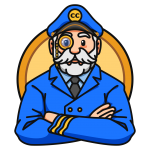 Captain's notice!
When I recommend a vacuum, there is a link to a product page (usually Amazon), and I may receive a small commission if you purchase after clicking it. This does not change what you pay or what I recommend. It does help fund the research I put into the site, and I'm grateful for any support!
This vacuum competes with the higher end Dyson's at a much lower price point. I think you could add $300 to the price tag and the vacuum would still sell. That said, it's currently under $300 but isn't always. It does a great job with pet hair but a few things set this vacuum apart:
suction and pet hair cleaning 9 out of 10
completely sealed HEPA system (not all HEPA systems are equal… this is a good one
slightly above average maneuverability but not the best in class
easily detaches to a canister and useful tools to clean cars, upholstery, blinds, and more
headlight to see in darker areas (helps prevent sucking up something that can damage your vacuum)
few reports of poor durability but reviews are overwhelmingly positive and vacuum comes with a 5-year warranty
check out pricing on Amazon by clicking here

Originally when I wrote this article, this no Dyson's were included. This was because they didn't meet the under $300 requirements. As I updated for 2022, I noticed the Multi-Floor 2 crossed the under $300 barrier (at least for now). It's an excellent vacuum, and you couldn't ask much more for suction and cleaning power.
9.5 out of 10 cleaning and pet hair removal
whole-machine HEPA filtration (one of my best for allergies)
easily adjusts to hardwood and other hard surface floors. beater bar can be turned off to prevent scratching
some people have trouble pushing the vacuum due to its high suction (may want to avoid if you have difficulty pushing, especially with flat, plush carpets)
check out pricing on Amazon by clicking here
How I ranked and what to look for in under $300 vacuums
The fun part of ranking vacuums under $300 is there weren't many limitations. When I ranked vacuum under 100 and under 200, there were sacrifices to be made.
For the under $300 vacuums, I took my big list of vacuum ratings (yes, I have a big list of vacuums 🙂 ). Then, I sorted out my top 10 by ratings.
The vacuums in the top 10 were surprisingly highly-rated for any price range (including those $500+ vacuums).
Then, I took this list and went through all the reviews and my owns tests. This led me to the top 2 I listed above. If I had $300 to spend, these are the only 2 vacuums I'd consider.
If you shop on your own for a vacuum on your $300 budget, this is what'd I'd keep in mind:
you don't have to make sacrifices with $300 to spend
Okay, this sounds obvious, and it probably is. My point is what I talked about earlier:
If you have $300 to spend, you don't have to make sacrifices on your vacuum. You should be able to find a vacuum that can clean what you need, has all the tools you need and works great for allergies.
This isn't so true for lower cost categories like under $100 and under $200. Those vacuums usually skimp somewhere.
you still have to watch for Lemons
Reviewing this category made me wonder why some vacuums cost so much. You can get a vacuum that cleans nearly as well as any under $300.
On the hand, you have to watch for lemons. There are some real duds in this category.
It's interesting because I've tested and reviewed countless vacuum in all price categories, but I've found durability doesn't change much from $50 to $300. Performance does but not durability.
The best way to predict how durable your vacuum will be is to sort through reviews. With one warning: all vacuums have some reviews that will scare you away. I've never tested a vacuum where someone in reviews didn't say it was a piece of a junk that breaks down.
It just happens. Fortunately, the top vacuums above are above-average on durability, but it's always worth checking.
Captain's parting words!
With $300 to spend, you can get a vacuum that does everything you need. Hopefully, my top 2 picks helped you skip some homework and find that vacuum.
If there's anything else you'd want to know that I didn't cover, let me know in the comments below.