How to Buy Carpet Online
As more and more sales are shifting from brick and mortar stores to online, it's safe to say most people that buy their clothes online won't even consider buying their carpet online. But why not? You can save much more on your carpet online than you can your t-shirt.
Out of curiosity, I wanted to see the opinions of other websites on the matter. I found one thing in common with all websites: they are either 100% "you should shop online" or 100% "you should shop in stores." These black and white opinions immediately made me skeptical of the authors' bias, and upon further researching, it was obvious they were either affiliated with an online wholesaler or a local business. Unfortunately, these types of articles are a waste of internet space, and worse, they persuade people into making regrettable decisions.
It's the purpose of this article to reveal the truth about online carpet shopping and show you the ropes. I combine the theory behind motivation of buying (or not buying) anything online with the realities of purchasing carpet online. This allows you to decide if buying carpet online is right for you. If it is, then you can read on to learn how to buy online the right way.
Can you help me make this page better by answers two questions?
[gravityform id="17″ title="false" description="false" ajax="true"]
[gravityform id="16″ title="false" description="false" ajax="true"]
Is buying carpet online right for me?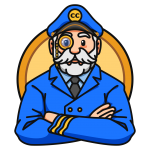 Captain's summary:
If you already know you want to buy carpet online, you can skip this section and go directly to "How to Buy Carpet Online". This section covers what motivates people to buy online and how it applies to buying carpet. Here's a short summary of what's to follow: many people buy online for convenience. However, buying carpet online is anything but convenient. The payoff of buying online can be big, but the risk is also big unless you educate yourself thoroughly. I'm here to help, but it's up to you to decide if the task is worth the reward.
Why People Buy Online
There is a lot of research on why more and more people are choosing to do their shopping online. It's important to understand people motivations for buying their T-shirt online, so you can understand why these same people might not choose to buy their carpet online.
Research is unanimous that price is not the #1 reason people buy online. The biggest factor in influencing people to submit their credit card information over the internet is convenience. People would rather browse the web in their PJs and have the package delivered to their doorstep than to shower, put on clothes, be stuck in traffic, and wait in stores lines.
The other major factor that keeps people glued to their keyboard rather than reaching for their car keys is—you guessed it—price. Buying online allows shoppers to quickly and easily comparison shop, and most shoppers believe the better deals are found online. Often there are great deals online. However, research shows that many people get worse deals online because the ecommerce sites know that their customers will assume they have the lowest price, allowing them to actually price their products higher. This goes back to the convenience factor—people don't do the research to actually check that they're getting the lowest price. They just want it to be easy.
Why People Don't Buy Carpet Online
So why aren't people buying carpet online at the same rate they're buying clothes, toys, TVs, and other products online?
Inconvenient
Buying carpet isn't convenient, and as explained above, convenience is the number one reason people buy online. Why isn't buying carpet online convenient? It requires work. Most people don't even know how to start. Who do I buy from? What's the exact type of carpet I need? And will I get ripped off?… which bring us to our next point…
Insecurity
Carpet is a major purchase, so protecting the purchase is a big deal. When people buy from a store, they assume the store is able to stay in business because they are good to their customers. But most people don't feel the same about online retailers. After all, anyone can setup shop online.
This is a fair reason to avoid buying carpet online; I wouldn't recommend anyone risk sending thousands of dollars over the internet to a company they don't know. The key to buying carpet online is reducing this risk, which will be explained later.
A dull experience
Do you know another industry that hasn't jumped on the online bandwagon? Grocery shopping. It's not for a lack of trying; millions of dollars have been invested into making online grocery shopping a reality, but online grocery shopping hasn't caught on. Forbeswrote an article covering why online grocery shopping isn't working. The #1 reason is it is an experience that can't be replicated online.
The experience starts with when you enter the store. Few people come in with a list of exactly what they want. They walk around and are persuaded by what they see, feel, and smell. Even the people that go in with a list don't pick up the first apple they see; they look at the bunches of apples and pick which ones look best.
Carpet is no different. People go to the store ready to be persuaded as to which carpet will be great in their home. They look around, touch, and ask questions. Shoppers usually come with family or friends to discuss what looks best, and how it fits into their future plans. Shopping online can't replicate this experience. With the right information, you can make as good of a decision on what carpet to purchase, but it's unlikely you'll have as much fun doing it.
How to Buy Carpet Online
If you've decided buying carpet online is right for you, you need to be prepared to roll up your sleeves. As discussed earlier, buying carpet online requires you to do some homework. You'll have to research the type of carpet you need, who you'll buy it from, and the terms on which you're buying it.
Know what you want
If you have to ask someone for advice on what type of carpet to buy, then don't buy carpet online. Knowing the exact specifications of what you want—twists, face weight, density, material, style, etc—is critical to making a successful carpet purchase over the internet—or in-stores for that matter.
Yes, there may be people who can help you on the phone, just like there are salesmen in stores. These people can be great. The problem is some aren't. They may not be very knowledgeable, not care, or have commissions that encourage them to sell you carpet you don't need. In the end, carpet costs you thousands of dollars, so it's your responsibility to make sure you're not disappointed.
If you don't know what carpet you need yet, don't let this intimidate you. Educating yourself on carpet can take time, but Carpet Captain has you covered with our unbiased carpet buying guide.
Find your business partner
This isn't as easy as you might think. Try searching for "carpet wholesaler" on Google, and you'll get thousands of results. Unfortunately, many of these results aren't what you want. Technically true "wholesalers" can't sell carpet directly to individuals. However, the term is used to refer to anyone who offers discount prices. Keep in mind, anyone can call themselves a wholesaler, so it's not a guarantee for great prices.
Dalton, Georgia is the mecca for carpet manufacturers. This is where you will find the best discounts on prices. For simplicity, I would ignore any "carpet wholesalers" who don't reside in Dalton or a neighboring city.
Once you find Dalton area wholesalers, you'll need to narrow your choice further. The first step is to make sure the businesses you find listed as wholesalers actually offer wholesale prices. How do you know what a good price is? Try looking up carpet with your specifications from major retailers such as Lowe's or Home Depot. This will give you a reference point.
If your Dalton, Georgia wholesaler does have great prices, the next step is to do a background check. Your first move should be to check their rating with the Better Business Bureau. If they have a good rating, proceed to check out customers reviews from other sources. Consider usingYelpp and Angie's List.
Pay Attention to Detail
It's important to get the carpet wholesaler on the phone. Have a conversation with them and make sure they make you feel comfortable. You'll have a lot of details to work out, and much of this comes from asking the right questions. Here are a few questions you should ask and a little explanation of each:
Do you have the carpet available? "The carpet" is either a specific carpet you saw on their website, or specifications of the carpet you will need.
Who is your local rep, and what is their contact information? Every carpet wholesaler should have a rep in your area that can come out and inspect the carpet if there are any problems upon delivery.
Can I have a list of IICRC carpet inspectors in case there are any problems? This is a list of independent inspectors who you can reach out to if you and the rep disagree that there is a carpet defect.
Who pays for shipping? If it's you, this isn't necessarily a deal breaker, but you'll want to add it in to the price of the carpet and verify that it is still a good deal.
Does the carpet have any defects? Sometimes "wholesalers" sell carpet with defects. Some of these defects are minor and can make carpet a great deal. You shouldn't have to ask if you're getting a defect carpet. However, it doesn't hurt to ask to protect yourself.
What is the process if I find any defects?
Are there any return charges? Or any charges if I have to have my carpet inspected because I suspect it has a defect?
Who pays for return shipping if I have to send the carpet back?
Who will install my carpet, and what will it cost? Many online wholesalers will have carpet installers they use in your area. Contact the installer they recommend. Make sure the installer has good reviews. A good installer is not only important to the life of your carpet, but they will also be able to help you with questions you have about buying carpet online.
Anything the wholesaler tells you needs to be in writing. In other words, "we will pay for return shipping" doesn't mean anything unless it's written in the contract. I don't want to sound cynical, but don't make the mistake of trusting anyone when it comes to your money.
This brings up another point: pay with credit card. Credit cards companies give you the option to revoke payment if someone doesn't hold up their end of the deal. Hopefully you never need to exercise this option—if there's a problem with your carpet upon shipment, the companies local rep should come out and take care of it as you have agreed. If you aren't satisfied, you can have the independent inspector come out, and if they determine there's a defect, the credit card company should help you dispute the claim.
Read over your contract carefully. Make sure it answers any questions or concerns you have. If anything isn't covered in the contract that you want to be (eg. they pay for return shipping if there's a defect), make sure they know it needs to be added or you aren't comfortable doing business with them.
Captain's final words!
Buying carpet online is nothing new. It began with magazines and toll-free numbers and evolved with the internet. The potential for savings is huge, but since anyone can claim to be a carpet wholesaler, there is also some risk. You'll have to spend time educating yourself on carpet and researching who you want to do business with. It's up to you to determine if the time spent researching, talking to wholesalers on the phone, and reviewing the fine print is worth the potential savings. Best of luck!
Average Cost To Install Carpet Flooring
Price Range:
$845 - $1,650