How to Choose the Best Carpets for Kid's Room
You can say many great things about children, but one thing they aren't is mess and maintenance free. Maybe messes are their way of testing how much you love them: I can picture them thinking, "Let's see how big of a mess mommy and daddy will clean up for me today," just before they uncap the permanent marker and draw a nice picture on your wall. Today my job is to help you out by breaking down the best carpet for kid's room, so when little Sarah decides she'd rather put the ketchup on the carpet than her hot dog, you're prepared—at least as prepared as you can be.
What are our goals
We want to be on the same page here. Not everyone that has children has the same features they want out of there. For the sake of this article, I have to generalize what you want. Fortunately, most moms and dads want the same thing when buying playroom carpets, and this is protection against stains without breaking the bank. That way you don't have to be as nervous when your kid is running around with a cup of juice, but since some damage to the carpet is inevitable, you also don't want to spend your life savings on it. Now that we have our goals established (if these aren't your goals, check out the PS below), we can continue on to the carpet you need as a parent.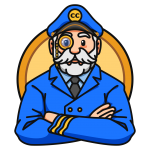 Captain's safety caution!
Anytime you're remodeling the interior of your home, you're likely introducing indoor air pollution—carpet is no exception. This is a concern for anyone, but kid's exposure to this pollution is especially concerning because they are small and still developing. Check out our article on
carpet and your health
for steps you can take to limit the exposure to these potential carcinogens.
Carpet material in a kids bedroom and playroom
The material used to construct your carpet (aka fiber type) will determine the carpets' stain resistance and have a big impact on its durability. In most cases, you should go with a branded nylon. It will provide great stain protection and the best durability of any fiber. Another similar option you may want to consider is Smartstrand.
You generally want to avoid wool, polyester, or olefin: wool because it's expensive and polyester and olefin because they aren't durable. However, there are exceptions. Wool is often all natural, so it may appeal to those parents who want their child to avoid man-made chemicals (read more about all the pros and cons of wool carpet here). If you plan on replacing your kid's carpet in a few years and want something temporary until your kids grow out of their reckless stage, polyester or olefin carpet are good choices because they are inexpensive. Just keep in mind that while both have good spill resistance, they attract oils (look dirty quickly and are hard to clean) and they matte down, making them age prematurely. If that is all to much, take your time with the 9 best floorings for bedrooms.
A mix of color
The best color for covering up dirt and stain spots is a marbled, medium-tone carpet. The natural flecks of color in the kid's carpet make imperfections less noticeable. Dark colors are an option, but they tend to show lent a lot more than you might expect. Definitely stay away from solid white or light-colored carpet.
What style do you want for your kids' room? I'll tell you which you don't want
Whether your carpeting your kids' bedroom, the whole house, or your kids' playroom, the style you choose is in many ways a personal opinion. But just like the style of clothes you wear varies on the occasion, the style of carpet you choose also needs to take into account you have children.
The best style options you shoulder consider are a traditional cut pile carpet, a frieze, or a multilevel carpet. Traditional cut piles tend to be cheaper because they don't have a style name—think of them kind of as a generic style. Frieze carpets aren't too expensive, and they are very well-constructed with a high twist rate (if you don't get a frieze, you may want to consider the twist level of the carpet you're purchasing). Multilevel carpets do a good job of hiding imperfections.
The #1 style you want to avoid with kids is Berber or any other looped carpet. The loops can snag, and when they do, the carpet can unravel and be a costly and/or unsightly repair. If your heart's set on Berber, people have used it in the past with kids, just know it's always a risk.
Other styles you want to avoid are Saxony, velvet, and plush. These more elegant styles are designed for guest bedrooms, offices, and other less frequently trafficked areas.
Captain's parting words!
As much as we love them, we all know the stresses kids can cause. That's just one more reason you don't want to have to worry about your carpet. Fortunately, with increased technology, you have options to pick a great stain resistant carpet in a style you like.
I wrote this article to give you a good example of a starting point of things to consider when you're buying carpet for kid's room. Now learn more about buying and installing the best carpet for adult bedrooms!
But in case you're interested in adding carpet to other rooms in your house, I also did a deep dive into finding the best garage carpet.
To get a more insight into the type of carpet that would work well with kid's, check out the Carpet Captain's carpet buying guide. If you're not 100% sold on carpet, laminate flooring is a great option if you're willing to sacrifice the softness of carpet.