Last update: March 2022
SmartStrand carpet is the new carpet material, but is it improved? It depends on who you ask. Mohawk's SmartStrand carpet, which is made of Triexta (more on this below) is one of the more controversial topics I write about.
I get emails and comments from customers, salespeople, and store owners who are both strongly for and against this carpet. On both sides of the aisle, some people get mad at me for sharing my opinion–that tells me I'm probably doing something right 🙂
Either way, the goal of this article is to break down whether it's the best carpet material for your home. We'll review Mohawk's Smartstrand carpet in categories that I think will be most important to you.
Prices
Low End
Mid Range
High End
Total Cost
$1,250
$1,437
$1,825

See Costs in Your Area!
Start Here - Enter your zip
After the review, you're welcome to ask questions, give your opinion, or browse other readers' opinions in the comments below.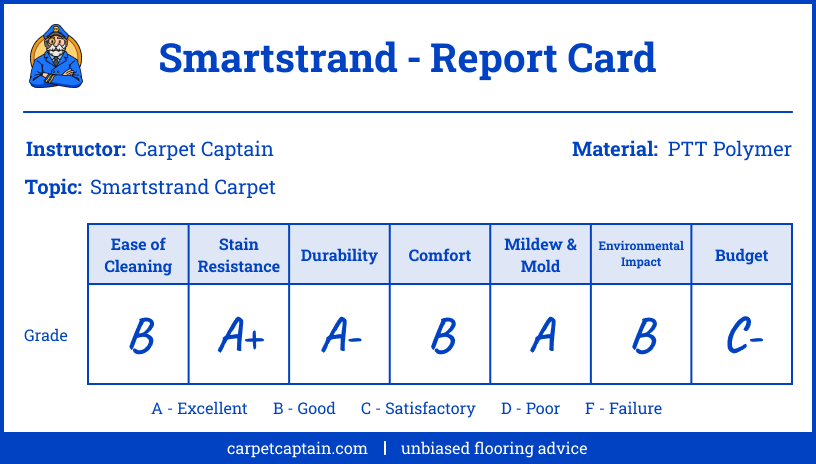 *Explanation of report card categories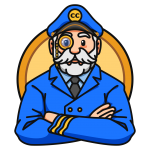 Let's clear up the naming confusion (or try to)! There are 4 different names for the carpet described on this page: Smartstrand, PTT polyester, Sorona, triexta, or any combination of the above. Pretty confusing, but here's what you need to know when you're out shopping: The carpet material is actually PTT polyester. However, PTT polyester sounds too close to PET polyester. To make it less confusing, manufacturers renamed PTT polyester to triexta. A more environmentally friendly version (because it's partially made with corn sugar instead of petroleum) of triexta is named Sorona. Currently, Mohawk is the only manufacturer that produces PTT polyester/triexta/Sorona carpet, and they call the carpet Smartstrand. To clean up this messy confusion, here's a quick summary, PTT polyester = triexta. Environmentally-friendly triexta = Sorona. Smartstrand = the brand name for triexta or Sorona carpet.
What is Triexta carpet?
It helps to make this clear (because it's confusing). So let's review, what exactly is triexta carpet?
Triexta is a new type of polyester carpet material. It is commonly sold under the brand name Smartstrand, and it was designed to overcome the poor durability of traditional polyester carpet. Whether or not it lives up to the marketing hype is up for debate.
In other words, triexta and Smartstrand are more or less the same thing, so you'll learn all about triexta in the paragraphs below…
Excellent stain resistance
Smartstrand carpet's stain resistance is developed within the fiber, not a coating. Mohawk proudly proclaims on their website, "engineered-in stain resistance reaches new levels of protection, allowingtough stains such asmustard,red wine, and cherry Kool-Aid® to be removed simply with warm water and a mild detergent."
They continue to state that it can resist discoloration from bleach. While we haven't heard of anyone testing these claims, the general consensus is that this carpet does an extremely good job at stain resistance. Homes with children, frequent spills, and carpeted kitchens all could benefit from Smartstrand's stain protection.
When properly treated, all of the other fibers provide pretty good stain resistance but Smartstrand seems to be the winner in this department (but I still wouldn't pour bleach on it).
Environmentally friendly (Sorona only)
Sorona is made of 37% renewable materials. What are "renewable materials"? It typically refers to a plant because they can be re-grown. In this case of Sorona, corn sugar is the renewable component.
Mohawk's website boasts that manufacturing this carpet requires 30% less energy and environmental emissions compared to nylon. The only reason Sorona is graded less than an A is that PET polyester and wool carpet have a slight edge in being environmentally friendly.
The other drawback of being environmentally friendly is Smartstrand does not have a take-back or recycling program. This means when the carpet is eventually worn out, it will go to the landfill.
Is SmartStrand carpet durable?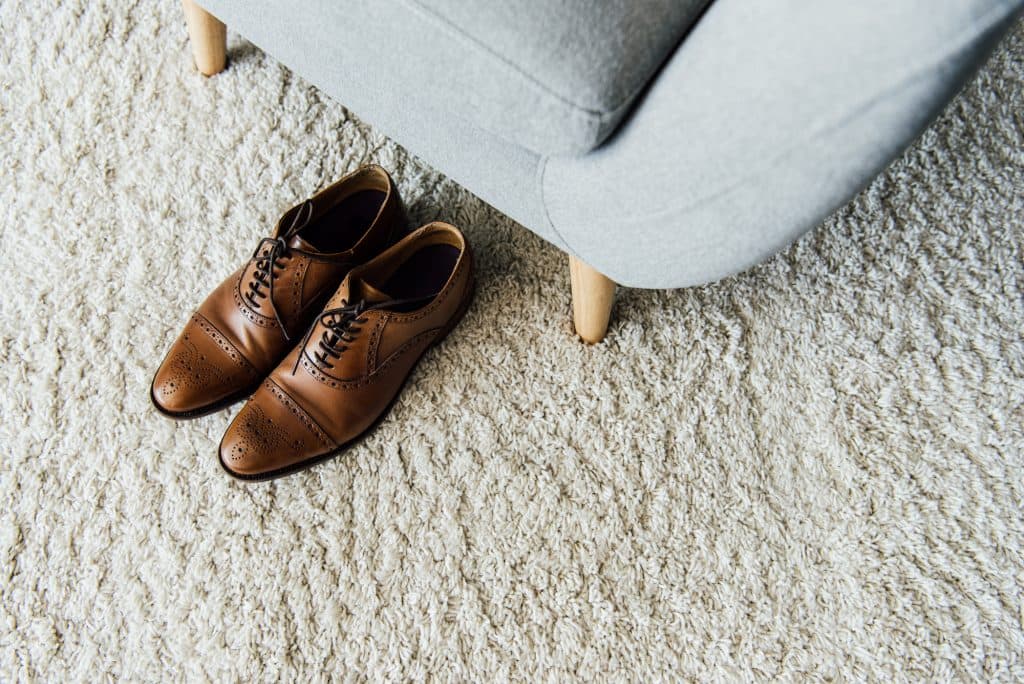 The short answer is yes.
Smartstrand appears to be a very durable and resilient carpet. However, we are hesitant to list this as one of Smartstrand's advantages. Nylon carpet is the current king of durability. Smartstrand is the first fiber to give nylon a run for its money in this department, but nylon gets the edge because it is proven over many decades, and there are some conflicting opinions on Smartstrand.
As long as you make sure to get a well-constructed Smartstrand, its durability shouldn't be an issue. If you skimp on the construction, it may wear faster than a comparable nylon.
Is Smartstrand carpet resistant to mildew?
Like nylon and polyester, Smartstrand is a synthetic material that doesn't absorb water. This means it should be resistant to mold and mildew. A win for high humidity areas or the basement with occasional moisture problems (but remember you still have the carpet padding to worry about!).
Is Smartstrand carpet toxic?
Toxicity is a hot topic with flooring. And rightfully so as more and more people are taking a proactive approach to their health.
The Smartstrand carpet gets good grades from me in the toxicity category. The reason is Smartstrand is naturally stain resistant, so it doesn't need potentially harmful stain protectants. It also gets the Carpet and Rug Institute's Green Label Plus certification, which is a well-respected certification for floors that have low VOCs (indoor air pollution).
You can read more about new carpet smell and toxicity here.
Average Cost To Install Carpet
Price Range:
$845 - $1,650
What's the deal with Smartstrand Silk?
Whenever you buy a brand name nylon carpet, you'll find many different "lines" of carpet within the brand. These "lines" can stand for certain exclusive colors or patterns, a certain environmentally-friendly way the carpet is certified or made, or a softer version of the carpet. Smartstrand is no different. You'll find many different lines of Smartstrand carpets.
One of Smartstrand's more luxurious lines is Smartstrand Silk. This a softer version of Smartstrand.The technical difference is more but thinner strands of Smartsrand are used to create the soft feel. I have an article dedicated to soft carpets–sometimes they can require special care or considerations when buying. But overall, if you're thinking you want Smartstrand and plan on laying down on your carpet, consider taking a look at the Silk line.
Captain's tips on what to do next:
Turns out that the Smartstrand carpet, also known as triexta, nearly lives up to its extreme hype.
I think its stain protection is the best of any carpet material–making it great for people who entertain, dining rooms, or kids' playrooms.
I'm not as convinced of its overall durability, especially compared to nylon. This is up for debate, and I get polar opposite opinions from readers (some love it, some hate it–see the comments below). Even though it's been out 10 years, that's new as far as carpet goes. There aren't many old Smartstrand carpets out, so we'll probably learn more in the next decade.
Here's what steps I recommend you take next:
Did you know that Mohawk has a subsidiary brand named Karastan and they sell smartstrand too? Check out the Karastan brand review here.
Let me know in the comments below if you have any opinions or questions on Smartstrand carpets.
Average Cost To Install Carpet Flooring
Price Range:
$845 - $1,650