Smartstrand Carpet
Sorona Smartstrand carpet is the exception. Usually, we stick to the basic carpet fibers because the "new and improved" are just new. In the case of Sorona, it has proved worthy of being mentioned with the other traditional carpet fibers: wool, nylon, olefin, and polyester. Mohawk (the manufacturer of Smartstrand) claims Smartstrand is a super carpet that will make others obsolete. This might be an overstatement, but in some categories, Smartstrand lives up to the hype.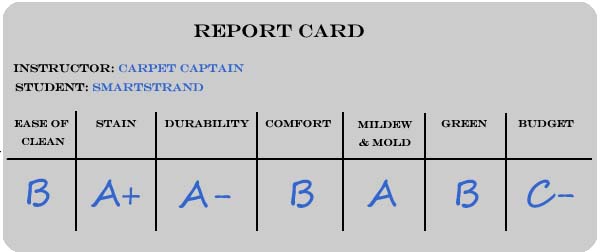 *Explanation of report card categories
Excuse me English:
There are 4 different names for the carpet described on this page:
Smartstrand, PTT polyester, Sorona, triexta, or any combination of the above
. Pretty confusing, but here's what you need to know when you're out shopping: The carpet material is PTT polyester. However, PTT polyester is completely different from
normal polyester (aka PET polyester)
, so manufacturers gave it a new name: triexta. A more environmentally friendly version (because it's partially made with corn sugar instead of petroleum) of triexta is named Sorona. Currently, Mohawk is the only manufacturer who produces PTT polyester/triexta/Sorona carpet, and they call the carpet Smartstrand. To clean up this messy confusion, here's a quick summary, PTT polyester = triexta.
Environmentally-friendly triexta = Sorona
. Smartstrand = the brand name for triexta or Sorona carpet.
Excellent stain resistance
Smartstrand's stain resistance is developed within the fiber, not a coating. Mohawk proudly proclaims on their website, "engineered-in stain resistance reaches new levels of protection, allowing tough stains such as mustard, red wine, and cherry Kool-Aid® to be removed simply with warm water and a mild detergent." They continue to state that it can resist discoloration from bleach. While we haven't heard of anyone testing these claims, the general consensus is that this carpet does an extremely good job at stain resistance. Homes with children, frequent spills, and carpeted kitchens all could benefit from Smartstrand's stain protection. When properly treated, all of the other fibers provide pretty good stain resistance but Smartstrand seems to be the winner in this department (but I still wouldn't pour bleach on it).
Environmentally friendly (Sorona only)
Sorona is made of 37% renewable materials. What are "renewable materials"? It typically refers to a plant because they can be re-grown. In this case of Sorona, corn sugar is the renewable component. Mohawk's website boasts that manufacturing this carpet requires 30% less energy and environmental emissions compared to nylon. The only reason Sorona is graded less than an A is that PET polyester and wool carpet have a slight edge in being environmentally friendly.
Is it strong?
The short answer is yes. Smartstrand appears to be a very durable and resilient carpet. However, we are hesitant to list this as one of Smartstrand's advantages. Nylon carpet is the current king of durability. Smartstrand is the first fiber to give nylon a run for its money in this department, but nylon gets the edge because it is proven over many decades, and there are some conflicting opinions on Smartstrand. As long as you make sure to get a well-constructed Smartstrand, its durability shouldn't be an issue. If you skimp on the construction, it may wear faster than a comparable nylon.
What's the deal with Smartstrand Silk?
Whenever you buy a brand name nylon carpet, you'll find many different "lines" of carpet within the brand. These "lines" can stand for certain exclusive colors or patterns, a certain environmentally-friendly way the carpet is certified or made, or a softer version of the carpet. Smartstrand is no different. You'll find many different lines of Smartstrand.
One of Smartstrand's more luxurious lines is Smartstrand Silk. This a softer version of Smartstrand. The technical difference is more but thinner strands of Smartsrand are used to create the soft feel. I have an article dedicated to soft carpets–sometimes they can require special care or considerations when buying. But overall, if you're thinking you want Smartstrand and plan on laying down on your carpet, consider taking a look at the Silk line.
Captain's parting words!
Turns out Smartstrand or Sorona or triexta, nearly lives up to its extreme hype. Overall, this is a great carpet, and its excellent stain resistance makes it an appealing choice for homes with kids. In addition, Sorona lives up to the standards of many environmentally conscious individuals. What's the drawback? The biggest is the price. It will be in the same ballpark as nylon and may even cost slightly more. The other is that it is not as proven as nylon. Nylon carpet has undergone decades of in home use and is determined to be the most durable carpet. Initial studies on Smartstrand show it may be comparable (some even show better durability), but it hasn't been able to pass the true test of time. If you're not sold on Smartstrand, check out our page summarizing all types of carpet.