Polyester Carpet
If you've ever poured ketchup on a hamburger or drove a car, you might have started the manufacturing process of someone's polyester (PET) carpet. This unique carpet is made from recycled tires and bottle caps. Unfortunately, the good intentions of this carpet often prove to be much better than the carpet itself. Polyester carpet has flaws that make its use limited, but if you utilized correctly, you may be a proud owner of 100% recycled carpet.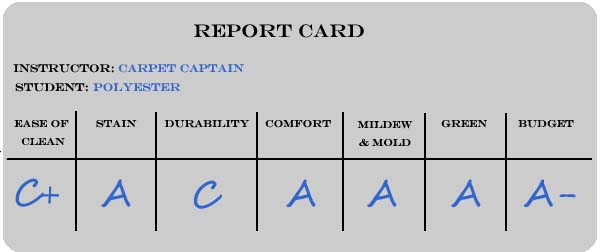 *Explanation of report card categories
Only 100% recycled carpet
This was touched on earlier, but it's worth repeating since it's a unique advantage and one of the few advantages polyester has over other carpet materials. Synthetic polyesters found in bottle caps and tires are non-biodegradable. Therefore, reusing these materials is appreciated by Mother Nature who is being taken over by ever-expanding landfills.  In addition, it's one less carpet that has to be pumped out in a factory.
update: A member of CARE contacted me and had issue with polyester being ranked highly as a "green" carpet. His point was that, yes, PET polyester may be made out of recycled materials at times, but it cannot be recycled like nylon or olefin can. Makes sense, so we downgraded polyester from an 'A' grade to a 'C' in the green category.
Stain resistance
Polyester carpet has great stain resistance. Generally spills won't stain, especially if they are blotted up ASAP. The only downfall in the stain resistance department is, similar to olefin, polyester attracts oils. Any oily substance will bind to the carpet and can be very difficult to remove. Avoid oil stains by having people take of their shoes, as well as not installing it near kitchens or home entrances.
Brilliant colors
Some of the most brilliant colors are found in PET carpet. It has a great capacity to be dyed.
Not very tough
Instead of listing each disadvantage of polyester, they can all be summarized by this one heading. Polyester is similar (possibly worse) than olefin in its ability to withstand foot traffic. It is a very soft fiber that crushes easily.
Captain's parting words: You can see polyester carpet has many great advantages. It's great at resisting stains, it comes in beautiful colors, it's soft, and the most unique of them all, it is 100% recycled. Alas, many of these advantages are negated by the carpet's limited use—it's the least durable fiber on the market. If you want to make polyester work for you, it's important to make sure the carpet is extremely well constructed (check out the page on what features to look for when buying carpet). And even with good construction, its best to only use polyester in rooms that are not in the primary walking path of your home (eg. Don't put it in main hallways, living rooms, etc).