Polyester Carpet Pros and Cons
If you've ever poured ketchup on a hamburger or drove a car, you might have started the manufacturing process of someone's polyester (PET) carpet. This unique carpet is made from recycled tires and bottle caps. Unfortunately, the good intentions of this carpet often prove to be much better than the carpet itself. Polyester carpet has flaws that make its use limited, but if you utilized correctly, you may be a proud owner of 100% recycled carpet.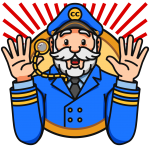 Captain's warning!
There is a new type of polyester on the market, but this page is referring to traditional polyester. How do you know the difference? If you're shopping and are told you're looking at a polyester carpet, it's the "old" or traditional polyester. The new polyester, technically PTT polyester, going by the name Smartstrand and is rarely called polyester. You can read more about
Smartstrand carpet
here.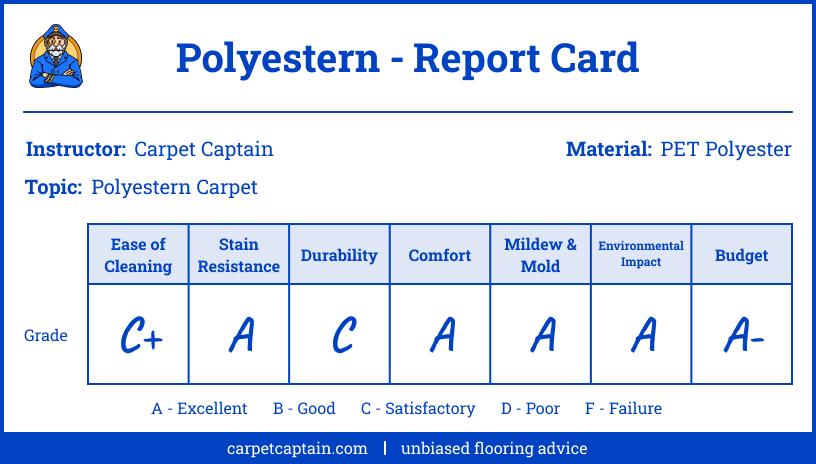 *Explanation of report card categories
Only 100% recycled carpet
This was touched on earlier, but it's worth repeating since it's a unique advantage and one of the few advantages polyester has over other carpet materials. Synthetic polyesters found in bottle caps and tires are non-biodegradable. Therefore, reusing these materials is appreciated by Mother Nature who is being taken over by ever-expanding landfills. In addition, it's one less carpet that has to be pumped out in a factory.
Update:
A member of
CARE
contacted me and had issue with polyester being ranked highly as a "green" carpet. His point was that, yes, PET polyester may be made out of recycled materials at times, but it cannot be recycled like
nylon
or
olefin
can. Makes sense, so we downgraded polyester from an 'A' grade to a 'C' in the green category.
Great stain resistance (except for oils)
Polyester fibers are naturally great at stain resistance. Spill your drink? No problem. Blot it up and you probably won't know it happened. Brands like
DreamWeaver Carpet
heavily advertise this. The only downfall in the stain resistance department is polyester attracts oils. We find oils everywhere: our skin, the bottom of our shoes from asphalt, tracked in from the kitchen or garage. You probably won't notice oils on the carpet, except that they attract dirt. Often times, a dirty looking carpet is an oily one.
Brilliant colors
Like bright colors? Polyester may be your choice. Polyester is easier to dye in bold colors than some other
carpet fibers
. With this in mind, 98% of the time you can find the color you want in any carpet fiber with today's technology.
Crushes easily
This one heading sums up what I don't like about polyester. It's a soft fiber that doesn't last well under foot traffic. It eventually mats down or crushes, and this makes carpet look more worn out than anything. If you have a decent amount of traffic (any main living area or area with kids), don't buy polyester and expect it to last much more than 5 years.
Budget-friendly
One nice touch to polyester is its cheap. You can sometimes find polyester under $1 a square foot (although sometimes it can also be much more than this). This can make it a great carpet if you just want something now and are on a tight budget, or if you know your carpets going to get destroyed and want to save on cost
Nylon vs polyester
I rarely talk to someone about polyester carpet without nylon coming up. The funny thing is these two carpets are completely different. Nylon is much more durable, but it also costs more. If you're interested, I have a full page on
nylon vs polyester carpet.
Captain's parting words!
If it weren't for its lack of durability in main living areas, I love polyester. It's great at resisting stains, it comes in beautiful colors, it's soft, and the most unique of them all, it is 100% recycled. Areas like guest rooms, family rooms with little traffic, or homes with only an adult or two (no kids) can be great for polyester. If you want polyester in a higher-traffic room, you really need to pay attention to
everything that impacts carpet durability.
and even then it may not be the best choice.
Where to next?
I'd check out our
unbiased carpet buying guide.
Any questions on polyester carpet? Let me know in the comments below.
Average Cost To Install Carpet Flooring
Price Range:
$845 - $1,650