Pros and cons of nylon carpet
If you ever have to blindly pick a carpet fiber without research, choose nylon and you have the best chance of being happy for years to come.
But this doesn't mean it is for everyone. Nylon earns high grades in 5 out of 7 categories on the Captain's report card, but there's no perfect fiber. Picking nylon because it's "the most popular" or "the best" carpet on the market leads some people to a disappointing carpet purchase.
If nylon is high on your list, it's worth learning the pros and cons of nylon to make sure it fits what you need in new carpet. This page is the perfect place to start. This is the Carpet Captain's unbiased take on the good and the bad of nylon carpet.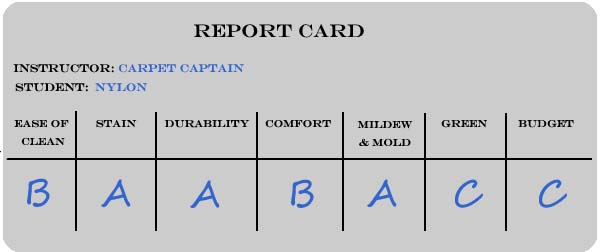 *Explanation of report card categories
Careful ahead!
For simplicity, this article and the report card group all types of nylon into this one article. In reality, there are a 2 types of nylon of which you need to be aware. The two types of nylon fibers are type 6 and type 6,6. One other difference to consider is whether a nylon is brand name or not (again, this is discussed in this article but also you can click that link for a more detailed article).
Pro: High ranking for durability
Nylon's is well known for its durability and most of this due to the strength of nylon fibers. If you want your carpet to last, this strength is critical.
Think of the daily beating carpet takes? Every day 100's of pounds of force smashed directly on top of it… repeatedly. This leads to crushing and fraying. In other words, it makes the carpet look old.
That's only if the carpet isn't strong enough to hold up to the beating. Nylon fiber gives carpets the strength they need to fight back. But remember, carpet is only as strong as its weakest link. Make sure to cover all your bases on carpet durability.
Pro: Excellent stain resistance with one caution
For the first six months to couple of years, "take off your shoes" and "don't eat in the living room" keep your new carpet looking clean. Around year 3 (earlier for some people), the new carpet excitement wears off. They start to get loose with their rules. Dirt begins to accumulate and spills happen.
No carpet can resist any stain, but a nylon with good stain resistance sure doesn't hurt. Nylon ranks high in its ability to resist all stains. So next time your 10 year old track in mud, or your guest spills that glass of wine, there's less chance you'll have a permanent reminder of it.
So what's the caution? Nylon fibers aren't naturally stain-resistant. It has to be treated, which is built into the manufacturing of most nylon. This is one area where branded vs unbranded can come into play (we also discuss this more below).
Watch out!
Overconfidence in your carpet can lead to disappointing performance. We've seen many cases where people are sold carpets as "stain proof" and "mold resistant," and they discover this wording is somewhat misleading. The best fibers allow a little "cushion" of extra time to clean up a spill, soil, or water, but they are not invincible. It is important to quickly clean stains and regularly vacuum the carpet to keep it looking as new as possible.
Con: Can be overkill
If you're going to play miniature golf, would you buy a $100 putter for the occasion?
Of course not. It'd be a waste of money (if you disagree, I admire your ultra-competitiveness on the put-put course).
Nylon is the "$100 putter" of carpet. Sure it gives you top of the line performance, but there are cheaper alternatives out there.
So when is paying the premium not worth it?
Think of rooms that don't get much use—guest bedrooms, little-used family rooms, lake houses, etc. It's also not worth paying for nylon when the carpet will be exposed to unusually high wear—think high-maintenance rental properties. No carpet can hold up to the stains and cigarette burns of bad tenants. In these cases, go with cheaper options, such as olefin or polyester carpet, and you'll save some of your rent money.
Con: can lead to false confidence
The nylon fiber is just one of many traits that determine how carpet performs. In a perfect world, a carpet's performance is determined by the quality of its best attribute. Unfortunately, carpet performance goes by the adage, "as strong as its weakest link."
Sometimes I hear people say "nylon [or insert any other carpet trait here] are the best carpets." The problem is this leads people to ignore the face weight and other important features. Even though you paid decent money for the nylon, the carpet breaks down in 3 years.
This just reiterates the #1 lesson with carpet: you have to pay attention to all the details.
Con: not the most environmentally friendly option
Nylon doesn't destroy the environment, but it's not environmentally-friendly material. It's a synthetic material similar to plastics. If eco-friendly is a top priority, check out our article on the best carpets for the environment.
Type 6 vs Type 6,6 nylon
I discussed earlier that there are two types of nylon carpet: type 6,6 and 6. Here's why it matters, and why it doesn't:
Type 6,6 is technically the "higher-end" version. At one time, this was true. Today, type 6,6 still has the edge, but in some cases, a well-made type 6 carpet can outperform a type 6,6. In other words, type 6 nylon isn't a deal breaker. It's just one piece of the durability puzzle to take into account.
Most of the time well-made nylon carpets will be type 6,6 anyway, so you won't have to worry about it. If you like a carpet and find out it is type 6 nylon, just make sure everything else looks good about the carpet, and you should be okay.
Brand name vs unbranded nylon
Similar to above, nylon carpet also comes in branded and unbranded versions.
What do I mean by branded? Nylon carpets that have trademark names from companies like Invista (Dupont), Mohawk, and Shaw.
Consumer reports states that branded versions performed much better in their testing than unbranded. This study was conducted a few years back, and it is likely the unbranded versions were type 6 carpets without great construction characteristics or stain protectors.
Like with type 6 and 6,6 nylon, if you go for the generic, just make sure that all other features about the carpet indicate high durability. In particular, you should look for a type 6,6 nylon with good stain protection in an unbranded nylon. You can check out more in branded vs unbranded nylon here.
Captain's final words!
Nylon is my favorite carpet fiber, but there are situations where I wouldn't buy it. In my case, I wouldn't spend the money on nylon on a dining room that's rarely used or guest bedrooms. In those cases, I'd be paying for durability I don't need.
Another thing I think is important to re-emphasize is that, just because a carpet is nylon, doesn't mean it's a good carpet. Reading the Captain's other articles on how to buy carpet will make sure you aren't disappointed.
Name brand nylon carpets risk their reputation on their carpet being high-quality, but you also pay more for branded carpets. Knowing how to pick out a quality unbranded/generic nylon carpet could save you money at the end of the day, but you have to pay extra careful to the details. But it's a good idea to pay attention to the details with your new carpet anyway.