Softest Carpets in the World (and the trade-off)
A big benefit of carpet over other flooring is how soft it is underfoot.
It's nice to be able to hop out of bed barefoot and walk on the soft blanket feel of carpet. All carpet give this feeling to some extent, but some more than others.
So what are the softest carpets?
Manufacturers have created a few lines of carpet to specifically address comfort. I'll cover a few of the brands you'll find, what makes them so soft, and why some people won't want a soft carpet.
What makes a carpet soft?
Maybe you don't care what makes a carpet soft, but it's worth briefly going over because the softness impacts how your carpet performs. There are a few ways to make a carpet soft:
The denier is the one worth focusing on. It basically means how thick the strand of nylon is. The thinner the denier, the softer the fiber. The problem is the thinner the denier, the less durable the carpet. We'll go into this later.
The material can also make a difference. Just think of rubbing silk tie vs a wool rope—one material is clearly softer than the other. Also, the style can make somewhat of a difference. We'll dive into both of these in this article.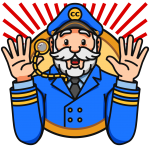 Captain's warning!
Soft carpets and vacuums sometimes don't mix. Soft carpets have so many "strands" that the vacuum wants to suck to the carpet making it difficult to push. Adjustable settings such as height and beater bars will be important. You can find other
vacuum buying tips here.
Soft nylon carpets
When you hear of a carpet branded as soft, it's usually a nylon carpet. Nylon is considered the most durable carpet fiber, but it's not known for being soft (with that said, it's not known to be too rough either).
Every major manufacturer knows that carpet softness is a big selling point. So why not take the most durable fiber and also make it the softest? That would be the ultimate carpet.
So to make soft nylon, they cut the nylon into thinner strands (see denier above). The problem is these thinner strands aren't as durable. That's the trade-off. But don't get me wrong, a well-made soft nylon carpet will still last you years. You just might want to avoid high traffic areas like hallways and stairs. Soft nylons are perfect for playrooms and bedrooms.
The big names you'll find in soft nylons are Stainmaster Trusoft® and Tactesse® made by Invista, as well as Shaw's Anso Caress®.
Each of these carpets can perform well if it's made well, and there are huge differences between them. The Stainmaster Trusoft is the newest product. It's supposed to be a next level softness, and it uses nylon 6,6 which may help durability (since softer otherwise may equal less durability).
Soft Smartstrand
Smartstrand is the fiber engineered to compete with nylon. You can read more about Smartstrand by clicking the link.
If it's going to be a nylon competitor, then they knew they had to also make a soft Smartstrand product. They did just that with Smartstrand Silk. Similar to nylon, using a lower denier fiber makes it softer than traditional Smartstrand.
Polyester as an alternative for softness?
All carpet is soft, so depending on the level of softness you need, you may be able to go with a carpet that isn't branded as soft.
Polyester carpets generally are better than nylon if you want softness. The problem is, just like soft nylon, polyester is less durable. However, polyester also is cheaper. So if you have a room that doesn't get much traffic and you want soft carpet but not necessarily the world's softest, polyester might be a good bet.
The style for softness
When you hear plush, you think soft. Plush carpet doesn't mean soft, it refers to the even cut strands of the carpet. But this does give us some insights into carpet:
For a softer feel, avoid looped carpets like Berber. Also, if you want the softest carpet world, you probably should avoid frieze. It's tight twists improve durability but may make it slightly less soft—only worry about this if softness is much more important the durability.
Captain's parting words!
Personally, I avoid soft carpets except for rarely used rooms such as a bedroom. Why? As much as manufacturer's try, there's no getting around the fact that they are slightly less durable.
Don't get me wrong, you'll find a durable soft nylon or other soft carpet if you want one. It'll just take paying attention to the details more. You can do that by checking out my comprehensive guide to Carpet 101.
Any other questions on soft carpet? Ask in the comments below.
Average Cost To Install Carpet Flooring
Price Range:
$845 - $1,650